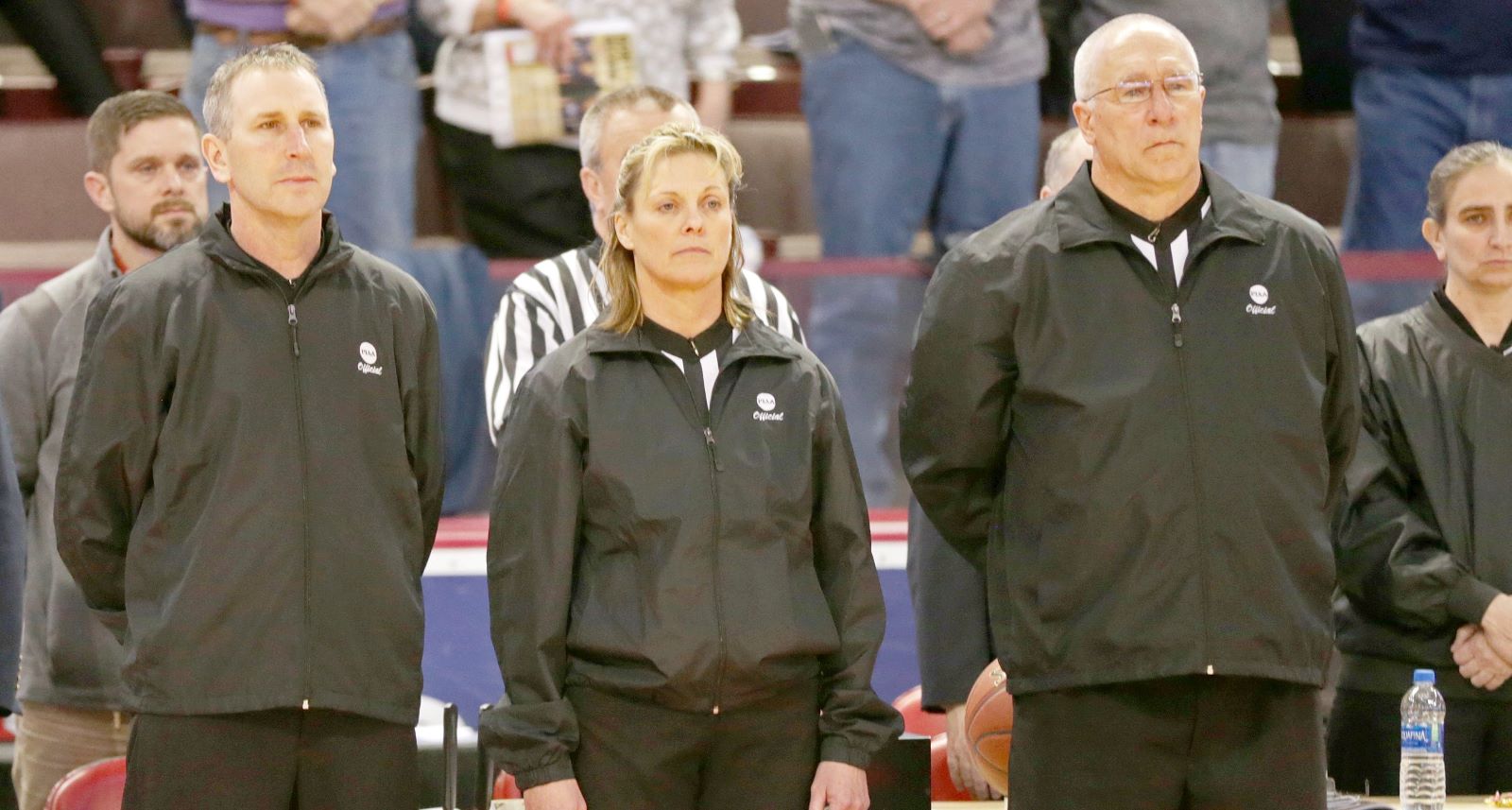 HERSHEY, Pa. – Reaching the pinnacle of the career of a high school basketball official in Pennsylvania, Kris Stiglitz, Chip Mason and Greg Garzel officiated the PIAA Class 4A girls' title game between North Catholic and Bethlehem Catholic at the Giant Center Saturday afternoon.
(Photo (from left) Chip Mason, Kris Stiglitz, Greg Garzel. Photo by Paul Burdick. Check out more of Burdick's work here)
"It was very unexpected," Mason, who lives in Brookville and works at Clarion University and has been officiating for 11 years, said. "I had done four rounds before, but it (the championship game) didn't happen. "It's an honor. There are a lot of good officials out there."
For Stiglitz, the game was her second PIAA title game. She also did one when the championships were at Penn State. But a couple of years after doing that game in the early 2010s, she stepped aside from officiating for a few years when her son, Kolton, was playing at Clarion-Limestone. She said she never expected to get another chance so soon after getting back into officiating three years ago.
"It's pretty exciting," Stiglitz, who lives in the C-L School District and also works at Clarion University, said. "I thought the second time wouldn't be as exciting but is just as exciting. Bud (Brennen, the District 9 male officials representative) told me the way I reacted you would think it was my first time. But I thought it would be a long time before I got another chance after taking some time off to watch Kolton play. But I did what you need to do. I went to the (officials') convention and worked camps to get back to this level."
Garzel, who is an Austin High School graduate, was so stunned that he got his first call to officiate at PIAA title game for the first time in his 34-year career that he didn't even have his phone on when the call came through.
"I never thought this would happen," Garzel said. "Two years ago I got a semifinal game but didn't get the call. I thought that was my last chance. I ended up getting the call from my wife because I didn't have my phone on and was at work. I was pretty stunned. We didn't get a third-round or fourth-round game. They usually keep crews working (if they are going to get a state game). I was pretty shocked."
All three officials got their starts in different ways.
Stiglitz, whose maiden name is Callen, was an athlete at C-L who played basketball and ran track. She credited former C-L teacher and coach Clyde Conti with helping her become the official she is today.
"Coach Conti can bring out the best in you," Stiglitz said. "He helped build the backbone I need to be an official."
Stiglitz said another female official who used to officiate a lot of games in District 9 and now does more games in District 10 and has also officiated at the PIAA Championships encouraged her to get into officiating.
"Carla Ragley Smith talked be to about taking the officiating test," Stiglitz said. "She played a big role in me becoming an official."
Garzel started officiating without a PIAA official's license.
"They asked me to do JV games in Austin because they were having trouble finding officials," Garzel said. "This was back in the 1980s. Then in 1985, they decided they didn't want anyone doing games without their patch (the official patch given to PIAA-certified officials to put on their uniforms). Gerald Duffy, the late AD at Austin, told me to go take the test. I did, and I passed. That was my start."
Garzel said he hadn't really given a lot of thought to becoming an official until Duffy approached him.
"I graduated from Austin, and we had a pretty good basketball team in the early 70s," Garzel said. "Being from Austin, everyone knew everyone. I got a call out of the blue asking me if I wanted to officiate their JV games."
Mason started his post-athletic career as a soccer coach at Brookville.
"When I got out of coaching, I still liked the sport," Mason said. "I decided to become a soccer official. Then I decided I would like to do basketball as well. I love doing both."
Garzel and Mason both said that they were immediately able to block out fans yelling at them from the stand, but Stiglitz said it took her a little longer.
"It took about two weeks," Mason said. "You have to have thick skin to be a referee."
"If you don't block it out, you won't last," Garzel echoed.
Stiglitz said it probably took her a few years to get past some of the complainants.
"I had to build that confidence," Stiglitz said. "Now, I take it with a grain of salt."
According to Stiglitz, one of the most misunderstood calls from fans is advantage/disadvantage.
"If there is contact but no loss of control and the (offensive) players get around (the defender), you let it go," Stiglitz said. "Did an advantage come (from the contact)? If not, you let them play."
Garzel said the change in the backcourt rule a few years ago still has many fans confused.
"Before, if any part of your body or the ball was across the (center-court) line it was a violation," Garzel said. "Now both feet and the ball have to be across."
Mason said the traveling rule also can confused people.
"As (one of the District 9 officials who officiated the Class 1A title game Thursday) said, you can slide all the way across the floor and it's not a travel," Mason said.