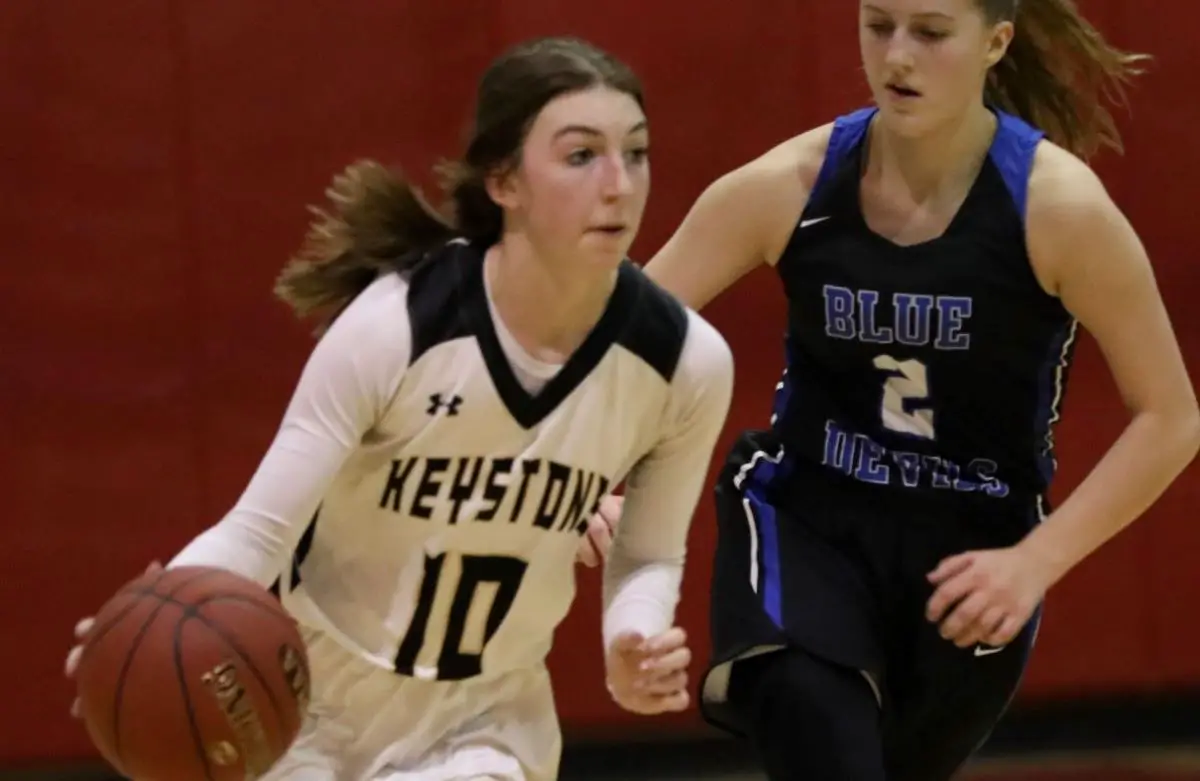 CLARION, Pa. – District 9 girls' basketball teams went 2-2 Friday in the opening round of the PIAA playoffs with Redbank Valley and Keystone claiming wins in Class 2A action.
(Photo of Emily Lauer of Keystone, who had 35 points in the Lady Panthers Class 2A win over Cambridge Springs. Photo by Diane McMunn)
Meanwhile, Clarion lost in Class 2A play and Brookville fell in Class 3A action.
Full coverage of District 9 teams in the basketball postseason can be found here.
REDBANK VALLEY 53, COCHRANTON 49
CLARION, Pa. – When Redbank Valley needed Tara Hinderliter the most, the senior rose to the occasion.
Hinderliter scored all six points during a 6-0 Lady Bulldogs fourth-quarter run that broke a 42-all tie and helped Redbank Valley to its first PIAA playoff win in 22 years, 53-49, over Cochranton in the opening round of the PIAA Class 2A girls' tournament Friday evening at Clarion University's Tippin Gym.
Relisten to the game:
"It's awesome," Redbank Valley head coach Chris Edmonds said. "The girls have been working hard. I have had all these girls since they have been in elementary school, going through the program. Some of them have been listening to me for six or seven years. I am very proud of the seniors and everyone else tonight winning the game."
In a game that saw Redbank Valley hold small leads throughout, the District 9 champion Lady Bulldogs found themselves in a 42-all tied following a basket by Cochranton's Cat Miller with 53 seconds into the fourth quarter.
That is when Hinderliter took over.
The senior, who finished with a game-high 27 points, broke the tie with a basket at the 5:49 mark then hit two free throws at 5:13 before capping the spurt with another hoop at the 4:10 mark to give Redbank Valley a 48-42 lead.
"I just felt like I was ready to go after I was sick (the last couple of games), and I was ready," Hinderliter said. "It felt good. I just knew if I had it, I had to take it."
Watch Hinderliter's full postgame interview.
Cochranton was able to get back within three, 50-47, when Miller hit one of two free throws with 44.3 seconds left.
But Hinderliter, who had missed three straight charity shots in the fourth quarter, nailed two at the 29.3-second mark to make it 52-47.
"Tara and Lauren (Smith) are our leaders," Edmonds said. "(Tara) showing up in the fourth quarter of a state playoff game and scoring nine points and take the ball the last couple of minutes and dribble the clock out, it's great to see her do that."
Then, after Ella Gallo gave the Cardinal one last hope with a bucket with 15 seconds left, Hinderliter sealed the win when she hit one of two charity shots with 12.7 to play.
The game had the makings of a shootout in the first quarter with Redbank Valley holding a 23-18 lead after eight minutes thanks to 11 points from freshman Caylin Rearick, who hit three 3-pointers in the first quarter to help offset four 3-pointers and 14 points from Cochranton's Jaiden Martinec.
"I knew my ability in shooting, and I just went out there and kept firing because I was hot," Rearick said. "It means a lot (to get this win for our seniors). I want to keep going on with them. This is my favorite group of girls that I have ever played with. I want to go really far with them. I am going to keep doing my best."
Watch Rearick's postgame interview
After allowing Martinec to go off in the first quarter for the 14 points, the Lady Bulldogs changed defenses and help the Cochranton sharpshooter to just one basket and five points the rest of the game.
"Cochranton came out and hit from the corner," Edmonds said. "We were in our 3-2, and our big couldn't get out to cover the corner, and Cochranton made some shots that kept them in the game. Our 3-2 wasn't working, so we jumped into a 2-3. We sort of had a rotation and saw some spots out there that we didn't have to cover every time. The girls listened, and they got rewarded tonight. "
Rearick added 14 points for Redbank Valley, while Miller added 11 for Cochranton.
Redbank Valley will play defending state champion Bellwood-Antis, a 55-51 win over Matt Stebbins-coached Laurel, in the second round Tuesday at a site and time to be announced.
Redbank Valley postseason information is brought to you by: Delta Contracting & Design/Ace Concrete & Excavating • Burford & Henry Real Estate Services • Tin Town Metal Works • State Representative Donna Oberlander (Paid for by Friends of Donna Oberlander) • District Judge Jeff Miller • Hunter Station Golf Club and Restaurant • Jeff Miller, District Judge • Joe's Pizzeria and Italian Restaurant in New Bethlehem • Pat Merwin Realty
KEYSTONE 69, CAMBRIDGE SPRINGS 44
WEST SUNBURY, Pa. – Behind a career-high 35 points from junior Emily Lauer, the Keystone Lady Panthers scored a season-high 69 points and drilled District 10's Cambridge Springs 69-44 in the opening round of the PIAA Class 2A girls' playoffs at Moniteau High School.
(Photo: Emily Lauer pushed the ball upcourt during action Friday night. Lauer finished with a career-high 35 points in Keystone's win. Photo by Diane McMunn)
Relisten to the game:
"We talked in the locker room about what they were going to throw at us on offense and defense," said Keystone head coach Josh Almes. "Things were falling for us offensively. The girls played hard all night long."
Despite committing five fouls 1:44 into the game, Keystone was able to build an 18-5 lead after one quarter, and take a 32-14 advantage into the locker room.
"We felt if we could get that early lead, we could start mixing up defenses and send shockwaves through them," said Almes. "We were able to build a big lead, then ride it to victory."
Keystone's big lead came in large part to Cambridge Springs poor shooting, as the Lady Blue Devils shot 3-of-22 in the first half while also turning the ball over 13 times in the first half.
"That's good old fashioned Keystone basketball," said Almes. "We tried to get the kids anticipating plays, making good decisions, and staying out of foul trouble. We're committed to playing with our heart and soul, that is something our community admires."
Lauer had the monster game scoring 35 points, including 22 of Keystone's 32 first-half points. Lauer hit 11 field goals and went 13-for-14 from the line.
"We just came out and wanted to come back from that game against Redbank (a loss in the D9 title game) where we shot pretty rough," Lauer said. "We just wanted to put our shots in, and I shot when I was open."
Almes wasn't surprised with Lauer rising to the occasion.
"That's another typical Emily performance, that is the expectation we have for that girl," Almes. "She was the heart and soul of our team tonight. She allowed everyone else to be able to step up and make plays as well."
For Keystone along with Lauer, Natalie Bowser and Jozee Weaver also scored in double figures with 13 and ten points, respectively. Maddie Dunlap chipped in with eight, and Keystone led by as many as 33 points in the second half.
"We hit the open person, and we are such a close team," Lauer said. "It's nice to know that everyone can rely on everyone."
Watch Lauer's postgame interview
Makenzie Yanc led Cambridge Springs with 16 points, while Jordyn Wheeler added ten.
Next up for the Lady Panthers will be Bishop McCort, the fourth-place team out of District 6. The Lady Crushers beat WPIAL Champion Bishop Canevin 55-44.
"We have to continue to play hard as we move on," said Almes. "We need to make sure we're doing the little things right from rebounding to looking for outlet passes. If we do what has gotten us to this point, hopefully, we can run with anyone in the tournament."
Keystone postseason information is brought to you by: Delta Contracting & Design/Ace Concrete & Excavating • Burford & Henry Real Estate Services • Tin Town Metal Works • Wired Outdoors • State Representative Donna Oberlander (Paid for by Friends of Donna Oberlander) • Hunter Station Golf Club and Restaurant
MOUNT CARMEL 59, CLARION 19
SHAMOKIN, Pa. – Dani Rae Renno scored 11 of her game-high 21 points in the first quarter, as District 4 champion Mount Carmel rolled past District 9 third-place finisher Clarion, 59-19, in the opening round of the PIAA Class 2A tournament at Shamokin High School.
Behind Renno, the Red Tornadoes led 21-5 at the end of the first quarter and increased that advantage to 40-13 by halftime with Renno adding another eight points in the second quarter.
Lauren Shedleski added 10 points in the win for Mount Carmel, who will face Old Forge in the second round.
Kait Constantino led Clarion with seven points with KK Girvin adding six.
Clarion postseason information is brought to you by: Delta Contracting & Design/Ace Concrete & Excavating • Burford & Henry Real Estate Services • Tin Town Metal Works • State Representative Donna Oberlander (Paid for by Friends of Donna Oberlander) • Clarion Boys' Basketball Boosters • Clarion Girls' Basketball Boosters • Hunter Station Golf Club and Restaurant
PENN CAMBRIA 66, BROOKVILLE 58
CLARION, Pa. – Using a game-ending 10-2 run, Penn Cambria brought and end to a great three-year run by Brookville with a 66-58 win over the Lady Raiders in the opening round of the PIAA Class 3A tournament at Clarion University' Tippin Gym.
The game was tied at 56 following a free throw by Brookville's Madison Johnson with 2:21 to play, but back-to-back baskets from Madison Grove at the 1:56 mark and the 1:32 mark put Penn Cambria ahead four, 60-56.
Relisten to the game:
Lauren Herget got Brookville back within two, 60-58, with a basket at 1:15, but the Lady Panthers hit 6 of 8 free throws in the final 49 seconds to seal the win.
"We missed free throws," Brookville head coach Mark Powell, whose team went 5 of 10 from the line in the fourth quarter and 15 of 26 in the game, said. "I don't think it was so much their comeback as us missing opportunities at the line. We never made more than one out of two down the stretch. We just could not cash in at the free-throw line. It allowed them to get back in the game."
As much as Powell might not have liked his team's free-throw shooting, he couldn't have been happy with the second-half defense by the Lady Raiders, either.
Up 40-33 midway through the third quarter, Brookville couldn't hold the lead thanks to the play of Penn Cambria's Lora Davis and Madison Grove.
Davis scored 19 of her 20 points in the second half netting 10 in the third quarter and nine in the fourth, while Grove scored 12 of her game-high 22 points in the fourth quarter.
"We knew the Davis girl was tough," Powell said. "We allowed her to take it the hole a couple of too many times in the second half.
"Foul trouble started to mount for us in the fourth quarter. We started to become less aggressive on defense. Davis was able to take it to the hoop a few times on us.
"We played hard. We just didn't make enough free throws."
Morgan Johnson led Brookville with 15 points with Alayna Haight adding 12 on four 3-pointers and Hergert 11. Marcy Schindler added eight points to finish her career with 988 and also snagged 11 rebounds, while Madison Johnson chipped in nine points.
The loss brings an end to the Brookville careers of both Johnsons, Hergert and Schindler. The foursome helped the Lady Raiders to three straight D9 Class 3A titles and a PIAA playoff win their sophomore season.
D9Sports.com's District 9/PIAA basketball playoff coverage Powered by Lezzer Lumber is brought to you by:
Brookville postseason information is brought to you by: Fran Morelli Sales & Service • Lezzer Lumber • Hunter Station Golf Club and Restaurant • Mike's Supermarket in Brookville • Jefferson Animal Clinic • Matson Insurance
Lezzer Lumber • Delta Contracting & Design/Ace Concrete & Excavating • Team Minard • Fran Morelli Sales & Service • Burford & Henry Real Estate Services • Potter County Family Campground • Close's Lumber Company • Tin Town Metal Works • State Representative Donna Oberlander (Paid for by Friends of Donna Oberlander) • 120 Pub and Grub in Clearfield • Campbell Bus Lines • Hunter Station Golf Club and Restaurant