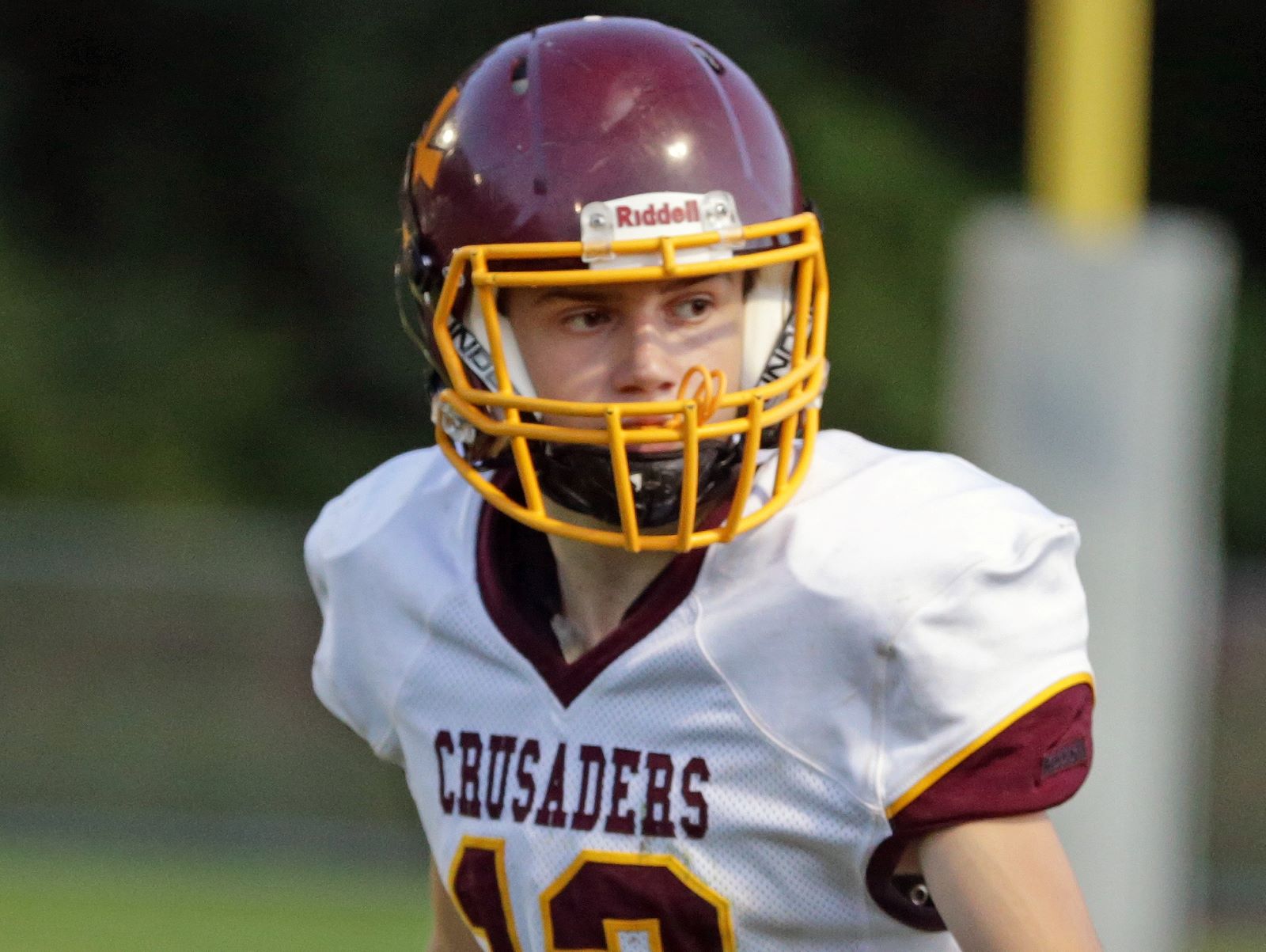 It's the final week of the regular season, meaning that if there's any playoff posturing or resume-building to be done for the postseason, now is the time.
(Elk County Catholic's Sam Kaul helps lead the Crusaders into Smethport for a playoff-preview matchup Friday night. Photo by Paul Burdick. Check out more of Burdick's work here)
Three games have some playoff seeding implications — DuBois (0-9) at Brookville (7-2) and Moniteau (3-5) at Keystone (8-1) in the Class 2A picture, and Elk County Catholic (4-4) at Smethport (5-3) in Class 1A.
Here's what we have going with those games and how the rest of those brackets play out:
— In Class 2A, Ridgway and Clarion will receive first-round byes in what looks to be a six-team bracket. If the Elkers (8-1) win at Union/A-C Valley (7-2) in Rimersburg, they'll take the top seed with Clarion (8-1) at home against James Buchanan (3-6) of District 3. The No. 1 seed meets the 4/5 winner while the No. 2 seed plays the 3/6 winner in the semifinals Nov. 8-9.
Brookville and Keystone will have a home game in the quarterfinals against No. 5 seed Karns City or No. 6 Kane. It's a matter of how things shake out on how the Raiders and Panthers land in the points standings. The No. 3 seed hosts Kane while the No. 4 seed hosts Karns City.
Both the Raiders and Panthers go into Friday tied in the point standings. If one team loses, then the team that wins obviously gets the higher seed.
If both teams win, Keystone would have a 20-point lead — the Panthers are guaranteed 10 points from the ECC/Smethport game since they beat both teams — on Brookville before the Raiders' possible 10-point bonuses from teams they beat earlier this year who play this week as well.
The Raiders would need three of the four teams they beat this year to win Friday — St. Marys (5-4) at home against Franklin (2-7), Karns City (6-3) at home against Titusville (3-6), Brockway (2-7) at home against Curwensville (1-7) and Punxsutawney (0-9) at home against Redbank Valley (7-2). At least three wins from those four gets them past the Panthers, but two which would have to include Brockway, leads to another tie that would end up going to Keystone because of the "best winning percentage of all opponents played during season" tiebreaker.
— In Class 1A, it's very likely a five-team bracket with Coudersport (8-0) locked into the No. 1 seed as it travels to Cameron County (0-8). It'll face either Smethport or Elk County Catholic in the semifinals. Those two teams will play next week in a preliminary round game AFTER Friday's ECC at Smethport regular-season finale. The winner secures home-field advantage next week.
On the other side of the playoff bracket will be No. 2 seed Redbank Valley and No. 3 Union/ACV, which will have a week off before a semifinal matchup on a neutral site, presuming no team with a losing record decides to enter the playoffs.
— In Class 4A, Clearfield (7-2) indeed has a game on the road at Bishop Carroll (3-6), which it's obviously thrilled at having making the trip to Ebensburg for its Mountain League finale. The Bison trail Bellefonte (7-2) by 10 points in the playoff standings, but could catch the Red Raiders who play Bald Eagle Area (7-2).
The question is whether more than those two teams enter the sub-regional bracket. Juniata (4-5) is the third-place team in the standings, but it'll likely be the underdog against Newport (6-3) this week and whether it'll go to the postseason with a losing record isn't know.
If it's just Clearfield and Bellefonte, which beat the Bison 28-19 on Sept. 27, then they probably won't play again until Nov. 8-9.
Bradford (1-8) and DuBois are not going to the postseason.
— In Class 3A, St. Marys heads to the postseason in another sub-regional bracket as the No. 3 seed in a bracket that'll likely have at least three teams. District 5's Bedford (7-2) and the City League's Westinghouse (6-3) have winning records along with St. Marys. Perry (3-6) is fourth in the standings, but it's not known if it will go to the playoffs with a losing record.
As it stands, it appears the Dutch will play either Westinghouse or Bedford in a semifinal matchup on the road next week.
In the other game not mentioned above on a 12-game Friday night schedule, Otto-Eldred (3-6) hosts Cowanesque Valley (2-7).
Here's a closer look at this week's games:
DuBois (0-9) at Brookville (7-2)
The Beavers travel to Brookville looking to avoid their first winless season since 2002 while the Raiders need to win to give them a chance at a No. 3 seed in the Class 2A playoffs. Either way, the Raiders are at home next week for a playoff game against either Kane or Karns City and it'll be the first postseason game on their own turf since a first-round loss to Moniteau in 2007.
Raiders junior quarterback Jack Krug (146-for-243, 1,753 yards, 19 TDs, 8 Ints.) closes in on a 2,000-yard passing season with his leading receivers Ian Thrush (63-858, 10 TDs), Robert Keth (44-548, 6 TDs), Kyle MacBeth (34-457, 6 TDs) and Ryan Daisley (24-238, 3 TDs). Keth also leads the team in rushing (41-325, 6 TDs).
DuBois is giving up 48.1 points and over 400 yards per game defensively. With the loss of their senior quarterback Alex Kovalyak (1,593 yards, 11 TDs in seven games) for the season with a knee injury, the Beavers are going with freshman quarterback Cam-ron Hayes. He's completed 29 of 46 passes for 305 yards and three TDs with five interceptions. Hayes threw for 213 yards and two TDs in last week's 41-18 loss to Hollidaysburg.
The Beavers' leading rusher is Adian Castro (62-317, 5 TDs) and Michael Eisman (42-204, 3 TDs) with the top pass-catchers being Nick DiLullo (31-534, 6 TDs), Chase Husted (34-436, 3 TDs), Zach Shilala (37-351, 3 TDs) and Dale Kot (23-332, 3 TDs).
This is the 29th meeting between future fellow D9 Large Division members. DuBois has won the last five meetings with the Raiders' last win in the matchup coming in 2007.
Moniteau (3-6) at Keystone (8-1)
The Panthers look to make it nine wins in a row since starting the season with a loss to Redbank Valley and they'll try to bolster their playoff seeding against the Warriors, who close their season without a playoff berth.
Moniteau beat Keystone in last year's season-finale, 36-12, but this one takes on a different flavor considering the Panthers are enjoying their best season in 30 years. They're averaging 39.2 points per game, scoring over 44 or more points in wins over Sheffield, Union/ACV, Smethport and Elk County Catholic in a 44-41 shootout.
The Panthers are averaging 409 yards per game offensively — 277 rushing and 132 passing — as junior running back Nick Weaver (109-945, 12 TDs) closes in on a 1,000-yard rushing season. Taylar Altman (113-825, 7 TDs) is also putting together a strong season while quarterback Isaak Jones (56-for-96, 1,103 yards, 14 TDs, 5 interceptions) has rushed for 273 yards and 10 TDs. Alex Rapp (13-318, 5 TDs) and Jayden Blazosky (18-303, 4 TDs) are the leading receivers.
Moniteau bolstered its season stats greatly in last week's 45-21 win over winless Punxsutawney, piling up 523 yards of rushing with six touchdowns. The big man on the stat sheet was Nick Martino, who ran for 286 yards on 26 carries with three TDs. For the year, Martino (84-514, 5 TDs) is second behind J.D. Dessicino (125-686, 5 TDs) in rushing on a run-heavy offense that's averaging 191 yards per game. The Warriors have thrown just 95 passes all season, gaining 424 yards.
Elk County Catholic (4-4) at Smethport (5-3)
The battle for playoff home-field advantage between these two teams starts in McKean County with the winner hosting next week's preliminary round game.
The Hubbers were blanked 42-0 and limited to 31 yards of offense against Coudersport last week while the Crusaders dropped a 44-41 shootout to Keystone. 
Hubbers quarterback Noah Lent (41-for-95, 486 yards, 7 TDs, 6 interceptions) leads his team in rushing with 690 yards and seven TDs. Running back Braedon Johnson (95-547, 3 TDs) also leads the team in receiving (18-215, 3 TDs).
Sam Kaul (102-979, 10 TDs) nears 1,000 yards rushing for the Crusaders, who got former 1,300-yard rusher Stephen Bobby last week from an injury in limited action with no carries. Quarterback Mason McAllister (51-for-99, 843 yards, 9 TDs, 7 interceptions) and receiver John Wittman (14-346, 5 TDs) lead the passing game.
Titusville (3-6) at Karns City (6-3)
The Gremlins tune up for the playoffs with a home game against Titusville of District 10. The Rockets have lost six in a row since starting the season 3-0.
Titusville has been shut out in two straight losses to Fairview (14-0) and Girard (33-0). Quarterback Garrett Knapp and running back Charlie Nicholson are the top players for the Rockets.
The Gremlins ran for a season-high 515 yards in last week's 42-13 rout of Bradford. They're averaging 302 yard rushing per game as quarterback Anthony Kamenski (27-for-73, 492 yards, 6 TDs, 4 interceptions) leads the team in rushing (135-953, 9 TDs) as he nears 1,000 for the season. Hunter Rowe (118-668, 9 TDs) and Luke Garing (76-461, 8 TDs) also lead the Gremlins' running game.
Ridgway (8-1) at Union/ACV (7-2)
The newly-crowned Large School Division champion Elkers head to Rimersburg to face the Falcon Knights, who earned a three-way share of the Small School-South title after beating Redbank Valley last week.
Elkers quarterback Paul Gresco (90-for-129, 1,381 yards, 12 TDs, 13 Ints.) runs an offense averaging 381 yards (225 rushing, 156 passing) per game with four players running for at least 350 yards — Gabe Watts (67-484, 8 TDs), Jake Wickett (69-441, 8 TDs), Matt Dush (41-394, 5 TDs) and Tyler Watts (50-358). Dush (29-461, 4 TDs), Jake Wickett (21-348, 4 TDs) and Austin Green (19-300, 4 TDs) are the top receivers.
For Union/ACV, quarterback Luke Bowser has thrown for 1,051 yards (85-for-170, 14 TDs and 12 interceptions) while rushing for a team-high seven TDs. His top receivers are Tanner Merwin (25-394, 6 TDs) and Caden Rainey (32-446, 4 TDs). Kyler Culbertson (64-463, 4 TDs) and Tony Thompson (52-240, 3 TDs) lead the Falcon Knights' running game.
Franklin (2-7) at St. Marys (5-4)
The Flying Dutchmen salvaged their planned Senior Night by replacing District 10 playoff-bound Warren with Franklin. This could be an interesting shootout matchup with two pass-first offenses with quarterbacks leading their districts in passing yardage.
St. Marys has gotten a breakout season from its sophomore quarterback Christian Coudriet (152-for-246, 2,238 yards, 18 TDs, 8 interceptions), who leads the district in passing yards. His top targets are Bryce Walker (46-575, 2 TDs) and Michael Fitzgerald (25-539, 6 TDs). Jacob Kline (93-694, 11 TDs) is the Dutch's top rusher.
Franklin, which beat DuBois 42-35 earlier this year, has its own talented quarterback in senior Ian Haynes (159-for-263, 2,212 yards, 21 TDs, 10 interceptions). He's the all-time leading D10 passer with 9,118 yards with 92 TD passing. His top receivers are Dalton Buckley (72-1,174, 13 TDs) and Cade Adams (52-743, 5 TDs). Its top rusher is Eli Stewart (544 yards).
Curwensville (1-7) at Brockway (2-7)
This game has playoff implications, but only for other teams as the former Allegheny Mountain League rivals close out their seasons.
Brockway's Jon Wood (128-925, 11 TDs) looks to get over 1,000 yards rushing for the season. He's also thrown for 380 yards and six TDs. Conner Ford has rushed for 446 yards and 5 TDs while throwing for 462 yards and six TDs. Ben Glasl (26-350, 1 TDs) is the team's top receiver.
For Curwensville, it's quarterback Dan McGarry (38-for-84, 327 yards, 2 TDs, 9 interceptions), running back Duane Brady (108-371, 3 TDs) and receiver Jake McCracken (19-257, 2 TDs) leading the way.
Redbank Valley (7-2) at Punxsutawney (0-9)
After starting the season 7-0, the Bulldogs head to Punxsutawney with two straight losses to Coudersport and Union/ACV where they've been outscored 84-7. They face a winless Chucks team that's giving up 51.7 points per game.
For the Bulldogs, they'll look to their group of running backs Ray Shreckengost (77-518, 6 TDs), Kobe Bonanno (58-415, 8 TDs) and Hudson Martz (54-311, 5 TDs) to get things going again. Freshman Cam Wagner took most of the snaps last week, completing 10 of 22 passes for 87 yards with a touchdown and interception. Ethan Hetrick (22-373, 4 TDs) and Sam Hetrick (15-206) are the team's leading receivers.
Punxsutawney has a freshman quarterback as well with Peyton Hetrick (34-for-69, 460 yards, 2 TDs, nine interceptions in last three games). The Chucks' top skill players are running back Max London (99-664, 4 TDs rushing; 18-389, 2 TDs receiving) and former starting quarterback Kameron Falgout (108-630, 7 TDs rushing; 13-164, 1 TD receiving). Falgout ran for 193 yards in last week's loss to Moniteau.
James Buchanan (3-6) at Clarion (8-1)
It's a more than three-hour trip to Clarion University's Memorial Stadium for the Rockets, who hail from Mercersburg in the south-central part of the state in District 3. They are unaffiliated with any D3 conference, so they play an independent schedule.
The Rockets won two of their first three games, with their only other win being a forfeit against a team from the Washington D.C. area. Last week, the Rockets dropped a 36-6 decision to the Maryland School for the Deaf from Frederick, Md. Their top players are quarterback Sebastian Wise, junior running back Hunter Smith, and receivers Grant Ellis, Caden Stoner and Mason Line.
After a two-game absence for unspecified reasons, the Bobcats' Austin Newcomb returned to the lineup and ran for 112 yards with four touchdowns, two of them rushes and one coming on a kickoff in the Bobcats' 63-13 rout of Brockway. He's now over 1,000 yards for the season at 1,049 and over a career milestone with 4,003. Newcomb has 21 TDs this year, 17 of them rushing.
Quarterback Cal German (1,627 yards, 22 TDs, 3 interceptions) and receiver Ethan Burford (27-909, 13 TDs) also help lead the Clarion offense that's averaging 43.7 points per game.
Coudersport (8-0) at Cameron County (0-8)
The Falcons finish out their regular-season schedule before a bye week in the playoffs at the winless Red Raiders in Emporium.
Coudersport blanked its second straight foe with a 42-0 win over Smethport last week to clinch the Small School-North. That's the fifth shutout of the year and fourth in its last five games. The Falcons have yielded just 26 points all year on four touchdowns.
Offensively, senior running back Travis Gleason (125-1,037, 18 TDs) went over 1,000 yards rushing for the season last week. Quarterback Hayden Keck, who's attempted 38 passes with 594 yards through the year, is the second-leading rusher with 612 yards and nine TDs.
Cowanesque Valley (2-7) at Otto-Eldred (3-6)
The Terrors likely finish up their season at home against the Indians of District 4, a common late-season foe over the years. They beat the Indians last year, 41-13, in their first meeting since 2015 and they own a 13-game winning streak against them.
Earlier this year, Cowanesque Valley beat Bucktail, 35-6, one week after Bucktail beat the Terrors (22-12), who were playing without injured quarterback Cole Sebastian. Indians quarterback Seth Huyler (98-for-212, 1,193 yards, 10 TDs, 5 interceptions; 48-477 rushing), running back Elliott Good (128-639, 4 TDs) and receiver Kole Hurler (42-571, 4 TDs) are their top players.
Sebastian is the other D9 pass over 2,000 yards for the season with 2,071, completing 139 of 246 passes with 24 TDs and eight interceptions. He's one of two junior D9 passers that'll go into next year on the district's all-time passing list. Going into Friday, Brookville's Jack Krug (5,539) and Sebastian (4,154) rank 10th and 20th respectively.
Sebastian is also the team's leading rusher with 468 yards and 5 TDs. His top receiving targets are junior Ethan Smith (47-856, 12 TDs) and senior Cameron Magee (40-668, 7 TDs).
Clearfield (7-2) at Bishop Carroll (3-6)
While the Bison play this week, it could be their lone game in a three-week span if the only teams to enter the sub-regional playoffs are them and Bellefonte, which would be a finals matchup in two weeks.
Bishop Carroll forfeited to Bellefonte last week. The Huskies last played two weeks ago in a 55-12 loss to Penns Valley. Quarterback Hunter Dumm (61-for-120, 971 yards, 6 TDs, 11 interceptions; 62-482, 9 TDs rushing), running back Jake Zazvrskey (122-612, 4 TDs; team-high 21-352, 2 TDs receiving) and receiver Mavrick Farabaugh (23-222, 2 TDs) are the top players.
Clearfield hasn't played since its 36-28 loss to Bald Eagle Area two weeks ago. Quarterback Oliver Billotte (101-for-183, 1,525 yards, 13 TDs, 6 interceptions; 97-390, 13 TDs rushing), running back Brett Zattoni (134-683, 6 TDs) and receiver Matt Pallo (21-341, 4 TDs) lead the Bison offense that lost receiver Jake Lezzer (40-619, 4 TDs) after seven games to a season-ending injury.
Nick Domico (8.1) leads the Bison defense in tackles per game.