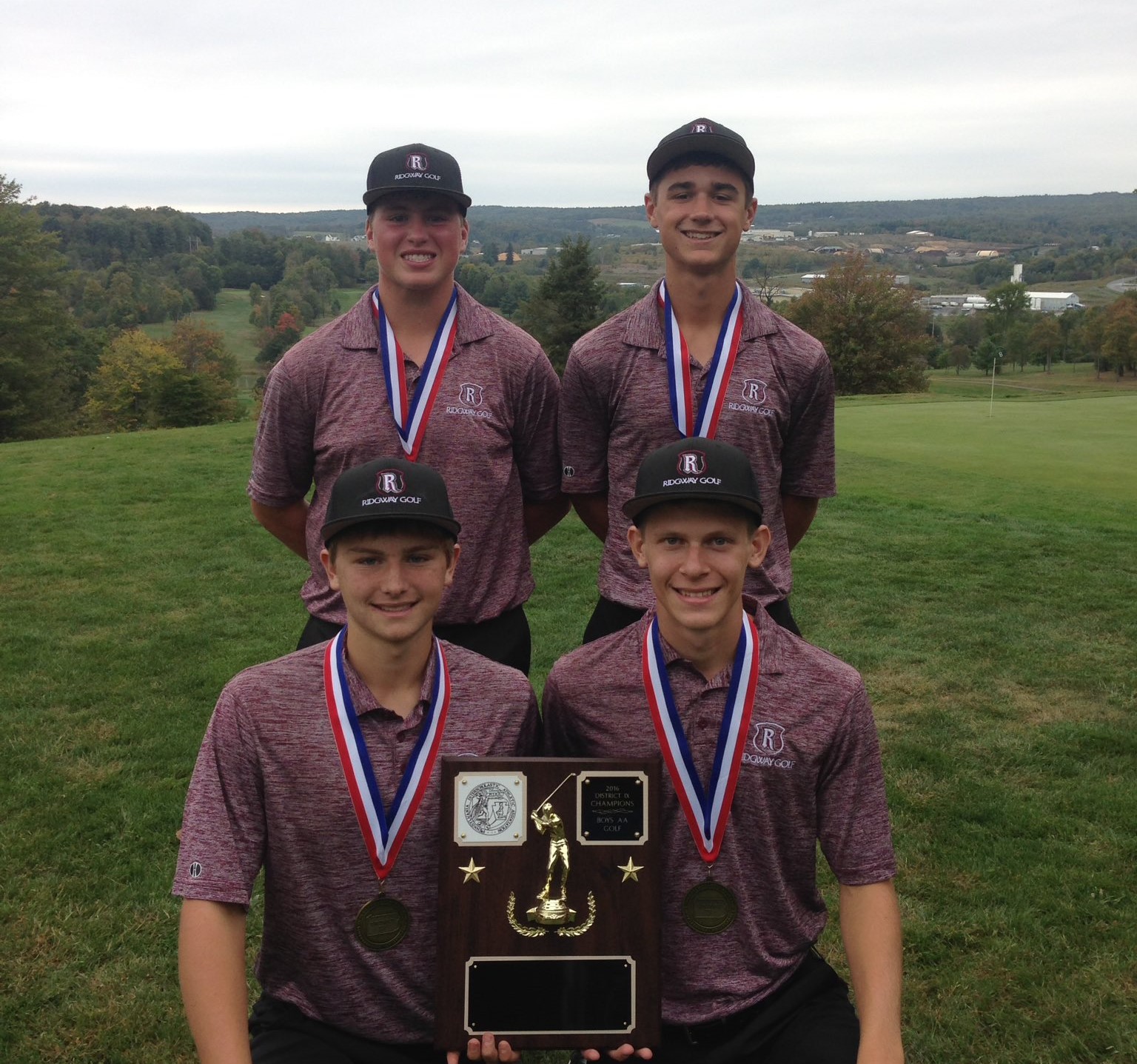 ST. MARYS, Pa. – Behind first-round leader Ben Ames, the Ridgway boys' golf team captured the 2016 District 9 2A championship Monday at Bavarian Hills Golf Course in St. Marys, the fourth consecutive title for the Elkers.Ames shot a first-round score of 80 and is one of 18 golfers to make the cut for Saturday's championship round, also at Bavarian Hills.
Behind Ames, Ridgway shot a team total of 350, edging Punxsutawney by four strokes. Elk County Catholic finished third with a score of 367.  
Ames, meanwhile, finished three strokes in front of Jonah Meyer from Elk County Catholic and four ahead of teammate Nick Simon, Coudersport's Chance Ramsey and Port Allegany's Marcus Murphy.
Also making the cut for Saturday's final were Ethan Nevel of A-C Valley/Union (85), Weston Kimmey of Moniteau (85), Christo Park of Kane (86), Austen Cogley of DuBois Central Catholic (87), Kolby Montgomery of A-C Valley/Union (87), Hunter Gifford of Karns City (88), Nathan Marterella of Cranberry (88), Ryan Bressler of St. Marys (88), Joshua Craig of Clarion (89), Willie Hoover of Punxsutawney (89), Andrew Gunn of Cranberry (90), Gabe Kraus of Elk County Catholic (90) and Lucas Ambler of Punxsutawney (90).
In the District 5/9 3A event, Drew Canter of DuBois and Hunter Fox of Bradford (85) were round one medalists while Alec Graham of Clearfield 88), Joe Hnat of DuBois (89) and Jacob Vanlenten of Somerset (92) also moved into the championship round.
Ridgway's team victory advances them to them the PIAA Western Team Sub-Regional which will be played Oct. 13 at Treasure Lake Gold Course in DuBois against the District 10 representative to determine which team advances to the PIAA State Team Championship in York Oct. 24-26.
In Class 2A, the top six golfers after the championship round will advance to the Western Regional to be be held at Tom's Run Golf Course in Blairsville Oct. 17.
The top two golfers after the championship round in Class 3A will advance to the Western Regional also Oct. 17 at Tom's Run.
2A Individual Scoring

(Cut was 90)

Player
School
D1

Ben Ames

Ridgway

80

Jonah Meyer

ECCH

83

Chance Ramsey

Coudersport

84

Marcus Murphy

Port Allegany

84

Nick Simon

Ridgway

84

Ethan Nevel

ACV/Union

85

Weston Kimmey

Moniteau

85

Christo Park

Kane

86

Austen Cogley

DCC

87

Kolby Montgomery

ACV/Union

87

Hunter Gifford

Karns City

88

Nathan Marterella

Cranberry

88

Ryan Bressler

St. Marys

88

Joshua Craig

Clarion

89

Willie Hoover

Punxsutawney

89

Andrew Gunn

Cranberry

90

Gabe Kraus

ECCH

90

Lucas Ambler

Punxsutawney

90

Nathan Proutty

Oswayo Valley

91

Nick Wendel

St. Marys

91

Jacob Anderson

Port Allegany

93

Levi Roseman

Brookville

94

Shawn Miller

Curwensville

94

Brian Shupe

Cameron County

96

Cameron Craig

Clarion

97

Connor Alfieri

Smethport

97

Zyler Hargerrader

Forest Area

97

Hunter Lancaster

Venango Catholic

99

Ian Henry

Keystone

99

Michael Hill

Smethport

99

Logan Pistorius

Karns City

100

Zeke Bugay

Brookville

102

Ryan Graves

Oswayo Valley

103

Tim Wagner

Venango Catholic

103

Zander Hargenrader

Forest Area

103

Brennan Guisto

Cameron County

105

Zach McClure

Curwensville

106

Zander Israel

Kane

106

Ryan Rogers

Keystone

108

Noah Delp

Coudersport

111

Max Forcey

DCC

119
3A Individual Scoring

(Cut was 92)

Player
School
D1

Drew Canter

Dubois

85

Hunter Fox

Bradford

85

Alec Graham

Clearfield

88

Joe Hnat

Dubois

89

Jacob Vanlenten

Somerset

92

Nick Neeper

Clearfield

98

Jack Schrock

Somerset

101

Joey Gorse

Bradford

101
AA Team Scoring
School
Score 1
Score 2
Score 3
Score 4
Final Total

Ridgway

89

80

84

97

350

Punxsutawney

83

90

89

92

354

ECCH

90

83

90

104

367