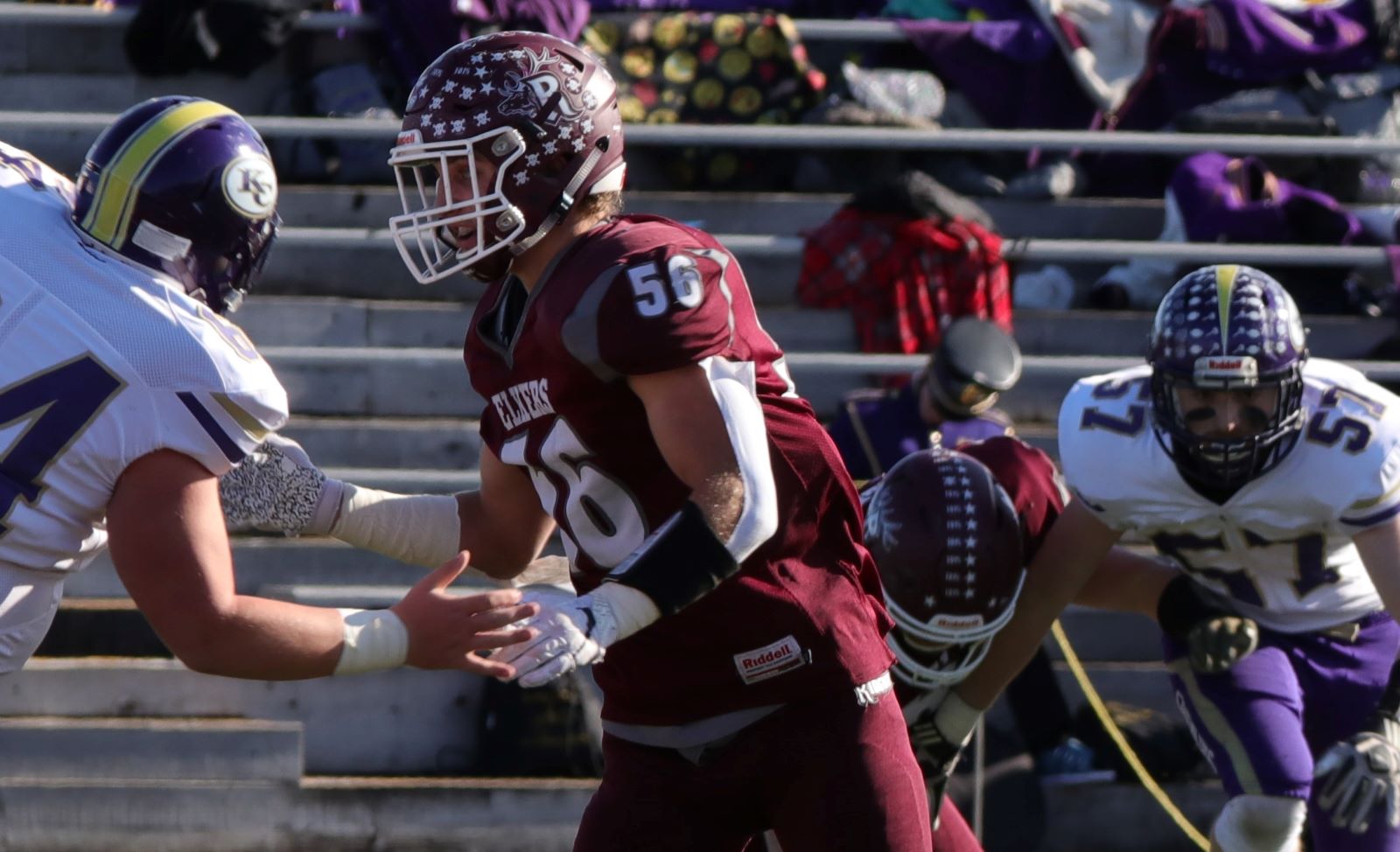 CLARION, Pa. – The Ridgway football team has become a bit of a dynasty in District 9 winning four straight D9 titles – two in Class 1A and two in Class 2A.
(Photo of Ridgway's Robert Briggs. Photo by Jared Bakaysa of JB Graphics. See more of Bakaysa's work here)
And perhaps no player better exemplifies the team-first mentality of the Elkers than offensive lineman/linebacker Robert Briggs.
Briggs's talents on both sides of the football are why the senior is the 2019 Jim Kelly Award winner as the District 9 MVP as presented by the Eric Shick Agency (Nationwide Insurance) and D9Sports.com.
A key cog in the offensive line, Briggs helped Ridgway average 39.9 points per game this season and 392.7 yards per game of offense.
But Briggs's biggest contributions may have come on the defensive side of the football where he was the leading tackler for the Elkers, who gave up 15.2 points per game.
He recorded 143 tackles and averaged 11.0 tackles per game while also being credited with 1.5 sacks.
Joining Briggs in being honored with major postseason awards are Clarion's Austin Newcomb as the Offensive Player of the Year, Kane's Teddy Race as the Defensive Player of the Year, St. Marys' Christian Coudriet as the Rookie of the Year, Keystone's Ryan Smith as the Coach of the Year, Coudersport's Cale Ayers as the Offensive Lineman of the Year, Kane's Jake Alcorn as the Special Teams Player of the Year, Clearfield's Oliver Billotte for the Individual Performance of the Year, the Brookville at Karns City game as the Game of the Year, and radio announced/Sheffield PA announced Chuck Demko (also known as JJ Michaels) as the Special Contributor Award winner. Information on these award winners is listed below.
In addition to the major awards, The Eric Shick Agency D9Sports.com All-District 9 Football team was also announced (see below).
ABOUT JIM KELLY
Kelly is a 1978 graduate of East Brady High School (now part of the Karns City School District) where he threw for 3,915 career yards and 44 touchdowns and also scored over 1,000 career points in basketball while averaging 23 points and 20 rebounds as a senior. He went to college at Miami (Fla.) and then played in both the USFL for the Houston Gamblers and in the NFL for the Buffalo Bills. He led the Bills to four straight AFC Championships and was elected to the Pro Football Hall of Fame in 2002. The District 9 MVP award was named after Kelly, with his permission, in 2014.
ABOUT ERIC SHICK AGENCY
The Eric Shick Agency has been proud to serve Ford City, New Bethlehem, Brookville and the surrounding communities since 1992. Offering insurance and financial services. The Eric Shick Agency can be reached at 814-275-2210. Nationwide is on your side. Eric Shick is a 1987 graduate of Union High School and a 1991 graduate of Clarion University. More information on the Eric Shick Agency can be found at https://agency.nationwide.com/eric-d-shick-in-new-bethlehem-pa/our-agency.
THE AWARDS
Jim Kelly Award (District 9 MVP)
Robert Brings – Sr., OL/LB, Ridgway
Offensive: Was a key player on an offensive line that helped Ridgway average 392.7 yards per game of offense and 39.9 points per game despite not having a 700-yard rusher or 800-yard receiver.
Defense: 11.0 tackles per game with 5 tackles for a loss and 1.5 sacks
Offensive Player of the Year
Austin Newcomb – Sr., Clarion: Despite playing in just nine games and being hobbled by injuries throughout much of the season, Newcomb ran for 1,276 yards and 21 touchdowns on just 119 carries (10.7 yards per carry) with seven 100-yard games. He added 12 catches for 331 yards and five touchdowns while totaling 27 touchdowns on the season. He ran for a season-best 210 yards and four touchdowns in a win over Karns City and also ran for 187 yards and four touchdowns in a victory over Punxsutawney.
Defensive Player of the Year
Teddy Race – Sr., Kane: Race led Kane with 136 tackles (12.4 tackles per game) with 13 tackles for a loss. He also had a team-best 7.5 sacks while adding a fumble caused, a block field goal and four fumble recoveries.
Rookie of the Year
Christian Coudriet – So., St. Marys: Coudriet burst onto the scene for the Dutch throwing for 2,612 yards and 22 touchdowns with 13 interceptions while going 184 of 302 (60.9 percent) through the air. He also ran for 294 yards and five touchdowns.
Coach of the Year
Ryan Smith – Keystone: In just his second year as the head coach of the Panthers he helped guide Keystone to its first winning season (9-2) since 2009 and the most wins since the PIAA runner-up team in 1989. Keystone was tri-champs in the D9 League Small School South and qualified for the District 9 Class 2A playoffs, it's first playoff appearance since 2009. The nine wins came a year after Keystone won just three games in Smith's first year, and the Panthers had won just six games from 2016 through 2018 and 23 games since their last winning season 10 years ago.
Offensive Lineman of the Year
Cale Ayers – Jr., Coudersport: Ayers was the top lineman on one of District 9's top offenses and helped Coudersport to its second straight District 9 Class 1A title. The Falcons averaged 41.8 ppg while going 11-1 on the year. Coudersport's offense gained 350.9 yards per contest including 282.6 on the ground. Ayers helped pave the way for 1,000-yard rusher Travis Gleason as well as quarterback Hayden Keck, who had over 1,600 combined yards of offense.
Special Teams Player of the Year
Jake Alcorn – Sr., Kane: Alcorn was a fabulous kickoff and punt return man for the Wolves accounting for five special teams touchdowns – three punt returns and two kickoff returns. On 11 kickoff returns, he averaged 27.4 yards per return with a long return of 90 yards, while on 17 punt returns he averaged 25.8 yards per return with a long return of 81 yards. He returned a punt for a touchdown in a District 9 Class 2A semifinal loss to Clarion, as well.
Individual Performance of the Year
Oliver Billotte – So., Clearfield: In just his second game as Clearfield's starting quarterback, Billotte put in a performance for the ages accounting for all eight touchdowns in the Bison's 56-49 win over Penns Valley including the game-winning score on a 1-yard run with 6.7 seconds left in the game. He threw for four touchdowns and ran for four more scores in the victory while going 17 of 29 passing for 442 yards with an interception and also ran 15 times for 38 yards.
Game of the Year
Sept. 20, 2019 – Brookville 42, Karns City 41, 2 overtimes: In a contest that went back-and-forth, Brookville's Ian Thrush tackled Karns City's Hunter Rowe inches shy of the goalline – Karns City fans still contend Rowe got into the end zone – to secure the Raiders first win at Karns City against the Gremlins since 1972. Brookville had forced overtime when Robert Keth scored on a 2-yard run with just 23 seconds left in regulation ending a 60-yard drive for Brookville that included a 45-yard Robert Keth to Thrush pass on third-and-10 that moved the ball to the Karns City 15-yard line and a 14-yard screen pass from Keth to Cole Labenne on fourth-and-10 from the 15 that put the Raiders in scoring position. Donavan Hoffman's extra point tied the game at 28.
Karns City had appeared to get the win when Luke Garing scored on a 5-yard run with 1:53 to play to put the Gremlins ahead 28-21.
In the first overtime, Karns City struck first when Anthony Kamenski scored on a 1-yard run on fourth-and-goal to put the Gremlins ahead 35-28.
But Brookville answered right back on a 10-yard touchdown pass from Keth to Thrush with Hoffman's extra point tying the game at 35 and forcing a second overtime.
In the second overtime, Keth hit Thrush with a 15-yard touchdown pass to put the Raiders back in front, 42-35, before a 7-yard touchdown run by Kamenski got Karns City back within a point.
The Gremlins then elected to go for the win despite Owen Collwell being 5-for-5 on extra-point attempts in the game.
Karns City ran a bootleg with Kamenski to the right and the senior quarterback threw back to the left where it appeared Rowe was wide open and had a chance to score before Thrush, who had started the play as if he was going to blitz from the left before dropping into coverage in the middle of the field, somehow, someway caught him from behind just before the goal line.
Brookville led 14-7 at halftime before Karns City scored back-to-back touchdowns in the third quarter to take a 21-14 lead. Keth then hit Thrush with a 74-yard touchdown pass to tie the game at 21 late in the third quarter.
Thrush had a huge game receiving for the Raiders with 12 catches for 294 yards and five touchdowns.
Keth, making his first start of the season in place of the injured Jack Krug (ankle), was 19 of 28 passing for 345 yards and the five touchdowns. He added a rushing touchdown as well.
Brookville needed Keth's arm, as the Raiders were held to negative 15 yards rushing on 14 carries.
Karns City, on the other hand, ran 64 times for 349 yards led by 27 carried for 155 yards by Kamenski, who scored twice in the overtime sessions. Garing chipped in 15 carries for 108 yards and three touchdowns and Rowe added 17 carries for 52 yards and a score.
The Gremlins ran 70 plays in the game to Brookville's 42 but only outgained the Raiders 368 to 330.
Special Contributor
Chuck Demko/JJ Michaels: Demko, who when broadcasting for 97.5 FM The Hound, goes by the on-air name of JJ Michaels, has been in District 9 for nearly three decades. According to long-time District 9 radio personality Barry Morgan, himself a winner of this award in 2014, Demko has been broadcasting games for nearly 30 years after getting his start with Morgan when he was 14 or 15 years old (he is now 43). Morgan said the story of how Demko got his start was that Morgan saw him in the stands talking on a pencil like he was broadcasting, and Morgan asked Demko's dad why he was doing that. Demko's dad replied, "He wants to be like you." Morgan said he laughed and told them not to let him do that but then took the young Demko under his wings and the rest is, as they say, history. But Demko's contributions don't end there. A resident of Sheffield, Demko, has been the public address announcer for Wolverines football – Sheffield plays on Saturdays so Demko doesn't have broadcasting responsibilities – for the past 11 years. In addition, Ridgway head coach Mark Heindl spoke of how Demko does introductions for the starting lineups for The Hounds broadcasts of Ridgway football and then gives those introductions to Heindl so they can be used on the pregame film for the Elkers. Demko is also willing to help any media outlet that asks for information on games he is at and is overall a great guy.
ERIC SHICK AGENCY D9SPORTS.COM ALL-DISTRICT 9 FOOTBALL TEAM
First-Team Offensive
QB – Paul Gresco, Ridgway
RB – Austin Newcomb, Clarion-Limestone
RB – Travis Gleason, Coudersport
WR – Ethan Burford, Clarion
WR – Ian Thrush, Brookville
TE – Chase Husted, DuBois
OL – Quentin Bloom, Clearfield
OL – Cale Ayers, Coudersport
OL – Kirk Wolbert, Keystone
OL – Greg Simon, Ridgway
OL – Ben Smith, Clarion-Limestone
Ath – Anthony Kamenski, Karns City
Ath – Hayden Keck, Coudersport
Ath – Jake Alcorn, Kane
First-Team Defense
DL – Ethan Hetrick, Redbank Valley
DL – Gabe Watts, Ridgway
DL – Damon Kelly, Ridgway
LB – Tedd Race, Kane
LB – Robert Briggs, Ridgway
LB – Nick Domico, Clearfield
LB – Nathan Taylor, Brookville
DB – Kyle MacBeth, Brookville
DB – Jake Lezzer, Clearfield
DB – Kaden Scherer, Karns City
DB – John Minor, Coudersport
First-Team Special Teams
K – Ethan McDeavitt, Moniteau
P – Hudson Martz, Redbank Valley
Return Man – Jake Alcorn, Kane
Second-Team Offense
QB – Cal German, Clarion
RB – Nick Weaver, Keystone
RB – Sam Kaul, Elk County Catholic
WR – Ethan Smith, Otto-Eldred
WR – Cameron Magee, Otto-Eldred
TE – Leo Gregory, Elk County Catholic
OL – Robert Briggs, Ridgway
OL – Mitch Knepp, Clarion
OL – Riley Davis, Karns City
OL – Brady Rapp, Keystone
OL – Logan Rodgers, Coudersport
Ath – Matt Dush, Ridgway
Ath – Noah Lent, Smethport
Ath – Cole Sebastian, Otto-Eldred
Second-Team Defense
DL – Elliott Park, Brookville
DL – Joseph Mansfield, Redbank Valley
DL – Kameron Rounsville, Smethport
LB – Colton Hoffman, Union/A-C Valley
LB – Nathan Waltman, Karns City
LB – Nick Martino, Moniteau
LB – Kirk Wolbert, Keystone
DB – Kaden Scherer, Karns City
DB – Austin Newcomb, Clarion
DB – Noah Lent, Smethport
DB – Josh Sorg, Ridgway
Second-Team Special Teams
K – Aaron Hottel, Kane
P – Jake Mullins, Curwensville
Return Man – Kaden Scherer, Karns City