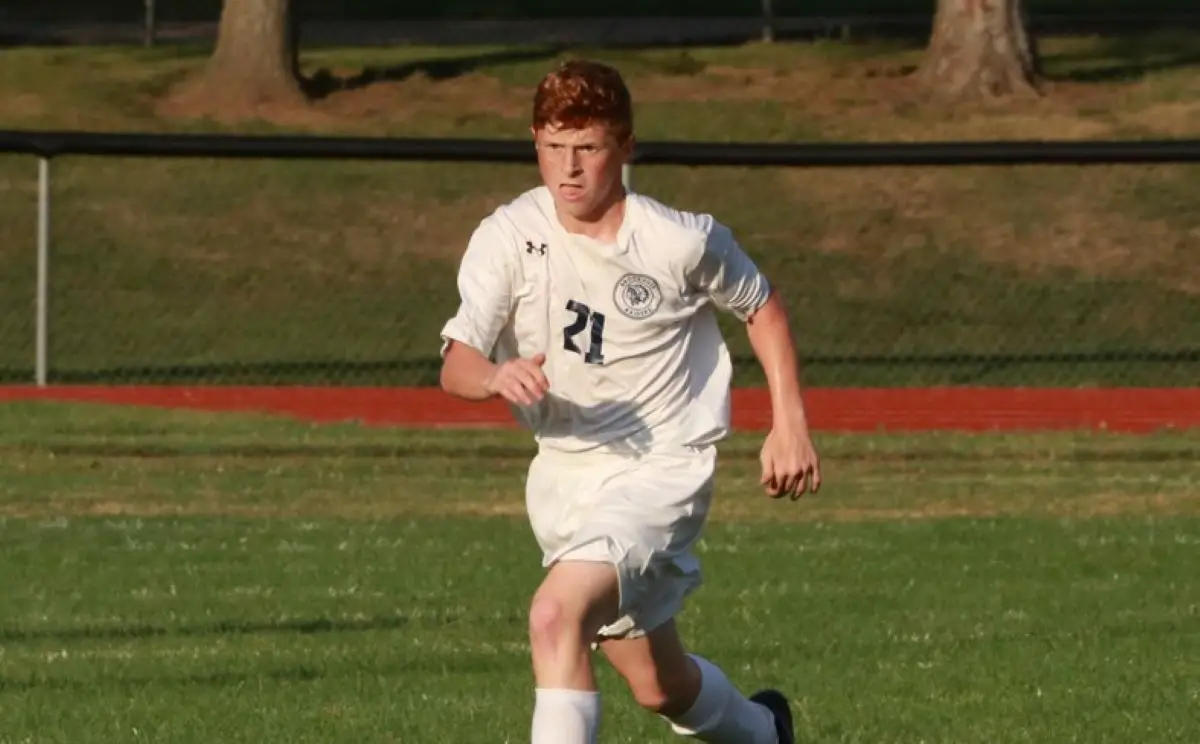 Sept. 18 soccer recaps.
(Photo of Logan Oakes of Brookville. Photo by Mike Maslar)
BOYS' SOCCER
BROOKVILLE 5, DUBOIS CENTRAL CATHOLIC 1
BROOKVILLE, Pa. – Logan Oakes figured in on four of Brookville's five goals, as the homestanding Raiders knocked off DuBois Central Catholic, 5-1.
Oakes scored three times and assisted on a fourth goal in the win.
Bryce Kunselman added a goal and an assist for the Raiders, while Garner McMaster also scored.
Picking up helpers for Brookville were Zakk Wolfe, Hayden Kramer and Christian Smith.
Tristen Engle scored on a penalty for DCC.
BRADFORD 4, WARREN 1
WARREN, Pa. – Isaiah Pingie scored twice and assisted on a third goal to lift visiting Bradford to a 4-1 win over Warren.
Ethan Tate and Gavin McGee also scored for the Owls with McGee adding a helper.
Ian Grady assisted on a pair of the tallies with Aryon Hart also picking up a helper.
Evan Schmidt stopped seven of eight shots to get the win in goal.
CLEARFIELD 3, PENNS VALLEY 2
HYDE, Pa. – Clearfield built a 3-0 lead early in the second half and then held off a late Penns Valley rally to pick up a 3-2 victory over the Rams.
When Andrew Lopez scored in the 43rd minute the Bison led 3-0. But Penns Valley got two goals in the final 10 minutes – Seth Hall early in the 73rd minute and Andrew Boeckel in the 76th minute – to close within one but couldn't complete the comeback.
Nick Ryan and Luke Winters also scored for Clearfield with Winters and Jason Stanko picking up assists.
The Bison outshot Penns Valley 22-4 with Graeson Graves making two saves for Clearfield.
GIRLS' SOCCER
KARNS CITY 6, DUBOIS 0
DUBOIS, Pa. – McKenna Martin scored three times and assisted on a fourth goal to give visiting Karns City a 6-0 win over DuBois.
Alexis Moore added a goal and an assist for the Lady Gremlins, while Paige Dodd and Brooke Stahlman also scored. Also getting helpers for Karns City were Emma Dailey and Ally Fennell.
Rossi McMillen recorded the shutout in net.
ST. MARYS 5, PORT ALLEGANY 2
PORT ALLEGANY, Pa. – Lauren Eckert scored twice to help visiting St. Marys to a 5-2 win over Port Allegany.
Kyla Johnson, Carlie Ginther and Kaylee Muccio also scored for the Lady Dutch.
Erin Stauffer and Bree Garzel scored for Port Allegany.
CURWENSVILLE 9, PUNXSUTAWNEY 0
CURWENSVILLE, Pa. – Chloe Davis scored twice and Emma Rebar and Breanne Spencer each added a goal and an assist in Curwensville's 9-0 win at home over Punxsutawney.
Sydney Spencer, Maura Bunnell, Hailey Sheeder, Haylee Mullins and Tenleigh Bumbarger also scored for the Lady Tide with Jordan Turner adding an assist.