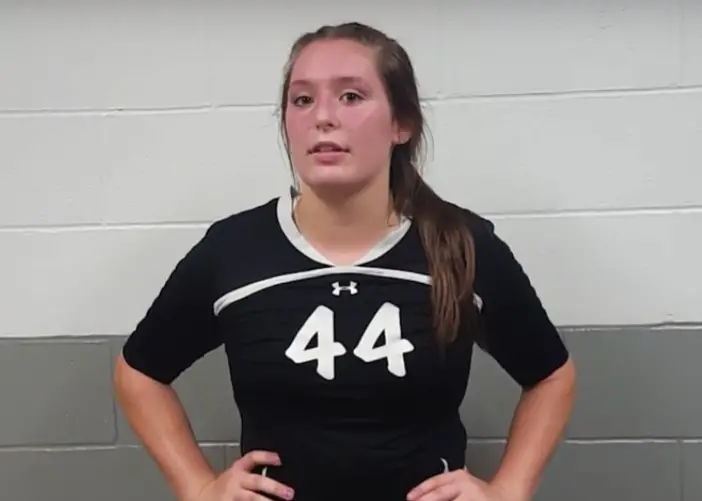 Tuesday, Sept. 20, volleyball and boys' soccer recaps.
(Cover photo of Clarion's Olivia Burns, who had 26 kills in the Lady Cats win over A-C Valley)
CLARION 3, A-C VALLEY 1
Read full story at ExploreClarion.com
CLARION, Pa. – In a battle of the two teams that duked it out for the District 9 Class A title last year, Clarion overcame 16 service errors to beat visiting A-C Valley 3-1 (25-18, 25-27, 25-16, 25-22).
Olivia Burns had 26 kills and 12 digs to pace the unbeaten Lady Cats (5-0), while Maya Thornton had 16 kills. Gloria Kroh chipped in with 44 set assists, five kills and eight digs, and Alexis Constantino had 17 digs.
A-C Valley (4-1), which rallied in the second set after being down 23-18, to tie the match at one set apiece, got 11 kills from Kylee Eaton and eight each from Olivia Boocks and Josie Terwilliger. Sydney Rankin added 16 set assists and Emily Wetzel 10.
KANE 3, RIDGWAY 0
KANE, Pa. – Trinity Clark and Alyssa Zampogna combined for 15 kills to lead Kane to a 3-0 (25-16, 25-20, 25-15) win over visiting Ridgway.
Clark had eight kills, five digs, three aces and one solo blocks, while Zampogna added seven kills, two aces and a block. Ella Marconi contributed five kills and Marcie Stanisch six digs and four aces for the Lady Wolves.
Ridgway played without middle hitters Emily Fullem and Toni Della, but head coach Janet Redmond believed her team held its own and their serving was well.
UNION 3, KEYSTONE 0
RIMERSBURG, Pa. – Taylor Adams had six kills, two aces and three blocks to lead Union to a 3-0 (25-16, 25-8, 25-22) win over visiting Keystone.
Frankee Remmick added four kills, seven digs and two aces for the Golden Damsels, who also received nine digs and two kills from Bryn Davis, two kills and two aces from Amy Henry, 17 set assists and five digs from Hannah Atzeni and two aces from Lexey Shick, who had a steak that saw Union score 10 straight points while serving.
Kacie Weaver had six kills for Keystone/
NORTH CLARION 3, FOREST AREA 0
FRILLS CORNERS, Pa. – Tori Obenrader had 12 kills and five blocks, as North Clarion got past visiting Forest Area, 3-0 (25-22, 25-19, 25-12).
Cassie Wagner added eight kills and three blocks for the Lady Wolves.
OTTO-ELDRED 3, NORTHERN POTTER 0
DUKE CENTER, Pa. – Emily Smith contributed 24 set assists and six aces to help Otto-Eldred to a 3-0 (25-13, 25-15, 25-17) win over visiting Northern Potter.
Camryn Thomas added nine kills, 11 digs and two blocks for the Lady Terrors, who also got eight aces from Alyssa Shelander, seven kills and four aces from Tiffany Bair and seven kills from Ali Cousins.
DUBOIS 3, BRADFORD 2
DUBOIS, Pa. – Despite grabbing a 2-1 lead, visiting Bradford fell 3-2 (19-25, 25-18, 22-25, 25-21, 15-13).
Morgan Roggenbaum had 33 set assists and seven digs, Kam Piscitelli 24 kills, 13 digs and three aces and Hannah Woodell 10 digs and four aces for Bradford.
DuBois stats weren't submitted.
CRANBERRY 3, KARNS CITY 0
SENECA, Pa. – Behind nine kills from Kaylee Weaver and eight kills and 10 digs from Malliah Schreck, Cranberry blew past visiting Karns City, 3-0 (25-17, 25-22, 25-20).
Bree Swartzfager added five kills and nine digs, Lauren Conkle five kills and two blocks, Laykn Vonda five kills and two blocks, Ellie Kahle 19 digs and Erin Merryman 25 set assists and seven digs for the Lady Berries.
Claudia Kamenski had five kills and Emily Hegedus four for Karns City, which also saw Mackenzie Craig come away with three blocks and Brooke Moore 10 set assists.
REDBANK VALLEY 3, CLARION-LIMESTONE 0
STRATTANVILLE, Pa. – Heather Traister had seven kills and two aces to help visiting Redbank Valley to a 3-0 (25-9, 25-13, 25-17) win over Clarion-Limestone.
Josie Rupp, Macy King and Hannah Adams each added five kills with King chipping in six assis. Emily Gourley also had three kills for the Lady Bulldogs, and Cassie Rearick set the offense with 27 set assists and two aces.
Maddy Craig had a kill and an assist for C-L, Paige Aaron had four set assists and Erica Hetrick four kills.
COUDERSPORT 3, CAMERON COUNTY 0
EMPORIUM, Pa. – Thanks to 14 combined kills from Ally Easton and Kiara Perkins visiting Coudersport came away with a 3-0 (25-9, 25-12, 25-15) win at Cameron County.
Easton had eight kills and three blocks, and Perkins added six kills and four aces for the Lady Falcons.
Also for Coudersport, Macy Gleason had four kills and 13 digs, Ady Page 11 digs, Joplin Osgood 13 digs, EmmaRae Easton five digs, four aces and three kills and Haley Keck 22 set assists, three aces and a kill.
Payton Bloom had 10 digs for Cameron County, Taylor Britton added three kills, Amily Schatz three blocks and Alyvia McKimm five assists for the Lady Raiders.
SMETHPORT 3, AUSTIN 0
AUSTIN, Pa. – Katie Treat had 16 kills and two aces to lead visiting Smethport to a 3-0 (25-19, 25-14, 25-14) win over Austin.
Meagan DeLuca set up Treat with 25 set assists, while Emily Treat and Abbey Woodard each chipped in with seven kills. Emily Treat also had 12 digs, and Faith Button had 18 digs for the Lady Hubbers.
Cerissa Glover and Angie Watson each had two aces for Austin with Glover also coming away with a kill and Watson with three digs.
JOHNSONBURG 3, ST. MARYS 0
ST. MARYS, Pa. – Nicole Myers and Skylar Sherry each saw Johnsonburg score nine points while they were serving, and Jensen Furlong saw the Ramettes score six points when she was serving as Johnsonburg topped St. Marys, 3-0 (25-23, 25-22, 28-26).
OSWAYO VALLEY 3, PORT ALLEGANY 1
SHINGLEHOUSE, Pa. – Rallying from a first-set loss, Oswayo Valley beat visiting Port Allegany, 3-1 (17-25, 25-18, 25-19, 25-22).
Shayla Bickel had 15 digs, three aces and two blocks for the Green Wave, while Tiffany Dickerson added nine kills, 11 blocks and dig, Sarah Malogrino nine digs and eight kills and Jayden Snyder 25 digs.
Hannah Lathrop led Port Allegany with 14 kills and four blocks, while Morgan Greeley chipped in 10 digs.
MONITEAU 3, VENANGO CATHOLIC 0
WEST SUNBURY, Pa. – Shannon Goreczny had 15 set assists, and Lauren Hale seven aces and five kills, but visiting Venango Catholic lost 3-0 (25-12, 25-17, 25-14) to Moniteau.
Moniteau stats weren't reported.
BOYS' SOCCER
ST. MARYS 6, KANE 1
ST. MARYS, Pa. – Behind four goals from Jackson Lindemuth, St. Marys rolled past visiting Kane, 6-1.
GENERAL MCLANE 3, BRADFORD 0
EDINBORO, Pa. – Despite 14 saves from Evan Schmidt, Bradford lost 3-0 on the road at General McLane.
The Owls are now 4-3 on the year.
PORT ALLEGANY 1, COUDERSPORT 0
PORT ALLEGANY, Pa. – A goal in the middle of the second half by Payton Caden lifted Port Allegany to a 1-0 win over visiting Coudersport in a showdown between the last two UAVSL North champions.
DUBOIS 2, ELK COUNTY CATHOLIC 0
DUBOIS, Pa. – Scot King and Carson Hanna netted first-half goals to lead DuBois to a 2-0 win over visiting Elk County Catholic.
CLARION-LIMESTONE 5, FOREST AREA 4, OVERTIME
STRATTANVILLE, Pa. – Blake Phillips scored in overtime to give Clarion-Limestone a 5-4 win over visiting Forest Area.
It was an eventful second half and overtime in a contest that saw C-L lead 1-0 at halftime but the teams combined for eight goals after the break.
Phillips' overtime tally was his second goal of the game. Braden Peters also scored twice for the Lions, and Issac Kim once.
Jarrett Kahle had the hat trick for the Fires, and Daniel Parrett also scored.