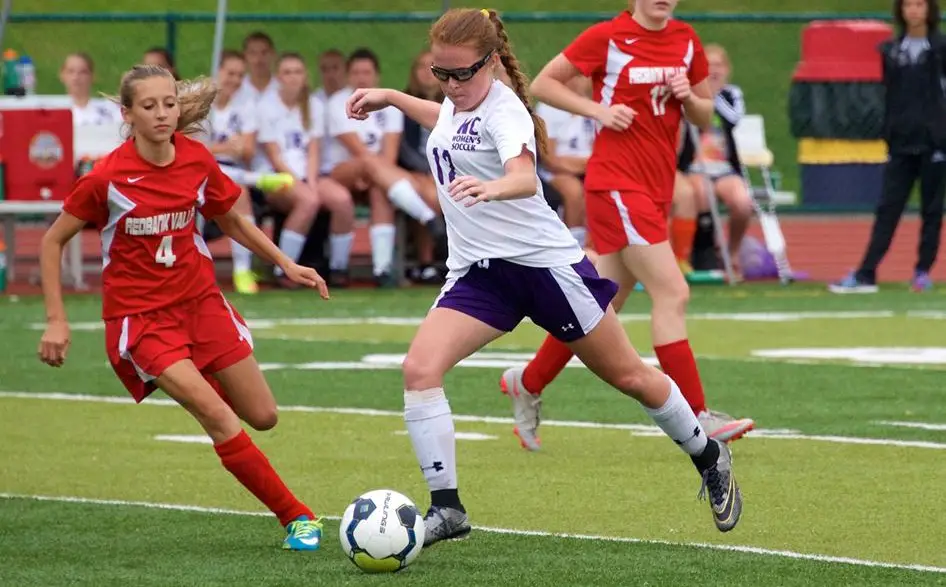 KARNS CITY, Pa. – Megan McCartney scored twice, including her 100th career goal, as Karns City beat visiting Redbank Valley, 4-0.
(Cover photo of Megan McCartney teeing up the shot that ended up in the back of the net for her 100th career goal. Photo by Scott Dittman)
Hannah Knoll and Collette Stahlman also scored for the Lady Gremlins, who have outscored their opponents 66-4 this season.
In other girls' soccer action:
RIDGWAY 1, ST. MARYS 0
ST. MARYS, Pa. – Behind a Cassidy King goal, visiting Ridgway beat St. Marys, 1-0.
Morgan Holtzhauser did all she could to keep the Lady Dutch in the game making 17 saves.
ELK COUNTY CATHOLIC 5, BROOKVILLE 1
ST. MARYS, Pa. – Maddie Sorg scored a hat trick to lead Elk County Catholic to a 5-1 win over visiting Brookville.
Bethany Feldbauer and Maddie Kear also scored for the Lady Crusaders.
VOLLEYBALL
NORTH CLARION 3, DUBOIS CENTRAL CATHOLIC 1
Read a full story at ExploreClarion.com
DUBOIS, Pa. – Behind the hitting of Tori Obenrader and Cassie Wagner, North Clarion shook off a first-set loss to get a 3-1 (20-25, 25-13, 25-20, 25-17) road victory at DuBois Central Catholic.
Obenrader delivered a match-high 16 kills to go with four blocks and six digs, while Wagner had 12 kills, two blocks and 10 digs.
Nine different She-Wolves recorded kills, including five from Megan Baumcratz and three each from Paige Sherbine, Abby Karg and Gena Caldwell.
Karg also had a great game defensively with 18 digs with Mackenzie Bauer adding six.
Sherbine and Sydney Greenawalt ran the offense with 26 set assists led by 14 from Greenawalt and 12 from Sherbine.
Alyssa Bittner led DCC with five kills, while Gabby Caruso and Libby Maurer each had three. Maurer added five digs and Caruso two blocks.
A-C VALLEY 3, SLIPPERY ROCK 0
FOXBURG, Pa. – Josey Terwilliger recorded 15 kills, five digs and two blocks to lead A-C Valley to a 3-0 (25-14, 25-19, 25-15) win over visiting Slippery Rock.
Emily Wetzel added 22 set assists to go with three dig, two aces and a kill for the Lady Falcons, while Olivia Boocks had eight kills and three digs, Kylee Eaton seven kills and three aces and Sydney Rankin 12 set assists, two kills, four digs and two aces.
REDBANK VALLEY 3, BROCKWAY 0
NEW BETHLEHEM, Pa. – Macy King and Heather Traister combined for 25 kills to lead Redbank Valley to a 3-0 (25-15, 25-15, 25-14) win over visiting Brockway.
King led the Lady Bulldogs with 13 kills while adding five aces, and Traister had 12 kills and eight solo blocks. Hannah Adams added nine digs, and Carissa Rearick ran the show with 33 set assists while adding a pair of aces.
BOYS' SOCCER
BRADFORD 6, RIDGWAY 1
BRADFORD, Pa. – Mitch Forbes, Ian Grady and Brent Kennedy each scored twice to lead Bradford to a 6-1 win over Ridgway.
Forbes added an assist, while Jared Lucas and Brett Degolier also had helpers for the Owls.
Lukas McClain scored for Ridgway.
Jack Kellam made three stops in net to get the win.
Bradford led 4-1 at halftime.
ELK COUNTY CATHOLIC 4, BROOKVILLE 2
ST. MARYS, Pa. – Elk County Catholic got goals from four different players to pick up a 4-2 home win over Brookville.
Valentyn Wolfe, Frank Singer, Regis Wortman and Carter Lindemuth all scored for the Crusaders.
Jon Matheny scored twice for Brookville.
COUDERSPORT 3, DUBOIS CENTRAL CATHOLIC 2
COUDERSPORT, Pa. – A late Eli Trimbur goal gave Coudersport a 3-2 win over visiting DuBois Central Catholic.
Trimbur scored in the 75th minute for the Falcons to break the 2-all tie.
The contest was tied at one at halftime thanks in part to a David Kurdick tally for Coudersport before Michael Kane scored in the second half to give the Falcons a 2-1 lead. DCC answered with a goal against Hunter Lauber, who stopped four shots, but Trimbur gave Coudy the win.
NORTHERN POTTER 4, TROY 3
ULYSSES, Pa. – Hunter Inzana scored off a pass from Forster Kosa to break a 3-all tie and give Northern Potter a come-from-behind 4-3 win over visiting Troy.
The Panthers trailed 2-0 after goals from Nate Graybill and Jerry Williams for Troy.
Levi Kio got NoPo within a tally at the half scoring off a Rebecca Morgan pass.
Tucker Kosa then tied the game at two in the second half before Troy retook the lead on a goal by Kris Delosa.
It was Kio again with the equalizer tying the game at three unassisted.
FOREST AREA 2, KEYSTONE 0
KNOX, Pa. – Andrew Schwab was on fire making 13 saves to lead the Forest Fires to a 2-0 shutout win at Keystone.
Manny Tirado and Dillon DiCorpo scored for Forest Area.
SMETHPORT 4, KANE 1
KANE, Pa. – In a game played in a downpour at times, Smethport scored three unanswered second-half goals to beat homestanding Kane, 4-1.
A Tony Prentiss goal for the Hubbers early in the second half broke the 1-all tie, and Andrew Gallup and Zach Gamet added insurance markers.
Brandon Peterson scored for Smethport in the first half, and Bryce Schreckengost scored for Kane.
The win was the third of the year for the Hubbers surpassing last year's total.