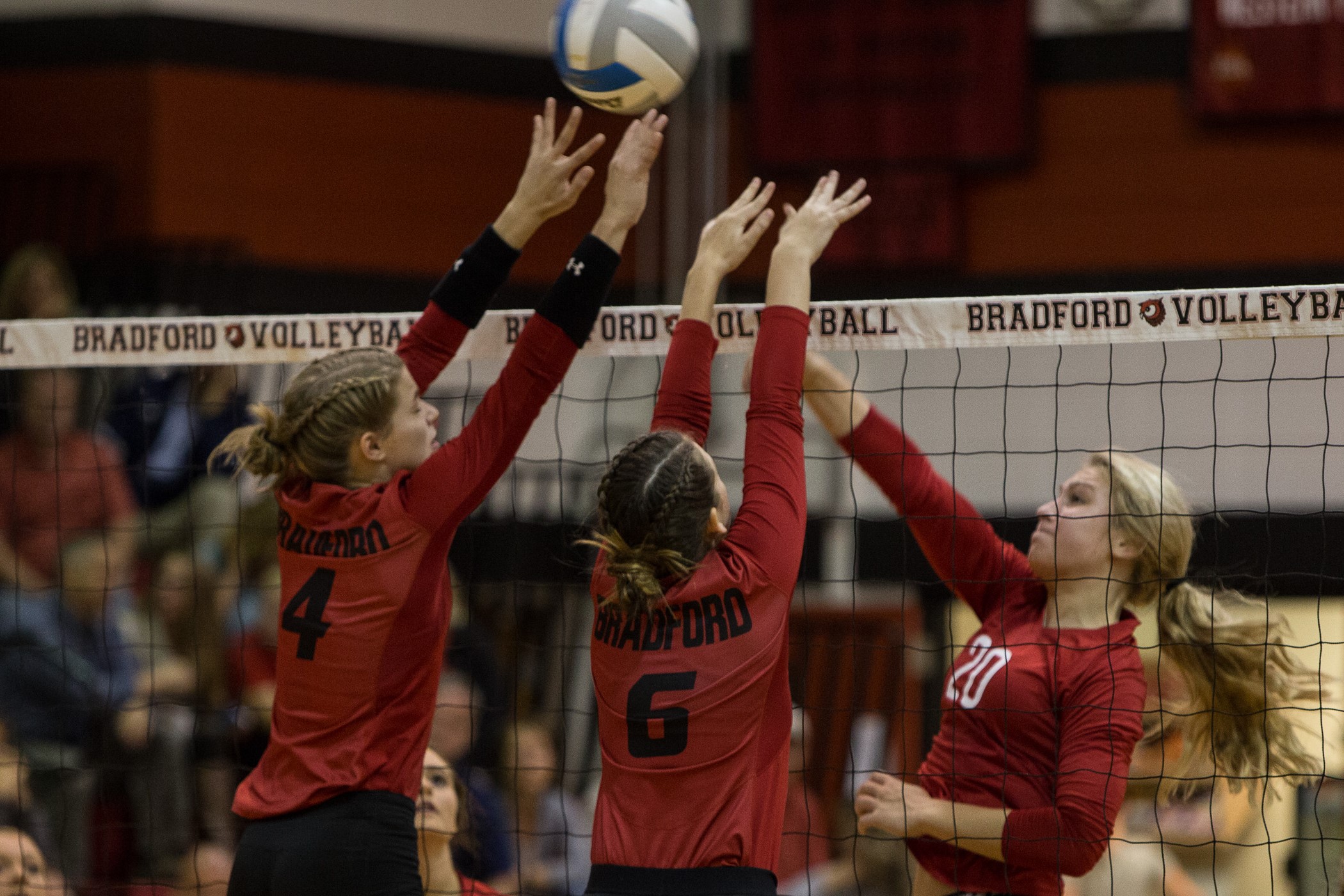 Sept. 29 volleyball and soccer recaps.
(Cover photo of action at the net during Thursday night's Bradford win over DuBois. Photo by Shawn Murray. Check out more of Murray's work here.)
VOLLEYBALL
NORTHERN POTTER 3, AUSTIN 0
ULYSSES, Pa. – Jenna Hyde, Gracie Hamilton and Kalie Cowburn combined for 24 kills to lead Northern Potter to a 3-0 (25-15, 25-14, 25-11) win over visiting Austin.
Hamilton led the Lady Panthers with nine kills, nine digs and three aces. Cowburn chipped in eight kills, 10 digs and five aces and Hyde had seven kills, nine set assists, seven digs and three aces.
Also for NoPo, Tory McCutcheon added three kills, six digs, two aces and 11 set assists.
Jade McKeinan and Jordan Brewer each had two kills for Austin with Alexia Nichols adding a pair of aces.
BRADFORD 3, DUBOIS 0
BRADFORD, Pa. – Behind 10 kills from Kamryn Piscitelli Bradford swept visiting DuBois, 3-0 (27-25, 25-6, 25-22).
Piscitelli added five digs, an ace and a block for the Lady Owls, who also got seven kills, two blocks and two digs from Ashton McGriff and five kills and four blocks from Brinya Moffett.
Morgan Roggenbaum ran the offense with 25 set assists while adding six kills, a block, two aces and two digs, and Bryn Manion chipped in four digs and an ace.
SHEFFIELD 3, BROCKWAY 1
BROCKWAY, Pa. – After taking its own tournament over the weekend, Sheffield finally picked up its first victory of the season, 3-1 (25-14, 16-24, 25-23, 25-18), at Brockway.
Claire Pierson and Rachel Lemay each had nine kills for the Lady Wolverines, while Lexi Lyon added eight kills. Lemay chipped in 18 set assists as well, while Mya Grubs had 16 set assists.
Aso for Sheffield, Eliza Davidson added six kills and Taya Bailey 13 digs.
OTTO-ELDRED 3, CAMERON COUNTY 0
DUKE CENTER, Pa. – Thanks to 10 kills and an ace from Ali Cousins, Otto-Eldred dispatched visiting Cameron County, 3-0 (25-12, 25-18, 25-11).
Tiffany Blair added four kills and four aces for the Lady Terrors, who remain in first place in the NTL.
CLARION 3, MONITEAU 0
CLARION, Pa. – Olivia Burns' 11 kills led Clarion past visiting Moniteau, 3-0 (25-11, 25-17, 25-12).
Lexi Lauer added seven kills for the Lady Cats, who also got four kills from Dorothy Kalinowski and three kills, three digs, five aces and 24 set assists from Gloria Kroh.
NORTH CLARION 3, CLARION-LIMESTONE 0
FRILLS CORNERS, Pa. – Tori Obenrader's kills/digs double-double paced North Clarion to a 3-0 (25-14, 25-15, 25-18) win over visiting Clarion-Limestone.
Obenrader had 11 kills and 11 kills for the She-Wolves and was supported by Cassie Wagner's seven kills and nine digs, Gena Caldwell's seven kills, Paige Sherbine's 12 set assists, Sydney Greenawalt's 10 set assists and Mackenzie Bauer's 14 digs.
COUDERSPORT 3, SMETHPORT 0
COUDERSPORT, Pa. – Ally Easton and Kiara Perkins each recorded double-digit kills to pace Coudersport to a 3-0 (25-15, 25-17, 25-19) win over visiting Smethport.
Easton led the way for the Lady Falcons with 13 kills, two blocks and two aces with Perkins adding 11 kills and four aces. Also for Coudy, EmmaRae Easton had eight kills, two blocks and two aces, Ady Page five kills, Tyler Vanwagenen three kills, Macy Gleason 27 digs, Joplin Osgood 26 digs and Haley Keck 42 set assists and three aces.
KANE 3, DUBOIS CENTRAL CATHOLIC 0
DUBOIS, Pa. – Thanks in part to 10 kills, two aces and a block from Trinity Clark visiting Kane rolled to a 3-0 (25-16, 25-16, 25-8) win at DuBois Central Catholic.
Alysa Zampogna added nine kills and seven aces for the Lady Wolves with Ashley Jordan running the offense with 23 set assists and adding four aces and a block. Ella Marconi contributed five kills and a block and Marcie Stanisch three aces and a kill.
RIDGWAY 3, CURWENSVILLE 1
CURWENSVILLE, Pa. – Visiting Ridgway got nine kills and three blocks from Emily Fullem to knock off Curwensville, 3-1 (25-17, 19-25, 25-23, 25-19).
Hannah Park added three kills for the Lady Elkers, while Kylee Wall had 14 set assists
KEYSTONE 3, VENANGO CATHOLIC 0
KNOX, Pa. – Alyssa Beichner recorded 13 aces to lead Keystone to a 3-0 (25-6, 25-8, 25-12) win over visiting Venango Catholic.
Kaci Weaver added five kills, Danica Hurrelbrink 11 set assists and Sydney Easton two aces for the Lady Panthers.
PORT ALLEGANY 3, GALETON 0
GALETON, Pa. – Mira Terrette had 31 set assists to lead visiting Port Allegany to a 3-0 (25-17, 25-23, 25-20) win over Galeton.
Hannah Lathrop (8 kills), Kierra Keck (8 kills), Makenzie Burr (7 kills) and Erin Stauffer (6 kills) were the majority of Terrette's feeds, while Morgan Greeley led the defense with 11 digs.
Olivia Pagano paced Galeton with nine kills and four blocks, Laura Parsell had 15 digs, Makaya Shadle seven kills and Madi Reiter six kills.
BOYS' SOCCER
KARNS CITY 3, PUNXSUTAWNEY 0
PUNXSUTAWNEY, Pa. – Spenser Myers had two more goals and an assist, as visiting Karns City beat Punxsutawney, 3-0.
Jace Ebbitt had the other goal for the Gremlins, and Noah Pollock added an assist. Jake Weckerly earned the shutout in goal.
ST. MARYS 2, RIDGWAY 0
ST. MARYS, Pa. – Nathan Schneider scored twice to pace a 2-0 St. Marys win over visiting Ridgway.
BROCKWAY 8, KANE 0
BROCKWAY, Pa. – Ryan Little, Nate Long and Jarrett Esposito each scored twice to lead Brockway to an easy 8-0 win over visiting Kane.
Andrew Trunzo and Carter Adams added goals for the Rovers.
GIRLS' SOCCER
ELK COUNTY CATHOLIC 3, CURWENSVILLE 2
CURWENSVILLE, Pa. – Three different Elk County Catholic players scored, as the visiting Lady Crusaders eked out a 3-2 win win over Curwensville.
Sady Van Alstine, Hannah Lenze and Catherine Cerroni all found the back of the net for ECC.
CLARION 3, RIDGWAY 2
CLARION, Pa. – Forest Mills recorded a hat trick to lead Clarion to a 3-2 win over visiting Ridgway.
Mills scored off passes from Lauren Troutman and Courtney Schonbachler and also found the net on a penalty kick.
Cassidy King and Josie Benninger scored for Ridgway.
DUBOIS CENTRAL CATHOLIC 5, BROOKVILLE 1
BROOKVILLE, Pa. – Riley Meyers scored twice to help visiting DuBois Central Catholic to a 5-1 win at Brookville.
Jordy Frank, Caitlin Drahushak and Alexis Kosko also scored for the Lady Cardinals.
Abby Northy scored for Brookville.