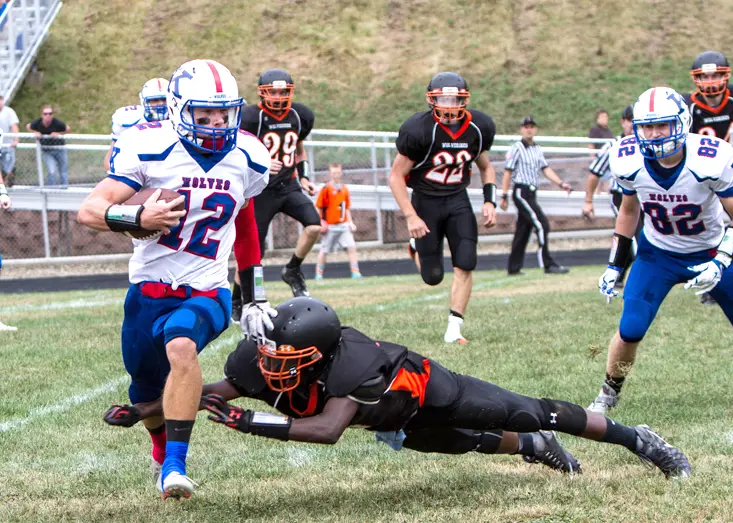 By Chris Rossetti
DUBOIS, Pa. – Shane Rolick accounted for six touchdowns – four rushing and two throwing – to lead Kane to its fourth straight District 9 title game (2 in AA and now 2 in A) with a 49-13 win over Curwensville in the semifinals Saturday afternoon at DuBois' E.J. Mansell Stadium.
"I did pretty good," Shane Rolick, who ran 20 times for 240 yards and was 4 of 6 passing for 100 yards with an interception, said. "My team helped me out, and that's where it ended up. We were all just pumped up and ready to go. It was time."
The highlight of Rolick's game actually game on a non-scoring play when he hurdled Curwensville's Shea Bloom on his way to a 19-yard pickup early in the second quarter drawing wows from the crowd and his teammates as he looked like Roger Kingdom in the 110-meter hurdles at the 1984 and 1988 Olympics.
"I just saw he was going to go low, so I decided the only other option was to go high. I just did it."
Shane Rolick got the Wolves rolling on the right foot just 1:18 into the game when he hit his twin brother, Tyler, with a 39-yard touchdown pass to give Kane a lead it never relinquished, 7-0.
He later added a 31-yard scoring pass late in the first half to Tyler Weidenhoff and then ran for scores of 1, 3, 33 and 26 in the second half helping the Wolves to an impressive 447 yards of offense including 347 on the ground.
"He's a very special athlete," Kane head coach Todd Silfies said. "I think we all saw that on our sideline on that play (where he hurdled the player). He does things that most really, really good kids can only dream of doing. He's a great leader, and a great kid. He had a fantastic day."
Kane led 14-0 at the end of the first quarter thanks to a second touchdown from Tyler Rolick, this one a 4-yard run, but Curwensville caught its legs in the late part of the opening stanza and into the second and cut the lead in half, 14-6, on a 30-yard scoring run from sophomore Nick Stewart, who finished the day with 34 carries for 150 yards. Stewart unofficially has 3,503 yards rushing in two season putting him on pace to be District 9's all-time leading rusher. He has 1,871 yards this season.
"He's dynamic," Curwensville head coach Andy Evanko said. "He's an explosive, very physical kid. He's smart guy, and we are glad he is on our football team."
After the Stewart touchdown, the Tide defense then forced a fumble that Bloom recovered a the Curwensville 43, and the Golden Tide moves to the Kane 21 before an incomplete pass by Jakob Terry on fourth down turned the ball over on downs.
The biggest moment in the game may have occurred during Kane's ensuing drive when Terry, who had thrown for 1,500 yards and 19 touchdowns coming into the game, was hurt on a freak play trying to tackle Shane Rolick on a 43-yard run by Rolick to the Curwensville 32-yard line. From watching video after the game, it appeared one of Terry's teammates fell on him near the sideline.  He came off the field in obvious pain and was evaluated by medical personal before it was decided to transport him to the hospital for a lower-body injury. Reports Saturday night said nothing was broken.
"We're not sure yet what happened to him," Evanko said right after the game. "Obviously (with him out), it takes away a lot of things we wanted to do. Jake, is of course, a big part of our offense. But Bryce (sophomore backup QB Bryce Timko) is a competitor. He's the next guy up, and we expect things from him as well."
With Terry out, Curwensville's offense became one-dimensional, and Kane took advantage limiting the Tide to 66 yards of offense the rest of the game.
"Terry is a great player, a great quarterback," Silfies said. "From what I know, I've met him a couple of times, and I know our guys know him a little bit, he's just a really spectacular kid. So it does change it a little bit. But we didn't really change the way we were covering them at all. We were still running the same coverage against (Quamone) Newkirk because he's explosive no matter who is throwing him the ball. We really didn't change much, but you do have to gear up a little bit when any team loses their starting quarterback."
Curwensville did get a late touchdown when Korie Laird recovered a fumble and took it 12 yards for a defensive touchdown with 7:23 to play.
"I'm still proud of our kids," Evanko said. "Throughout the season, we weren't in very good shape. They fought back and made a heck of a run. We're in the District semifinals. I'm just proud of that team."  
Kane will face Brockway in the District 9 title game at 1 p.m. Saturday at E.J. Mansell Stadium in DuBois. The Wolves beat Brockway in last year's Class A title game after losing the 2012 and 2013 Class AA championship games to Karns City.
"It means a lot," Shane Rolick said of going to a D9 title game in all four years he has played. "It's just part of playing Kane football. We just try our best to get to the title game. It's just how we roll."
NOTES – Late in the game a unique situation happened as Curwensville accidentally got five downs. On first-and-10 from the Curwensville 33, Hunter Johnson ran for three yards. Then on second-and-7 Stewart ran for one yard, and on third-and-6 there was a fumbled ball that Newkirk picked up and lost 10 yards on. At the conclusion of the play, Newkirk was called for a dead ball unsportsmanlike conduct call which should have made it fourth-and-31. But the sticks and scoreboard stayed at third down, and Curwensville ran a play, a 9-yard run by Stewart, which should have turned the ball over on downs. But the Tide then punted on fifth down.  
KANE 49, CURWENSVILLE 13
Score by Quarters
C – 0 6 0 7 – 13
K – 14 7 14 14 – 49
Scoring Summary
First Quarter
K – Tyler Rolick 39 pass from Shane Rolick (Tyler Rolick kick), 10:42
K – Tyler Rolick 4 run (Tyler Rolick kick), 2:58
Second Quarter
C – Nick Stewart 30 run (Jared Bakaysa kick blocked), 10:45
K – Tyler Weidenhoff 31 pass from Shane Rolick (Tyler Rolick kick), 2:19
Third Quarter
K – Shane Rolick 1 run (Tyler Rolick kick), 7:51
K – Shane Rolick 3 run (Tyler Rolick kick), 3:43
Fourth Quarter
K – Shane Rolick 33 run (Tyler Rolick kick), 11:51
C – Korie Laird 12 fumble return (Bakaysa kick), 7:23
K – Shane Rolick 26 run (Tyler Rolick kick), 3:18
TEAM STATS
| | | |
| --- | --- | --- |
| Curwensville | TEAM STATS | Kane |
| 11 | First Downs | 19 |
| 47-161 | Rushes-Yards | 46-347 |
| 26 | Passing Yards | 100 |
| 1-6-1 | Comp-Att-Int | 4-6-1 |
| 187 | Total Yards | 457 |
| 2-1 | Fumbles-Lost | 3-1 |
| 7-45 | Penalties-Yards | 3-15 |
| 4-35 | Punts-Avg | 1-42 |
INDIVIDUAL STATS
RUSHING – Curwensville: Nick Stewart 34-150 (1 TD), Kaleb Witherite 1-7, Hunter Johnson 8-17, Jakob Terry 1-negative 7, Quamone Newkirk 1-9, Bryce Timko 1-negative 5, Team 1-negative 10. Kane: Erik Delong 8-56, Shane Rolick 20-240 (4 TDs), Tyler Rolick 12-59 (1 TD), Ange Costanzo 2-6, Frank Truden 1-negative 9, Team 2-negative 2, Reed Williams 1-negative 3.
PASSING – Curwensville: Jakob Terry 1-for-3, 26 yards. Bryce Timko 0-for-3, 0 yards, 1 interception. Kane: Shane Rolick 4-for-6, 100 yards, 2 touchdowns, 1 interception.
RECEIVING – Curwensville: Avery Francisco 1-26. Kane: Tyler Rolick 1-39 (1 TD), Tyler Weidenhoff 2-36 (1 TD), Davis Garner 1-25.
INTERCEPTIONS – Curwensville: Shea Bloom. Kane: Tyler Rolick.