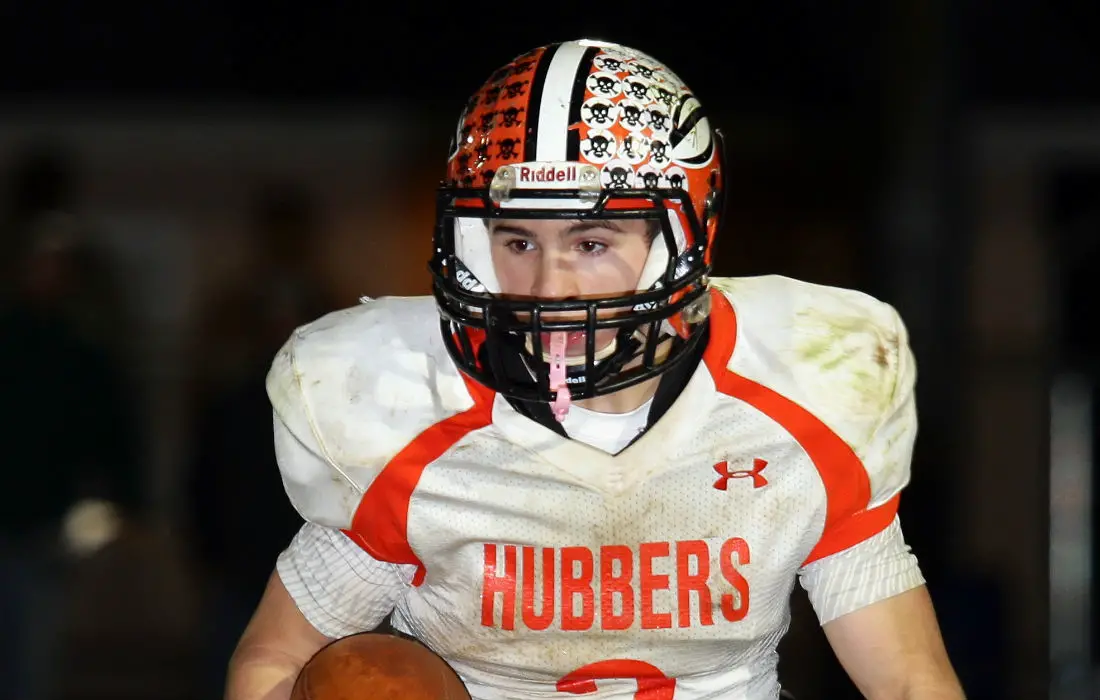 CLARION, Pa. – Scoring five touchdowns in three different ways while rushing for nearly 200 yards, Smethport's Adam Shunk is the D9Sports.com District 9 Player of the Week for Week Five of the 2015 season.  
Shunk ran for 188 yards and three touchdowns, returned a punt for a score and returned a fumble for six points to lead Smethport to its first win of the season, 40-14, in its AML North opener against Sheffield Saturday.
Joining Shunk in being honored this week for outstanding performances are 15 additional players on the D9Sports.com Week Four Honor Roll.
D9SPORTS.COM PLAYER OF THE WEEK
Adam Shunk – Smethport: 30 carries, 188 yards, 3 touchdowns; Returned a punt for a touchdown, Returned a fumble for a touchdown – Smethport 40, Sheffield 14
D9SPORTS.COM HONOR ROLL  
John Eakin – Bradford: 17 carries, 209 yards, 2 touchdowns; 1 catch, 14 yards – Erie Central Tech 62, Bradford 22
Anthony Louder – Clarion-Limestone: 8 of 24 passing, 131 yards, 3 touchdowns, 1 interception; 10 carries, 40 yards, 1 touchdown; 1 catch, 14 yards – Clarion-Limestone 40, A-C Valley 12  
Brady Himes – Clarion-Limestone: 4 catches, 86 yards, 1 touchdown; 4 carries, 23 yards, 1 touchdown – Clarion-Limestone 40, A-C Valley 12
Cody Spaid – Clearfield: 9 of 20 passing, 122 yards, 1 touchdown, 1 interception; 12 carries, 60 yards, 2 touchdowns – Clearfield 28, Brockway 7
Matt Miller – DuBois: 23-for-34 passing, 397 yards, 4 touchdowns – DuBois 47, Punxsutawney 13
Colin Read – DuBois: 10 catches, 177 yards, 1 touchdown – DuBois 47, Punxsutawney 13
Zach Sloan – DuBois: 3 catches, 100 yards, 2 touchdowns – DuBois 47, Punxsutawney 13  
Nate DaCanal – Elk County Catholic: Scored the game-winning touchdown on an 8-yard run with 22 seconds to play; 10 of 15 passing, 76 yards, 1 interception; 13 carries, 25 yards, 1 touchdown; Completed a fourth-and-16 pass on the game-winning drive with ECC backed up inside its own 20-yard line – Elk County Catholic 12, Curwensville 8  
Shane Rolick – Kane: 16 carries, 126 yards, 3 touchdowns; 2-for-6 passing, 20 yards; Forced two fumbles and intercepted a pass on defense – Kane 28, Ridgway 13
Cullen Williams – Karns City: 2 carries, 149 yards, 1 touchdown; 3-for-4 passing, 18 yards, 1 touchdown, 1 interception – Karns City 41, Moniteau 0
Jake Weaver – Keystone: 24 carries, 104 yards, 2 touchdowns; 4 catches, 24 yards – Clarion 20, Keystone 16
Mac Tanner – Port Allegany: Led the Gators defense, which held Cameron County to 70 yards, with 12 tackles – Port Allegany 6, Cameron County 0  
Wyatt Hetrick – Redbank Valley: Returned a kickoff 83 yards for a touchdown; 3 carries, 92 yards, 1 touchdown – Redbank Valley 49, Union 22  
Nathan Straub – St. Marys: 17 carries, 133 yards, 3 touchdowns; Helped the Dutch break a 6-6 tie by scoring two fourth-quarter touchdowns – St. Marys 21, Brookville 6
Dugan Gallagher – Union: 23 carries, 162 yards, 1 touchdown – Redbank Valley 49, Union 22
2015 PLAYERS OF THE WEEK
Week One: Zach Sloan, DuBois and Jake Weaver, Keystone
Week Two: Matt Miller, DuBois
Week Three: Anthony Isabella, Brockway
Week Four: Anthony Louder, Clarion-Limestone and Nick Stewart, Curwensville
Week Five: Adam Shunk, Smethport