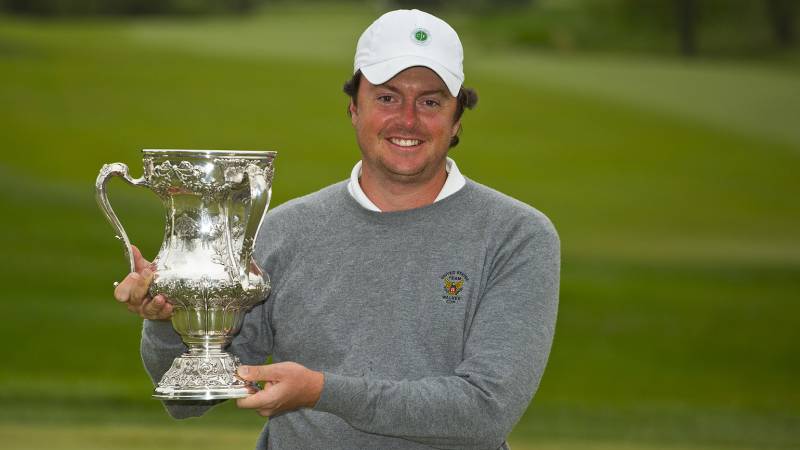 ELVERSON, Pa. – Four-time U.S. Mid-Amateur champion Nathan Smith, a Brookville native, will be back in action at the 2016 Mid-Am Championship at Stonewall in Elverson, Pa., starting Saturday.
(Cover Photo of Nathan Smith courtesy of the USGA)
Smith, who holds the record for U.S. Mid-Amateur Championships having won the event in 2003, 2009, 2010 and 2012, is one of 23 golfers who are fully exempt into the 2016 Mid-Am based on performances in USGA championships and other elite amateur competitions.
The event starts at 7:48 a.m. Saturday for Smith, who will tee off from the first tee on the North Course along with Brian Langley and Christopher Thayer. The three-some will continue with the second round of stroke play at 12:48 p.m. Sunday from the 10th tee on the Old Course.
After Sunday, the 264-golfer field will be reduced to the top 64 scores with those golfers going to match play starting Monday with the first round of match play. Tuesday will see the second and third rounds of match play followed by the quarterfinals and semifinals Wednesday and the 36-hole championship match Thursday. The first 18 holes Thursday will be played on the North Course with the final 18 on the Old Course.
CHIP INS
At least four hours of both the semifinal and championship matches will be televised on FS1
Sammy Schmitz of Farmington, Minn., is the defending champion
Admission to the event is free
The 2017 Mid-Am will be played Oct. 7-12 at Capital City Club (Crabapple Course) in Atlanta
BY THE NUMBERS
1981: The first year the U.S. Mid-Amateur Championship was played.
4: The number of Mid-Amateur Championships won by Brookville native Nathan Smith, the most in history. Smith won in 2003, 2009, 2010 and 2012.
7: Number of U.S. Mid-Amateur Championships Played in the Northeast Region including this year. The first one was played in 1995 at Caves Valley Golf Club in Owings Mills, Md.
2: Number of U.S. Mid-Amateur Championships Played in Pennsylvania including this year. The 2014 championship won by Scott Harvey was played at Saucon Valley Country Club.