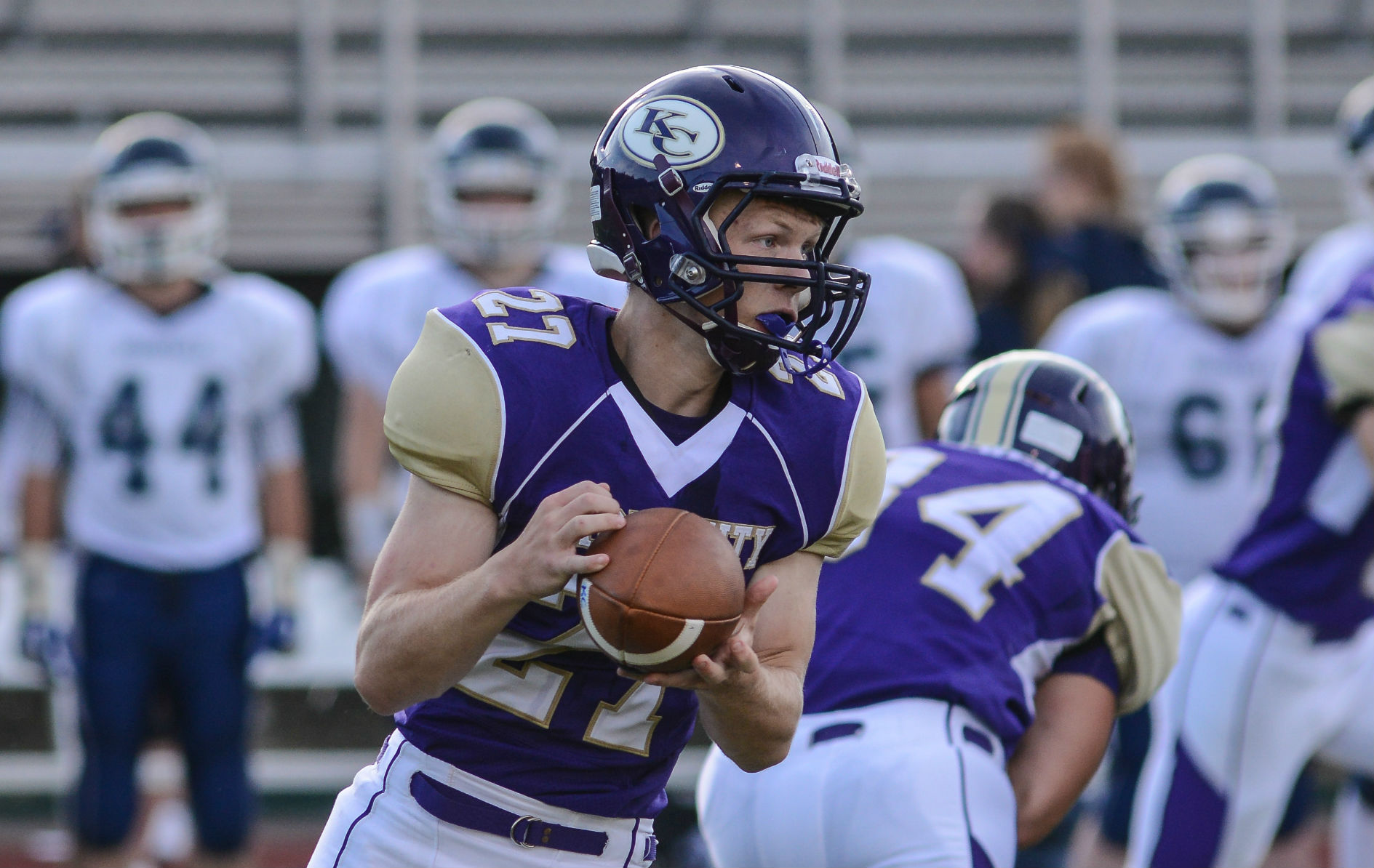 By Chris Rossetti
CLARION, Pa. – For the second straight year, South Fayette ended Karns City's season at Clarion University's Memorial Stadium.
Last year it was the Lions record-setting quarterback Brett Brumbaugh who did the damage, but this year the Gremlins contained Brumbaugh. Instead, junior running back Hunter Hayes did the damage. Hayes ran for 183 yards and four touchdowns to lead the Lions to a 42-15 win in the PIAA quarterfinals Friday night.
"They dropped a lot of guys and did a lot of blitzes," South Fayette head coach Joe Rossi said of why his team went to the ground. "Our coaches did a good of adjusting and getting to the run game."
Brumbaugh, who came into the game needing 303 yards to tie Port Allegany's Matt Bodamer for the state career passing record – Bodamer threw for 10,948 yards in a career that ended in 2012 – did toss the pigskin for 199 yards. But Brumbaugh, who torched Karns City for  340 yards and five touchdowns last year, was only 11 of 23 passing with one touchdown and an interception.
"They did a couple of nice things," Rossi said. "Mixing blitzes, doing a couple of things hadn't seen. But they had a film they could look at from last year."
But with Karns City (11-2) playing the pass, it opened up huge holes for Hayes, who had 113 yards and two touchdowns before halftime.
His 1-yard plunge midway through the first quarter gave South Fayette (14-0), the defending state champs who have now won 30 in a row, a 6-0 lead. It came eight plays after Karns City fumbled an option play at the South Fayette 43-yard line after Tyler Dunn had picked off Brumbaugh's second pass of the game.
The score remained 6-0 until the midpoint of the second quarter when Dan Trimbur booted a 25-yard field goal making it 9-0.
But while Karns City's defense was holding its own against the high-powered Lions, the Gremlins offense couldn't get into any type of flow ending the first half with 21 yards on 21 plays.
That finally caught up to Karns City late in the half when Hayes made it 16-0 on a 9-yard run with 1:47 to play before halftime.
Still, down two scores, the Gremlins were still well within reach until the next-to-the-last play of the first half. That's when Nick Ponikvar returned a Karns City punt 78 yards for a backbreaking touchdown and a 22-0 halftime lead.
"That was a huge, huge play," Rossi said. "We went for the block, so it wasn't even (set up) for a return. He just made a great individual effort like he did last week at Heinz Field."
Trailing by three scores at the break, Karns City hoped its halftime adjustments would allow it to get back in the game in the second half, especially considering the Gremlins were receiving the second-half kickoff.
But on Karns City's first play of the second half, Logan Sharp literally took the ball right away from Christian Turner setting up the Lions at the Karns City 42-yard line.
It took three plays for South Fayette to break the game open, as Hayes made the score 29-0 on his third touchdown of the game and his second from a yard out. It came one play after Brumbaugh hit Sharp with a 30-yard pass to the 1-yard line.
"He made some throws that mattered," Rossi said of his senior quarterback who need just 104 yards next week to tie Bodamer and 105 to break his two-year old record.
South Fayette continued to pile it on on its next possession when Brumbaugh threw a 6-yard touchdown pass to Sharp making it 36-0 and getting the PIAA Mercy Rule rolling with 9:36 to play in the third quarter.
Karns City finally found paydirt 19 seconds after the Sharp touchdown when Collin Dunmyre, who ran for 122 yards, scored on a 53-yard scamper that saw him break away from Lions defenders to cut the South Fayette advantage to 36-8.
But Hayes answered with an 18-yard touchdown run making it 42-8.
The Gremlins got on the board one last time on the next-to-the-last play of the game when Ethan Conto scored from a yard out ending a 12-play, 79-yard drive that came against mostly South Fayette reserves.
Prior to that drive, Karns City had just three first downs and 103 yards of offense with one of the first downs and 53 of the yards coming on the one play.
"I thought our defense played tremendously," Rossi said. "I was proud of their effort. We are just playing really good team defense."
SOUTH FAYETTE 42, KARNS CITY 15
Score by Quarters
South Fayette 6 16 20 0 – 42
Karns City 0 0 8 7 – 15
Scoring Summary
First Quarter
SF – Hunter Hayes 1 run (Kick blocked), 5:44
Second Quarter
SF – Dan Trimbur 25 field goal, 5:54
SF – Hayes 9 run (Trimbur kick), 1:47
SF – Nick Ponikvar 78 punt return, 0:03
Third Quarter
SF – Hayes 1 run (Trimbur kick), 11:16
SF – Logan Sharp 6 pass from Brett Brumbaugh (Trimbur kick), 9:36
KC – Collin Dunmyre 53 run (Caleb King run), 9:17
SF – Hayes 18 run (Kick failed), 0:39
Fourth Quarter
KC – Ethan Conto 1 run (Tyler Dunn kick), 0:22
TEAM STATISTICS
SF Stat KC
22 First Downs 7
39-207 Rushes-Yards 33-177
199 Passing Yards 3
406 Total Yards 180
11-23-1 Comp-Att-Int 3-11-1
0-0 Fumbles-Lost 4-3
6-60 Penalties-Yards 3-26
2-38.5 Punts-Average 6-33.5
INDV. STATS
RUSHING—South Fayette: Hunter Hayes 23-183, Jasper Wolfe 10-31, Nick Ponikvar 4-12, Brett Brumbaugh 2-negative 19 . Karns City: Collin Dunmyre 11-122, Christian Turner 9-41, Maverick Kelsea 4-13, Ethan Conto 2-2, Caleb King 7-negative 1.
PASSING—South Fayette: Brett Brumbaugh 11-for-23, 199 yards, 1 touchdown, 1 interception. Karns City: Caleb King 3-for-11, 3 yards, 1 interception
RECEIVING—South Fayette: Dan Trimbur 5-117, Logan Sharp 3-54, Ryan Schmider 2-12, Hunter Hayes 1-16. Karns City: Logan Moroney 1-5, Christian Turner 1-0, Chandler Turner 1-negative 2.
INTERCEPTIONS – South Fayette: Hunter Hayes. Karns City: Tyler Dunn.