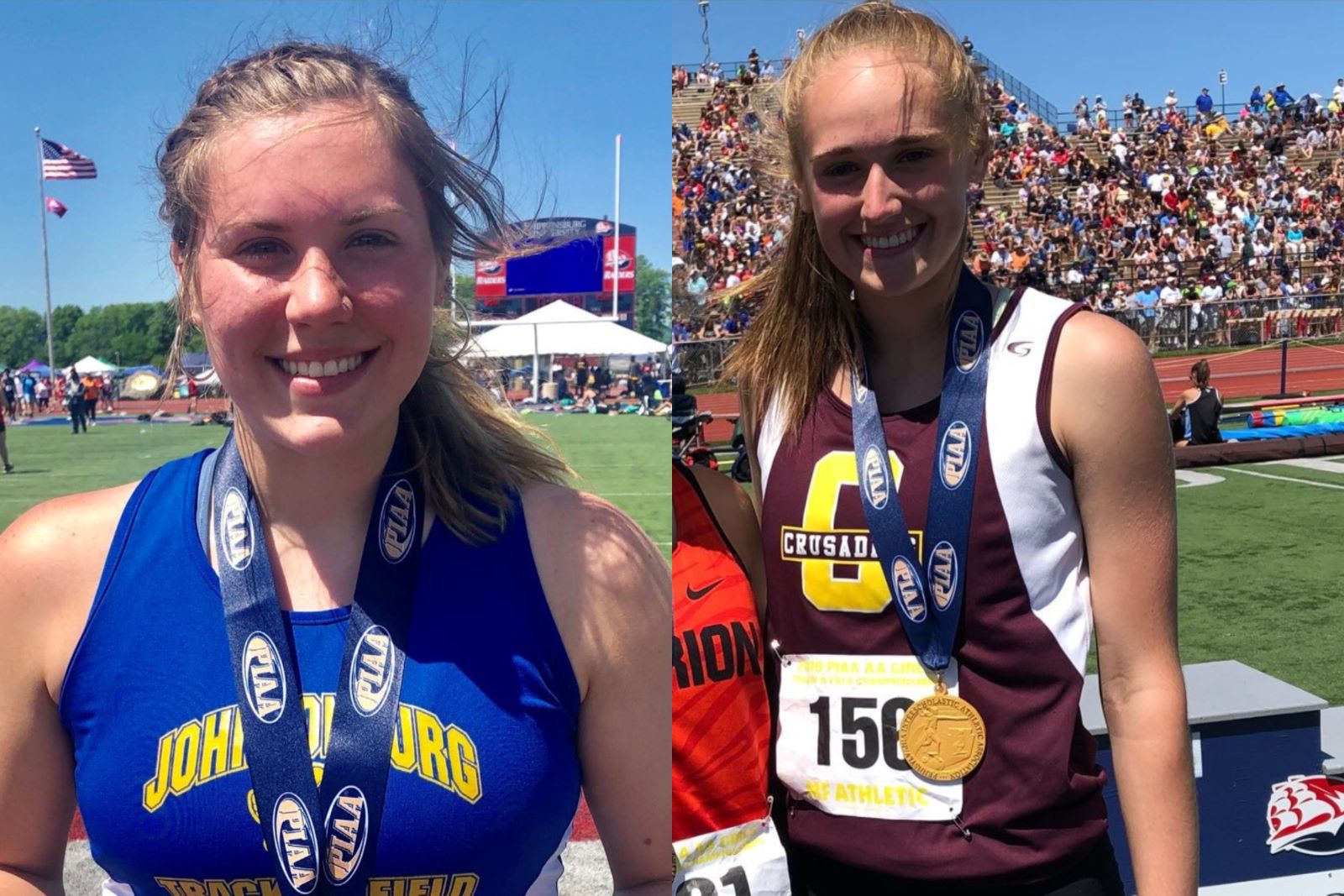 CLARION, Pa. – Over the next few weeks D9Sports.com's Chris Rossetti we will take a look at his the Top 25 stories that impacted District 9 during the 2018-19 school year.
(Photo of Elk County Catholic's Taylor Newton (right) and Johnsonburg's Skylar Sherr (left))
NO. 3 – SHERRY, NEWTON TAKE HOME PIAA INDIVIDUAL TRACK & FIELD TITLES
Reaching the top of any sport takes dedication and hard work.
For Johnsonburg's Skylar Sherry and Elk County Catholic's Taylor Newton that dedication and hard work came with the ultimate payoff Memorial Day weekend in Shippensburg, Pa., when both District 9 athletes won PIAA Gold in girls' track and field.
Sherry continued a strong tradition of District 9 girls' athletes in the javelin capturing the district's third PIAA title in the event in the last five years and the second title in a row with a throw of 137-feet, 3-inches. For Sherry, who finished second the past two years, it was finally her turn to shine as she joined Redbank Valley's Brooke Hinderliter (2015) and Kane's Trinity Clark (2018) as D9 gold medalist in the javelin since 2015.
For Newton, her championship came in the high jump in dramatic fashion as she went over the far at 5-feet, 7-inches, the same height as Beaver Area's Emma Pavalek. But Newton, a junior, needed fewer tries than Pavalek and was crowned the champion.
ROSSETTI'S TOP 25 MOST IMPACTFUL HIGH SCHOOL SPORTS STORIES FROM 2018-19 SCHOOL YEAR
4. Brookville's Record-Setting 4×100-meter boys' relay team
5. DCC softball reaches PIAA title game
6. Brookville boys' track finishes second in the state
7. Clarion-Limestone/Clarion football programs combine
8. Curwensville head coach Andy Evanko passes away after a long fight with ALS
9. C-L's Newcomb runs into D9 record book
10. Young Clearfield softball team reaches PIAA semifinals
11. Cranberry softball reaches PIAA semifinals
12. Winning one for the coach, Kane rallies behind Dave Kiehl
13. A-C Valley girls' basketball makes school history
14. Clarion Volleyball Wins D9 Title, Advances to PIAA quarterfinals
15. Ridgway Boys' Basketball reaches PIAA quarterfinals
16. Six D9 Cross Country athletes medal at PIAAs
17. North Clarion Girls' Basketball gets unexpected three-peat
18. Moving up in class? No problem, Ridgway Football wins third straight D9 title
19. ECC Baseball goes from D9 fifth seed to final eight in the state
20. Moniteau Baseball battles back to win D9 title
21. Brookville Wrestling, a D9 Dynasty
22. Chambers steal and miracle Shot
23. Callen nearly unhittable
24. Wruble's Clutch Hit
25. Ella Marconi's terrific season caps terrific career