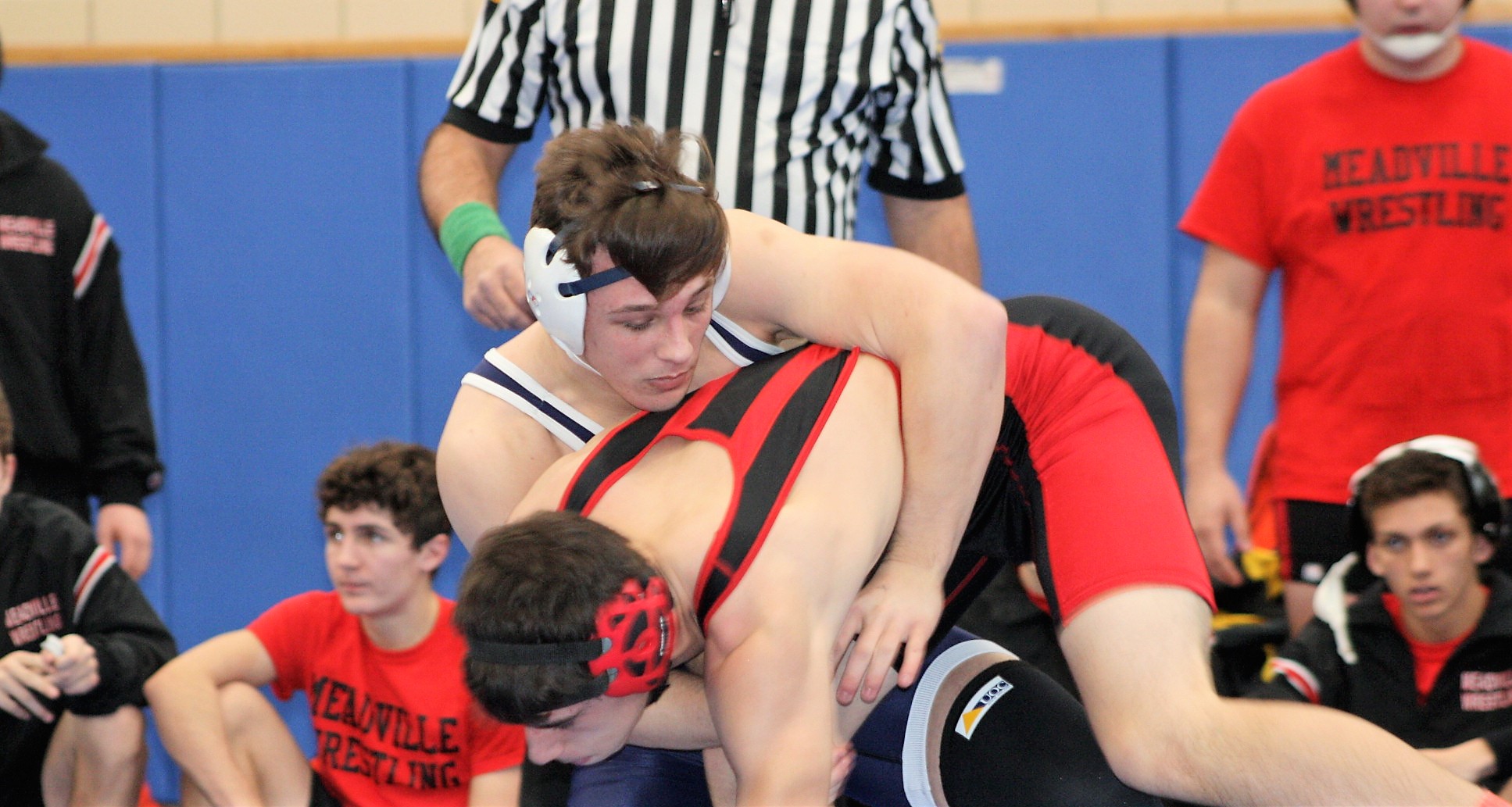 HERSHEY, Pa. — Fifteen of the 19 District 9 Class AA wrestlers who qualified for the PIAA Championships still are alive in their quest for a much-coveted state medal.
Six of those 15 are in the quarterfinals, having won their first round matches.
In AAA, five of the nine D-9 wrestlers are still alive, with three winning their first-round matches Thursday.
Here's a class-by-class look at District 9's wrestlers.
Class AA
Not surprisingly, the Brookville Raiders lead the way with six of their seven wrestlers still alive and three winning Thursday to reach the quarterfinals.
Senior 120-pounder Gavin Park started strong with a pin of Newport's Isaiah Bryner in just 1:03. Park's takedown at the 1:24 mark was the beginning of the end for Bryner.
Park (40-3) won his 122nd match, tying him for sixth on the all-time list with Brodie Zacherl.
Park was seventh in 2016 and his first-round win set him against Line Mountain's Cole Hauck in the quarterfinals Friday morning.
Caleb Hetrick reached the quarters at 152 pounds with a pin of Ashton West in 2:30. Hetrick, who is in his third state tournament, improved to 41-3 with the win.
Hetrick, who was eighth a year ago, will take on Pen Argyl's Chase Anklam in the quarters.
At 195 pounds, Raider junior Xavier Molnar joins Park and Hetrick in the quarters after beating Johnstown's Exree Loe, 9-4.
Molnar gave up a takedown to Loe, but rallied for a takedown and three nearfall points to make it 5-2.
Loe closed to within 6-4 in the third before Molnar escaped with a minute left and used a takedown with 16 seconds left to seal the win.
Molnar will tackle Mifflinburg's Luke Walter in the quarters.
For senior 182-pounder Noah Cieleski, he is on the cusp of the 100-win milestone.
Cieleski (34-9) won his preliminary match, 6-4, over Eastern York's Jahshim Snyder, scoring a takedown with 34 seconds left, to give him win No. 99.
Cieleski lost in the first round, 7-3, to Troy's Zach Zimmerman.
Cieleski will go for his 100th Friday morning against Susquehanna Township's Devin Evans.
Senior 113-pounder Keelan Kunselman has some to work to do to claim another state medal after a fifth-place finish in 2016.
Kunselman (30-12) lost a 2-1 heartbreaker to Notre Dame Green Pond's Richie Markulics in the first round before bouncing back with a 8-0 win over Curwensville's Blake Passarelli. The loss eliminated Passarelli, who earlier lost 6-1 to Burrell's Bryan Gaul.
Kunselman starts Friday with a second round consolation match against Wilson's Marckis Branford.
At 220, junior Tyler Cook (38-6) lost his first match, 9-1, to South Side Beaver's Bishop McCoy. But he won his first consolation match when he pinned Northern Lebanon's Hunter Wallace in 3:24.
Raiders 132-pound junior Dontae Constable (25-16) was eliminated after two losses Thursday. He was pinned by Northeast Lebanon's Trevor Leonard and lost a 2-1 decision to Everett's Liam Flaherty.
Coudersport 160-pounder Gage Arnold won his first-round match Thursday, besting Panther Valley's Hunter Kennedy, 3-2.
Arnold scored the first point with an escape early in the second period.
Kennedy knotted the match at 1-1 with an escape early in the third.
But a late takedown, with just 13 seconds remaining, gave Arnold the winning points. Kennedy escaped with eight ticks on the clock, but the Falcon held off the rally to advance.
Arnold will battle Moshannon Valley's Larry Brown in the quarterfinals Friday morning.
The Ridgway Elkers sent five wrestlers to states, but two bowed out Thursday and two others are in the consolation rounds.
Leading the Elkers is 138-pounder Logan McClain, who whipped Northern Lebanon's Zach Kelly, 10-0.
McClain faces Central Cambria's Max Murin in the quarters.
McClain's older brother, Colton, had a mixed bag at 285 pounds.
Colton opened with a pin of Everett's Kyle Peterson in 3:36 before losing 9-4 to Tri-Valley's Dan Scheib.
McClain will wrestle Wyalusing's Dawson Otis in the second round consolations.
Logan's twin, Lukas, is done after two losses at 132 pounds.
Lukas lost a tough, 5-4, match to Tamaqua's Tanner McHugh, then fell to Bradford's Tyler Thompson.
Kyle Bush lost his first-round match at 113 pounds, 9-5, to Everett's Garret Cromwell.
Bush takes on Freedom's Z.J. Ward in the consolations.
At 126, Bryce Barclay was also eliminated after losing 6-5 to Notre Dame Green Pond's Nick Vonelli and 5-3 to Reynolds's Gage Bayless.
Three more District 9 wrestlers were 1-1 Thursday and will wrestle again Friday morning.
Kane's Aiden Hulings opened with an 8-1 win over Saucon Valley's Dane Csencsits in the prelims, but he suffered a 17-2 technical fall defeat in the first round to Ligionier Valley's Rob Patrick.
Hulings returns to action Friday against Wyalusing's Josh Haley.
Port Allegany's Jake Kallenborn (160) dropped a 10-4 decision to Wyomissing's Tanner Vogel. The Gator scored the first takedown before Vogel took control.
Kallenborn didn't give up though, winning a 1-0 decision over South Allegheny's Cody Jenkins. He wrestles Mahanoy's Colin Fegley in the conseys.
For Bradford's Tyler Thompson, he had a rough start at 132 after getting pinned by Ellwood City's Tyler Alberts in 1:25.
But Thompson scored a 10-4 win over Ridgway's Lukas McClain.
Wrestling begins at 9 a.m. Friday with the quarterfinals and second-round consolations.
Third-round consolations begin at 11:45 a.m.
Friday night, the semifinals and fourth-round consey matches beginning at 7:30 p.m. The fifth-round conseys are at 9:30 p.m.
Class AAA
The DuBois Beavers had five state qualifiers and two won their first-round matches and another is still alive in the consolations.
Ed Scott opened with a 4-2 win over Belle Vernon's Jake Dunlap at 113 pounds. Scott will face Nazareth's Sean Pierson in Friday's quarterfinals.
At 132 pounds, Kolby Ho opened with an 11-5 win over Lower Dauphin's T.T. Elhajj.
Ho will face Council Rock South's Zack Trampe in the quarters.
At 106, Trenton Donahue opened with an 8-4 loss to Council Rock South's Max Mendez. Donahue will take on Pottsville's Nick Onea in the consolations.
At 120, Dalton Woodrow bowed out at 120 pounds after an 8-3 loss to Central Dauphin's Chris Wright, then 4-2 to Spring Grove's Clay Baker.
At 195, Dave Henninger also dropped out with an 11-3 loss to Hazleton's Carson Kinney and was pinned by Garnett Valley's Ryan Mortimer.
St. Marys had two at states and 120-pounder Tyler Dilley is still alive after going 1-1.
Dilley lost 4-0 to Council Rock North's Aidan Burke, but came back with a 5-4 win over Altoona's Hunter Hileman.
Dilley will face Franklin Regional's Colton Camacho.
At 138, Alec Bittler was eliminated after getting tech falled, 23-8, in 4:55 to Northampton's Dan Moran and dropping a 3-2 decision to Bethlehem Catholic's Luca Frinzi.
Clearfield's Luke McGonigal kept his roll going with a 3-1 win over North Allegheny's Sean Hoover at 170 pounds.
McGonigal got a late, second-period takedown and an escape early in the third.
The Bison will battle Pottsgrove's Ryan Finn in the quarters Friday.
Punxsutawney's Blake Bizousky dropped a 5-3 decision to Parkland's Nick Feyrer and then was pinned by Roman Catholic's Mike Leyland in 3:33.
Friday's wrestling begins at 2:15 p.m. with the quarterfinals and second round consolations, then the third round consolations at 5 p.m.