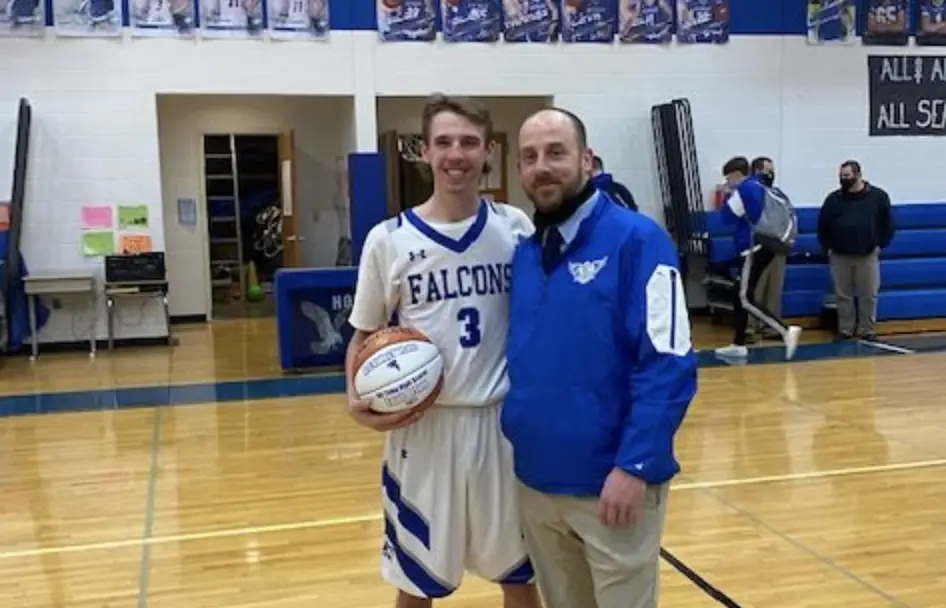 FOXBURG, Pa. – Levi Orton set the new A-C Valley all-time scoring record with his 1633rd point in A-C Valley's 66-32 win over Sheffield. Orton passed Sean Faust's previous record of 1632 points, and Orton ended the game with 1651 total points.
(Photo: Orton with head coach Anthony McGarvey)

Orton's Record Setting Layup
Orton added nine rebounds and five steals to round out his record-setting performance. The Falcons dominated early and often, taking a 34-20 lead into halftime and expanding the lead in the second half. A-C Valley also performed well on the defensive end, especially in the second half, holding Sheffield to 12 second-half points. Jay Clover also had a good game for the Falcons, scoring 12 points while adding seven rebounds and four blocks.
Sheffield was led by Conner Johnson, who scored 13 points. A-C Valley advances to 12-5 with the win, while Sheffield drops to 10-10.