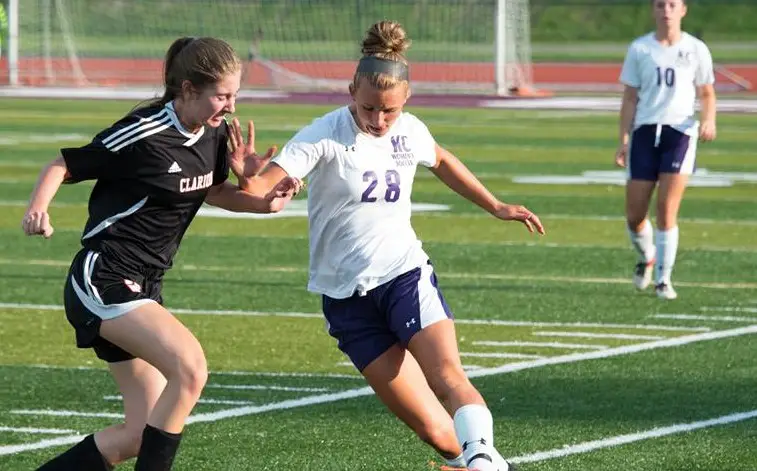 Volleyball and soccer recaps from Sept. 9-10. To submit recaps e-mail sports@d9sports.com.

Cover photo courtesy of Scott Dittman
BOYS' SOCCER
KARNS CITY 9, BROOKVILLE 2
BROOKVILLE, Pa. – Spenser Myers and Noah Pollock each scored three times to lead visiting Karns City to a 9-2 win at Brookville Saturday.
Marcus Lantz, Jace Ebbitt and Nathan Rondinelli also scored for the Gremlins with Rondinelli's tally being his first career goal.
BRADFORD 3, MEADVILLE 0
BRADFORD, Pa. – Colton Swanson scored twice and Mitch Forbes added a goal and an assist, as Bradford topped visiting Meadville, 3-0, Saturday.
Ayron Hart also had an assist for the Owls, while Jack Kellam (two saves) and Evan Schmidt (one save) combined on the shutout in net.
Nick Sternby made five saves for Meadville.
All three Bradford goals came in the second half.
ELK COUNTY CATHOLIC 1, RIDGWAY 1 (ECC wins 3-0 in shootout)
ST. MARYS, Pa. – Elk County Catholic outscored Ridgway 3-0 in the shootout to take home the championship of the Elk County Tournament Saturday.
Erik Mader was up first for the Crusaders in the shootout and delivered the only goal ECC needed.
A first-half goal by Mader gave ECC an early 1-0 lead, but Ridgway tied the contest on a long, second-half tally by Drew Akers.
St. Marys won the consolation game with a 7-2 win over Redbank Valley.
RIDGWAY 5, REDBANK VALLEY 0
ST. MARYS, Pa. – In Friday's opening game of the Elk County Tournament, Ethan Kemmer netted a pair of goals to lead Ridgway to a 5-0 win over Redbank Valley. Jake Sheldon, Kyle Bush and Alec McManus also scored for the Elkers.
GIRLS' SOCCER
KARNS CITY 12, BROOKVILLE 2
BROOKVILLE, Pa. – Karns City spotted Brookville the game's first goal then rolled off 12 straight tallies on its way to a 12-2 victory over the host team Saturday.
Megan McCartney led the Lady Gremlins with two goals and two assists, while Kaylee Smith also scored twice and added a helper and Chelsey Dodds, Haley Scherer and Alexis Fennell all scored twice. Collette Stahlman had one goal and an assist for Karns City, and Alexis Moore chipped in a goal.
Hannah Kirkwood and Linzey Oakes scored for Brookville.
VOLLEYBALL
OTTO-ELDRED 3, ALLEGANY-LIMESTONE (N.Y.) 1
DUKE CENTER, Pa. – After dropping the first set to visiting Allegheny-Limestone (N.Y.), Otto-Eldred rallied for a 3-1 (22-25, 25- 18, 25-18, 25-19) win Friday.
Harlee VanScoter led the Lady Terrors, who were without two starters, with 12 kills, four blocks and two aces, while Tiffany Bair chipped in seven kills and nice aces. Emily Smith added 26 set assists, four kills and three aces.