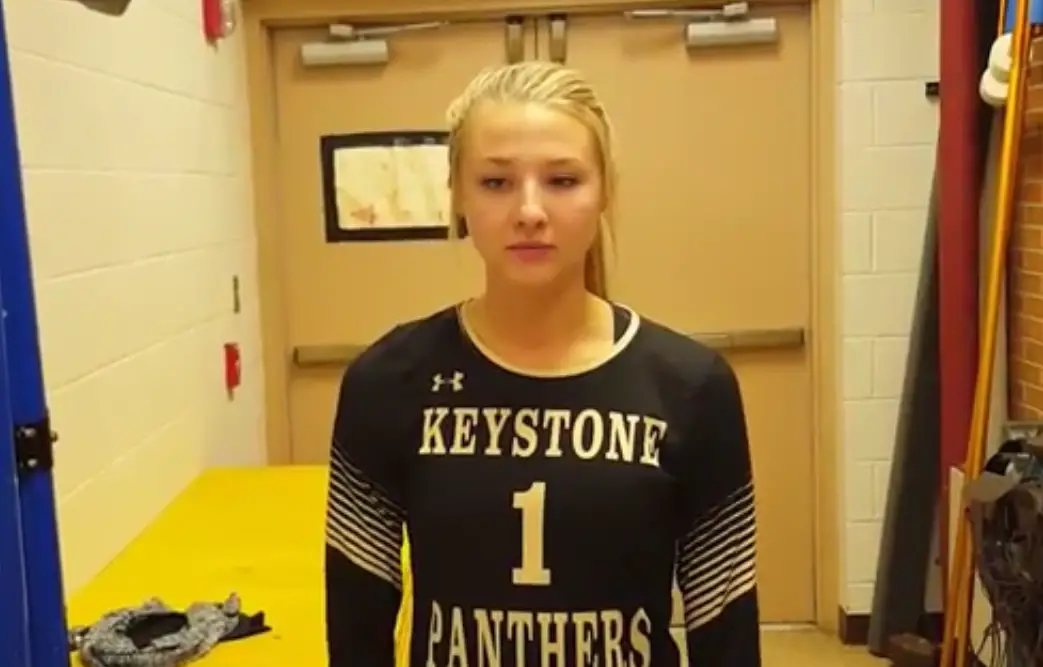 Volleyball and soccer recaps from Tuesday, Sept. 13.
(Cover Photo of Keystone's Kaci Weaver)
VOLLEYBALL
KEYSTONE 3, CRANBERRY 2
Recap full recap with video at ExploreClarion
KNOX, Pa. – In a match that ebbed-and-flowed back-and-forth, Keystone held serve with a 3-2 (25-17, 10-25, 25-21, 16-25, 15-9) win over visiting Cranberry.
The Lady Panthers took advantage of 10 Cranberry miscues in the fifth-and-deciding set to claim the victory.
Kaci Weaver had a strong match for Keystone with six kills while also serving well, while Alyssa Beichner added five kills and Sydney Easton four.
McKenzie Byerley and Danica Hurrelbrink set the offensive in motion with 17 set assists each.
Malliah Schreck, only a sophomore, led the way for Cranberry with 12 kills, including four in the fifth set as she tried to put the Lady Berries on her back.
Kaylee Weaver added six kills for Cranberry, while Ellie Kahle led the defense with 21 digs and Erin Merryman had 24 set assists.
OTTO-ELDRED 3, COUDERSPORT 2
DUKE CENTER, Pa. – Otto-Eldred rallied from down to sets to topple visiting Coudersport, 3-2 (22-25, 15-25, 27-25, 27-25, 15-9), in a match that included a pair of extra-point sets.
"It was a crazy match," Otto-Eldred head coach Jame Thomas said. "Our girls just never gave up. They just have a lot of heart."
Ali Cousins had a kills/digs double-double with 20 kills and 10 digs, while Camryn Thomas had 21 kills and four blocks, an Emily Smith 39 set assists and 14 digs.
Ally Easton paced Coudersport with nine kills and five blocks, while Emma Rae Easton chipped in with eight kills, four blocks and four aces. Macy Gleason added six kills and 37 digs, Joplin Osgood had 36 digs and Haley Keck added 28 set assists.
RIDGWAY 3, BRADFORD 2
RIDGWAY, Pa. – In a match that saw four of the five sets decided by two points including the fifth set, Ridgway claimed its first victory over Bradford since 2011 with a 3-2 (23-25, 26-24, 27-25, 19-25, 15-13) win in Ridgway.
"Every set was a battle," Ridgway head coach Janet Redmond said.
Emily Fullem led the Lady Elkers with 12 kills and five blocks, Kylie Johnson added seven kills and Hannah Park and Casey Woodford each had six kills.
Kamryn Piscitelli paced Bradford with 24 kills, nine digs and two aces, while Ashton McGriff added 18 kills, three digs and a block. Hannah Woodell chipped in nine digs, Brinya Moffett four blocks and two aces and Lauren Kahle 42 set assists and five digs.
NORTHERN POTTER 3, PORT ALLEGANY 2
ULYSSES, Pa. – Trailing two sets to one to visiting Port Allegany, Northern Potter rallied to capture a 3-2 (25-22, 22-25, 24-25, 25-22, 15-12) victory over the Lady Gators in a match that saw all five sets decided by three or fewer points.
Tory McCutcheon and Gracie Hamilton combined for 24 kills for the Lady Panthers led by McCutcheon's kills/digs double-double of 13 kills and 27 digs. Hamilton added a kills/digs double-double of her own with 11 kills and 25 digs to go with three blocks, while Bobby Jo Tubbs chipped in with 34 digs, four kills and four aces and Jenna Hyde 31 set assists and four aces.
Mackenzie Burr led Port Allegany with 12 kills, Kierra Keck added 10 kills and Mira Perrette had 38 set assists.
DUBOIS 3, PUNXSUTAWNEY 1
PUNXSUTAWNEY, Pa. – After dropping the first set by two points, visiting DuBois rallied to take the next three sets and the match from Punxsutawney, 3-1 (26-28, 25-19, 25-17, 25-16).
Lexi Ray led the Lady Beavers with 10 kills, 11 aces and two blocks. Danessa Allison chipped in with eight kills, and Kelli Hoffer added five aces. Ashley McCluskey ran the offense with 34 set assists.
DUBOIS CENTRAL CATHOLIC 3, BROCKWAY 1
DUBOIS, Pa. – Led by nine kills apiece from Libby Maurer and Macey Hanes, DuBois Central Catholic topped visiting Brockway, 3-1 (25-21, 15-25, 25-21, 25-12).
Maurer also had eight digs, while Hanes chipped in with six digs and four aces. Gabby Caruso also had four kills and two blocks for the Lady Cardinals, who got 21 set assists and five aces from Ashley Wruble.
CURWENSVILLE 3, BROOKVILLE 1
BROOKVILLE, Pa. – Despite five kills and two blocks from Olivia Pearson, Brookville fell 3-1 (21-25, 25-21, 25-16, 25-13) to visiting Curwensville.
Caitlyn Park added five aces, three kills and five blocks for the Lady Raiders, who also got 10 set assists from Olivia Witherite.
Curwensville stats weren't submitted.
ST. MARYS 3, SHEFFIELD 1
SHEFFIELD, Pa. – Despite winning the first set, Sheffield dropped a 3-1 (26-28, 25-20, 27-25, 25-10) decision to visiting St. Marys.
Rachel Lemay paced the Lady Wolverines with 19 set assists, eight kills, four aces and three blocks. Claire Pierson added 10 kills and 13 digs, Lexie Lyon had seven kills and five blocks , Mya Grubbs 13 set assists , five kills and a block, Eliza Davidson seven kills and Taya Bailey 11 digs.
St. Marys stats were not submitted.
ELK COUNTY CATHOLIC 3, KANE 1
ST. MARYS, Pa. – Cassidy Cunningham recorded 13 kills and four aces to help Elk County Catholic rally past visiting Kane, 3-1 (19-25, 25-15, 25-20, 25-7).
Reilly Herzing chipped in nine kills and seven aces for the Lady Crusaders, who also saw Kara Detsch run the offense with 24 set assists.
Kane statistics weren't submitted.
CLARION 3, CLARION-LIMESTONE 0
STRATTANVILLE, Pa. – Behind 11 kills from Maya Thornton and 10 from Olivia Burns visiting Clarion went on the road and beat neighboring Clarion-Limestone, 3-0 (25-7, 25-12, 25-8).
Burns added six aces and six digs for the Lady Cats and Thornton four aces and three digs, while Gloria Kroh had 22 set assists.
Erica Hetrick paced C-L with nine digs, while Megan Schimp had eight digs and five set assists.
A-C VALLEY 3, MONITEAU 0
WEST SUNBURY, Pa. – Visiting A-C Valley had a little difficulty picking up a 3-0 (25-11, 25-2, 25-18) win at Moniteau.
Kylee Eaton led the Lady Falcons offense with 11 kills, while Josey Terwilliger chipped in with eight kills and 20 digs. Cassi Schwalm and Olivia Boocks each added five kills with Boocks recording 12 digs and Schwalm eight.
It was a strong serving night for A-C Valley with Jaleigh Seigal recording seven aces to go with 14 digs, Sydney Rankin four aces and Schwalm, Eaton and Boocks three aces apiece. Emily Wetzel (29 set assists) and Sydney Rankin (27 set assists) rank the offense.
REDBANK VALLEY 3, VENANGO CATHOLIC 0
OIL CITY, Pa. – Redbank Valley went on the road and got an easy 3-0 (25-7, 25-7, 25-11) victory over Venango Catholic.
Hannah Adams, Heather Traister, McKenna Shirey and Emily Gourley each had four kills to lead a balanced Lady Bulldogs offense. Shayla Ray added three kills.
Shirey chipped in two aces, and Adams, Traister and Ray each had an ace, while Macy King led Redbank with five aces to go with two kills.
SMETHPORT 3, OSWAYO VALLEY 0
SHINGLEHOUSE, Pa. – Behind 20 kills and four blocks from Katie Treat and 14 kills from Abbey Woodard, visiting Smethport rolled to a 3-0 (25-18, 25-21, 25-21) win at Oswayo Valley.
Haleigh Larson and Olivia Goodwill helped out the Lady Hubbers with four kills and two blocks apiece, and Meagan DeLuca added 24 set assists and 12 kills.
"I threw a few changes at them tonight, and they handled it with ease," Smethport head coach Teri Spittler said. "Their willingness to accept and step up to the challenge impressed me. I am looking forward to the rest of the season with these awesome young ladies."
BOYS' SOCCER
PORT ALLEGANY 4, ELK COUNTY CATHOLIC 1
PORT ALLEGANY, Pa. – Mackenzie Elliott scored twice to lead Port Allegany to a 4-1 win over visiting Elk County Catholic.
Brandon McCaslin and Payton Caden also scored for the Gators, while Josh Mealy made three saves in net and only a late ECC goal kept him from the shutout.
NORTHEAST BRADFORD 2, NORTHERN POTTER 1
ULYSSES, Pa. – An own goal in the second half broke a 1-1 tie and cost Northern Potter a 2-1 defeat against visiting Northeast Bradford.
The Panthers grabbed a 1-0 lead two minutes into the contest on a goal from Jude Jampo and held that lead at the break.
But Northern Potter battled hard in the second half and tied the game at one on a tally by Levi Kio assisted by Tucker Kosa.
KARNS CITY 11, FOREST AREA 2
KARNS CITY, Pa. – Spenser Myers and Noah Pollack each recorded hat tricks to lead Karns City to an 11-2 victory over visiting Forest Area.
Jace Ebbitt added a pair of goals and four assists for the Gremlins, while Nathaniel Rodinelli, Austin Rumbaugh and George Martin also scored.
Jarrett Kahle and Seth Berlin had goals for the Fires.
With the three tallies, Myers now has 10 goals and two hat trick in four games this year.
RIDGWAY 3, KANE 0
KANE, Pa. – Colby Hefright scored twice and Kyle Bush added a goal to lead visiting Ridgway to a 3-0 win at Kane.