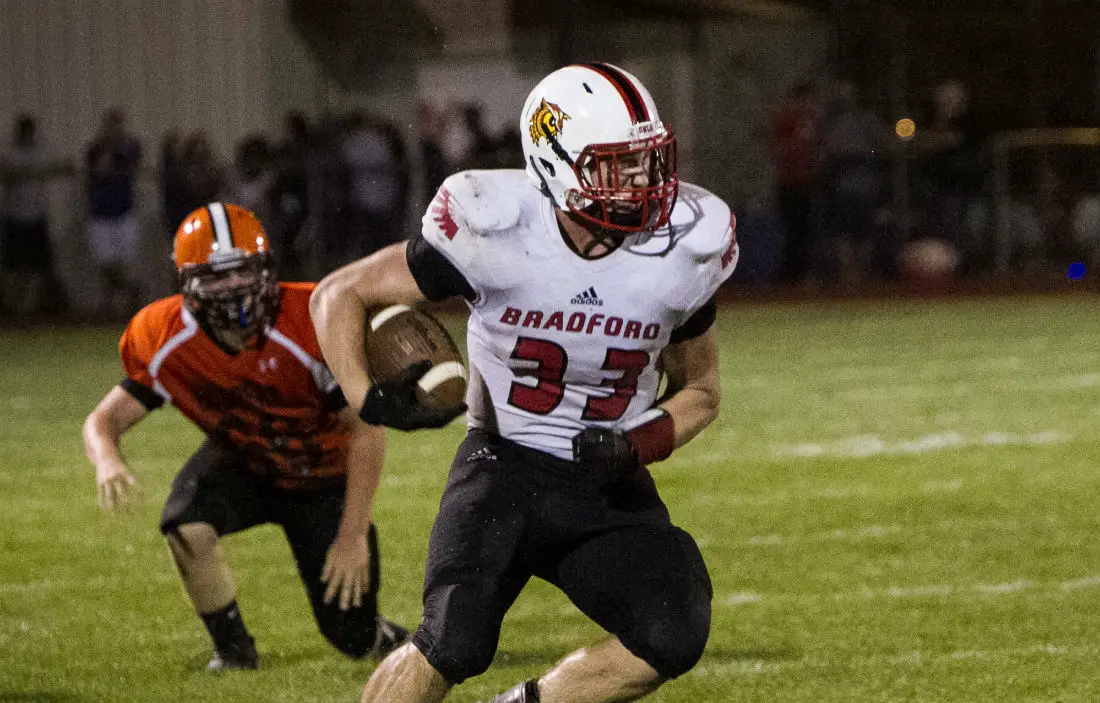 Here are the District 9 football recaps from Friday, Aug. 26. Saturday's recaps will be added once the games have been played.
Cover photo of Bradford's John Eakin, who rushed for 237 yards and 3 touchdowns in Bradford's win over Smethport. Photo by Shawn Murray. For more of Murray's work.
ELK COUNTY CATHOLIC 48, SHEFFIELD 0
SHEFFIELD, Pa. – Nate DaCanal threw a touchdown pass and ran for a touchdown, and Jared Braun ran for two scores to lead Elk County Catholic to a 48-0 win at Sheffield Saturday afternoon.
DaCanal was 5 of 9 passing for 90 yards and threw a touchdown pass to Brad Dippold, who had 46 yards receiving. The senior also ran for a score helping ECC to the season-opening win.
Braun added a pair of short scoring runs, while Dan Stauffer ran for a team-high 95 yards.
Sophomore Tyler Dilly had a nice varsity debut rushing for 48 yards and a score while adding four extra points, and fellow sophomore Hunter Cashmer ran for 49 yards and a score.
ECC led 20-0 at the end of the first quarter and 28-0 at halftime and outgained the Wolverines, who have lost 11 straight, 359 yards to 80.
JOHN F. KENNEDY CATHOLIC (OHIO) 55, KEYSTONE 0, Game called at halftime
WARREN, Ohio – Keystone was no match for Ohio's John F. Kennedy Catholic High School, as the Panthers dropped their season opener 55-0 in a game called at halftime because of weather.
JFK did whatever it wanted whenever it wanted and led 35-0 at the end of the first quarter before scoring three more times before the half.
Keystone managed just 59 yards of offense in the half of football including negative 28 rushing.
Nate Wingard accounted for 55 of those yards through the air going 6 of 12 with an interception. Austin Ion was 2 of 3 passing for 32 yards and a pick. Ion and Corey Rapp each had three catches with Ion's going for 28 yards and Rapp's for 27. Tanner Wilson also had one catch for 23 yards.
DuBOIS 30, CLEARFIELD 20
Read full story on ExploreJeffersonPa.com
DUBOIS, Pa. – Showing a defense not seen in DuBois in four years, the Beavers won the renewal of its rivalry with Clearfield, 30-20, Friday night at Mansell Stadium in DuBois.
Trailing 20-16 following an 8-yard touchdown run by Isaac Rumery early in the third quarter, the Beavers finished the game with 14 unanswered points while limiting a top-tier opponent to 20 or fewer points for the first time since the 2012 campaign.
The defense came up with a couple of big plays to hold onto the victory first recovering a Ryan Lezzer fumble that set up the go-ahead score, a 7-yard Brock Adams run with 3:55 to play in the third quarter, and then stopping the Bison, who were ranked second in the preseason Allegheny Grille of Foxburg D9Sports.com Rankings, on a 4th-and-goal from the 3-yard line with 7:29 left in the game and DuBois up 30-20 following a 2-yard Braden Paulinellie touchdown run on the first play of the fourth quarter.
Paulinellie, filling in for injured quarterback Matt Miller, The Rehab Centre/D9Sports.com 2015 District 9 Offensive MVP and Rookie of the Year, scored three times on the ground for the Beavers and ran for 182 yards on 25 carries. He scored DuBois first touchdown on a 2-yard run and later found paydirt in the second quarter on a 61-yard scamper. Paulinellie also was 12 of 18 passing for 95 yards and an interception.
Seth Caldwell scored on a 7-yard run for Clearfield, while Micah Heichel caught a 51-yard pass from Rumery, making his first varsity start.
Caldwell ran 15 times for 54 yards, and Rumery was 7 of 12 passing for 163 yards, a touchdown and an interception. Heichel caught five of those passes for 115 yards and the score.
DuBois outgained Clearfield 415-296 and held the Bison to 130 yards rushing on 32 carries. It was the first meeting between the teams since 2009 but the 104th overall.
ARMSTRONG 35, KARNS CITY 22
KARNS CITY, Pa. – Zane Dudek, who ran for over 2,000 yards last year, ran for 274 yards and four touchdowns to lead Armstrong to a 35-22 win over Karns City, the top-ranked team in the preseason Allegheny Grille of Foxburg D9sports.com District 9 Rankings.
Dudek, whose kickoff returns also gave the River Hawks excellent field position throughout the night, scored on runs of 4, 65 and 1 yards. His 1-yard run with 2:54 left in the game put the finishes touches on the victory for Armstrong, who is coached by former Redbank Valley coach Frank Fabian.
Karns City trailed 7-6 at halftime with the Gremlins points coming on a pair of Kaiden Powers' field goals including a 40-yard boot and a 24-yard kick late in the half. Armstrong had taken a 7-0 lead when Zach Aretz recovered a fumble in the end zone.
Armstrong quickly moved the lead to 22-6 early in the second half on a pair of Dudek touchdown runs before Cullen Williams (15-yard run) and Chandler Turner (10-yard run) got Karns City back into the game making the score 22-19.
The Gremlins defense then came up with a stop, but Jacob King threw an interception, and Dudek scored on a 49-yard run to make it 29-19.
Powers then kicked his third field goal of the game, this time from 33 yards to get Karns City back within seven, 29-22, with 10:36 to play, but Dudek put the finishing touches on an outstanding game with his 1-yard score.
King was 15 of 26 passing for 136 yards and the interception with Eric Dodd catching five passes for 56 yards and Williams four for 43. Dodd also ran nine times for 43 yards with Williams picking up 17 on six carries. But Karns City was held to just 97 yards rushing on 32 carries.
KANE 70, PORT ALLEGANY 0
PORT ALLEGANY, Pa. – No Rolicks, no problem for the Kane Wolves.
Behind four touchdowns from Erik Delong and two each from Frank Truden, Austin Labesky and Jake Alcorn, Kane rolled to a 70-0 season-opening win at Port Allegany Friday night.
Delong, who ran for nearly 900 yards as a sophomore last year, went for 158 yards on 14 carries while scoring on runs of 4, 5, 19, 39 with all his stats coming before halftime helping the Wolves to a 49-0 lead at the break.
Truden added a couple of long touchdowns scoring on a 70-yard run and on a 65-yard pass from Reed Williams, while Labesky found the end zone on runs of 19 and 18 yards. Alcorn, the backup freshman quarterback, scored twice late on runs of 72 and 43 yards.
Alcorn finished with 128 yards rushing on just six carries, Truden had 71 yards rushing on two carries and the one catch for 65 yards and Labesky toted the ball four times for 49 yards.
Kane outgained Port Allegany 562 to 121 and forced four Gator turnovers including a pair of interceptions, both by Labesky.
Trey Stiles led the Gators with 86 yards rushing on 16 carries, while Wyatt Dean chipped in with 63 on 13 totes.
BROCKWAY 57, OTTO-ELDRED 6
BROCKWAY, Pa. – Hunter Miller threw for three touchdowns and Mark Latuska ran for three scores and caught a fourth to lead Brockway to a 57-6 win over visiting Otto-Eldred.
Miller was 9 of 14 passing for 210 yards and the three scores, while Latuska ran for 96 yards on 11 carries and three scores and also hauled in the touchdown pass.
Peter Downer added three catches for 59 yards and two scores, and Andrew Trunzo had three catches for 74 yards. Tyler Serafini and Johnny Wood also scored for Brockway.
Dylan Close threw a 70-yard touchdown pass to Garret Babcock on a reverse pass for Otto's lone score. Seth Caldwell, in his first game back from an ACL injury last year, ran for 35 yards on 19 carries.
RIDGWAY 26, COUDERSPORT 6
RIDGWAY, Pa. – Behind Neil MacDonald and Johnny Mitchell, Ridgway topped Coudersport, 26-6, Friday night in Ridgway.
MacDonald ran 13 times for 109 yards and a touchdown, while Mitchell ran for 46 yards and threw for 35. He scored twice on the ground and also threw a 24-yard touchdown pass for Josh Raubenstrauch.
Jake Anderson had a pair of interceptions for the Elkers defense, which limited Coudersport to 153 yards of offense while forcing five turnovers.
Aaron Wolfinger hit Derek Keglovits with a 55-yard touchdown pass for Coudersport's lone score, which tied the game at six in the first quarter.
But MacDonald scored on a 1-yard run following his 70-yard run to the 1-yard line to make it 13-6 at the end of the quarter.
Mitchell, who scored the game's first touchdown on a 3-yard run, then hit Raubenstrauch with a 24-yard pass to give Ridgway a 19-6 halftime lead before Mitchell scored on a 1-yard run in the fourth quarter.
Wolfinger was 5-for-12 passing for 77 yards, the touchdown and two interceptions, while Chase Whitman ran for 41 yards 12 carries and added 11 tackles on defense. Wolfinger chipped in 14 tackles and also recovered a fumble.
CURWENSVILLE 37, CAMERON COUNTY 20
CURWENSVILLE, Pa. – Nick Stewart ran 19 times for 223 yards and four touchdowns to lead Curwensville to a 37-20 win over visiting Cameron County.
Stewart scored on runs of 55, 5, 10 and 9 yards for the Golden Tide and also caught one pass for nine yards. The junior has now unofficially ran for 3,734 yards and 46 touchdowns in his career
Mathew Carter also scored on a 10-yard run for Curwensville.
Adam Steich threw for a touchdown and ran for a touchdown for first-year head coach Scott Burnside. Streich was 10 of 17 passing for 79 yards, a touchdown and an interception and ran 10 times for 24 yards and a score. He threw a 6-yard scoring pass to Tristan Reed and also ran for a 26-yard score. Luiz Patricio added a 7-yard touchdown run late for the Red Raiders, who were outgained 438 to 241.
Reed ran 13 times for 76 yards with all the yardage coming before halftime.
BRADFORD 41, SMETHPORT 6
SMETHPORT, Pa. – John Eakin and Bradford had a fantastic start to AML play rolling over host Smethport, 41-6.
Eakin ran 11 times for 237 yards and three touchdowns, including a 99-yard score, as Bradford rushed for 337 yards on the night while racking up 477 total yards.
The 99-yard touchdown was Eakin's first of the game, and he added runs of 8 and 50 yards later in the contest.
Kyle Kirk also had a strong game going 3-for-4 passing for 140 yards including an 82-yard touchdown pass to Mitch Vleminckx that put the Owls ahead 14-0. Thanks to the long catch and run, Vleminckx finished with 105 yards receiving on two catches. His other catch also went for six when Kirk hit him with a 33-yard pass at the start of the second half.
Despite the early success, Bradford led by just 14, 21-6, at halftime before outscoring the Hubbers 20-0 in the second half.
Smethport's lone touchdown came on a 15-yard Grant Ognen to Blake Kinner scoring toss with 44 seconds left in the opening half. The game would have been closer had Bradford not stopped Smethport on a 4th-and-goal play at the 2-yard line on the Hubbers opening possession.
Ogden was 4 of 7 passing for 96 yards.