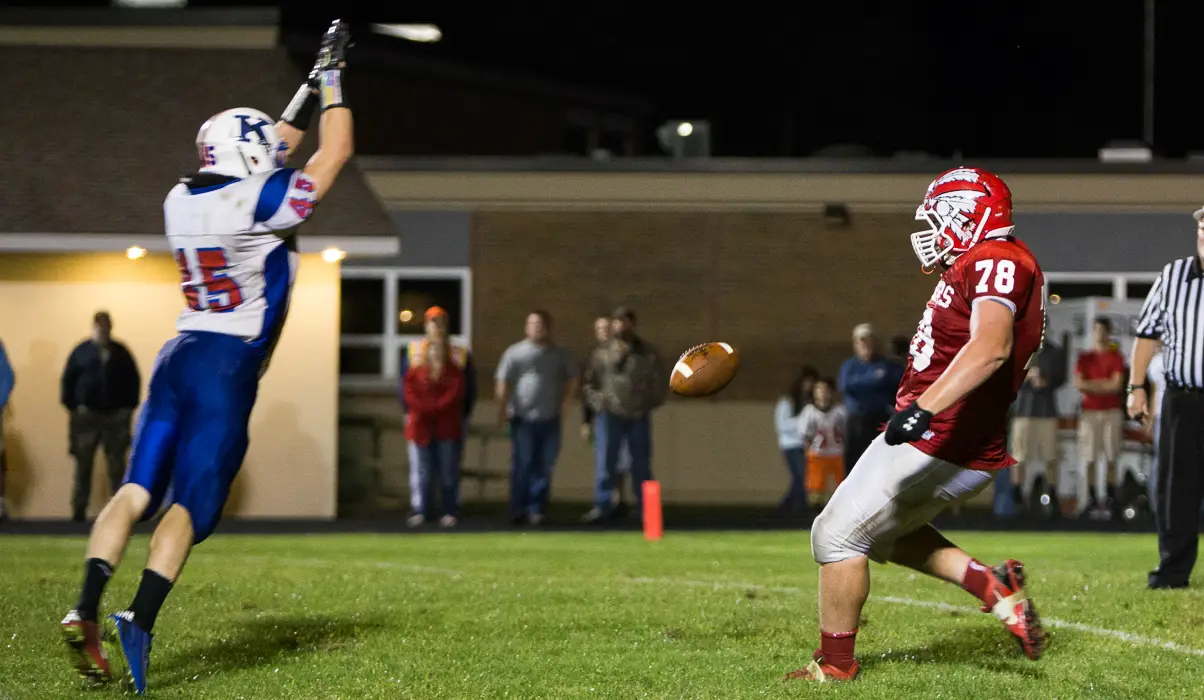 UPDATED: 1:48 p.m., Sept. 1
RIDGWAY 48, SHEFFIELD 0
SHEFFIELD – Ben MacDonald ran for a pair of touchdowns and threw for a third to lead Ridgway to a season-opening 48-0 win over Sheffield Saturday afternoon at Sheffield.
MacDonald had 47 yards rushing on six carries scoring on runs of 1 and 39 yards and went 2 for 4 passing for 62 yards, a touchdown and an interception for the Elkers.
Cole Myers added a 3-yard touchdown run for Ridgway while rushing nine times for 147 yards, and J.P. Cerrioni added 13 carries for 114 yards and a touchdown.
Adam Higby was 11 of 31 for 200 yards passing for Sheffield while throwing a pair of picks. Jamir Brown had three catches for 99 yards for the Wolverines, who were outgained 469-231, including 407-31 on the ground.
KANE 13, CAMERON COUNTY 0 
EMPORIUM – James Ligenfelter blocked a punt and recovered it for a touchdown in the fourth quarter to break a scoreless tie and lead Kane to a 13-0 win over Cameron County Friday night at Cameron.
The defending AML Champion Wolves didn't manage an offensive touchdown but added an interception return for a score later in the quarter.
More will be posted on this game when it is received.
UNION 14, KEYSTONE 8
KNOX – Dugan Gallagher scored on a 4-yard run with 5:37 to play to lift visiting Union to a 14-8 win over Keystone in KSAC Small School play Friday night.
Gallagher's second score of the game helped the Golden Knights avoid an upset in a game they dominated yardage wise out gaining the Panthers 365-174. But Union had a pair of first-quarter touchdowns by Chet Carmichael wiped off the board because of penalties including an 81-yard punt return and also turned the ball over on downs inside the 10-yard line in the opening half.
Gallagher gave Union an 8-0 halftime lead on a 26-yard screen pass up the middle from Lane Cicciarelli in the second quarter, but Keystone answered early in the fourth quarter on a 13-yard Jake Weaver touchdown run.
Cicciarelli was 7 of 16 passing for 119 yards and a touchdown while rushing seven times for 29 yards. Gallagher had 17 carries for 156 yards and the score while catching the one pass for 26 yards an a touchdown. Gallagher chipped in nine tackles and a pass defended on defense with Eric Seary leading all tacklers with 21 including 1 1/2 sacks.
Weaver led Keystone with 16 carries for 84 yards and the touchdown while adding nine tackles on defense.
MONITEAU 22, PUNXSUTAWNEY 14
WEST SUNBURY – Cody Skiver scored a pair of touchdowns for Moniteau to give first-year head coach Wade Vogan a victory in his inaugural game, 22-14, over visiting Punxsutawney in a KSAC Large School game Friday night.
Skiver scored on a 1-yard run and returned an interception 14 yards for a score. He was 6 of 13 passing for 92 yards and ran 20 times for 50 yards. Josh McBride also scored for the Warriors on a 1-yard run while rushing for 137 yards on 20 carries.
Braxton Giavadoni scored both touchdowns for Punxsutawney. He scored on a 60-yard run and on a 44-yard pass from Dakota Thomas. Giavadoni had five carries for 67 yards and three catches for 44 yards while adding an interception and a fumble recovery on defense. Thomas was 6 of 14 passing for 88 yards and ran for 23 yards on nine carries.
KYSER (W. Va.) 43, CLEARFIELD 30 
KYSER, W. Va. – A tornado blew through the Clearfield defense in the second half, as the Kyser (W. Va.) Tornadoes put up 29 unanswered points on the Bison to turn a 16-point halftime deficit into a 43-30 season-opening victory Friday night.
Clearfield, thanks in large part to scoring the game's first 17 points, led 30-14 at the break only to watch that lead disappear under a second-half onslaught by Kyser.
The Bison got solid games from Cody Spaid (10 of 27 passing, 260 yards, 3 TDs, 1 Int) and Ryan Lezzer (7 catches, 187 yards, 3 TDs) but most of those yards and all of the scores came in the first half when Spaid threw for 182 yards while going 6 of 8 with touchdown passes of 49, 48 and 23 to Lezzer, who had six catches for 182 yards before the break.
The lack of a running game hurt Clearfield, as the Bison ran for just 37 yards on 27 carries led by 28 yards on 11 totes from Erik Sellers who also threw a 40-yard touchdown pass to Nick Kovalick on his only pass of the game.
Kyser, meanwhile, did the majority of its damage offensively on the ground rushing for 311 yards on 50 carries. Cody Rodeheaver had the bulk of that with 195 yards on 20 carries while scoring on runs of 1, 2 and 39 yards.
The Tornadoes started their comeback midway through the third quarter with a touchdown to get within eight, 30-22, but things really started blowing their way in the final 12 minutes when they scored 21 points starting with a game-tying 52-yard punt return for a touchdown by Garrett Crites.
The loss snapped a 24-game regular-season win streak for Clearfield (two of those wins were technically District 9 Class AAA title games but those games counted in the qualifying standards for the subregional playoffs and therefore were counted as regular-season games.
CLARION 54, A-C VALLEY 0
CLARION — Ian Corbett had 12 carries for 129 yards and a 4 touchdowns in the Bobcats' shutout.
The Bobcats racked up 310 yards rushing and built a 41-0 halftime lead.
Brendan Miller, making his first career start, was 5-for-5 passing for 116 yards and a touchdown while also rushing for 16 yards and a score. Freshman Colton Rapp added six carries for 76 yards and a touchdown.
Clarion has now won all 21 KSAC Small School Division games it has played and has a 23-game conference win streak and a 21-game regular-season win streak, the longest active streak in District 9 after Clearfield's loss to Kyser (W. Va.) Friday night.
DUBOIS 61, MIFFLIN COUNTY 38
LEWISTOWN — Gabe French was 19-of-23 passing for 424 yards and seven touchdowns (tied for the second most in a game in District 9 history) while rushing for 94 yards and a score on 10 carries as DuBois eased to victory over Mifflin County.
French's top receiving target was Bryson Paulinellie, who caught six passes for 147 yards and 4 touchdowns with Cole Kriner adding four catches for 171 yards and two scores. Paulinellie added 12 tackles on defense with Kriner chipping in four.
Jadon Boyer led Mifflin County, which beat DuBois twice last year including in the District 6/9 Class AAAA championship game, with 18 carries for 144 yards and two touchdowns. Hunter Walker was 7 of 10 passing for 93 yards and two scores with Jarred Michaels catching six passes for 97 yards and two touchdowns.
The Beavers outscored Mifflin County 40-17 in the second and third quarters.
KARNS CITY 60, BROOKVILLE 6
KARNS CITY — The Gremlins scored on seven of their first nine possessions en route to a 47-0 halftime lead in their victory over the Raiders.
Tristan Rhoades, Tyler Dunn and Collin Dunmyre each had a rushing and receiving touchdown in the first half, while Caleb King was 3-of-7 passing for 72 yards and a pair of scores.
Rhoades led a balanced rushing attatck with 62 yards as the Gremlins held a 496-115 advantage in total yards.
Bobby McGranor threw for 112 yards and a score for Brookville.
The 60 points allowed by the Raiders were the second-most points allowed in team history and the most since a record 64-0 loss to New Bethlehem in 1930.
ST. MARYS 19, BRADFORD 14
BRADFORD — Nick Cunningham's 1-yard touchdown plunge with 5:58 to to in the third quarter proved to be the game-winner, as St. Marys held off Bradford 19-14.
Despite being out-gained 233-91, the Owls took a 14-13 lead into halftime thanks to a pair St. Marys' turnovers.
Alex Colosimo scored on a 20-yard touchdown run after Zach Bartlebaugh intercepted Cunningham and Kyle Langdon scored on a 9-yard touchdown run less than two minutes later, as a St. Marys fumble once again set up the Owls deep in Dutch territory.
Kyle Glatt scored a pair of first half touchdowns, a two-yard run and a 13-yard pass from Cunningham. Glatt had had 38 yards receiving on four catches and 57 yards rushing on 13 carries. Cunningham was 7 of 9 passing for 79 yards, a touchdown and an interception.
Colosimo led the Owls with 60 yards rushing on 13 carries while adding a pair of catches for 16 yards.
BROCKWAY 38, SMETHPORT 0
SMETHPORT — Anthony Benson hit the trifecta, scoring  a touchdown rushing, receiving and on a punt return as Brockway eased past Smethport.
Benson scored on 56-yard punt returns for his first score, followed by a 1-yard touchdown run and a 15-yard pass from Braden Martini, all in the first half, as the Rovers raced out to a 21-0 lead at halftime.
Mark Latuska scored on a pair of long touchdown runs in the second half, a 65-yarder and a 43-yarder.
Benson finished the night with six carries for 60 yards and four catches for 76 yards. Martini, in his first career start, was 13 of 19 passing for 146 yards and a touchdown, while Latuska had five carries for 120 yards.
The shutout was the first for the Brockway defense since blanking Brookville in the 2010 District 9 Class AA championship game.
CURWENSVILLE 48, PORT ALLEGANY 16
PORT ALLEGANY — Freshman Nick Stewart scored on a 72-yard touchdown run on the second play of the game, which proved to be a sign of things to come as Curwensville cruised to victory over Port Allegany.
Stewart finished with 176 yards and two touchdowns on 13 carries and also hauled in a 46-yard touchdown reception.
Jakob Terry threw three touchdown passes for the Golden Tide while completing 4 of 5 passes for 133 yards helping Curwensville dominate the stat sheet out gaining the Gators 433-132 including 300-81 on the ground.
Gators' quarterback Jordan Seefeldt scored on runs of 1 and 13 yards in the fourth. He ran 20 times for 28 yards and was 8 of 17 passing for 51 yards.
REDBANK VALLEY 47, CLARION-LIMESTONE 0
STRATTANVILLE — Jake Dougherty passed for 176 yards and three touchdowns while running for 74 yards and another score to lead the Redbank Valley Bulldogs to a shutout win over host Clarion-Limestone.
Dougherty, who became the team's all-time leading passer needing 102 yards to pass Jason Huffman's mark of 3,643 yards, completed 15 of 20 passes and threw TD passes of 8 yards to Austin Schreckengost, 20 yards to Wyatt Hetrick and 37 yards to Nick Shoemaker. He also scored on a 5-yard run.
Colten Mohney added TD runs of 4 and 9 yards while Connor Shoemaker returned the second-half kickoff 75 yards for a touchdown.
Kyle Robertson led the Lions with 134 yards on 20 carries.
ELK COUNTY CATHOLIC 32, COUDERSPORRT 0
COUDERSPORT — Mitchell Smith ran for a pair of touchdowns and threw for a third to lead Elk County Catholic to victory over Coudersport.
Smith, who was 7 of 9 passing for 121 yards while adding 47 yards rushing on 11 carries,  got things rolling with a 28-yard touchdown pass to Noah Werner and Johnathan Dippold followed with a four-yard scoring run. Werner had seven carries for 62 yards and three catches for 61 yards and the touchdown.
The Crusaders out-gained the Falcons 361-65.
The win was the first for second-year ECC head coach Tony Gerg, whose team was 0-9 last season.