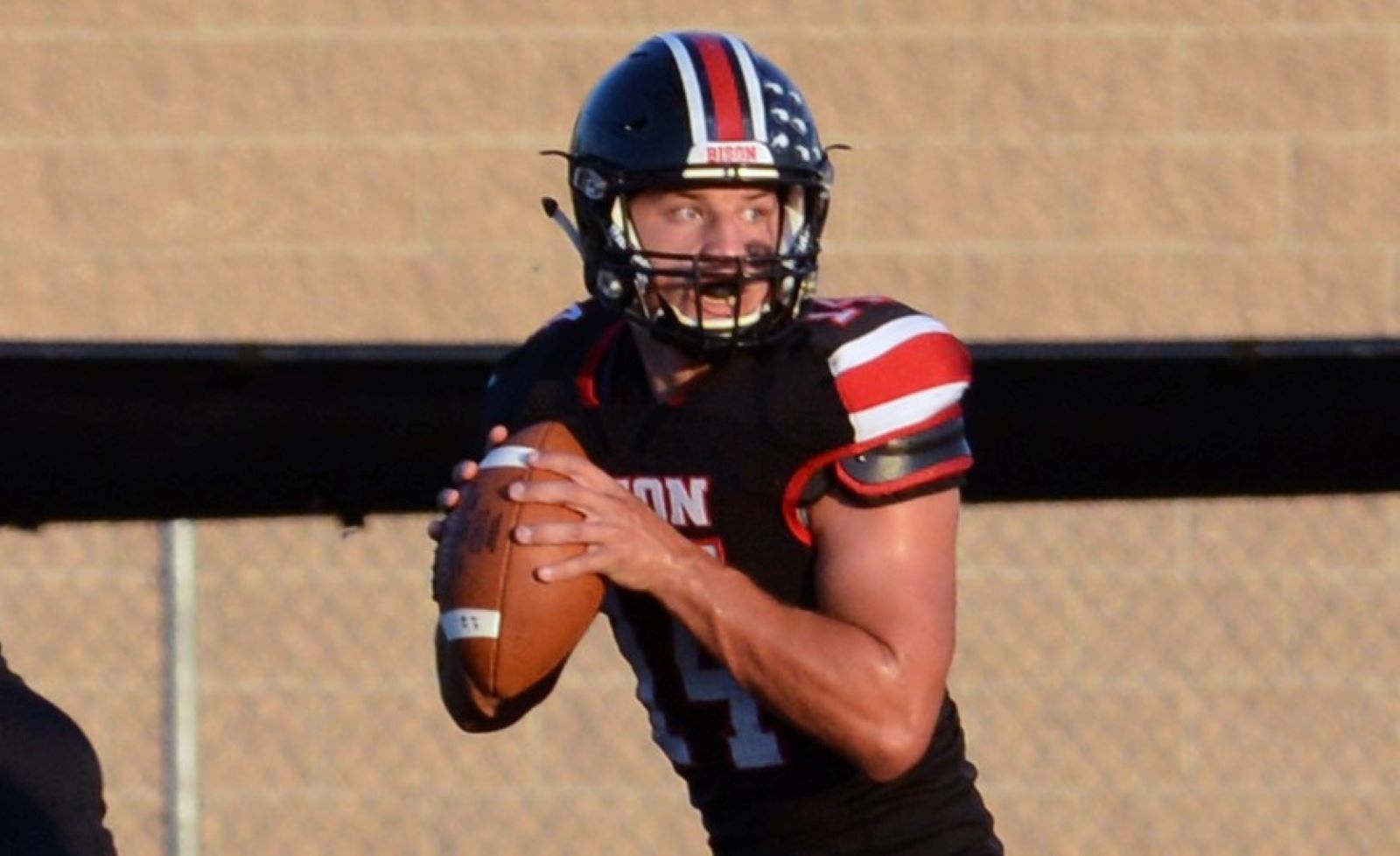 HYDE, Pa. – Oliver Billotte's 1-yard touchdown run that really came from inside the 1-yard line with 6.7 seconds left lifted Clearfield to a 56-49 win over visiting Penns Valley.
(Photo: Oliver Billotte of Clearfield accounted for eight touchdowns, four passing and four rushing, including scoring on a 1-yard run with 6.7 seconds left to lift the Bison over Penns Valley. Photo by Logan Cramer III)
Billotte's scoring run came at the end of a 71-yard drive after Penns Valley had tied the high-scoring affair at 49 with under three minutes to play. It also marked the third score in the game's final 3:28, as Billotte's 1-yard run with 3:28 left had given the Bison a 49-42 advantage.
Watch Billotte score the game-winning touchdown.
The sophomore quarterback Billotte, had a night to remember throwing for four touchdowns and rushing for four touchdowns. He was 17 of 29 passing for 442 yards and an interception while rushing 15 times for 38 yards.
Jake Lezzer had another big game for Clearfield with six catches for 130 yards and two touchdowns, and Ian Billotte and Matt Pallo each added a touchdown catch as well with Ian Billotte grabbing two passes for 79 yards and Pallo four for 44. Brett Zattoni did the heavy lifting on the ground with 23 carries for 109 yards.
Despite the high scoring from both teams, Clearfield never trailed in the game after taking an early 7-0 lead on a 1-yard Oliver Billotte run. That lead eventually grew to 14-3 and 21-10 before Penns Valley got back within a point, 21-20, at halftime.
Pallo's touchdown then made it 28-20 but Austin Fisher scored for Penns Valley, which then added the two-point conversion to tie the game at 28.
The teams then traded scores the rest of the way with Clearfield basically having the ball last two win the contest.
Clearfield recaps brought to you by Lezzer Lumber.
UNION/A-C VALLEY 20, SHEFFIELD 14
SHEFFIELD, Pa. – Trailing by six at halftime, Union/A-C Valley rallied past upset-minded Sheffield, 20-14, on the road Saturday afternoon.
The Falcon Knights (1-1) were down 14-8 at halftime but tied the game at 14 by the end of the third quarter.
Then, midway through the fourth quarter, Luke Bowser found Tony Thompson with a 3-yard touchdown pass to give Union/A-C Valley the lead for good, 20-14.
Bowser had a nice game rushing for a pair of scores and throwing for the touchdown. He ran nine times for 59 yards and was 8 of 21 passing for 82 yards but did throw two interceptions.
Thompson ran for 19 yards and had two catches for nine yards, while Caden Rainey ran for 21 yards and had three catches for 33 yards.
Sheffield's first-half scores came on a pair of Walker Kyler touchdown passes. Kyler hit Mirahn Price and Jihad Bennett for the 14 Wolverine scores. The touchdown pass to Bennett included some moves after the catch by the receiver.
Union/A-C Valley's defense was paced by Eli Penny's 11 tackles. Carter Terwint added 10 tackles and Rainey had eight tackles and an interception.
KANE 25, RIDGWAY 21
KANE, Pa. – Zuke Smith hit Kevin Shabara with a 95-yard pass with just 2:23 to play, as Kane stunned visiting Ridgway, 25-21.
Watch the game-winning score.
The Wolves (2-0) trailed 21-10 going to the fourth quarter against a Ridgway team that has prided itself on being able to close out games with defense the last few years.
But Smith hooked up with Jake Alcorn from 34-yard out early in the final 12 minutes to get Kane within three following the two-point conversion, 21-18, before the long pass play late won the game.
Smith had a nice game going 6 of 16 for 188 yards and three touchdowns with six different receivers catching passes. Harley Morris also added a scoring catch with his being from 33 yards out late in the first half.
Morris' touchdown with 35 seconds to play before halftime appeared to give Kane a 10-7 halftime lead, but Ridgway had other plans as Paul Gresco hit Matt Dush from 15 yards out with three seconds left in the half to put the Elkers ahead, 14-10, at the break.
Grecso, who was 17 of 31 for 201 yards and two touchdowns while also throwing two interceptions, then made it 21-10 late in the third quarter when he found Jake Wickett from five yards out.
Wickett had five catches for 85 yards and ran 11 times for 13 yards. Austin Green added five grabs for 46 yards with Dush catching five passes for 43 yards while adding 11 carries for 46 yards.
Gabe Watts led Ridgway (1-1) on the ground with 11 carries for 59 yards including a 40-yard touchdown run.
Alcorn had 10 carries for 40 yards for Kane and the one catch for 34 yards. Teddy Race added 30 yards rushing.
COUDERSPORT 14, ELK COUNTY CATHOLIC 0
COUDERSPORT, Pa. – Coudersport defense held visiting Elk County Catholic to 94 total yards on the night including 48 on the ground while forcing two turnovers while pitching a 14-0 shutout.
Offensively, the Falcons (2-0) used a ground attack that rushed for 219 yards led by Hayden Keck's 13 carries for 86 yards and a touchdown to gain 238 yards of total offense – Keck was also 1 of 1 passing for 39 yards and scored the game's second touchdown on a 23-yard run in the third quarter.
Travis Gleason scored the first touchdown of the game in the first quarter on a 3-yard run and ran 13 times for 53 yards. Thomas Wilson added 11 carries for 56 yards.
Stephen Bobby paced ECC with 47 yards rushing on 11 carries.
ST. MARYS 45, BRADFORD 0
ST. MARYS, Pa. – St. Marys broke a 22-game losing streak in a big way flying past visiting Bradford, 45-0.
The Dutch last won a game Oct. 21, 2016, when they beat Brookville before losing the final two games of the 2016 season, going 0-9 in 2017 and 0-10 in 2018 before losing the season-opener against Ridgway last week.
But Friday against Bradford St. Marys (1-1) scored 25 points in the second quarter and never looked back while outgaining the Owls (0-2) 410-113.
Christian Coudriet, James Davis and Jacob Kline each scored twice in the victory with Coudroet rushing five times for 56 yards and two touchdowns (on a pair of 8-yard runs) while also going 9 of 16 passing for 70 yards and an interception and Davis rushing twice for seven yards and scoring touchdowns on a 4-yard run and a 34-yard interception return. Kline adding scoring runs of 52 and 59 yards and rushed for 123 yards on just four carries.
Charlie Coudriet also hooked up with Connor Straub on an 11-yard scoring pass. Charlie Coudriet was 4 of 6 passing for 62 yards.
Bradford, meanwhile, saw Calen Nuzzo go 8 of 18 passing for 76 yards and two interceptions with Austen Davis catching four passes for 21 yards and Jonah Rowry one for 35 yards.
CURWENSVILLE 20, CAMERON COUNTY 0
CURWENSVILLE, Pa. – Behind two Jake McCracken touchdown receptions and an interception on defense, Curwensville earned their first win of the season and first career win for new head coach, Jim Thompson, with a 20-0 victory over Cameron County.
McCracken had three receptions for a total of 79 yards and caught touchdown passes of 41 yards and 35 yards from Dan McGarry.
Duane Brady led the Golden Tide (1-1) in rushing with 20 carries, 77 yards and a touchdown while Thad Butler added six carries for 67 yards. McGarry finished the game going 5-for-14 with 103 passing yards, two touchdowns and two interceptions.
The Golden Tide defense forced three turnovers getting interceptions from McCraken, Andrew Freyer and Ty Terry.
For Cameron County (0-1), Ebon Jackson ran 11 times for 38 yards and was 7 of 24 passing for 73 yards and the three interceptions. Gannon Horning had three catches for 39 yards and Nate Palumbo caught three passes for 30 yards.
Curwensville recaps brought to you by Lezzer Lumber.
KEYSTONE 29, PORT ALLEGANY 6
KNOX, Pa. – Isaak Jones threw a pair of touchdowns and ran for a third, as Keystone picked up its first win of the young season, 29-6, over visiting Port Allegany.
Jones was 10 of 18 passing for 173 yards throwing touchdown passes of 30 yards to Jayden Blazosky and 60 yards to Logan Sell. He also scored on a 6-yard run and had seven yards rushing on eight carries.
Taylar Altman also scored for the Panthers on a 4-yard run and ran nine times for 35 yards.
Keystone used a team-approach to rush for 184 yards with eight different ball carriers toting the rock led by Nick Weaver's 39 yards on six carries. Weaver also caught two passes for 20 yards.
Sell had two catches for 72 yards with Blazosky adding three for 58 yards.
Josh Rees scored Port Allegany's lone touchdown with 4:20 to play on a 3-yard run. Rees ran 13 times for 54 yards, but Keystone (1-1) limited the Gators (1-1) to 153 yards of total offense.
Drew Evens was 15 of 27 passing for 119 yards and an interception. Montgomery Tanner had two catches for 42 yards, as six different Port Allegany players caught passes.
CLARION 42, MONITEAU 8
STRATTANVILLE, Pa. – Austin Newcomb scored four touchdowns on just nine touches and Cal German threw for four scores, as Clarion rolled past visiting Moniteau, 42-8.
Relisten to the game:
Newcomb carried the ball seven times for 83 yards and two touchdowns and caught two passes for 57 yards and two scores, while German was 6 of 8 passing for 246 yards and four touchdowns also hooking up with Ethan Burford on a pair of scores. Burford had two catches for 128 yards.
Clarion scored three times in the final 4:16 of the first half to take a 14-0 lead and turn it into a 35-0 halftime advantage with Burford catching scoring passes of 55 and 73 yards with the 73-yard catch and run coming with just 15 seconds left in the half.
Newcomb added a 35-yard catch in between those two after also catching a 22-yard touchdown off a deflection and scoring on a 23-yard run. He added a 3-yard scoring run in the third quarter.
Newcomb scores off a deflection.
Newcomb talked about the win.
Nick Martino scored on a 4-yard run for Moniteau with 3:39 left. He ran for 50 yards, while JD Dessicino added a team-best 56 yards on the ground on 15 carries.
Clarion head coach Larry Wiser discussed the victory.
BROOKVILLE 26, BROCKWAY 8
BROOKVILLE, Pa. – Jack Krug ran 14 times for 150 yards and two touchdowns to help Brookville beat Brockway, 26-8.
Krug scored on runs of 74 and 19 yards and also was 19-for-37 passing for 154 yards and an interception.
Cole LaBenne (9 carries, 35 yards), and Kyle MacBeth (3 carries, 17 yards) also scored on the ground for the Raiders (2-0), who haven't given up a touchdown yet this season but led just 14-8 going to the fourth quarter. MacBeth also caught six passes for 57 yards and Robert Keth had six catches for 52 yards. MacBeth also added two interceptions on defense.
Brockway (0-2) scored on a pair of Lewis Painter field goals (23 yards, 28 yards) and a safety.
Connor Ford ran 15 times for 70 yards for Brockway while going 11 of 24 passing for 150 yards and three interceptions.
KARNS CITY 49, PUNXSUTAWNEY 7
KARNS CITY, Pa. – Anthony Kamesnki ran for over 100 yards and a touchdown and threw for over 100 yards and two touchdowns to lead Karns City to a 49-7 win over visiting Punxsutawney.
Kamenski ran seven times for 107 yards and was 6-for-7 passing for 145 yards.
Brayden Christie and Kaden Schrerer each added a pair of touchdowns for the Gremlins (2-0).
Christie had two catches for 69 yards and two touchdowns, while Schrerer had two catches for 27 yards and a touchdown while also returning a kickoff for a score.
GENERAL MCLANE 39, DUBOIS 12
EDINBORO, Pa. – General McLane outscored visiting DuBois 19-0 in the second half to break open a close game at the half.
The Lancers led 20-12 at halftime before taking control in the second half.
Ben Howe-Jones scored four times on the ground for General McLane and ran 18 times for 229 yards. Jared Iavarone-Campbell added a pair of rushing touchdowns and ran seven times for 21 yards.
Alex Kovalyak threw a pair of touchdown passes for DuBois (0-2) including a 30-yard pass to Chase Husted and a 22-yard pass to Nick Dilullo.
DuBois recaps brought to you by Lezzer Lumber.
REDBANK VALLEY 47, OTTO-ELDRED 12
DUKE CENTER, Pa. – Kobe Bonanno scored three times and Ray Schreckengost found the end zone twice to help visiting Redbank Valley to a 47-12 win.
Bonanno had 12 carries for 100 yards and scored on runs of 1, 14 and 29 yards, while Schreckengost ran 10 times for 152 yards and scored on runs of 4 and 52 yards.
Gunner Mangiantini and Cam Wagner with Mangiantini scoring on a 28-yard run while rushing seven times for 28 yards and going 8 of 15 passing for 103 yards with an interception and Wagner scored late going on a 34-yard jaunt.
Cole Sebastian threw two touchdowns to Ethan Smith hooking up a 74-yard pass and on a 54-yard pass. Sebastian was 13 of 26 passing for 235 yards and ran nine times for 58 yards. Smith had five catches for 149 yards.