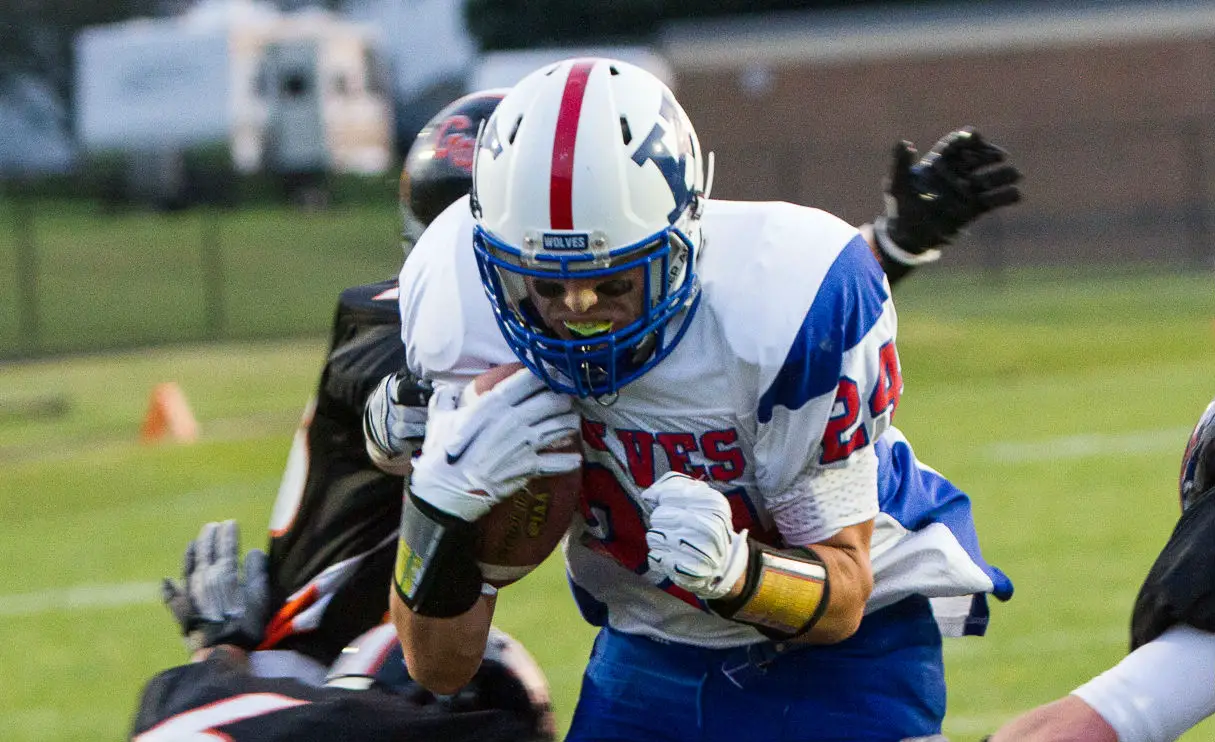 Cover photo of Kane running back John English – Photo by Shawn Murray
A Featured Game Segment – Karns City 16, Clarion 6 (Recap below)
UPDATED: 11:00 a.m.

OLEAN (N.Y.) 35, BRADFORD 19
OLEAN, N.Y. — Olean scored 28 unanswered points to secure a 35-19 border rivalry victory over visiting Bradford Saturday.
Bradford's Alex Colosimo led all rushers with 14 carries for 122 yards and returned a kickoff for a score for the second game in a row, this one an 85-yarder.
Jaryd Plaud led Olean with 97 yards on 22 carries and a score.
Also for Bradford, Kyle Langdon scored on an 8-yard run in the first quarter and Justin Fishkin a 27-yarder in the third.
ELK COUNTY CATHOLIC 50, SHEFFIELD 23
SHEFFIELD – Mitchell Smith ran 11 times for 179 and four touchdowns to lead Elk County Catholic to a 50-23 win at Sheffield Saturday afternoon.
Mitchell also was 4 of 6 passing for 50 yards, while Dan Singer wa 1-for-1 passing for five yards and a touchdown and also ran seven times for 60 yards and a score for the Crusaders (4-0).  Jonathan Dippold added nine carries for 35 yards and a touchdown and caught two passes for 10 yards and a score.
Adam Higby was 22 of 45 for 190 yards and two touchdowns for Sheffield (0-4) with Marquis Clark catching two passes for 101 yards with a 70-yard touchdown reception from Kevin Evan, who was 1 of 2 passing for 70 yards and the score. Steve Gregerson added six grabs for 32 yards and a touchdown with Logan Connolly catching four balls for 32 yards and a score. Ja'Sani Marlow ran nine times for 41 yards and had four catches for 41 yards.
Kyle Huff booted a 22-yard field for ECC.
BROCKWAY 33, OTTO-ELDRED 13
BROCKWAY – Anthony Benson scored four touchdowns to lead Brockway to a 33-13 win over visiting Otto-Eldred Friday night.
Benson ran 21 times for 95 yards scoring on short runs of 4, 3 and 4 yards while also starting the scoring with a 40-yard punt return for a touchdown.
Jarrett Esposito hit a 27-yard field goal for the Rovers (4-0), who also scored on a first-quarter safety when Otto quarterback Nick Appleby was called for intentional grounding in the end zone.
Seth Drummond paced Otto (0-4) with 13 carries for 103 yards. including a late 69-yard touchdown run while adding three catches for 16 yards. Heath Stewart added a 4-yard touchdown run for the Terrors and ran for 23 yards while catching three passes for 22 yards.
Benson had two catches for 34 yards for Brockway.
SMETHPORT 46, CLARION-LIMESTONE 32
SMETHPORT – Smethport scored twice in the final 3:37 to break a tie game and claim the AML North's first win of the season, 46-32, over visiting Clarion-Limestone Friday night.
In a game that saw eight lead changes and three ties, C-L tied the game at 32 on a 1-yard Kyle Robertson touchdown run with 9:25 to play in the game.
But Smethport (1-3) took the lead back for good on a 7-yard Dustin Zetwick to Justin Elder touchdown pass with 3:37 left, and Dalton Palmer sealed the victory when he picked off a Brendan Makray pass and returned it 60 yards for a touchdowns with just over a minute to play. It was the second pick six of the game for Smethport, which also saw Tristen Duffy return an interception 30 yards late in the second quarter.
Zetwick threw a pair of touchdown passes and ran for a touchdown while going 8 of 17 passing for 86 yards and an interception and rushing for 40 yards on 10 carries.
Palmer added a 9-yard touchdown catch
Robertson scored on a pair of short runs for C-L, while Mike Macaefe had a pair of 20-plus yard touchdown runs. Macefe ran for a game-high 138 yards on 16 carries, while Robertson had 18 carries for 74 yards.  C-L actually outgained Smethport 290-274.
RIDGWAY 42, COUDERSPORT 6
JOHNSONBURG – At Johnsonburg's Memorial Stadium, Ben MacDonald threw three touchdowns and ran for two more to lead Ridgway to a 42-6 win over visiting Coudersport.
MacDonald ran six times for 91 yards scoring on runs of 1 and 55 yards while going 6 of 7 passing for 81 yards with touchdowns passes of 30 yards to Cole Myers, 14 yards to Cody Delhunty and 10 yards to Jack Toncich.  Jeremy Breier added a 47-yard fumble return for the Elkers (4-0).
Coudersport's lone touchdown came on a 36-yard Jared Green to Camryn Langworthy touchdown pass late in the third quarter.
CATHEDRAL PREP 51, DUBOIS 21
ERIE, Pa. –Behind three touchdowns from DeAngelo Malone and two from Bryce Boyd, Cathedral Prep romped over visiting DuBois 51-21 Friday night in Erie.
Boyd scored twice in the game's first seven-plus minutes including returning the opening kickoff for a touchdown, to help the Ramblers open up a 28-0 lead 7:16 into the game.
Malone, meanwhile, finished with seven carries for 71 yards, while CP quarterback Billy Norfolk was 7 of 12 passing for 201 yards and two touchdowns including an 80-yard screen pass to Charlie Fessler that gave the Ramblers the 28-0 lead. Fessler had five catches for 128 yards and the score thanks to the screen.
Gabe French led DuBois (2-2) with his third 300-yard passing game of the season finishing 31 of 49 for 303 yards and a touchdown while throwing two picks.  Chad O'Donnell added a pair of touchdowns for the Beavers on the ground and rushed 12 times for 40 yards, while Cole Kriner had seven catches for 116 yard and a touchdown. Bryson Paulinellie added six grabs for 47 yards and intercepted a pass on defense.
CURWENSVILLE 43, CAMERON COUNTY 13
CURWENSVILLE – Hunter Johnson and Nick Stewart combined to score five touchdowns to lead unbeaten Curwensville to a 43-13 win over winless Cameron County Friday night in Curwensville.
Johnson ran 12 times for 76 yards and three touchdowns, while Stewart had 18 carries for 89 yards and a touchdown and a caught two passes for 41 yards and a score for the Golden Tide (4-0).
Jake Terry also had a nice game for Curwensville going 6 of 9 passing for 113 yards and a score.
Brandon Saline led Cameron County (0-4) with seven catches for 120 yards and a touchdown, while Keith Spehalski was 12 of 21 passing for 177 yards, a touchdown and an interception.
CLEARFIELD 30, HUNTINGDON 14
HUNTINGDON – Seth Caldwell ran 32 times for 227 yards and two touchdowns to help Clearfield get back on the winning track with a 30-14 Mountain League win at Huntingdon Friday night.
Caldwell scored on first-half run of 15 and four yards to help the Bison (2-2 overall, 1-1 Mountain League) take a 21-14 halftime lead.
Eric Sellers also went over 100 yards on the ground for Clearfield with 103 on 21 carries including a 4-yard touchdown run late in the third quarter that gave the Bison breathing room with a 28-14 lead. Ryan Lezzer chipped in a 14-yard scorning run and had 25 yards rushing and 17 receiving for Clearfield.
Jon Wagner scored both touchdowns for Huntingdon (1-3, 1-2) finding the end zone on a 60-yard run and an 89-yard kickoff return. Despite the long run, Wagner finished with just 48 yards rushing, as the Bearcats were limited to 53 total yards of offense and two first downs on just 21 plays. Clearfield's defense scored on a fourth-quarter safety as well.
ST. MARYS 56, KEYSTONE 30
ST. MARYS – After Keystone grabbed a two-point lead early in the third quarter, St. Marys rolled off 28 straight unanswered points to get a 56-30 win over the visiting Panthers Friday night at Dutch Country Stadium.
Keystone (0-4), which trailed 28-24 at halftime, took a 30-28 lead on a 14-yard Zach Stiglitz touchdown run just under two minutes into the second half.
But the Dutch (3-1) got a pair of T.J. Hogan touchdown run, a 33-yard fumble return for a touchdown by Kyler Lenox and a Kyle Glatt scoring jaunt to overcome the midway deficit.
Hogan and Glatt each ended up scoring three touchdowns for St. Marys and each player rushed for over 100 yards.
Glatt led the Dutch with 17 carries for 147 yards and two rushing touchdowns while also catching a 24-yard touchdown pass from Pat Schlimm, who was 3-for-8 passing for 76 yards.
Hogan added 20 carries for 105 yards and three scores helping St. Marys outgain Keystone 411-168.
Bryce Altman threw a touchdown and ran for a touchdown for the Panthers finishing 8 of 16 passing for 69 yards while throwing an interception and running eight times for 56 yards and a score.
Stiglitz added 45 yards rushing and a touchdown on 12 carries, caught two passes for 11 yards and made 19 tackles on defense. Chad Rodgers had three catches for 56 yards and a score, while Jacob Weaver made 17 stops on defense while also returning a kickoff 78 yards for a touchdown.
KARNS CITY 16, CLARION 6
KARNS CITY — In a matchup of the top two teams in the D9sports.com ranking, Caleb King passed for 219 yards as Karns City knocked off visiting Clarion 16-6 Friday.
The Gremlins (4-0) got on the board first on a 27-yard pass from King to Tristan Rhoades.
Logan Moroney's 4-yard touchdown run late in the second quarter gave Karns City all the cushion they would need at 13-0.
Clarion, which had not been scored upon through the first three weeks of the season, got on the board in on an 18-yard touchdown pass from Brendan Miller to Ethan Straffin.
Logan Moroney's 27-yard field goal early in the fourth quarter gave Karns City all the cushion they would need, as they outgained the Bobcats 456-140.
KANE 42, PORT ALLEGANY 6
PORT ALLEGANY — John English rushed for three touchdowns as Kane cruised to a 42-6 win over host Port Allegany Friday.
Jack Kocjancic threw for a touchdown pass and Shane Rolick ran for another as the Wolves (4-0) built a 42-0 lead late in the third quarter.
The Gators (0-4) got on the scoreboard on a 12-yard touchdown run by Tre Garzel in the waning moments of the game.
REDBANK VALLEY 35, BROOKVILLE 7
NEW BETHLEHEM — Redbank Valley led from start to finish in a 35-7 win over visiting Brookville Friday.
Senior quarterback Jake Dougherty completed 14-of-22 passes for 197 yards and three touchdowns as the Bulldogs improved to 4-0.
Nick Shoemaker, Connor Shoemaker and Wyatt Hetrick were on the receiving end of Dougherty's scoring strikes, with Hetrick leading the way with five catches for 68 yards.
Dougherty also added a 2-yard touchdown run, while Brookville scored late on a Bobby McGranor 10-yard run.
Dougherty also intercepted  a pass on defense.
PUNXSUTAWNEY 54, UNION 36
RIMBERSBURG – Punxsutawney outscored Union 32-14 in the second half en route to a 54-36 win over Union Friday.
Chucks running back Perry Arrington carried the ball 22 times for 238 yards and a touchdown in a game that featured over 800 yards of combined offense.
Punxsy quarterback Dakota Thomas completed 8-of-12 passes for 155 yards, three touchdowns and one interception and also added a 27-yard touchdown run in the fourth quarter, as he accounted for 29 yards on the ground. Braxton Giavedoni added 5 catches for 137 yards and 2 touchdowns.
Union got a big effort from Chet Carmichael, who rushed for 100 yards on just four carries, including a 48-yard touchdown run. He also accounted for a defensive and special teams touchdown, returning an interception 47 yards for a score in the second quarter and finding the end zone on an 82-yard kickoff return in the third quarter.
Union quarterback Lane Ciccirarelli completed 15-of23 passes for 192 yards and a 22-yard touchdown pass to Cole Morris. Morris had 8 catches for 122 yards.
MONITEAU 54, A-C VALLEY 6
FOXBURG – Josh McBride had another monster game as Moniteau eased past A-C Valley 54-6.
McBride carried the ball 12 times for 252 yards and four touchdowns.
Cody Skiver added 190 yards on 10 carries, including a pair of touchdown runs, as Moniteau outgained A-C Valley 599-146, with 564 of those yards coming on the ground. Jake McBride also added a scoring run for the Warriors while running for 35 yards. Derek Boben paced the defense with 12 stops.