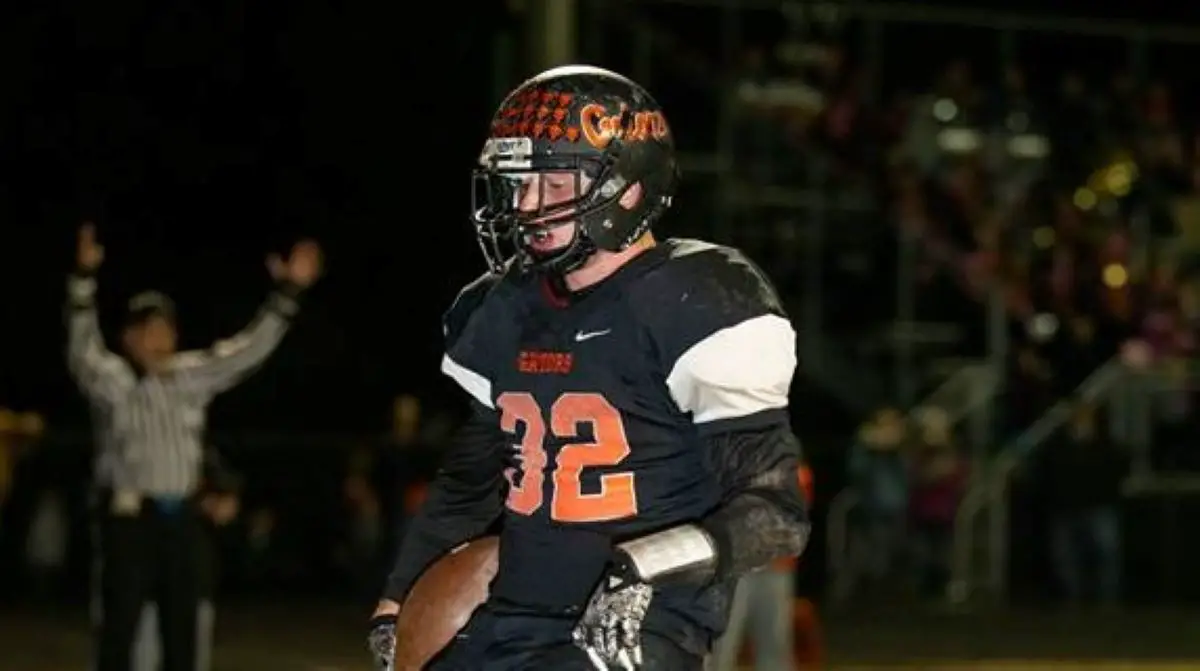 Week Zero football recaps.
(Photo of Port Allegany's Josh Rees, who scored the game-winning touchdown with less than two minutes to play in the Gators 14-12 win over Otto-Eldred Friday night. Photo by Patrick Crants. See more of Crants work here.)
PORT ALLEGANY 14, OTTO-ELDRED 12
PORT ALLEGANY, Pa. – Josh Rees' touchdown from two yards out with 1:53 to play gave Port Allegany a 14-12 win over visiting Otto-Eldred in the season opener for both teams Friday night.
Rees' score came one play after Otto-Eldred was called for pass interference on a fourth-and-goal play from the 4-yard line by Port Allegany giving the Gators new life. It also ended a 14-play, 55-yard drive that started for Port Allegany after Otto-Eldred had taken a 12-7 lead with 9:44 left.
Cole Sebastian's 33-yard touchdown pass to Ethan Smith had accounted for the go-ahead score for the Terrors, but the Gators rode the legs of Rees to the game-winning score. He carried the ball nine times for 43 yards on the winning drive.
Rees finished the contest with 29 carries for 193 yards and two touchdowns also scoring on a 3-yard run in the first quarter that gave Port Allegany a 7-0 lead.
Otto-Eldred got within a point, 7-6, later in the first quarter on a 10-yard Sebastian to Jake Merry touchdowns pass and the game remained that way until the fourth quarter.
Sebastian was 15 of 25 for 164 yards, the two touchdowns and two interceptions. He also ran nine times for 54 yards. Cameron Magee had six catches for 64 yards with Smith adding three catches for 51 yards and the touchdown and Merry three catches for 33 yards and the score.
Rees also led the Port Allegany defense with 11 tackles, including two for a loss. Blaine Moses added 10 stops. Montgomery Tanner and Trey Ayers had interceptions for the Gators.
ELK COUNTY CATHOLIC 21, CURWENSVILLE 0
ST. MARYS, Pa. – Behind a strong defense and 178 rushing yards and three touchdowns from Stephen Bobby, Elk County Catholic avenged its season-ending playoff loss a year ago to Curwensville by beating the Golden Tide, 21-0, in the season opener for both teams Friday night at Dutch County Stadium in St. Marys.
The Crusaders defense held the Golden Tide to 85 total yards of offense while their offense exploded for 429 on the night.
Bobby, who scored on runs of 22, 8 and 12 yards and toted the ball 29 times, talked about the win.
John Wittman added seven carries for 80 yards and two catches for 49 yards for ECC, while Nick Crisp had five catches for 60 yards. Mason McAllister was 8-for-15 passing for 126 yards and an interception.
For Curwensville, Dan McGarry was 4-for-10 with 51 passing yards and an interception. Jake Mullins had two catches for 45 yards and Duane Brady chipped in with nine carries for 42 yards.
Curwensville football recaps are brought to you by Lezzer Lumber
CLEARFIELD 31, DUBOIS 20
HYDE, Pa. – Behind a big night on both sides of the football from Jake Lezzer, Clearfield held off visiting DuBois, 31-20, to win the Lezzer Lumber King of the Mountain Trophy.
Lezzer had six catches for 159 yards and two touchdowns, ran twice for 17 yards and also intercepted DuBois quarterback Alex Kovalyak twice to help the Bison get the win.
His 42-yard touchdown catch off an Oliver Billotte pass in the fourth quarter came moments after DuBois had cut Clearfield's lead to four, 24-20, on an 82-yard Kovalyak to Nick Dilullo touchdown pass.
Billotte, making his first career start, had a strong game as well for Clearfield going 9 of 12 for 203 yards, three touchdowns and an interception. His other touchdown pass went to Karson Kline from 29 yards out. He also ran 12 times for 49 yards.
Clearfield led 14-7 at halftime on touchdown catches by Kline and Lezzer and made it 17-7 in the third quarter on a 23-yard Zach Hess field goal before DuBois, which scored in the first half on a 1-yard Adian Castro run, cut the lead to 17-14 at the end of the third quarter on a 9-yard Kovalyak to Dilullo touchdown pass.
Kovalyak was 20 of 34 for 328 yards, two touchdowns and three interceptions. Dilullo caught 10 passes for 179 yards and two scores, while Dale Kot had five catches for 101 yards.
Brett Zattoni added 45 yards rushing on 13 carries for Clearfield.
DuBois and Clearfield football recaps are brought to you by Lezzer Lumber
REDBANK VALLEY 29, KEYSTONE 8
NEW BETHLEHEM, Pa. – Behind the play of Gunner Mangiantini and Ethan Hetrick, Redbank Valley gave head coach Blane Gold a win in his head-coaching debut, 29-8, over visiting Keystone in D9 League Small School South play Friday night.
Relisten to the game:
Mangiantini, a sophomore making his first career start at quarterback, threw for a touchdown (20 yards) and a ran for a touchdown (37 yards), while Hetrick hauled in a touchdown catch (20 yards) and also dominated on defense with four sacks and two forced fumbles.
Mangiantini, who was named the Hager Paving Player of the Game for Redbank Valley after going 17 of 21 for 166 yards passing while rushing five times for 41 yards, talked about the win.
Ray Shrecengost (1-yard run) and Kobe Bonanno (26 yards) also scored for Redbank Valley, while Jayden Blazosky caught a 19-yard touchdown pass from Isaak Jones for Keystone's lone score.
Redbank Valley led 15-8 at halftime.
Gold talked about the victory.
Bonanno paced Redbank Valley's rushing attack with nine carries for 64 yards and the score, while Javin Brentzel had eight catches for 64 yards and Hetrick two for 50.
Chase Bish had the interception for Redbank Valley.
Jones was 9 of 16 passing for 112 yards, the touchdown and an interception and ran 15 times for 10 yards. Blazosky had five catches for 71 yards and the touchdown while Taylar Altman led Keystone on the ground with seven carries for 44 yards.
CLARION 70, PUNXSUTAWNEY 6
PUNXSUTAWNEY, Pa. – The new Clarion/Clarion-Limestone/North Clarion co-op flexed its muscle early and often in a 70-6 romp at Punxsutawney.
Austin Newcomb, who set the single-season District 9 rushing record last year while playing for C-L, picked up where he left off rushing 11 times for 187 yards and four touchdowns while adding a catch for nine yards. He scored the Bobcat's first three touchdowns in the first quarter on runs of 22, 6 and 32 yards, and Clarion led 27-0 at the end of 12 minutes before making it 42-0 at halftime. Newcomb then added a 48-yard score in the third quarter.
Meanwhile, Cal German threw a pair of first-half touchdown passes to Ethan Burford.
German was 5-for-8 for 137 yards and the two scores with Burford catching four passes for 128 yards scoring on passes of 64 and 18 yards.
Kyle Bottaro added a 23-yard scoring run for Clarion with Cutter Boggess scoring on a 2-yard run, Breckin Rex on a 44-yard scamper and Alex Garduno on a 27-yard run.
Zeke Bennett caught a 61-yard pass from Seth Moore in the fourth quarter for Punxsutawney's lone score.
Clarion outgained the Chucks 608 to 124 yards including 471 to 16 on the ground and had 22 first downs to Punxsy's four.
Rex also went over 100 yards on the ground for the Bobcats with four carries for 103 yards while Boggess added 51 yards on seven totes and Bottaro 41 on four.
Bennett had the one catch for 61 yards and ran for a team-high eight yards on three carries. Kameron Falgout was 5 of 8 passing for 47 yards with Micah Kriebel catching a team-best four passes for 24 yards.
KANE 46, MONITEAU 19
WEST SUNBURY, Pa. – After a disappointing 2018 season, Kane wasted little time making a statement in 2019 rolling to a 46-19 win at Moniteau.
Zuke Smith threw for three touchdowns and ran for a score to lead the way for the Wolves, who led 39-9 at halftime.
Smith was 6 of 14 passing for 175 yards, the three scores and two interceptions. He threw touchdowns passes for Kevin Sharba (10 yards), Bobby Rumcick (29 yards) and Jake Alcorn (60 yards). Smith added a 3-yard touchdown run and carries the ball twice for 10 yards.
Teddy Race also scored on a pair of runs for Kane finding the end zone on scampers of 17 and 19 yards while rushing for 64 yards on nine carries.
Alcorn added two catches for 62 yards and the touchdown and added 10 carries for 45 yards.
Ethan McDeavitt accounted for 13 of Moniteau's 19 points scoring on a 3-yard run, kicking a pair of 24-yard field goals, including one as time ran out, and adding an extra point.
David Stamm also scored on a 1-yard run for the Warriors.
J.D. Dessicino led Moniteau with 12 carries for 91 yards with Stamm adding eight for 32. Brady Thompson was 4 of 13 passing for 127 yards with McDeavitt, who ran once for three yards, catches two passes for 111.
KARNS CITY 43, BROCKWAY 14
BROCKWAY, Pa. – Quarterback Anthony Kamesnki ran for 153 yards and a touchdown, and Mitchell Kelsea scored on three short runs to lift visiting Karns City to a 43-14 win at Brockway.
Kamenski carried the ball 11 times and scored on a 24-yard run in the third quarter that pushed a 29-0 Gremlins halftime lead to 36-0 and put the Mercy Rule into action.
Kelsea was the main reason the lead was so big at halftime scoring on runs of 1, 2 and 4 yards. He finished the game with seven carries for 28 yards.
Jon Wood scored a pair of late touchdowns for Brockway scoring on a 47-yard run with 8:05 to play and on a 59-yard pass from Connor Ford with 2:24 left. Wood ran nine times for 81 yards and caught two passes for 66 yards. Ford was 4 of 10 passing for 78 yards, the touchdown and the interception and added 26 yards on the ground on 10 carries.
Hunter Rowe chipped in 15 carries for 69 yards and a touchdown for Karns City.
BROOKVILLE 51, BRADFORD 0
BRADFORD, Pa. – Jack Krug threw for 199 yards and four touchdowns and ran for 153 yards and a score, and Brookville took advantage of five Bradford turnovers to pick up a 51-0 win over on the road over the Owls.
Krug was 17 of 26 passing and did toss one interception. He threw two touchdown passes to Ryan Daisley (25 yards, 4 yards) and one each to Cole LaBenne (13 yards), Kyle MacBeth (6 yards). He also scored on a 77-yard run helping him pick up the 153 yards on just four carries.
LaBenne added a 1-yard scoring run for the Raiders as well rushing for 15 yards on six carries.
Robert Keth led the receiving corps for Brookville with five catches for 71 yards, Macbeth had four for 51 yards with Daisley adding three for 28.
Brookville outgained Bradford 403 to 97 including 164 to four on the ground.
Caleb Nuzzo was 10 of 16 passing for 93 yards and two interceptions for the Owls. Austen Davis had four catches for 62 yards and added seven carries for a team-best 19 yards.
SMETHPORT 40, SHEFFIELD 0
SMETHPORT, Pa. – Sophomore quarterback Noah Lent was 9 of 18 passing for 197 yards and five touchdowns and added three tackles and an interception on defense to lead Smethport to a 40-0 win over visiting Sheffield.
Ryli Burritt (3 catches, 72 yards) and Braedon Johnson (3 catches, 71 yards) each caught two touchdowns for the Hubbers.
Lent's older brother, Hunter Lent, led the Smethport ground game with eight carries for 80 yards and a touchdown.
Travis Cooney (11 tackles, 1 interception), Kameron Rounsville (9 tackles, 1 sacks, 1 fumble recoverY) and Logan Christie (8 tackles, 1 interception) led Smethport's defense which also got an interception from Burritt, who added a tackle.
Jihad Bennett paced Sheffield with six carries for 49 yards.
COUDERSPORT 30, UNION/A-C VALLEY 8
COUDERSPORT, Pa. – Coudersport outscored visiting Union/A-C Valley, 16-0, on the second half on its way to a 30-8 win.
Up 14-8 at halftime, the Falcons got a 4-yard Kolby VanWhy touchdown run and a 1-yard Brandy Kightlinger fumble return for a touchdown to put the game on ice.
Coudersport built the halftime lead on a 5-yard Travis Gleason run and a 36-yard Hayden Keck to John Minor touchdown pass.
Luke Bowser hooked up with Tanner Merwin on a 6-yard scoring pass for Union/A-C Valley's lone score.
Keck was 5 of 8 passing for 118 yards, the touchdown and an interception for Coudersport while also rushing 12 times for 41 yards.
Gleason ran 16 times for 51 yards and a score with Thomas Wilson added 11 carries for 31 yards Minor had two catches for 80 yards and the touchdowns.
Bowser was 14 of 24 passing for 117 yards, a touchdown and an interception for Union with Merwin catching six passes for 66 yards and the score. Caden Rainey had six catches for 48 yards.
Union, though, struggled to run the ball rushing for negative five yards on 11 carries.
Eli Penny led the Falcon-Knights defense with eight tackles and two sacks with Merwin adding 10 stops and an interception, Gaven Bowser seven tackles and Rainey six stops.
RIDGWAY 42, ST. MARYS 6
RIDGWAY, Pa. – After spotting visiting St. Marys a 6-0 lead at the end of one quarter, Ridgway scored 42 unanswered points on its way to a 42-6 win.
Five different Elkers found the end zone including scoring runs from Matt Dush (14 yards and 7 yards), Gabe Watts (8 yards) and Isaac Sidelinger (1 yard), a 19-yard Paul Gresco to Austin Green touchdown pass and a 50-yard Jake Wickett punt return.
Jacob Kline score on a 1-yard run for St. Marys.
Dush led Ridgway on the ground with eight carries for 69 yards with Wickett adding seven totes for 46 yards and Watts 10 for 44. Gresco was 9 of 10 passing for 84 yards with Wickett grabbing four balls for 44 yards and Green two for 24.
Christian Coudriet was 11 of 21 passing for 162 yards for St. Marys but lost 57 yards on the ground thanks in large part to sacks on nine carries. Bryce Walker had four catches for 62 yards, and Cain Pfoutz three catches for 46 yards. Kline carried the ball seven times for 54 yards.