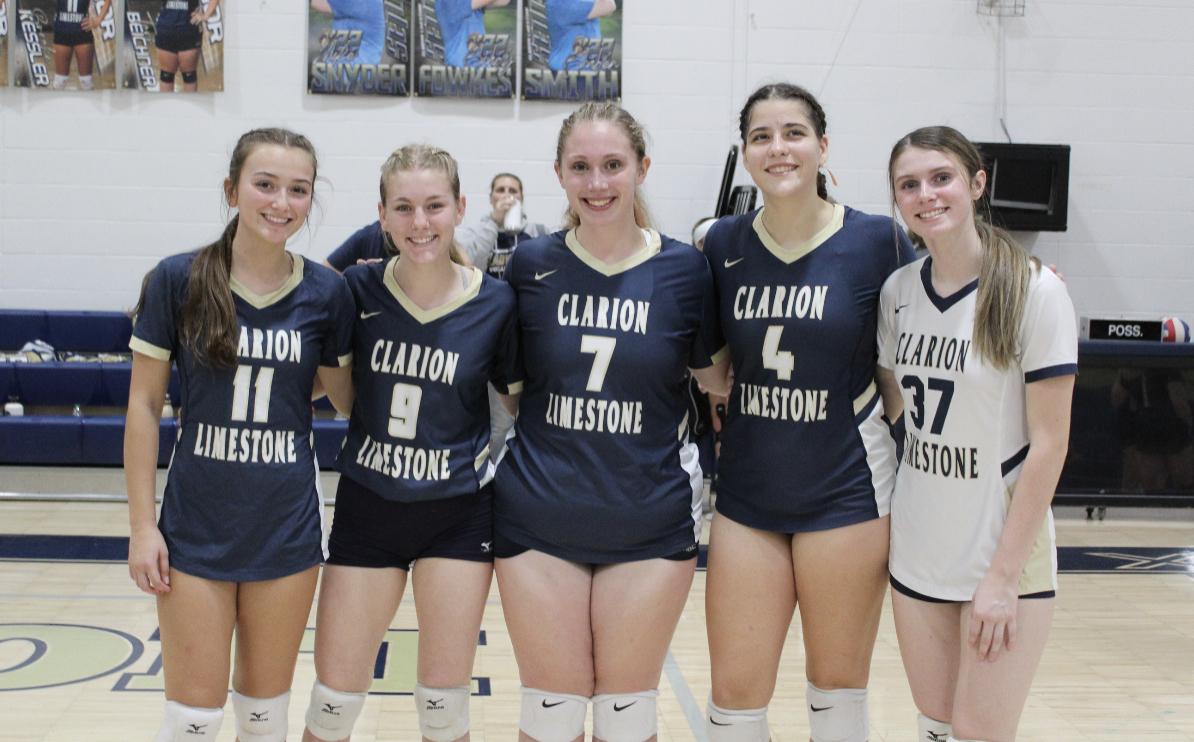 STRATTANVILLE, Pa. (EYT/D9) – Clarion-Limestone celebrated Senior Night with their sixth straight win to reach the 10-win plateau with a 25-14, 25-16, 25-15 victory over North Clarion at the Lions' Den.
C-L (10-2 overall) kept the Wolves off balance all evening with a solid service game in which the Lions racked up 12 aces as a team with Ruby Smith collected five and Kendall Dunn four.
(Clarion-Limestone seniors, from left, are: Brooke Kessler, Regan Husted, Tori Beichner, Ruby Smith and Abby Himes)
Smith also led the way with six kills, a pair of blocks and 10 service points. Dunn finished with 15 assists along with 12 service points. Brooke Kessler and Celia Shaffer each added four kills. Shaffer also served for 10 points.
"Ruby had five aces and her serve really kept them off balance, and they weren't able to get many clean passes off of her serve," said C-L head coach Ryan Troupe. "Our serving in general tonight made it tough for them to generate any type of offense and that's what we're looking for."
North Clarion never led during the match, and it only featured one tie, which came at 2-2 in the third set.
In the opening set, Clarion-Limestone jumped out to a 6-1 lead. The Wolves would close to within three at 9-6, but a 9-3 run by C-L pushed the lead out to 18-9. C-L closed out the first set with a 7-5 advantage, including Dunn serving for five of those points.
In the second set with C-L leading by four at 8-4, the Lions would use a 6-0 run to push the lead to 10 at 14-4. North Clarion could get no closer than six at 19-13 before C-L eventually closed the set 25-16.
C-L broke a 2-2 tie in the third set with a 14-5 scoring advantage to take a 16-7 lead. A 9-8 edge by the Lions the rest of the way closed out the set and the match 25-15.
C-L celebrated seniors Brooke Kessler, Ruby Smith, Abby Himes, Regan Husted, and Tori Beichner before the match.
"These girls really work well together no matter who is on the floor," said Troupe. "It was a little different set up at the start of the match, but they all can play, and I have confidence in them no matter who is on the floor. The underclassman wants to see these seniors succeed so they go out and work so hard to try and make that success happen."
Karns City 3, Union 0 – Emma Johns had seven kills, nine assists and two digs as the Gremlins swept the Damsels on the road, 25-21, 25-13, 25-23.
Ashley Fox added a team-leading 15 digs and Ava Fox added 12 digs for Karns City, which also received 11 assists from Rosie Carden.
Ashley Fox also had six kills and Ava Fox five kills in the win.
Union was paced by Dominika Logue, who had eight kills and three aces.
Keira Croyle had 14 assists, Kennedy Vogle 15 digs and Hailey Kriebel six kills for the Damsels.
Keystone 3, Oil City 0 – Alyssa Weaver led the Panthers with 11 service points, six aces and 11 assists in a 25-10, 25-15, 25-22 sweep of Venango Catholic.
Natalie Bowser had six points, six assists and six kills and Leah Exley also had six kills and two aces for Keystone (12-3).