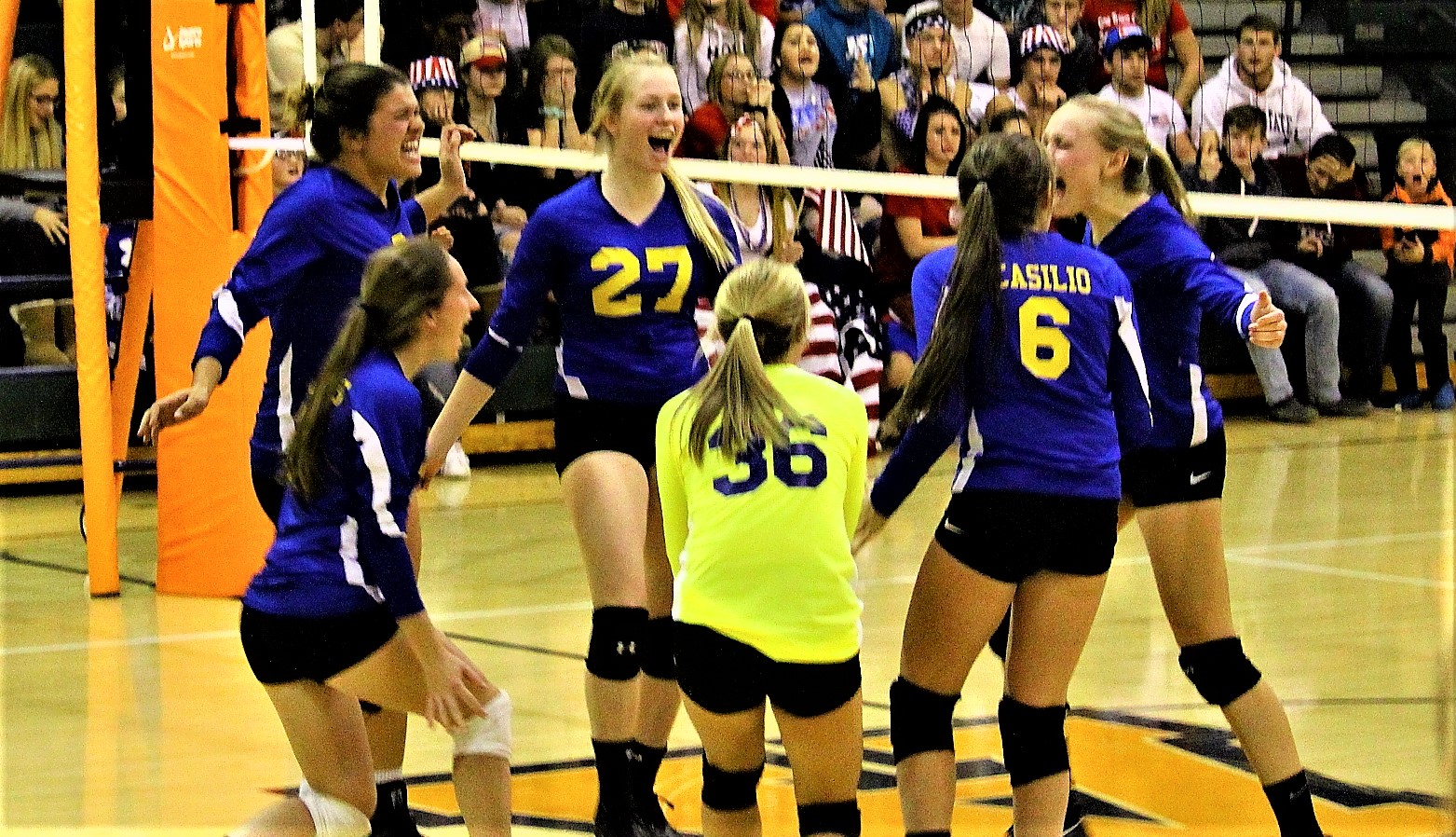 PORT ALLEGANY, Pa. – Just an hour or so after posting a shutout in the District 9 Class 1A soccer semifinals for Ridgway (as part of a co-op), Lindsey Kocjancic drove to Port Allegany and led the 13th-seeded Johnsonburg Ramettes to a 3-0 (25-16, 25-17, 26-24) upset of fourth-seeded Port Allegany.
(Photo: Johnsonburg celebrates a point Thursday. Photo by Rich Quiggle)
Kocjancic had 10 kills and three digs in the win with Jenna Morgan adding seven kills, four digs and three aces. Amanda Williams, who also played in the soccer game, added six digs with Rylie Casilio, another soccer playing, running the offense with 17 assists while adding six digs and three aces. Kenzie Sallack chipped in five kills and Haylee Zimmerman had four aces and four digs.
For NTL champion Port Allegany, Erin Stauffer had seven kills and eight digs, Kierra Keck added six kills, Kalyn Naylor had five kills and Jenna Sprankle ran the offense with 16 assists while adding 12 digs.
Johnsonburg will travel to fifth-seeded Cranberry, a 3-0 winner over DuBois Central Catholic, for a 7 p.m. match Tuesday, Oct. 30, in the quarterfinals.
COUDERSPORT 3, UNION 0
COUDERSPORT, Pa. – Behind 10 kills and three aces from Shaelyn Black, sixth-seeded Coudersport knocked off 11th-seeded Union, 3-0 (25-17, 25-17, 25-16), in the District 9 Class 1A opening round at Coudy.
Mikayla Kavounas added four kills, nine assists and four aces for the Lady Falcons with Addie Myers chipping in two kills and three blocks and Erica Williams two kills and two blocks.
Emma Pritchard paced Union with six kills, while Dominika Logue, Morgan Cumberland and Bryn Davis each had three kills. Cumberland added 13 assists with Marli Hawk leading the defense with eight digs.
Coudersport will play at A-C Valley in the quarterfinals at 6:30 p.m. Tuesday, Oct. 30.
CRANBERRY 3, DUBOIS CENTRAL CATHOLIC 0
SENECA, Pa. – Ava Ferringer and Emily Duncan combined for 25 kills to lead fifth-seeded Cranberry to a 3-0 (25-23, 25-19, 25-12) victory over 12th-seeded DuBois Central Catholic in the District 9 Class 1A opening round at Cranberry.
Ferringer led the Berries with 15 kills with Duncan adding 10. Malliah Schreck chipped in with eight kills and Maddie Cornelius with seven.
Duncan ran the offense with 32 set assists and also contributed three digs, an ace and a block.
Schreck (33 digs) Ally Young (31) digs paced the Cranberry defense with Kaylie Bruce adding 20 digs and Cornelius 15. Schreck also had four assists and four aces.
For DCC, Alyssa Bittner had eight kills and six blocks, Jordy Kosko added six kills and six blocks, Ashley Wruble ran the offense with 17 assists and Shay Gulvas led the defense with 18 digs and two aces.
Cranberry will take host 13th-seeded Johnsonburg in the second round at 6:30 p.m., Tuesday, Oct. 30.
ELK COUNTY CATHOLIC 3, KEYSTONE 1
ST. MARYS, Pa. – Behind 17 kills and three aces from Taylor Newton, seventh-seeded Elk County Catholic knocked off visiting and seventh-seeded Keystone, 3-1 (25-18, 25-21, 23-25, 25-23).
Jenna Weisner added six kills and three aces for the Lady Crusaders with Hannah Barnett chipping in five kills.
McKenzie Hovis led Keystone with 11 kills and 17 digs with McKenna Kaye adding eight kills, 11 digs, 10 assists and four blocks. Emma Weaver had 16 assists, Mandy Wingard paced the defense with 25 digs, Alyssa Dunlap added 16 digs and five kills and Emily Lauer had 10 digs, nine blocks and an ace.
ECC will travel to Clarion to take on the second-seeded Lady Cats at 6:30 p.m. Tuesday, Oct. 30, in the quarterfinals. That match will be audio broadcast on ExploreClarion.com as well as D9Sports.com.
OTTO-ELDRED 3, CAMERON COUNTY 2
DUKE CENTER, Pa. – Eighth-seeded and defending District 9 Class 1A champion Otto-Eldred rallied past visiting Cameron County, the ninth seed, for a 3-2 (20-25, 25-20, 17-25, 25-14, 15-12) victory.
The win earns the Lady Terrors a spot in the quarterfinals at top-seeded Ridgway at 7 p.m. Tuesday.
Veronica Benini led O-E with 13 kills and 21 digs with Reilly Raught recording a team-best 14 kills to go with two blocks. Emmalee Sheeler had 20 assists and an ace with Emilie Reitler adding 15 assists, 10 digs and two aces. Harley VanScotter also had 13 kills, 12 digs and three blocks, Haley Cousin chipped in 16 digs and Jade Spinney had 14 digs.
Mallory McKimm had seven kills and five aces for Cameron County with Kaelee Bresslin also recording seven kills to go with four aces. Alyvia McKimm had 11 assists and Morgan Lorenzo 10 digs.
REGULAR SEASON
REDBANK VALLEY 3, PUNXSUTAWNEY 0
PUNXSUTAWNEY, Pa. – Thanks to 16 Josie Rupp kills, Redbank Valley rolled to a 3-0 (25-13, 25-16, 25-10) road win over Punxsutawney.
Jordan Milliron added six kills for the Lady Bulldogs with Taylor King and ToriLynn Nelson each chipping in five kills and three blocks. Carissa Rearick had 32 assists and an ace, and Hope Spence had 16 digs and two aces.
Redbank Valley finished the regular season 15-1 winning their final 15 after a season-opening loss to Clarion. The Lady Bulldogs are the top seed in the District 9 Class 2A playoffs and will host Karns City in the semifinals at 6:30 p.m. Wednesday.