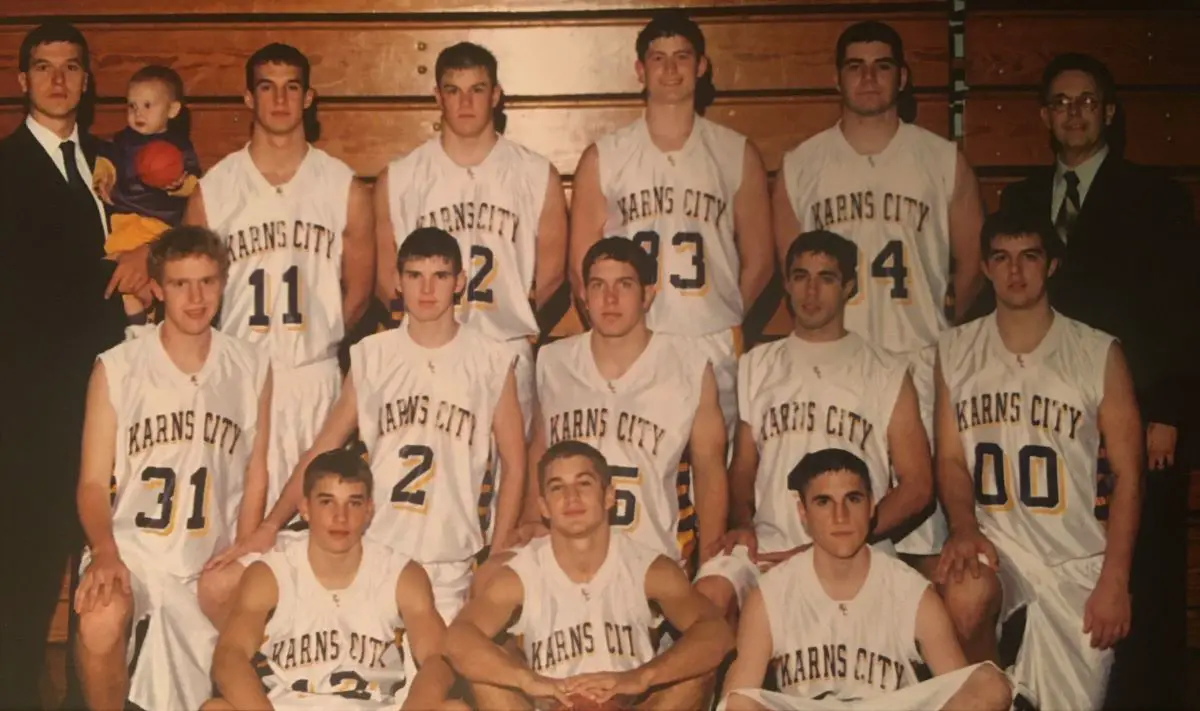 The 2002 Karns City team was crowned the best boys' basketball team in the D9Sports.com-Era (2001-present) with a 56 percent to 44 percent win over 2013 Johnsonburg in the championship game.
(Photo courtesy of Patrick Craig) 
See the D9Sports.com Tournament of Champions Boys' Bracket
The Gremlins garnered 860 votes to the Rams 682 votes to win the crown.
Jeff Loughry-coached Karns City went 27-2 in 2002 and beat Moniteau, 69-48, to win the District 9 Class 2A title.
The Gremlins won their first 21 games (in a 24-game regular season) and didn't lose until Feb. 11 when it dropped a regular-season decision at Wilkinsburg, 50-47.
In the PIAA playoffs, Karns City beat Maplewood (69-48) at Clarion University and North Star (47-46 in overtime) at Franklin Regional to reach the PIAA quarterfinals before losing to eventual PIAA runner-up Sto-Rox (72-56) in the quarterfinals at Butler High School.
In the win over North Star, future Redbank Valley head coach and Clarion University player Patrick Craig hit a shot with eight seconds to play in overtime to win the game. Craig had also tied the game with three free throws with 18.8 seconds left in regulation after being fouled taking a 3-pointer. The Gremlins were led by Craig (21.3 ppg, 11.5 rpg), a 1,000-point career scorer, and Brian Hilderbrand (10.2 ppg, 8.7 apg), who were both named first-team All-District players.
Joining Craig and Hilderbrand, both seniors, on the varsity roster that season were junior Erik Fuhrer, senior DJ Black, senior Brian Trimbur, senior Ian Ferguson, juniors Travis Trimbur, Nathan McCollough, Jeff Wagner, and Tyler Henry, and seniors Beau Rattigan and Joe Callihan.
Don Loughry, Jeff's dad, was the assistant coach.
The D9Sports.com Tournament of Champions is being brought to you in part by The Sportsmen Portal. The Sportsmen Portal is proud to provide businesses and organizations of all sizes in Western PA solutions to their web development needs. From sophisticated eCommerce to simple websites we have you covered. Contact us today at 717-304-2770 or visit us online at https://sportsmenportal.com/
2002 KARNS CITY SCHEDULE
| | | | |
| --- | --- | --- | --- |
| Day of Week |  Date |  Opponent |  Time/Result |
| Friday |  Nov. 30 | MARION CENTER (Karns City Tournament) | W 86-51 |
| Saturday |  Dec. 1 | MONITEAU (Karns City Tournament) | W 80-36 |
| Wednesday |  Dec. 5 |  KNOCH | W 68-51 |
| Wednesday |  Dec. 12 |  *CLARION-LIMESTONE | W 81-54 |
| Friday |  Dec. 14 |  *at Redbank Valley | W 78-35 |
| Friday |  Dec. 21 |  *A-C VALLEY | W 65-26 |
| Friday |  Dec. 28 |  vs. Burrell at Butler Tournament | W 65-29 |
| Saturday |  Dec. 29 |  vs. Vincentian at Butler Tournament | W 87-45 |
| Thursday |  Jan. 3 |  *at Keystone | W 53-38 |
| Saturday |  Jan. 5 |  *MONITEAU | W 71-64 |
| Wednesday |  Jan. 9 |  *at North Clarion | W 86-45 |
| Friday |  Jan. 11 |  *CLARION | W 59-46 |
| Tuesday |  Jan. 15 |  *at Union | W 90-36 |
| Friday |  Jan. 18 |  *at Clarion-Limestone | W 69-68 |
| Wednesday |  Jan. 23 |  *REDBANK VALLEY | W 62-29 |
| Saturday |  Jan. 26 |  SETON-LASALLE | W 62-51 |
| Tuesday |  Jan. 29 |  *at A-C Valley | W 87-53 |
| Friday |  Feb. 1 |  *KEYSTONE | W 50-46 |
| Monday |  Feb. 4 |  at Blairsville | W 62-45 |
| Wednesday |  Feb. 6 |  *at Moniteau | W 74-42 |
| Friday |  Feb. 8 |  *NORTH CLARION | W 79-39 |
| Monday |  Feb. 11 |  at Wilkinsburg | L 47-50 |
| Tuesday |  Feb. 12 |  *at Clarion | W 84-62 |
| Friday |  Feb. 15 |  *UNION | W 83-47 |
| Tuesday | Feb. 19 |  &vs. Ridgway at Clarion Univ. (Semifinals) | W 86-38 |
| Thursday | Feb. 28 |  &vs. Moniteau at Clarion Univ (Championship game) | W 69-48 |
| Saturday | Mar. 9 |  $vs. Maplewood at Clarion Univ. | W 51-36 |
| Wednesday | Mar. 13 |  $vs. North Star at Franklin Regional HS | W 47-46, OT |
| Saturday | Mar. 16 |  $vs. Sto-Rox at Butler HS (Quarterfinals) | L 56-72 |
HOME GAMES IN CAPS
*Indicates Keystone Shortway Athletic Conference Game
&District 9 Class AA Playoffs (No Junior Varsity)
$PIAA Class AA Playoffs (No Junior Varsity)