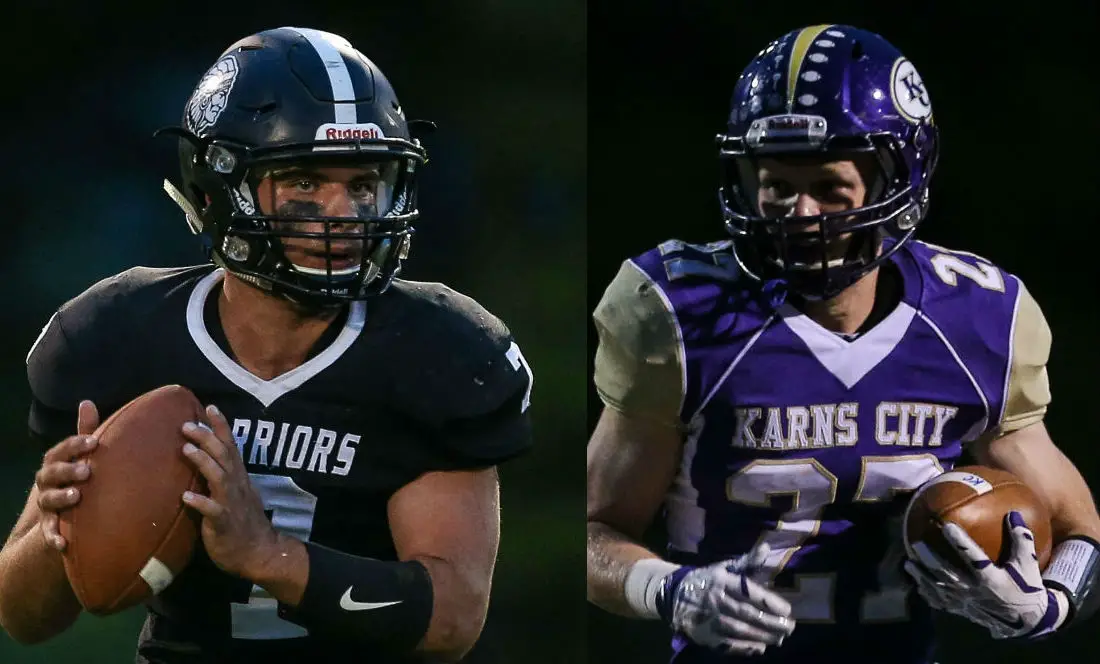 GAME INFORMATION 
When: 7 p.m. Friday, Nov. 20 • Where: Clarion University's Memorial Stadium • D9 Postseason History
TEAM INFORMATION 
Starting Lineups • Moniteau Roster • Karns City Roster
Moniteau Stats • Karns City Stats •  Moniteau Schedule • Karns City Schedule
GAME PREVIEW STORY
By Chris Rossetti
CLARION, Pa. – Karns City will be aiming for its fourth straight District 9 Class AA title when it takes on Butler County neighbor Moniteau in the title game at 7 p.m. Friday night at Clarion University's Memorial Stadium.
This is the second meeting of the year between the unbeaten Gremlins (10-0) and the Warriors (5-6) with the first one being won easily by Karns City, 41-0, Oct. 2 at Karns City.
"I never like playing anybody twice," Karns City head coach Ed Conto said. "I think it stinks because sometimes your kids may take it for granted or not respect a team like they should. You always need to respect your opponent, or you might not play up to your potential."
Moniteau has been a different team since the loss to Karns City that left the Warriors with a 1-4 mark through five weeks. Since then, Moniteau has rolled off four wins in their last six games including a pair of victories over St. Marys with last week's 17-6 win coming on the road in the semifinals.
"Our kids started to believe in one and other," Moniteau head coach Wade Vogan said. "They are playing together as a team. They are seeing and believing they can win some ball games if everybody does their job. That's what we've been preaching to the kid, do your job and things will fall in line."
Moniteau will have its hands full with a Karns City team that is strong on both sides of the football.
The Gremlins average a D9-leading 50.8 points per game while allowing 13.5, the fourth-best mark in D9.
On offense, Karns City likes to spread the ball around with a core group of kids doing most of the heavy lifting.
Senior tailback Collin Dunmyre leads the way rushing for 732 yards and 10 touchdowns. He is one of three Gremlin runners to have double-digit scorers. Senior fullback Maverick Kelsea leads the way with 16 touchdowns on the ground while rushing for 502 yards, and junior tailback Chandler Turner adds 11 scores and 637 yards rushing.
"We need to do a good job tackling," Vogan said. "We did a poor job tackling the last time we played them. They are a big, bruising team, and if we don't swarm to the football with all 11 players we're not going to bring them down with one guy. If our guys aren't swarming, it's going to be hard to stop somebody as powerful as Karns City."
The Gremlins also employ a two-quarterback system with a pair of juniors, Jacob King and Cullen Williams combing to throw for 1,002 yards and 10 touchdowns.
Williams is more of a dual-threat quarterback going 25 of 46 on the year for 454 yards, three touchdowns and five interceptions while also rushing for 458 yards and six scores.
King is completing nearly 65 percent of his passes, 35 of 54, for 548 yards and seven touchdowns with just two picks but has just 19 carries for negative three yards.
The real key, though, to Karns City's success has been an offensive line that has allowed the Gremlins to average 319.2 yards per game rushing and 421.8 yards of total offense. That line is anchored by senior center Reese Barger and also consists of guards Ben Ealy, Dalton Jones and Braden Fedorek and tackles Austin Turner, Neal Barnhart and Justin Bailey.  
"I think if you look at the rushing yards that tells you the tale of the whole thing," Conto said. "The offensive line has been physical, which I really think is important in high school football. They are not professional where they have played for many, many years and they can pass block and turn it on and off. So, I think it's very important that they stay physical."
On defense, the Gremlins don't have anyone putting up flashy numbers but instead again rely on the team concept.
Kelsea is the leading tackler with 75, while Barger has a team-best six sacks and Evan Stitt (6 interceptions) and Chandler Turner (5 interceptions) anchoring a strong secondary.
That defense will be challenged by Moniteau senior quarterback Derek Boben, who is Mr. Do Everything for the Warriors.
On the year, Moniteau has had 544 offensive plays, and Boben has either thrown or run the ball on 330 of those plays or 60.6 percent of the time.
He has rushed for 812 yards and four touchdowns on 186 carries and is 63 of 144 passing for 1,153 yards, seven touchdowns and nine picks on the year while accounting for 68 percent (1,965 of 2,877) of Moniteau total offense on the year.  
"He's a tough, hard-nosed kid," Vogan said. "He just naturally takes the game over, and as I coach I let him do that. He makes me look good. So why not let your quarterback play the game he wants to play?"
While Boben is the focal point of the offense, he isn't the only point.
Fellow senior Shonn Kline has come on in recent weeks and actually was Moniteau's best player in the semifinal win over St. Marys last week rushing for 139 yards and two touchdowns on 33 carries. That brought Kline's season total to 642 yards and four touchdowns with 476 of those coming since the Warriors started playing better.
"We moved Shonn from fullback to tailback in the fourth or fifth week of the season," Vogan said. "He is a tough, bruising running back who doesn't come down with one tackle. That plays into smashmouth football."
Dalton Anderson is the go-to- receiver for the Warriors with 30 catches for 495 yards and three touchdowns.
On defense, Boben and Kline lead the way as well with the duo combining to average over 25 tackles per game while sharing the team lead with two sacks each.  
NOTES – This marks the fourth time these teams have met in the D9 Class AA title game. Karns City won the first two games, 50-14 in 2007 and 42-9 in 2008, while Moniteau won the last meeting, 26-12 in 2011 … Karns City is trying to become the first Class AA team to win four straight titles. The Gremlins have won three in a row three times including the current streak while also accomplishing the feat from 1999-2001 and from 2007-09 … Karns City is also making its fifth straight appearance in the title game, the first team in D9 Class AA to do that since Karns City made five straight between 1999-2003 … The winner gets the winner of the Chestnut Ridge-Bedford D5-6 title game next week at the District 9 champions home field.