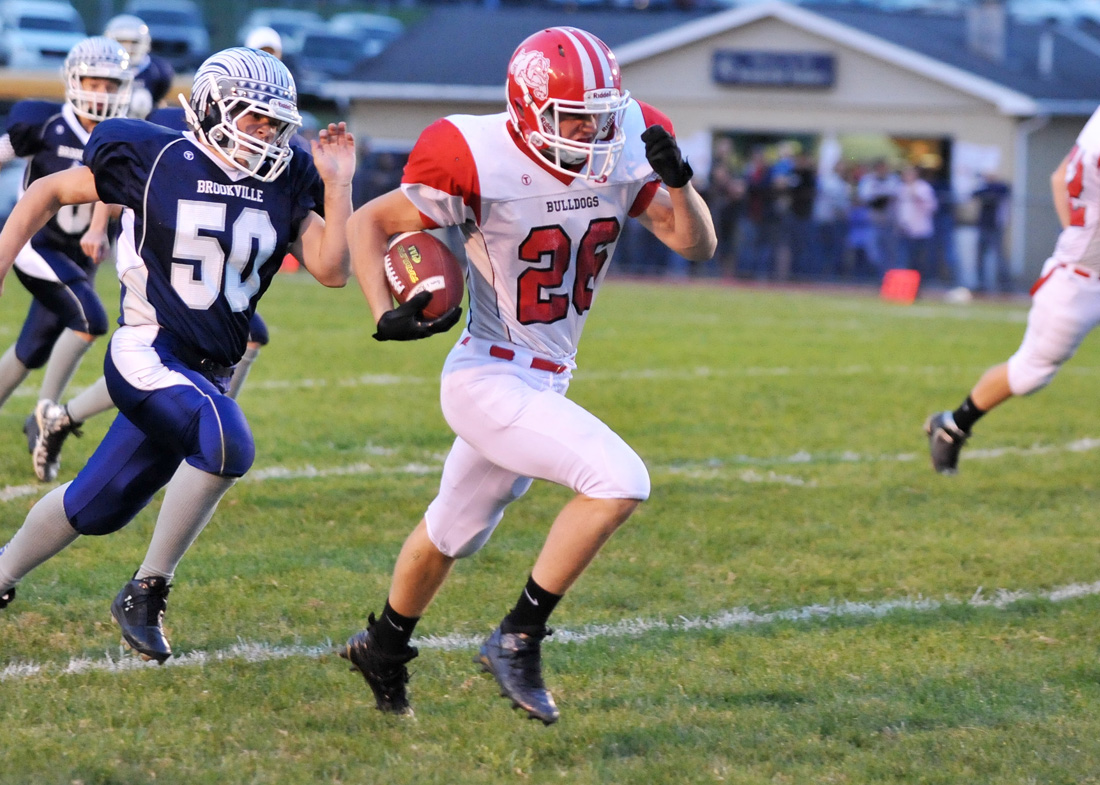 REDBANK VALLEY 34, CLARION 10
CLARION, Pa. – Redbank Valley won its first conference title since 1996 and fourth overall with a 34-10 win at Clarion Friday night that clinched the KSAC Small School Division crown and with it the No. 1 seed in the upcoming District 9 Class A playoffs.
The Bulldogs (7-2, 5-0 KSAC SSD), who are the first team other than Clarion to win the KSAC Small in the six years the KSAC has been split, rode the legs and hands of senior Wyatt Hetrick.
Hetrick had 300 yards of total offense and four touchdowns including 148 on the ground on 24 carries, both career highs, with two late rushing touchdowns. He also caught five passes for 152 yards with a pair of first-half touchdowns. The 152 yards receiving were a season high and the second most of his career behind the his District 9-record-tying 18 catches for 242 yards. He had only 32 rushes on the season going into the game.  
Quarterback Connor Shoemaker continued his strong play play with two passing touchdowns and a rushing score. He was 9 of 13 passing for 201 yards while rushing nine times for 36 yards with a 1-yard touchdown run. His scoring passes to Hetrick went for 41 yards and 80 yards.        
Bo Miller scored Clarion's lone touchdown with a 16-yard run in the first quarter that tied the game at seven. Cameron Craig also kicked a 27-yard field goal on the last play of the first half that got Clarion to within four, 14-10, at the break.
But Redbank Valley owned the second half outscoring the Bobcats 20-0.
Colton Rapp ran 12 times for 64 yards for Clarion (5-4, 3-2), while Bo Miller ran five times for 16 yards but was only 4 of 22 passing for 43 yards and two picks. Miller also picked off a pass on defense.
Nick Shoemaker had a pair of interceptions for Redbank Valley's defense.
Redbank outgained Clarion 437 to 179.  
CURWENSVILLE 26, RIDGWAY 20
RIDGWAY, Pa. – Nick Stewart carried Curwensville into the District 9 Class A playoffs while ending Ridgway's playoff hopes by rushing for 160 yards and three touchdowns on 29 carries to lead the visiting Golden Tide (6-3, 1-3 AML South) to a 26-20 win at Ridgway (4-5, 0-4) Friday night.
Stewart scored on first-half runs of 53 and 4 yards to help stake the Golden Tide to a 20-0 lead midway through the second quarter – Quamone Newkirk also caught a 23-yard touchdown pass in the second quarter from Jakob Terry.
But Ridgway wasn't about to let its season go by without a fight. The Elkers, despite just two first-half yards, roared back and tied the game at 20 late in the third quarter thanks to the play of sophomore quarterback Johnny Mitchell.
Mitchell got the Elkers to within 13, 20-7, at halftime with a 10-yard run late in the half. He then hit Josh Raubenstrauch with a 51-yard touchdown pass on Ridgway's first possession of the second half to make it 20-13.
Ridgway then tied the game with 1:47 left in the third quarter on 2-yard Neil MacDonald run.
But Stewart returned the ensuing kickoff 80 yards to the Ridgway 12-yard line, and a couple of plays later gave the Tide the lead back for good on a 3-yard run 39 seconds after MacDonald scored.
Neither team could move the ball in the fourth quarter with neither team picking up a first down.
Mitchell was 8 of 16 passing for 102 yards, a touchdown and an interceptions while also scoring the one rushing touchdown. Raubenstrauch caught three passes for 71 yards and the touchdown. 
COUDERSPORT 42, SMETHPORT 20
SMETHPORT, Pa. – Darren Keglovits threw for 244 yards and four touchdowns, all to Navada Waterman, to lead Coudersport to a 42-20 win at rival Smethport Friday night that kept the Falcons District 9 Class A playoff hopes alive.
Keglovits was 10 of 19 on the night without an interception with Waterman grabbing five of those for 191 yards.
Adam Shunk had another monster game for Smethport rushing 30 times for 243 yards and two touchdowns giving him 1,451 yards rushing on the season.
Coudy (5-4, 4-1 AML North) led 14-0 on a pair of Waterman touchdown catches before Smethport (3-6, 3-2) tied the game at 14 on scoring runs by Shunk and Jimmy Duffy. But two more long Keglovits to Waterman (70 and 63 yards) scoring passes put the Falcons back ahead for good. Aaron Wolfinger and Brock Wilson then each scored on 1-yard runs to make it 42-14 before Shunk got his second touchdown of the game to set the final score.
Wolfinger ran 12 times for 77 yards and had five tackles, while Keglovits also made seven tackles.    
Coudersport could get into the District 9 playoffs with a loss by Keystone or Clarion next week.
PORT ALLEGANY 40, SHEFFIELD 0
PORT ALLEGANY, Pa. – Dylan Baumgarner scored twice, as Port Allegany clinched a District 9 Class A playoff berth with a 40-0 win over visiting Sheffield Friday night.
Baumgarner caught a 16-yard pass from Tre Garzel in the third quarter and then scored on a 6-yard run in the fourth quarter. He finished the night with 29 yards on four carries while adding one catch for 16 yards.
Mac Tanner added a 50-yard punt return for a touchdown, while Nate Lowery (1 yard) and Josiah Ramadhan (40 yards) also scored rushing touchdowns for the Gators (6-3, 5-0 AML North).
Ramadhan ran for a game-high 68  yards on five carries, while Tanner added 55 yards on 10 carries and had three catches for 25 yards.
Myquandre Stevenson ran for a team-best 48 yards for Sheffield (0-8, 0-5), which was held to 53 yards on the night.
UNION 27, CLARION-LIMESTONE 26
STRATTANVILLE, Pa. – Lucas Bowser's 1-yard touchdown run with 33 seconds left followed by Cole Morris' extra point helped Union stun Clarion-Limestone, 27-26, ending the the Lions District 9 playoff hopes.
The extra point might have been the biggest story of the game, as it was the first Union extra-point attempt in the last three seasons.
C-L (4-5, 1-4 KSAC SSD), which led 26-14 at halftime, watched Union rally in the second half behind a pair of Bowser short touchdown runs including the late one which came at the end of a 70-yard drive. A Lions win would have put them in decent position for their first D9 playoff berth in 10 years.
Instead, Union head coach Dave Louder watched his team end his son Anthony's high-school football career. Anthony Louder was the starting quarterback for the Lions, and he ran for a 40-yard touchdown and threw a 15-yard touchdown pass to Sam Leadbetter. Louder finished the night 11 of 21 for 158 yards, a touchdown and an interception while also rushing 14 times for 72 yards.
Bowser, though, had the best game of his young career. The left-handed sophomore was 11 of 24 passing for 124 yards, two touchdowns and an interception while also rushing  six times for 16 yards scoring both of Union's second-half touchdowns on 1-yard runs for the Golden Knights (4-5, 3-2).
Cole Morris (20 yards) and Gavin Hawk (28 yards) caught the touchdowns from Bowser, while Duagn Gallagher had another 83 yards rushing on 21 carries while adding 26 yards on five catches and intercepting a pass on defense. Morris had 71 yards on five catches, one yards on one carry and was 1-for-1 passing for 34 yards.  Hawk pulled down four passes for 61 yards.
C-L also scored on 2-yard runs by Mike Macefe, who had 47 yards on the ground, and Connor Keth.
KARNS CITY 62, PUNXSUTAWNEY 6
KARNS CITY, Pa. – Behind four Maverick Kelsea touchdown runs Karns City wrapped up its fourth straight KSAC Large School Division title with a 62-6 romping of Punxsutawney Friday night.
Jacob King added a pair of touchdown passes – one to Evan Stitt and the other to Kaiden Powers – and Collin Dunmyre also scored twice to help the Gremlins to their 19th straight conference victory. Stitt added an interception on defense for KC (9-0, 4-0 KSAC LSD).
Kelsea ran 10 times for 90 yards, while King was 6 of 8 passing for 99 yards and the two scores. Dunmyre had seven carries for 82 yards.
Ryan Jones hit Jacob Weaver with a 35-yard touchdown pass for Punxsutawney's only score. Jones was 6 of 20 passing for 56 yards while throwing two interceptions as the Chucks (3-6, 2-2) were held to 76 total yards including just one on the ground.
Karns City led 28-0 at the end of a quarter – the Gremlins actually scored 12 seconds into the game on an 18-yard Dunmyre run – and 42-6 at halftime.
MONITEAU 29, ST. MARYS 28
Dalton Anderson caught a 75-yard touchdown pass from Derek Boben with 8:11 to play, as Moniteau rallied past visiting St. Marys, 29-28, to keep its District 9 Class AA playoff hopes alive Friday night.
Moniteau (4-5, 2-2 KSAC LSD)  trailed 28-16 after Brady Bauer's 1-yard touchdown run with 7:35 left in the third quarter but rallied past the Dutch (6-3, 2-2) thanks to Boben, who got the game within five, 28-23, at the end of three quarters with a 7-yard run.
Boben was 4 of 7 passing for 148 yards and two touchdowns while adding 72 yards on the ground on 23 carries and a score. Anderson had four catches for 148 yards and both touchdowns.
Moniteau actually led 16-14 at halftime before a pair of St. Marys scores less than a minute apart in the third quarter gave the Dutch the double-digit lead. Just 48 seconds before Bauer scored, Pat Schlimm hit Nick Cunningham with an 11-yard touchdown pass to put St. Marys ahead 22-16 following a 2-point conversion.
Steven Fawcett had staked Moniteau to the halftime lead with a 20-yard field goal 42 seconds before the half ended.
Shonn Kline (6-yard run) and Anderson (30-yard pass from Boben) accounted for Moniteau's two first-half touchdowns.
Schlimm, who had a magnificent game going 9-for-18 passing for 240 yards and two touchdowns while rushing for two more scores, scored on a 1-yard run and threw a 63-yard scoring pass to Bauer for St. Marys' two scores of the opening 24 minutes. Bauer had nine catches for 201 yards.
BROCKWAY 35, ELK COUNTY CATHOLIC 12
BROCKWAY, Pa. – Behind a pair of Mark Latuska touchdown runs and a touchdown pass and a scoring run from Hunter Miller, Brockway scored the game's first 28 points on its way to a 35-12 win over visiting Elk County Catholic Friday night.
Latuska scored on runs of six and seven yards in the first quarter, and Miller hit Jake Gorham with a 16-yard first-quarter touchdown pass while adding a 4-yard scoring run late in the first half for the Rovers (7-2, 3-1 AML South), who secured at worst the fifth seed in the D9 Class A playoffs with the victory.
Brockway will be the fourth seed and host a rematch with ECC if Kane wins the AML Title over Port Allegany next week, while the Rovers would drop to the fifth spot and travel to Kane if the Wolves fall to the Gators in the AML title contest.
Latuska finished the night 132 yards on 19 carries and had two catches for 11 yards, while Miller was 9 of 14 passing for 101 yards, the touchdown and the interception and ran 12 times for 64 yards. Troy O'Brien added 55 yards on the ground with a touchdown with Gorham hauling down four passes for 59 yards.    
Nate DaCanal was 7 of 18 passing for 85 yards, a touchdown and an interception for ECC (7-2, 2-2), which lost for the second straight week after starting the season 7-0. DaCanal hit Dan Stauffer with a 5-yard pass on the final play of the first half to get the Crusaders within three scores, 28-6, at the break.
Noah Werner, who ran for a team-best 85 yards on 15 carries, then scored on a 1-yard run midway through the third quarter to cut the deficit to 16, 28-12, but that was all the scoring for ECC. Werner added one catch for 12 yards.
KEYSTONE 41, A-C VALLEY 0
KNOX, Pa. – On Senior Night at Keystone, senior running back Jake Weaver wrote his name all through the Panther record books while helping Keystone keep its D9 Class A playoff hopes alive with a 41-0 thrashing of visiting A-C Valley, handing the Falcons their 31st straight loss.
Weaver ran 26 times for 185 yards and a touchdown and in the process set Keystone's single-season rushing mark (1,408), career rushing mark (2,324) and career scoring record (220). The single-season rushing mark was held by Chad Nellis (1,273), the career mark was previously in the hands of Sam Swartzfager (2,295) and the scoring mark had been set by Derek Swartfager (168).    
Logan Means added a pair of rushing touchdowns for Keystone (5-4, 3-2 KSAC SSD), who can guarantee a playoff spot with a win over Penns Manor next week along with some other scenarios. Means rushed seven times for 21 yards. James Kerle chipped in four carries for 40 yards with a touchdown, and Kyle Kapp had 28 yards rushing with a score.
Brayden Shick (9 of 13, 147 yards) also hit Chad Rogers with a 32-yard touchdown toss.  Rogers also had an interception on defense.   
Keystone's defense limited A-C Valley (0-9, 0-5) to 60 yards of offense.
CAMERON COUNTY 20, OTTO-ELDRED 14
EMPORIUM, Pa. – Caleb Burnside's 9-yard touchdown run with 3:47 left broke a 14-all tie and gave Cameron County a 20-14 win over visiting Otto-Eldred Friday night.
It was Burnside's second touchdown run of the game, as he also scored on a 19-yard run in the second quarter to open the scoring. He finished the night with 241 yards on 41 carries helping the Red Raiders (2-7, 2-3 AML North) outgain Otto-Eldred (1-8, 1-4) 348-182.
Adam Steich added a 1-yard touchdown run for Cameron, which led 14-0 at halftime.
Otto rallied in the second half to tie the game at 14 thanks to a touchdown run of 1-yard and a touchdown pass from Sawyer Drummond, who hit Grant West from 6 yards out.
Drummond finished 5 of 18 passing for 74 yards, while Heath Stewart ran eight times for 60 yards and West had four catches for 68.
Tristan Reed chipped in 56 yards on the ground for Cameron.
CLEARFIELD 56, PHILIPSBURG-OSCEOLA 17
PHILIPSBURG, Pa. – Clearfield completed a perfect Mountain League season with a 56-17 win at Philipsburg-Osceola Friday night.
Seth Caldwell ran just five times but scored on three of them and gained 106 yards, while Corey Shimmel also went over 100 yards picking up 113 on 16 carries with a touchdown to lead the Bison (8-1 overall, 7-0 Mountain League), who have now won 27 of 28 games since the Mountain League become one division and 39 of their last 40 conference contests overall. In fact, Clearfield is now 64-9 since joining the league in its different forms in 2004.   
Thanks in part to Caldwell's scores, Clearfield led 35-0 at the end of the first quarter and 42-0 at halftime.
Philipsburg-Osceola drops to 0-9 overall and 0-7 in the Mountain League with the loss.
Caldwell added one catch for 19 yards.
BRADFORD 34, BROOKVILLE 7
BRADFORD, Pa. – John Eakin and Alex Colosimo each scored on a pair of long touchdown runs and both nearly went over 200 yards rushing, as Bradford picked up its first win of the season with a 34-7 victory over visiting Brookville Friday night.
Eakin scored on runs of 76 and 98 yards for the Owls (1-8), while Colosimo found pay dirt on runs of 65 and 59 yards. Eakin went for 219 yards on 12 carries while Colosimo rushed for 192 yards on a dozen carries as well. Bradford also scored on a 52-yard Kyle Kirk to Bryce Skaggs touchdown pass
The Owls amassed 488 yards of offense, 436 of it on the ground, and gained 350 yards on their five scoring plays alone.
Brookville's lone score came courtesy of a Brandon McGranor 15-yard scoring run.McGranor ran for 83 yards on 20 carries.

Brookville is now 2-7.

GENERAL MCLANE 41, DUBOIS 19
EDINBORO, Pa. – Despite 444 yards passing from Matt Miller that put the sophomore over the 3,000-yard mark on the season, DuBois dropped a 41-19 decision at General McLane Friday night.
Miller was 18 of 32 passing and threw a pair of touchdowns including a 6-yard score to to Kyle Hopson, who had eight catches for 209 yards and an 80-yard bomb to Zach Sloan. Miller, who has now thrown for 3,114 yards and 28 touchdowns on the year, also threw a pick six in the game.
But while DuBois was airing it out, the Lancers (6-3) were using the ground to rack up yards, and lots of them. General McLane ran for 443 yards on the night led by 138 and a touchdown from Ryan Carpenter. Kyle Sult also chipped in 98 yards rushing for GM while going 3 of 4 passing for 23 yards passing and a pair of touchdowns.  
DuBois (5-4) led 13-7 at the end of the first quarter but couldn't contain the Lancer offense the final three quarters.