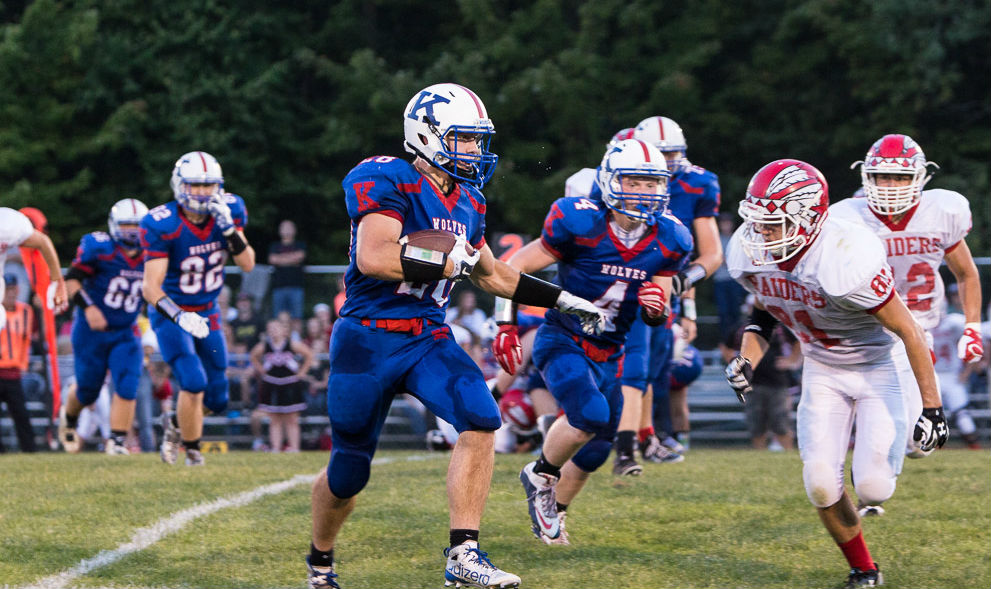 Last updated at 11:04 p.m. Saturday, Sept. 12 – Will continue to be updated throughout the weekend so check back often. Video highlights available with Keystone-Punxsutawney and Karns City-Redbank Valley recaps. 
CLARION 60, SHEFFIELD 20
SHEFFIELD, Pa. – Colton Rapp, Luke Nellis and Spencer Miller each scored two touchdowns, as Clarion rolled past Sheffield 60-20 Saturday afternoon on top of Wolverine Mountain in Sheffield.
Rapp ran 16 times for 192 yards scoring on runs of four and 56 yards, Nellis added short touchdown runs of 1 and 3 yards while gaining 21 yards on five carries and Spencer Miller scored on a 67 yards run (he had 2 carries for 67 yards) while also recovering a blocked punt in the end zone for another score. Spencer Miller was also 1-for-1 passing with an 11-yard touchdown toss to Keeven Weaver, giving the North Clarion student his second touchdown in as many games.
Spencer's older brother, Bo, added a 3-yard touchdown run and gained 31 yards on six carries while also going 3 of 12 passing for 25 yards and an interception.
Myquandre Stevenson scored three times for Sheffield on a 38-yard run, a 78-yard pass and an 80-yard kickoff return.  He also intercepted a pass on defense. 
Clarion led 24-0 at the end of the first quarter and 45-13 at halftime.  
BROCKWAY 50, COUDERSPORT 14
COUDERSPORT, Pa. – Anthony Isabella ran 17 times for 171 yards and two touchdowns and Hunter Miller was 13 of 17 for 171 yards and four scores to lead visiting Brockway to a 50-14 win at Coudersport Friday night.
Miller threw touchdown passes to four different players with Jake Gorham catching four balls for 45 yards and score, Dylan LeCates hauling in three for 35 and a touchdown, Caleb Elias catching two for 43 and a score and Andrew Truzo bringing in two for 36 and a touchdown. Miller added 67 yards rushing on 12 carries, as Brockway rolled up 308 yards on the ground and 479 overall.
Coudersport stats aren't currently available.  
ST. MARYS 41, A-C VALLEY 7
St. Marys, Pa. – Christian Steffan scored twice to help St. Marys pull away from visiting A-C Valley for a 41-7 win Friday night.
Steffan scored the game's only first-half touchdown on 1 -yard plunge late in the first quarter to give the Dutch a 7-0 lead, and then added a 5-yard run midway through the fourth quarter during a stretch that saw St. Marys outscore the Falcons 34-0 in the game's final 18:27.
A-C Valley (0-2) had tied the game at seven on a 55-yard Lane Chalmers fumble return early in the third quarter, but Nathan Straub gave the Dutch the lead for good on an 11-yard touchdown run with 6:27 to play in the third quarter.
Brady Bauer also caught a 17-yard touchdown pass from Pat Schlimm in the third quarter, and Matt Marconi and Tyler Barnes added 5-yard scoring runs in the final 12 minutes.
Marconi ran 16 times for 74 yards, while Steffan had 14 carries for 63 yards. Schlimm was 6 of 9 passing for 89 yards with the touchdown and an interception, while Bauer had three catches for 57 yards.
St. Marys' defense limited A-C Valley to nine total yards of offense including negative five rushing.
Brent Simms had 21 yards rushing on five carries to pace the Falcons.
Kane 47, Smethport 16
SMETHPORT, Pa. – Shane Rolick scored three touchdowns while also throwing a touchdown to lead Kane to a 47-16 win at Smethport Friday night.
Rolick scored twice on the ground rushing four times for 58 yards and finding the end zone on carries of 38 and 11 yards. He also caught one pass for a 36-yard touchdown and was 4 of 6 passing for 66 yards with a 37-yard touchdown toss.
Erik Delong added 81 yards rushing on 11 carries including a 15-yard touchdown run, while Tyler Rolick had 16 carries for 71 yards with an 11-yard scoring run. Ray Maze caught five passes for 67 yards and two scores, while Reed Williams was 5-for-6 passing for 92 yards and a pair of touchdowns. Aiden Hulings also added five carries for 40 yards and a touchdown, while Cyrus Novosel had six tackles, two for a loss, and a sack on defense with Anthony Smith forcing and recovering a fumble.
Adam Shunk scored on a 50-yard run for Smethport, and Jimmy Duffy also plunged in from a yard out for the Hubbers. Shunk ran 14 times for 90 yards accounting for over half of Smethport's 148 yards of total offense, 140 of which came on the ground.
CLEARFIELD 42, PENNS VALLEY 18
HYDE, Pa. – Seth Caldwell and Jake Wingate each scored two touchdowns to help Clearfield win its Mountain League opener with a 42-18 victory over visiting Penns Valley Friday night.
Caldwell rushed for 159 yards and two scores on 13 carries, while Wingate had five catches for 67 yards and two scores. Ryan Lezzer added 76 yards rushing on seven carries with a touchdown for Clearfield (1-1, 1-0) and also had three catches for 27 yards. Cody Spaid was 10 of 15 passing for 114 yards, two touchdowns and an interception.
Clearfield led 42-6 before Penns Valley scored twice in the fourth quarter with the running clock thanks to the Mercy Rule. The Bison outgained the visitors 427-213.
RIDGWAY 37, CAMERON COUNTY 6
EMPORIUM, Pa. – Ridgway's defense came up big for the second straight game scoring a pair of touchdowns while limiting Cameron County to just over 100 yards of total offense in a 37-6 Elkers win on the road Friday night.
Josh Raubenstrauch returned an interception 100 yards for a touchdown (he actually caught the ball about a yard deep in the end zone), and Aaron Hinton had a 55-yard theft for a score for Ridgway (2-0), which limited Cameron County (0-2) to 113 yards of offense.
James Winslow also scored twice for the Elkers reaching the end zone on a 5-yard run and on an 11-yard pass from Johnny Mitchell. He had eight carries for 56 yards and the one catch. Mitchell was 4 of 7 passing for 50 yards and the score, while Dane Cappiello had 15 carries for 93 yards and a touchdown and Neil MacDonald added a 3-yard scoring run.
Down 37-0, Ridgway finally scored on a 25-yard Derek Rieder to Jordan Crosby pass midway through the fourth quarter.
Rieder was 10 of 26 passing for 109 yards, the touchdown and two pick sixes. Crosby had two catches for 62 yards and the score, while Caleb Burnside ran 21 times for 61 yards and hauled in one pass for four yards. Ethan Vislay caught four balls for 33 yards.   
ELK COUNTY CATHOLIC 38, PORT ALLEGANY 0
PORT ALLEGANY, Pa. – Nate Dacanal ran for two touchdowns and passed for a third to lift Elk County Catholic to its second straight win with a 38-0 blanking of Port Allegany Friday night in Port.
Dacanal ran for 41 yards on 10 carries scoring on first-half runs of 27 and 4 yards while also hitting Brad Dippold with an 8-yard scoring pass in the opening 24 minutes helping the Crusaders (2-0) to a 35-0 halftime lead. Dacanal finished 4 of 7 passing for 76 yards and the score.
Noah Werner also scored twice for ECC on runs of 2 and 50 yards and finished the night with 105 yards rushing on 14 carries. Kyle Huff finished off the scoring with a 25-yard field goal in the third quarter.
ECC's defense limited Port Allegany to 74 yards of total offense including 75 on the ground. Mac Tanner led the Gators (0-2) with 17 carries for 49 yards.
CURWENSVILLE 58, OTTO-ELDRED 20
DUKE CENTER, Pa. – Sophomore Nick Stewart rushed for 259 yards and three touchdowns on 13 carries to lead Curwensville to a 58-20 win at Otto-Eldred Friday night.
Stewart scored on jaunts of 44, 68 and 76 yards.
Hunter Johnson added a pair of touchdown runs for the Golden Tide (2-0) and finished the night with 116 yards rushing on 14 carries.
Jakob Terry also tosses his fifth touchdown pass in two weeks finding Quamone Terry with a 39-yard strike.
Caleb Bloom and Ben Junod also scored on the ground for Curwensville.
Heath Stewart scored twice for Otto-Eldred (0-2) with both coming in the second quarter. The first TD was a 53-yard run then he caught a 45-yard pass from Seth Drummond. Sawyer Drummond added a 5-yard scoring pass to Michael Motyka.
Seth Drummond led the Terrors with 121 yards on the ground on 23 carries, while Stewart, the nephew of Keystone basketball coach Greg Heath, had 84 yards rushing on 11 carries.
OIL CITY 27, BRADFORD 0
OIL CITY, Pa. – Bradford mustered just 99 yards of offense in dropping its District 10-Region 5 opener, 27-0, at Oil City Friday night.
Most of Bradford's yards, 78, came on the ground with John Eakin leading the way with 41 yards on 12 carries. Mitchell Vleminckx added 27 yards on nine totes for the Owls (0-2, 0-1).  
Four different Oil City players scored with Jackson McFall tossing a pair of touchdown passes. McFall hit Levi Lantz and Mo Hadley with a pair of 25-yard strikes while Hunter Merwin and Cameron Whitling scored on short runs for the Oilers (2-0, 1-0).  
McFall was 9 of 17 passing for 219 yards, while Hadley had five grabs for 99 yards. Merwin rushed 18 times for 82 yards.
KEYSTONE 33, PUNXSUTAWNEY 14
KNOX, Pa. – Jake Weaver continued his early-season assualt scoring four more touchdowns – that gives him nine in two games getting him within three of last season's 12, as Keystone jumped all over Punxsutawney early on its way to a 33-14 victory in Knox Friday night.
Weaver ran for 210 yards and two touchdowns on 27 while catching a touchdown pass – he had three catches for 16 yards – and returning an interception for a score. He scored on runs of 8 and 50 yards, caught a 20-yard swing pass for a score from Austin Ion and returned the pick 38 yards to glory. 
Punxsutawney was down 21-0 before the band had even settled into its seats after the National Anthem, as a pair of Punxsy fumbles in the opening three minutes led to two Weaver touchdowns and a punt set up a third Weaver score.
Brayden Shick also hit Chad Rodgers with a 27-yard touchdown pass after halftime to make it 27-7 Panthers.
Levi Campbell scored both of Punxsutawney's touchdowns on short runs. He had seven carries for nine yards, as the Chucks were limited to 12 yards rushing.
Ryan Jones threw for 238 yards going 25 of 42 but did toss two interceptions for Punxsutawney. Devin Kelly had nine catches for 108 yards with Jacob Weaver (Punxsy's version) catching five passes for 77 yards. Nathan Lingenfelter had three grabs for 30 yards and Ethan Riley eight for 23.
Jake Weaver's 50-yard touchdown run
Karns City 42, Redbank Valley 7
KARNS CITY, Pa. — Jumping out to a 35-0 lead, the Karns City Gremlins won their KSAC-Crossover game against Redbank Valley as they amassed 354 rushing yards in a 42-7 win Friday night.
Collin Dunmyre ran for 102 yards on 11 carries with his 6-yard run that put the Gremlins (2-0) up 35-0, setting the PIAA's Mercy Rule running clock into motion with 6:48 left in the third quarter. Chandler Turner ran for touchdowns of 30 and 13 yards in the first quarter and finished with 46 yards on 5 carries. Maverick Kelsea, Seth Silverio and Dalton Beham also ran for touchdowns while quarterback Jake King completed 7 of 9 passes for 97 yards.
Redbank Valley (1-1) scored its only touchdown on Devin Schimp's 36-yard pass to Jared Kespelher in the fourth quarter. Schimp completed 7 of 19 passes for 141 yards with an interception.
Chandler Turner's touchdowns runs 
Brookville 13, Union 6
RIMERSBURG, Pa. — Notching their first win under new head coach Scott Park, the Brookville Raiders held off a late Union drive for a 13-6 victory Friday night.
Knights quarterback Cole Morris' 5-yard pass to Dugan Gallagher was a yard short on fourth down, turning the ball over to the Raiders at the 3-yard-line with 21.4 seconds left in the game.
The Raiders (1-1) never trailed. John Frank ran 80 yards for a touchdown with 1:44 left in the first quarter and quarterback Seth Ray tossed a 55-yard TD pass to Jordan Tosh to put the Raiders up 13-6 with 8:35 left in the third quarter.
Ray completed 8 of 16 passes for 168 yards with two interceptions. Tosh caught two passes for 72 yards. Frank ran for 86 yards on seven carries.
For the Knights (0-2), Dugan Gallagher ran for 181 yards on 30 carries and scored Union's lone touchdown following Brookville's first score on an 8-yard run with 10:10 left in the second quarter.
Clarion-Limestone 40, Moniteau 14
WEST SUNBURY, Pa. — Anthony Louder passed for 293 yards and three touchdowns to lead the Clarion-Limestone Lions to a 40-14 rout of Moniteau Friday night.
Louder completed 12 of 25 passes, connecting with Conner Keth, Brady Himes and Sam Leadbetter for touchdowns. He started the game's scoring on a 73-yarder to Keth, tossed a 51-yarder to Himes just before halftime and closed the game with a 52-yarder to Leadbetter in the fourth quarter. He was intercepted twice.
Louder also ran for TDs of 4 and 1 yards in the second quarter as the Lions built a 28-14 halftime advantage.
Himes caught five passes for 125 yards while Keth grabbed six balls for 116 yards while rushing for 81 yards on just three carries. He also had a 67-yard TD run at the end of the third quarter.
Wyatt Ifft scored both of Moniteau's touchdowns with an 8-yard run in the first quarter and 7-yard run in the second quarter. He led the Warriors (0-2) with 44 yards on 13 carries.
C-L (1-1) beat the Warriors for the first time since 2005.