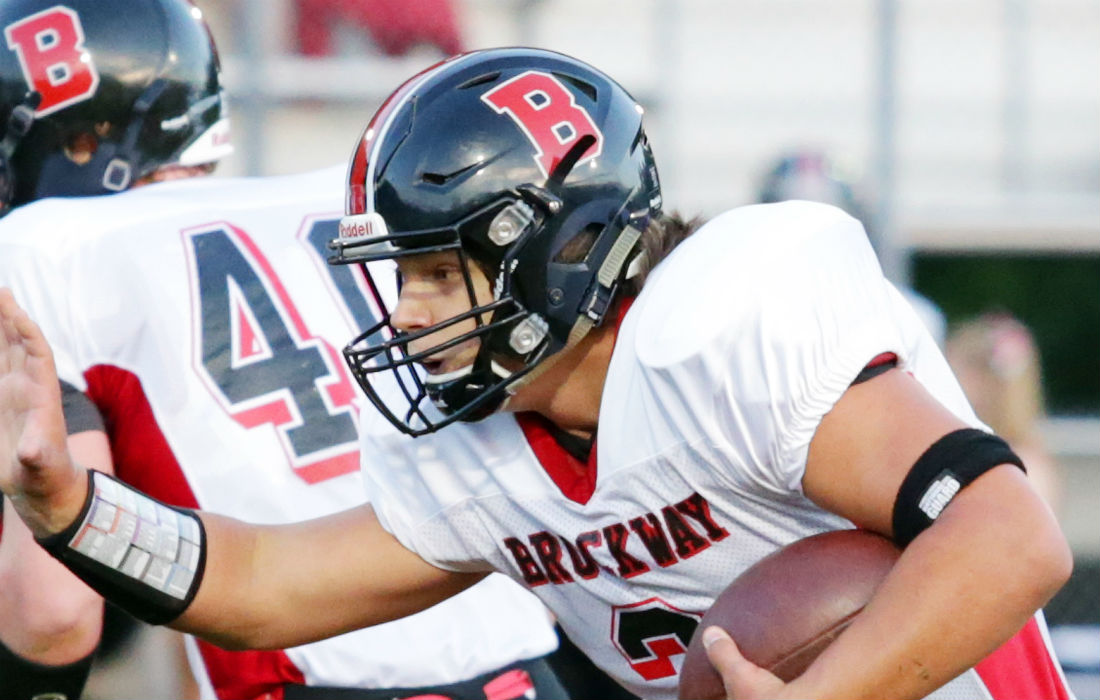 CLARION, Pa. – If you just took Anthony Isabella's four touchdown runs, it may have been enough to earn the Brockway senior the D9Sports.com Football Player of the Week Honors for Week Three of the 2015 season.
Afterall, the four scores covered 154 yards in themselves. But Isabella added nearly 100 more yards on the ground and nearly 50 receiving yards finishing with 292 combined yards (11 carries, 247 yards, 4 TDs; 3 catch, 45 yards) while helping the Rovers (3-0) stay unbeaten with a 54-0 win over visiting Cameron County Friday night. It mark the first Player of the Week award for Isabella this year.
Highlights of Isabella's four touchdown runs
Joining the Rover in being honored this week for outstanding performances are 15 additional players on the D9Sports.com Week Three Honor Roll.
Located at www.d9sports.com, D9Sports.com is in its 16th year of covering athletics within the PIAA's District 9. The site, which is not affiliated with the PIAA in any way, covers all 25 football playing teams playing in District 9. For more information on the site, please visit it or e-mail the staff at sports@d9sports.com. The site is also active on Twitter @D9sports and on Facebook at www.facebook.com/d9sports.
D9SPORTS.COM PLAYER OF THE WEEK
Anthony Isabella – Brockway: 11 carries, 247 yards, 4 touchdowns; 3 catches 45 yards – Brockway 54, Cameron County 0
D9SPORTS.COM HONOR ROLL  
Quamone Newkirk – Curwensville: 5 catches, 157 yards, 3 touchdowns; 7 tackles, 1 sack – Curwensville 35, Coudersport 0
Nick Stewart – Curwensville: 19 carries, 126 yards, 2 touchdowns – Curwensville 35, Coudersport 0  
Jakob Terry – Curwensville: 9-for-15 passing, 196 yards, 3 touchdowns – Curwensville 35, Coudersport 0
Braden Paulinellie – DuBois: 13 carries, 51 yards, 2 touchdowns – Returned a fumble 29 yards for a touchdown – Conneaut Area 56, DuBois 21
Noah Werner – Elk County Catholic: 9 carries, 102 yards, 3 touchdowns; 1 catch, 26 yards – Elk County Catholic 47, Smethport 6  
Erik Delong – Kane: 12 carries, 103 yards, 3 touchdowns; 5 tackles, 1 sack on defense – Kane 50, Sheffield 8
Tyler Rolick – Kane: 7 carries, 123 yards, 2 touchdowns; 2 catches, 41 yards, 5 tackles, 1 interception, 1 fumble recovery on defense – Kane 50, Sheffield 8
Cullen Williams – Karns City: 4-for-6 passing 134 yards, 1 touchdown; 4 carries, 70 yards, 2 touchdowns – Karns City 49, St. Marys 14
Dylan Baumgarner – Port Allegany: 4 catches, 59 yards, 2 touchdowns; Intercepted 2 passes and had 6 tackles on defense – Port Allegany 24, Moniteau 10
Tre Garzel – Port Allegany: 9 of 12 passing, 143 yards, 3 touchdowns; 13 carries, 25 yards – Port Allegany 24, Moniteau 10
Ryan Jones – Punxsutawney: 14 of 24 passing, 154 yards, 3 touchdowns, 1 interception – Punxsutawney 34, Brookville 20
Nathan Lingenfelter – Punxsutawney: 5 catches, 88 yards, 2 touchdowns – Punxsutawney 34, Brookville 20
Wyatt Hetrick – Redbank Valley: 2 catches, 63 yards, 2 touchdowns; 6 carries, 71 yards – Redbank Valley 20, Keystone 7  
Connor Shoemaker – Redbank Valley: 9 of 16 passing, 120 yards, 3 touchdowns; 14 carries, 58 yards – Redbank Valley 20, Keystone 7
Cole Morris – Union: 3 catches, 55 yards, 1 touchdown; Returned a punt for a touchdown; Returned an interception for a touchdown – Union 34, A-C Valley 6
2015 PLAYERS OF THE WEEK
Week One: Zach Sloan, DuBois and Jake Weaver, Keystone
Week Two: Matt Miller, DuBois
Week Three: Anthony Isabella, Brockway