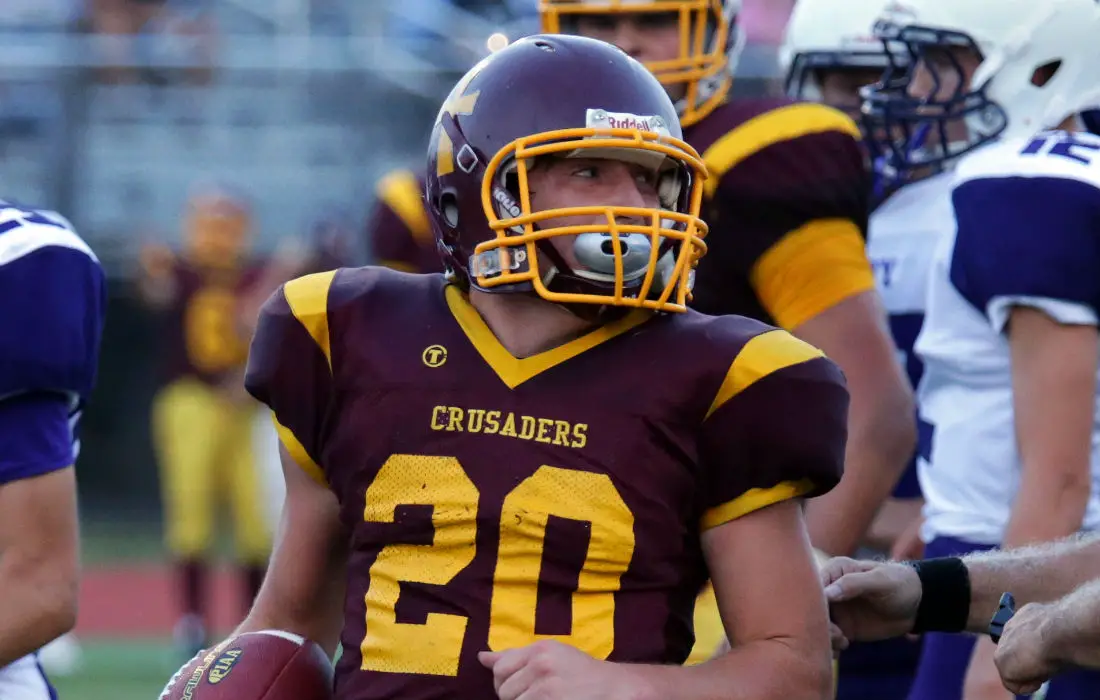 Recaps will be updated throughout the weekend so check back often. Last updated at 4:00 p.m. Sept. 20. All recaps are updated. 
KANE 50, SHEFFIELD 8
SHEFFIELD, Pa. – Tyler Rolick, Shane Rolick and Erik Delong combined to score seven touchdowns to lead Kane to an easy 50-8 win at Sheffield Saturday afternoon.
Delong carried the ball 12 times for 103 yards and scored on runs of 4, 7 and 22 yards. He added five tackles and a sack on defense.
Tyler Rolick had a team-best 123 yards rushing on seven carries with scores of 35 and 55 yards. He also caught two passes for 41 yards and have five tackles, a fumble recovery and an interception on defense.
Shane Rolick had 76 yards rushing on six totes with scoring runs of 23 and 15 yards and made nine tackles on defense while recovering an on-side kick.
Ange Costanzo added a forced fumble, a fumble recovery and an interception on defense and also ran four times for 38 yards. 
CONNEAUT AREA 56, DUBOIS 21
LINESVILLE, Pa. – Hunter Merritt threw for 269 yards and three touchdowns and ran for 256 yards and four touchdowns to lead Conneaut Area to a 56-21 win over visiting DuBois in District 10 Region 5 action Friday night.
Merritt was 15 of 22 passing and hit Henry Litwin with touchdown passes of 52 and 26 yards and Taylor Williams on a 26-yard strike while running for scores of 3, 21, 10 and 42 yards to help the Eagles rack up 603 yards of offense one week after Meadville gained 1,004 yards against the Beavers.
Meanwhile, Conneaut Area was able to contain a DuBois' offense coming off a 90-point performance against Meadville limiting the Beavers to 284 total yards and just two offensive touchdowns, none after halftime.
Braden Paulinellie scored all three of DuBois' touchdowns on runs of 3 and 6 yards while also returning a fumble 24 yards for a score early in the second quarter that tied the game at 14. Paulinellie ran 13 times for 51 yards, while Matt Miller was 15 of 31 for 205 yards but threw three interceptions. Dante Dawson had six catches for 95 yards and Zach Sloan four for 92 yards.
Litwin had seven catches for 178 yards and the two touchdowns while also picking off a pass on defense.
KARN CITY 49, ST. MARYS 14
KARNS CITY, Pa. – Led by two rushing touchdowns and a passing touchdown from Cullen Williams, Karns City continued to roll topping visiting St. Marys 49-14 Friday night.
Williams ran four times for 70 yards and was 4 of 7 passing for 134 yards. He was one of five Gremlins to score and one of 14 Karns City players to rack up offensive yardage. That included 12 different Gremlins carrying the ball a total of 35 times for 353 yards. Karns City added 224 yards passing for 577 total yards.
Also scoring for KC (3-0 overall, 2-0 KSAC Large School Division) were Chandler Turner (2 rushing TDs, 49 yards on five carries), Eric Dodd (51-yard pass from Jacob King), Seth Silverio (53-yard pass from Williams, 3 catches, 121 yards, 3 carries 38 yards) and Collin Dunmyre (4 carries, 74 yards, 1 TD). Maverick Kelsea chipped in with five totes for 53 yards, King was 3 of 6 passing for 90 yards and the score and Evan Stitt had three catches for 52 yards.
Matt Marconi ran 11 times for 68 yards and a touchdown for St. Marys (2-1, 0-1), which trailed 35-0 at one point in the second quarter, while Pat Schlimm was 5 of 8 passing for 75 yards, a touchdown and an interception. He threw a 20-yard scoring pass to Brady Bauer, who had four catches for 79 yards.  
CURWENSVILLE 35, COUDERSPORT 0
CURWENSVILLE, Pa. – Jakob Terry hit Quamone Newkirk with three touchdown passes to help Curwensville to a 35-0 whitewashing of visiting Coudersport Friday night.
Terry hit Newkirk with scoring tosses of 48, 39 and 35 yards, the latter two coming after halftime, and Nick Stewart added scoring runs of 15 and 4 yards.
Terry was 9 of 15 passing for 196 yards and the three scores with Newkirk catching five of those for 157 yards. Stewart added 127 yards rushing on 19 carries. Hunter Johnson chipped in 125 yards rushing on 10 totes.  
Shea Bloom paced the Golden Tide defense with eight tackles with Newkirk making seven including a sack. Zach Marshall picked off a pair of passes on defense.
Curwensville is now 3-0 on the season, while Coudersport dropped to 0-3.
CLEARFIELD 19, CENTRAL-MARTINSBURG 8
ROARING SPRINGS, Pa. – After spotting Central-Martinsburg an 8-point lead 24 seconds into the game, the Clearfield defense was shut down the rest of the night to help the visiting Bison to a key, 19-8, win over the Dragons in Mountain League action Friday night.
Central-Martinsburg (2-1 overall, 1-1 Mountain League) gained 72 yards on its first offensive possession including a 52-yard Noah Benton to Alex Hoenstine touchdown pass on the second offensive play of the contest. But the Dragons managed just 121 yards the rest of the game, and Clearfield was able to ground and pound its way to 19 points on offense thanks to 50 carries for 199 yards as a team.
Seth Caldwell led the Bison (2-1, 2-0) with 32 carries for 119 yards including Clearfield's first touchdown on a 3-yard run in the first quarter. Ryan Lezzer added 59 yards on seven carries including the go-ahead score on a 7-yard run late in the third quarter, and Cody Spaid chipped in a 2-yard scoring run midway through the fourth quarter. Spaid was 4 of 17 passing for 80 yard and ran four times for two yards. Travis Ogden had three catches for 70 yards and Lezzer one for 10.   
Benton finished 11 of 19 for 154 yards and a touchdown but also threw three interceptions. Lezzer picked off two of the passes, while Matt Collins also had a pick.
Hoenstine grabbed three balls for 72 yards, while Benton added a team-best 28 yards rushing.
BROCKWAY 54, CAMERON COUNTY 0
BROCKWAY, Pa. – Anthony Isabella ran for 247 yards and four touchdowns on 11 carries while adding three catches for 45 yards to lead Brockway to a 54-0 win over visiting Cameron County Friday night.
Isabella scored on runs of 41, 19, 46 and 48 yards while helping the Rovers (3-0) rack up 331 yards on the ground on just 22 carries. Hunter Miller added 36 yards rushing and a touchdown while going 6 of 11 passing for 61 yards.
Also scoring for the Rovers on offense was Troy O'Brien on a 25-yard run and a punt return, and Chad Perrin also returned a punt for a score.
Meanwhile, on defense, the Rovers' first-team unit gave up 20 yards of offense including 18 in the first half.
Cameron County stats are not available. The Red Raiders fell to 0-3 on the year.
PORT ALLEGANY 24, MONITEAU 10
PORT ALLEGANY, Pa. – Tre Garzel threw three touchdown passes, including two to Dylan Baumgarner, to lead Port Allegany to a come-from-behind 24-10 win over visiting Moniteau in non-conference action Friday night.
Port Allegany (1-2) trailed 10-0 a minute into the second quarter but took a 16-10 by halftime thanks to touchdown passes 12 and 7 yards from Garzel to Baumgarner, the last coming just 31 seconds before halftime. The Gators then added an 18-yard Garzel to Mac Tanner touchdown pass on the first play of the fourth quarter.
Garzel was 9 of 12 passing for 143 yards, while Baumgarner had four catches for 59 yards. Tanner had five grabs for 80 yards, and Garzel added 25 yards rushing on 13 carries. Baumgarner chipped in 15 yards rushing and added two interceptions and six tackles on defense. Tanner had eight stops on defense, and Josiah Ramadhan added a team-high 14 tackles and a sack.
Moniteau took the 10-0 lead on a 29-yard Steven Fawcett field goal and a 27-yard Derek Boben to Wyatt Iftt touchdown pass. Boben was 7 of 19 passing for 101 yards, one touchdown and two picks while also rushing for 108 yards on 23 carries.
ELK COUNTY CATHOLIC 47, SMETHPORT 6
SMETHPORT, Pa. – Elk County Catholic used a 28-point second quarter to roll past Smethport 47-6 Friday night in Smethport.
Noah Werner ran nine times for 102 yards and three touchdowns and caught one pass for 26 yards for ECC (3-0). Jared Braun, Bryce Gabler and Dan Stauffer each added touchdowns with Braun rushing three times for 52 yards and a touchdown, Gabler rushing seven times for 15 yards and Stauffer catching three passes for 37 yards and a touchdown. Nate DaCanal was 10 of 14 passing for 120 yards and a score while adding 32 yards rushing on four carries.  
Adam Shunk led Smethport (0-3), which trailed by just one, 7-6, at the end of the first quarter with 79 yards on 14 carries with a 1-yard touchdown run. Jimmy Duffy added 40 yards rushing on seven totes.
CLARION 41, CLARION-LIMESTONE 6
STRATTANVILLE, Pa. – Clarion overcame a slow start to continue its decades-long dominance over crosstown rival Clarion-Limestone Friday night getting a 41-6 win at C-L.
The victory was the 12th straight for Clarion over C-L, which hasn't lost to the Lions since 2004.
Six different Bobcats found the end zone, as Clarion broke away after holding just a 7-6 lead three minutes into the second quarter.
Josh Kriebel had a 63-yard touchdown run for Clarion (3-0, 2-0 KSAC Small School) and finished with a team-best 88 yards rushing on five carries.  Adrian Weber added a 44-yard interception return for a touchdown, Caleb Bailey 6-yard run, Colton Rapp and Michael McCloskey each had 1-yard runs for scores and Luke Nellis caught a 14-yard touchdown pass from Bo Miller. Rapp added 70 yards rushing on 15 carries, while Bailey had 74 on seven totes. Bo Miller was 1-for-7 for 14 yards and the score while throwing one interception He added 21 yards rushing.  Younger brother, Spencer Miller, had 18 yards rushing and picked off a pass on defense, while Weber had two picks.  
Anthony Louder led C-L (1-2, 0-1) going 13 of 33 passing for 181 yards, a touchdown and three interceptions. He added 33 yards rushing on four carries. His scoring toss was a 25-yarder to Conner Keth that got the Lions within one early in the second quarter. Keth had five catches for 54 yards, while Brady Himes continued his solid play with six catches for 113 yards. Sam Leadbetter had an interception.  
C-L was only outgained 332-254 but four turnovers proved costly, as Clarion won its 27th KSAC Small School game in a row against zero defeats while winning its 29th straight conference game.
REDBANK VALLEY 20, KEYSTONE 7
NEW BETHLEHEM, Pa. – Connor Shoemaker stepped in for an injured Devin Schimp at quarterback and helped lead the Redbank Valley Bulldogs to a 20-7 win over Keystone in a key Keystone Shortway Athletic Conference-Small School Division matchup Friday night.
Shoemaker threw for 120 yards and three touchdowns, completing 9 of 16 passes with an interception. Two his scoring passes went to Wyatt Hetrick covering 41 and 21 yards and the other to his twin brother Nick on a 6-yard hookup.
Hetrick ran for 71 yards on six carries, while catching the two passes for 63 yards. Colten Mohney ran for 72 yards on 18 carries while Connor Shoemaker ran for 58 yards on 14 carries. Nick Shoemaker had three catches for 29 yards and a touchdown.
Keystone's Jake Weaver ran for 102 yards on 15 carries with his 70-yard touchdown run early in the third quarter accounting for the Panthers' lone score that cut the deficit to 14-7. But the Bulldogs made it 20-7 on Shoemaker's 22-yard pass to Hetrick on the third play of the fourth quarter and Bulldogs' defense stopped the Panthers in Redbank Valley territory three straight times to finish the game, once on downs at the 13 and twice by interceptions by Connor Shoemaker and Hetrick.
Hetrick also had a strong game punting booting three for a 40.3 average with a long 50.
Redbank Valley improved to 2-1, 2-0 in the KSAC-Small, while Keystone fell to 2-1, 1-1 in the KSAC-Small.
MEADVILLE 57, BRADFORD 14
BRADFORD, Pa. – Journey Brown had another big game, of course not as big as last week, but he ran for 271 yards and four touchdowns on seven carries while also returning a punt and a kickoff for touchdowns to lead Meadville to a 57-14 win at Bradford in District 10 Region 5 play Friday night.
In two games against District 9 teams this year, Brown ran for 991 yards and 14 touchdowns while scoring 16 times in two games.
Brown scored on runs of 65, 87, 15, 53 and returned the punt 72 yards and the kickoff 85 yards.
Antonio Ferraro added a pair of touchdowns on runs of 27 and 2 yards for Meadville (3-0 overall, 2-0 D10R5). A week after rushing for 1,004 yards, Meadville ran for 455 yards tonight and didn't throw a pass.
John Eakin scored twice for Bradford (0-3, 0-2) on a 10-yard run and a 20-yard pass from Kyle Kirk. Kirk was 7 of 17 passing for 82 yards and the touchdown, while Alex Colosimo ran 17 times for 60 yards.
RIDGWAY 14, OTTO-ELDRED 7
JOHNSONBURG, Pa. – Johnny Mitchell's 13-yard touchdown run with 5:23 to play rallied Ridgway past Otto-Eldred, 14-7, at Johnsonburg's Memorial Field Friday night.
The Elkers trailed most of the game but mounted a 64-yard, game-winning drive.
Otto led 7-0 after the opening drive thanks to a 3-yard Seth Drummond run. Drummond had 34 yards on eight carries during the drive. Drummond led the Terrors with 95 yards rushing on 16 carries, while Heath Stewart had four catches for 62 yards. 
Neil MacDonald got Ridgway back in the game on a 2-yard run early in the second quarter.
Ridgway had just 115 yards of offense compared to 142 by Otto. James Winslow led the Elkers with 43 yards rushing on seven carries.
The win improved Ridgway to 3-0 on the year, while Otto fell to 0-3.
UNION 34, A-C VALLEY 6
FOXBURG, Pa. – Lucas Bowser threw for a touchdown and rushed for a score, and Cole Morris scored three times to help Union get its first win of the season, 34-6, at A-C Valley Friday night.
Bowser stepped in at quarterback and was 7 of 9 passing for 108 yards and a touchdown while also scoring on a 1-yard run. Morris added three catches for 55 yards and a touchdown, a 53-yard punt return for a score, and a 75-yard interception return. Dugan Gallagher had 147 yards rushing and a touchdown on 17 carries for the Golden Knights (1-2 overall, 1-1 KSAC Small School Division). Drew Marsh chipped in with five carries for 50 yards.
Union's defense also intercepted a pair of A-C Valley passes and limited the Falcons (0-3, 0-2) to under 100 yards of offense. A-C Valley stats aren't available.
PUNXSUTAWNEY 34, BROOKVILLE 20
BROOKVILLE, Pa. — Taking advantage of five Brookville turnovers, the Punxsutawney Chucks pulled away in the second half for a 34-20 win in the annual Route 36 Trophy Game Friday night.
The Chucks (2-1 overall, 2-0 KSAC-Large) trailed 14-13 less than two minutes into the second half before scoring three unanswered touchdowns, all of them on passes by quarterback Ryan Jones.
Jones passed for 154 yards, completing 14 of 24 passes with an interception to go along with his three TD strikes. He connected with Nathan Lingenfelter twice on plays of 17 and 33 yards and 16 yards to Ethan Riley. Jones' 33-yarder to Lingenfelter put the Chucks up 34-14 with 8:58 left in the fourth quarter.
Devin Kelly ran for 90 yards on 13 carries and scored the game's first touchdown on a 10-yard run in the first quarter. Jones, who also ran for 65 yards on 10 carries, added a 6-yard run to give the Chucks a 13-7 halftime advantage. Lingenfelter caught five passes for 88 yards and Riley grabbed four balls for 44 yards.
The Raiders (1-2, 0-2) went up 14-13 on Seth Ray's 6-yard pass to Wyatt Shaffer at the 10:17 mark of the third quarter. Ray also connected with John Frank on an 8-yard TD pass in the first half, but the Chucks intercepted him four times. He completed 7 of 13 passes for 154 yards. Logan Thrush caught three passes for 94 yards while Frank ran for 62 yards on 14 carries. He scored the Raiders' last touchdown on a 10-yard run in the fourth quarter.