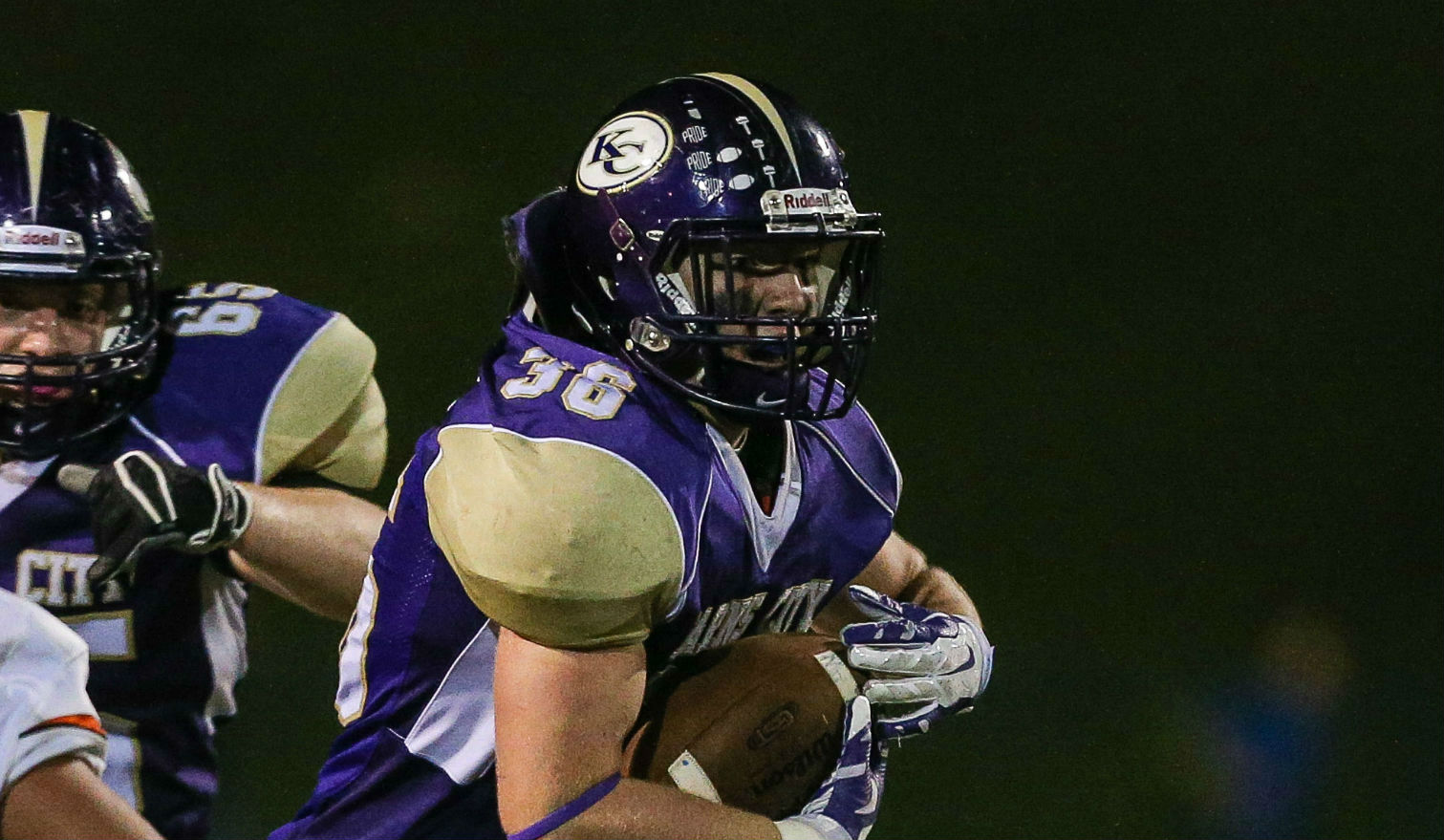 Recaps will be updated throughout the weekend. Last update at 11:40 a.m. Saturday Sept. 26. All recaps posted
KARNS CITY 48, CLARION 6
CLARION, Pa. – Maverick Kelsea scored two touchdowns, and Karns City put up the most points against Clarion in 17 years getting a 48-6 win over the Bobcats at Clarion University's Memorial Stadium.
Kelsea ran for 30 yards and scored on a pair of 2-yard runs.
Karns City (4-0) led 14-0 at halftime and 21-6 in the third quarter before scoring the game's final 27 points to put up the most points against Clarion since Brockway beat the Bobcats 49-21 Oct. 16, 1998, at Brockway. It also marked the first time Clarion had been Mercy Ruled since Port Allegany beat it 47-8 in the District 9 Championship game Nov. 24, 2012. It was the first time Clarion was Mercy Ruled in the regular season since a 35-0 loss to Southern Columbia Oct. 20, 2006.   
Also scoring on the ground for Karns City were Aaron Hutchinson, Collin Dunmyre and Cullen Williams, while Seth Silverio had a 20-yard interception return for a touchdown and Evan Stitt had a 63-yard punt return for a score.
Clarion's lone touchdown came on an 83-yard Josh Kriebel run. Bo Miller had a pair of interceptions on defense for the Bobcats (3-1) while adding 26 yards rushing.
COUDERSPORT 13, RIDGWAY 7
RIDGWAY, Pa. — Darren Keglovits threw two touchdown passes to Navada Waterman in the first half to lead the Coudersport Falcons to their first win — and first Allegheny Mountain League-North team win over the AML-South his year — in a 13-7 win over the Ridgway Elkers.
Keglovits hit Waterman on a 15-yarder in the first quarter and 68-yarder in the second quarter. Keglovits passed for 113 yards with Waterman catching the two TD passes for 83 yards. Aaron Wolfinger led the Falcons (1-3) with 58 yards on 23 carries.
For Ridgway (3-1), Johnny Mitchell scored on a 19-yard run in the fourth quarter. Neil MacDonald ran for 72 yards on 19 carries.
OLEAN (NY) 35, BRADFORD 19
BRADFORD, Pa. – Trailing by just two after a failed 2-point conversion with 5:38 to play, Bradford fell apart giving up a pair of scores in the last 4:53 to fall to interstate-rival Olean (NY) 35-19 Friday night at Parkway Field in Bradford.
Down 21-13 with just under six minutes to play, the Owl (0-4) made it a game when Kyle Kirk hit Zach McCammon with an 8-yard touchdown pass to get Bradford within two, 21-19. The 2-point conversion to tie the game failed when Olean stopped Alex Colosimo in the backfield.
Needing a defensive stop, Bradford couldn't get it, as Olean's Garrett Boldt raced 48 yards on the second play after the kickoff to put the Huskies up by two scores, 28-19. Boldt then capped the rivalry win with a 1-yard touchdown run late to set the final score. The quarterback, making his first start, had 12 carries for 89 yards and was 2-for-5 passing for 64 yards and an interception.
Dylan Vincent had a big game for Olean rushing for 105 yards and three touchdowns.
Kirk had one of the stronger games in over a decade for a Bradford quarterback going 13 of 15 passing for 198 yards and two touchdowns helping the Owls outgain Olean 371-274. But turnovers – two lost fumbles – and turnovers on down – twice in Olean territory including once at the 3-yard line – cost Bradford, who also got a 7-yard touchdown catch by John Eakin and a 4-yard Colosimo touchdown run. Eakin had seven catches for 114 yards and the touchdown and ran 17 times for 92 yards.
The victory was the second in a row in the rivalry by Olean (1-2), the first time the Huskies have had a winning streak in the series since taking seven straight from 1977 to 1983. Bradford leads the 117-game series 65-45-7.
BROCKWAY 42, OTTO-ELDRED 7
DUKE CENTER, Pa. – Brockway rolled off the game's final 35 points including 28 in the second half and overcame an injury to the Week 3 D9Sports.com Player of the Week Anthony Isabella to beat Otto-Eldred 42-7 Friday night in Duke Center.
The game was tied at seven following a 55-yard interception return for a touchdown by Otto's Grant West, who goes to school at Oswayo Valley, late in the first quarter.
Brockway, which had scored first on an Isabella 4-yard touchdown run, then regained the lead for good an 11-yard Troy O'Brien scoring run with 3:48 left in the first half. Isabella ran for 59 yards on eight carries before leaving.
The Rovers then put the game away late in the third quarter on a pair of Mark Latuska touchdown runs, one from five yards out and the other from a yard out after a 37-yard run by Latuska put the ball at the 1-yard line. Chad Perrin (5-yard) and James Wood (2-yard) added fourth-quarter scores for Brockway.
Latuska ran for 110 yards on nine carries while O'Brien ran for 73 yards on 11 carries. Quarterback Hunter Miller completed 7 of 18 passes for 42 yards.
ELK COUNTY CATHOLIC 53, SHEFFIELD 0
ST. MARYS, Pa. – Bryce Gabler and Noah Werner each scored twice on the ground and Nate DaCanal ran for a touchdown and threw for a score to pace Elk County Catholic to a 53-0 blanking of visiting Sheffield Friday night at Dutch Country Stadium in St. Marys.
Werner ran 11 times for 127 yards and scored on runs of 55 and 10 yards and added an interception on defense, while Gabler added 48 yards rushing on 11 totes scoring on runs of 3 and 33 yards. 
DaCanal was 6 of 9 passing for 103 yards including a 50-yard touchdown pass to Brad Dippold while scoring on a 52-yard run while rushing five times for 70 yards.
ECC's defense limited Sheffield to negative 2 yards of offense including negative 10 on the ground. The Crusaders defense had three interceptions.   
CLEARFIELD 50, HUNTINGDON 23
CLEARFIELD, Pa. – Seth Caldwell ran 30 times for 186 yards and three touchdowns, while Ryan Lezzer had a pair of touchdowns runs while also returning an interception for a score to lead Clearfield to a 50-23 Mountain League win over visiting Huntingdon Friday night.
Caldwell scored on runs of 5, 3 and 7 yards in the first half, while Lezzer added scoring runs of 12 and 80 yards while adding a late pick six. Lezzer ran four times for 106 yards while adding 67 yards receiving. Christian Rumery also added a rushing touchdown for the Bison, who actually trailed 7-0 less than three minutes into the game.
The victory moves Clearfield to 3-1 overall and 3-0 in conference play, while Huntingdon falls to 2-2, 1-2.
KANE 66, PORT ALLEGANY 22
KANE, Pa. – Tyler Rolick ran 11 times for 204 yards and three touchdowns while adding a 20-yard touchdown catch on his only reception of the night to lead Kane to a 66-22 win over visiting Port Allegany Friday night.
Rolick scored on runs of 20, 13 and 71 yards on the ground.
Erik Delong added 13 carries for 146 yards and a touchdown, while Reed Williams was 8 of 10 passing for 146 yards and four touchdowns for the Wolves (4-0).
Tyler Weidenhoff caught one of those touchdown passes and also returned a fumble 28 yards for a score he had two catches for 44 yards. Weidenhoff also recovered a fumble, had a sack, blocked a punt and recovered the blocked punt. Ray Maze added three catches for 53 yards and a touchdown, while Shane Rolick had a touchdown catch and finished with one reception for 27 yards and three carries for 23 yards.
Port Allegany, which had just seven yards of offense in the first half, got rolling in the second half thanks to the running of Josiah Ramadhan, who finished with 11 carries for 141 yards with two touchdowns. Mac Tanner added 69 yards on the ground and a touchdown.
REDBANK VALLEY 33, BROOKVILLE 7
BROOKVILLE, Pa. — Redbank Valley's Wyatt Hetrick scored four touchdowns, leading the Bulldogs to a 33-7 KSAC-Crossover win over the Brookville Raiders Friday night, spoiling their homecoming.
Hetrick returned the opening kickoff 85 yards for a score and added TD grabs on Connor Shoemaker passes of 23, 9 and 13 yards. He finished with 53 yards on four receptions and ran for 35 yards on four carries. He also made an interception on defense.
Shoemaker also returned a punt 45 yards for a touchdown in the third quarter as the Bulldogs (3-1) led 33-0 before the Raiders (1-3) scored in the fourth quarter on Seth Ray's 53-yard pass to Logan Thrush. Ray completed 6 of 14 passes for 185 yards, but was intercepted twice in the first half and the Bulldogs turned both of those turnovers into touchdowns.
CURWENSVILLE 58, CAMERON COUNTY 28
EMPORIUM, Pa. — Nick Stewart ran for 256 yards scored five touchdowns while Jakob Terry passed for 268 yards and three scores to lead the Curwensville Golden Tide to a 58-28 win over Cameron County Friday night.
Stewart needed 25 carries to get his yards and scored on a 5-yard TD pass from Terry, and runs of 7 and 74 yards in the second quarter, and 10 and 2 yards in the third quarter. Terry completed 11 of 17 passes and connected with three different receivers for his touchdowns, including his pass to Stewart for the game's first score, a 63-yarder to Eli Jacobs in the first quarter and a 44-yarder to Quamone Newkirk in the fourth quarter. Jacobs caught two passes for 125 yards. Newkirk caught six passes for 98 yards.
The Golden Tide (4-0) led 20-14 after a first-quarter shootout with the Red Raiders (0-4) and led 34-20 at intermission.
Caleb Burnside, who returned a kickoff 85 yards for a touchdown in the first quarter, also ran for 64 yards on 17 carries and scored on a 1-yard run in the second quarter and 3-yard run in the third quarter that got Cameron within 34-28, but Curwensville scored the game's final 24 points.
Derek Rieder threw a 61-yard TD pass to Austin Doud to tie the game at 14-14 in the second quarter.
UNION 20, PUNXSUTAWNEY 14
PUNXSUTAWNEY, Pa. — Lucas Bowser's 1-yard touchdown run with 1:11 left in the game lifted the Union Golden Knights to a 20-14 come-from-behind win at Punxsutawney Friday night.
The Chucks led 14-6 before the Knights scored the final two touchdowns, one on a Cole Morris 68-yard run in the third quarter. Morris rushed for 167 yards on nine carries, scoring on a 30-yard run in the first quarter. He also had a 36-yard run to set up Bowser's go-ahead touchdown and picked off his fourth pass of the season on defense.
Dugan Gallagher ran for 122 yards on 25 carries and caught four passes for 31 yards for the Knights, who improved to 2-2.
Punxsutawney dropped to 2-2. Quarterback Ryan Jones and Devin Kelly scored for the Chucks. Jones put the Chucks up 7-6 late in the first half on a 6-yard run while Kelly's 27-yard run early in the third quarter gave the Chucks a 14-6 lead. Jones completed 13 of 30 passes for 163 yards.
CLARION-LIMESTONE 40, SMETHPORT 20
STRATTANVILLE, Pa. — Anthony Louder passed for 278 yards and five touchdowns to lead the Clarion-Limestone Lions to a 40-20 non-conference win against the Smethport Hubbers Friday night.
Louder connected on 13 of 32 passes, hitting Brady Himes on three TD passes of 36, 21 and 6 yards in the second half. Himes finished with 143 yards on eight catches and added 44 more yards rushing with a 5-yard run in the first quarter. Louder also hooked up with Riley Hummell on a 16-yarder to give the Lions (2-2) a 14-0 halftime lead. Louder also rushed for 50 yards on 11 carries.
Louder also hooked up with Sam Leadbetter for a 54-yarder to start the second-half scoring. Leadbetter caught three passes for 105 yards and made two interceptions on defense.
Adam Shunk led Smethport (0-4) with 158 yards on 16 carries, scoring on a 49-yard run to set the final score late in the fourth quarter. Jimmy Duffy and Devon Brown added TD runs of 23 and 39 yards respectively.
ST. MARYS 20, KEYSTONE 14
KNOX, Pa. — Pat Schlimm's 10-yard touchdown pass to Brady Bauer with 8:12 left in the third quarter broke a 14-14 tie and lifted the St. Marys Flying Dutchmen to a 20-14 win at Keystone Friday night.
The back-and-forth affair had the Dutch leading 14-6 at halftime on two Matt Marconi TD runs of 1 and 5 yards. Keystone Quarterback Brayden Shick scored on a 1-yard run in the second quarter and then helped the Panthers tie the game 14-14 when he threw a 73-yard TD pass to Chad Rogers 23 seconds into the second half. Rogers caught two balls for 86 yards.
Marconi ran for 83 yards on 17 carries. All four of Schlimm's completions went to Bauer for 73 yards. The Panthers' Shick went 6-for-16 with 137 yards while the Dutch limited Jake Weaver to 23 yards on 14 carries.
ERIE CATHEDRAL PREP 63, DUBOIS 13
DUBOIS, Pa. – DuBois' defensive and special teams problems continued, as Erie Cathedral Prep hung 63 on the Beavers, the third straight week DuBois has given up at least 60 points, in a 63-13 road victory Friday night at Mansell Stadium in DuBois.
The Ramblers led 28-0 at the end of the first quarter and 56-6 at halftime to help 14th-year head coach Mike Mischler get his 150th career win in his 17 seasons as a head coach.
Matt Miller threw for 281 yards and two touchdowns to lead DuBois (1-3), while Sullivan Johnson ran 12 times for 147 yards and two scores for Cathedral Prep (3-1). Tim Beveridge added three touchdown passes for the Ramblers including a pair to Dajon Heidelburg.   
In addition to its seven offensive scores, Cathedral blocked a punt for a touchdown and returned another one for a score.  
More on this game will be posted when it is received.
MONITEAU 24, A-C VALLEY 8
WEST SUNBURY, Pa. — Picking up their first win of the season, the Moniteau Warriors beat winless A-C Valley, 24-8, Friday night.
Warriors quarterback Derek Boben passed for 122 yards and threw a 78-yard touchdown pass to Elijah Stewart. Both Stewart and Boben scored on runs. Boben completed 3 of 7 passes while Dalton Anderson caught two of Stewart's three completions for 44 yards. Steven Fawcett booted a 23-yard field goal.
The Warriors (1-3) picked off three A-C Valley passes, two by Ray Hagg and one by Anderson.
Evan Redding scored A-C Valley's touchdown, the first of the year on offense by the Falcons (0-4)
A-C Valley dropped to 0-4. More on this game will be posted when it is received.