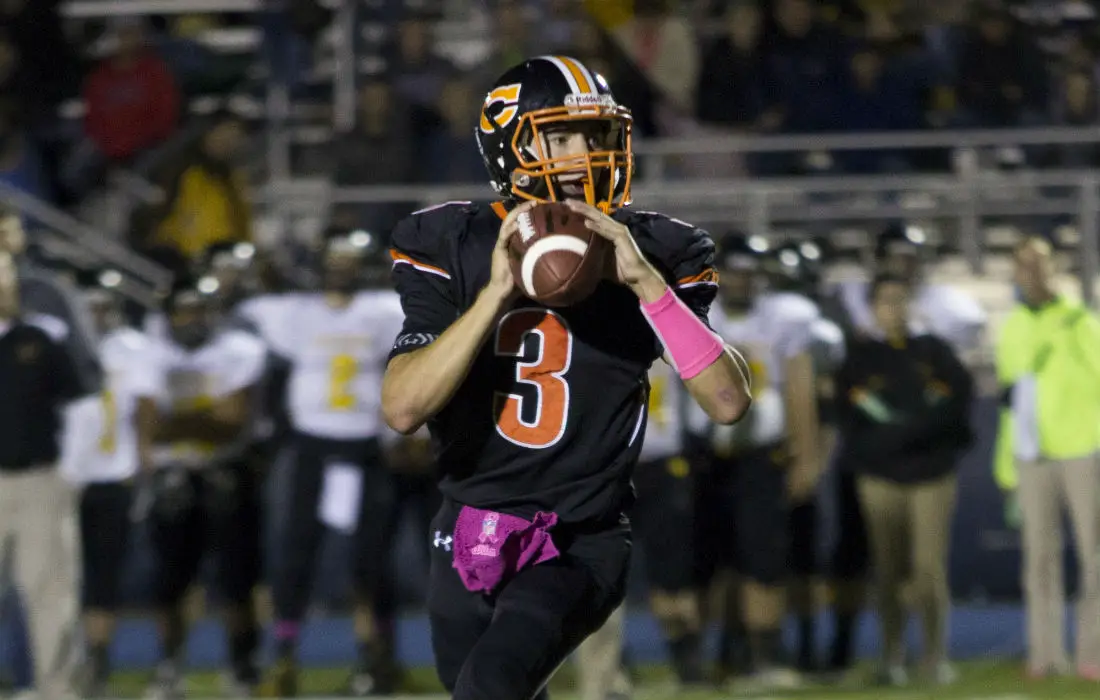 Recaps will be updated throughout the weekend. Complete recaps posted. 
ERIE CENTRAL TECH 62, BRADFORD 22
ERIE, Pa. – Keyshaan Husband ran for nearly 300 yards and four touchdowns to lead Erie Central Tech to a 62-22 win over visiting Bradford Saturday night at Veterans Stadium in Erie.
John Eakin scored twice for Bradford on runs of 3 and 58 yards, while Mitchell Vleminckx added a score for the Owls as well.
Eakin had a huge game for the Owls rushing 17 times for 209 yards and the two scores while catching one pass for 14 yards. Vleminckx added 10 carries for 30 yards and the touchdown
SHEFFIELD, Pa. – Adam Shunk ran for 188 yards and three touchdowns on 30 carries while also returning a punt for a score and a fumble for a touchdown to lead Smethport to its first victory of the year, 40-14, at Sheffield in the AML North opener for both teams.
Jimmy Duffy led the Hubbers (1-4, 1-0) with nine tackles on defense with Austin Speedy adding eight.
Dayquan Grady ran 10 times for 97 yards and a score to lead Sheffield, while Myquandre Stevenson added 22 totes for 67 yards and a late score.  
PORT ALLEGANY 6, CAMERON COUNTY 0
PORT ALLEGANY, Pa. – On homecoming in Port Allegany it was an old-school football game between the Gators and Cameron County with the home team coming out on top 6-0 thanks to a 5-yard Josiah Ramadhan touchdown run with just 3:14 to play.
The winning drive was set up by a blocked punt, the punt was basically kicked into the line, by Port Allegany that gave the Gators the ball at the Red Raider 29-yard line. A second-down pass from Tre Garzel to Jordan Seefeldt after Garzel had bobbled the shotgun snap and picked it up off the wet ground, set Port up at the 5-yard line. On the play Seefeldt out jumped a Cameron defender for the ball.
Neither team had anything going offensively with Cameron County out gaining Port Allegany 70-56.
Ramadhan led Port with 25 yards rushing on nine carries, while Caleb Burnside had 35 yards rushing on 23 carries for Cameron County.
Mac Tanner paced the Gators defense with 12 tackles, while Ethan Budd had eight and a sack. Seefeldt picked off a pass.
ELK COUNTY CATHOLIC 12, CURWENSVILLE 8
ST. MARYS, Pa. – Nate DaCanal's 8-yard touchdown run with 22 seconds to play lifted Elk County Catholic to a 12-8 win over visiting Curwensville in a battle of unbeaten Allegheny Grille of Foxburg D9sports.com Top 10 ranked teams Saturday afternoon at Dutch Country Stadium in St. Marys.
ECC (5-0 overall, 1-0 AML South), ranked No. 9, trailed 8-6 for most of the fourth quarter after Curwensville got its lone touchdown on a 10-yard Nick Stewart run on the final play of the third quarter. Stewart then ran in the 2-point conversion to give the 5th-ranked Golden Tide (4-1, 0-1) the lead.
Curwensville then had a chance to put the game away late, but ECC's defense stopped Stewart short of the first-down stick late in the fourth quarter at the ECC 25-yard line.
It looked like the Tide were going to make the stop, though, forcing ECC into a fourth-and-16 situation at the ECC 19-yard line. But DaCanal hit Kyle Huff with a 17-yard pass for the first down. Later in the drive, a roughing the passer penalty helped ECC move into scoring position.
The game was scoreless at the half before a 69-yard Jared Braun touchdown run early in the third quarter gave ECC a 6-0 lead. It was Braun's only carry of the afternoon.
ECC outgained Curwensville 241-118 on the day. Noah Werner ran 12 times for 54 yards, while DaCanal was 10 of 15 passing for 76 yards and an interception while rushing for 25 yards on 13 carries with the touchdown.
Stewart, who entered the game as District 9's leading rusher ran 33 times for 102 yards and a touchdown. But the Golden Tide passing game, a strength all season, was ineffective in the bad weather. Jakob Terry was just 3 of 10 for 10 yards and was picked off twice. Stewart had two catches for nine yards.
 ST. MARYS 21, BROOKVILLE 6
ST. MARYS, Pa. – Nathan Straub scored two fourth-quarter touchdowns to help St. Marys break a 6-all tie and gain a 21-6 win over Brookville in KSAC Large School Division action Friday night in St. Marys.
Straub's 3-yard touchdown run, his second of the game, 44 seconds into the fourth quarter broke the tie, and he added a 49-yard game-sealing run with 46 seconds to play. Straub, who ran 17 times for 133 yards, also scored the game's first touchdown on a 40-yard run early in the second quarter.
Brandon McGanor paced Brookville with 16 carries for 80 yards and scored the Raiders lone touchdown on a 44-yard run late in the first half.
St. Marys' defense held Brookville to 117 yards of total offense and intercepted Raider quarterback Seth Ray twice.
KANE 28, RIDGWAY 13
KANE, Pa. – Shane Rolick scored three touchdowns and brother, Tyler, added a fourth to lead Kane to a 28-13 win over Ridgway in the AML South opener for both teams Friday night.
Shane Rolick scored on touchdown runs of 1, 37 and 12 yards while also interception a pass on defense, while Tyler Rolick notched a 9-yard scoring rn of his own while booting four extra point to help the defending District 9 Class A champion Wolves move to 5-0 on the season.
The Rolick's both went over 100 yards on the ground with Shane carrying the ball 16 times for 126 yards and Tyler 19 times for 101. Shane was also 2-for-6 passing for 20 yards and added two forced fumbles on defense, while Tyler caught two passes for 28 yards.
Erik Delong chipped in 74 yards on the ground on 10 carries for the Wolves, while Tyler Weidenhoff also forced two fumbles and recovered a fumble on defense.
Dane Cappiello scored on a 26-yard pass from Johnny Mitchell, and Neil MacDonald on a 2-yard run for Ridgway. MacDonald also had a long fumble return for an apparent touchdown called back because of offsetting penalties.
Mistakes cost Ridgway, as the Elkers (3-2) fumbled the ball away four times while also throwing the pick.  
Cappiello ran nine times for 47 yards and caught the one pass for 26 yards and the score. Joey Elinski had eight rushes for 50 yards. 
DUBOIS 47, PUNXSUTAWNEY 13
DUBOIS, Pa. – Matt Miller threw for four touchdowns and ran for a fourth to help DuBois snap a three-game losing streak with a 47-13 win over visiting Punxsutawney Friday night.
Miller scored on a 2-yard run and threw touchdown passes to Colin Read (75 yards), Zach Sloan (43 yards and 61 yards) and Dante Dawson (30 yards).
Miller was 23 of 34 passing for 397 yards and the four scores. Read had 10 catches for 177 yards, Sloan three for 100 and Dawson five for 69 while also rushing once for eight yards.
Levi Campbell (38-yard run) and Devin Kelly (5-yard) run scored for Punxsutawney.
Campbell rushed 10 times for 40 yards, while Kelly had 21 yards on 13 carries and caught two passes for 24 yards. Ryan Jones was 13 of 23 passing for 138 yards and an interception while running 15 times for 35 yards for the Chucks with Jacob Weaver catching five passes for 67 yards.
KARNS CITY 41, MONITEAU 0
KARNS CITY, Pa. – Six different Karns City Gremlins scored as the home team shutout rival Moniteau 41-0 Friday night.
Eric Dodd (1-yard run), Aaron Hutchinson (9-yard run), Chandler Turner (55-yard run), Maverick Kelsea (24-yard run), Evan Stitt (4-yard pass from Cullen Williams) and Williams (80-yard run).
Williams ran twice for 149 yards and a score. He was also 3-for-4 passing for 18 yards, the touchdown and an interception.
Turner added five carries for 69 yards.
Derek Boben was 5 of 19 passing for 113 yards and a touchdown. Wyatt Offt had two catches for 60 yards.  
COUDERSPORT 24, OTTO-ELDRED 0
DUKE CENTER, Pa. – Coudersport picked up its second straight win by starting AML North play with a 24-0 shutout of homestanding Otto-Eldred.
Jared Green ran eight times for 80 yards and a touchdown to lead the Falcons (2-3, 1-0 AML North), while Darren Keglovits hit Navada Waterman with a 47-yard touchdown pass and Anderson Nicka scored on a 24-yard run.
Keglovits was 4 of 11 passing for 79 yards. He added three carries for 21 yards. Waterman had one catch, a 47-yard touchdown, while Nicka ran four times for 34 yards.  
Seth Drummond, despite leaving the game and not returning with a non-contact leg injury on the game's first drive, rushed six times for 43 yards for the Terrors (0-5, 0-1).
CLEARFIELD 28, BROCKWAY 7
BROCKWAY, Pa. – Cody Spaid scored two touchdowns and threw for a third to Ryan Lezzer, who scored twice, lead Clearfield, the No. 3 ranked team in Allegheny Grille of Foxburg D9Sports.com District 9 Rankings, over No. 2 Brockway 28-7 Friday night at Varischetti Field in Brockway.
Spaid scored on a 1-yard run in the first quarter then hit Lezzer with a 20-yard pass late in the first half to take a 14-0 halftime lead. Lezzer made it 21-0 on an 8-yard run in the fourth quarter before Spaid scored on a 3-yard run late in the game to set the final score.
Troy O'Brien scored Brockway's lone touchdown on an 18-yard screen pass from Hunter Miller.   
Spaid was 9 of 20 passing for 122 yards, one touchdown and one interception while rushing 12 times for 60 yards and the two scores. Lezzer had four carries for 26 yards and the score and caught five passes for 35 yards and a touchdown, while Seth Caldwell had a game-high 119 yards on 30 carries.
Miller paced Brockway with six carries for 46 yards, while going 14 of 21 passing with the score and three interceptions. O'Brien ran 12 times for 19 yards.     
REDBANK VALLEY 49, UNION 22
RIMERSBURG, Pa. – Wyatt Hetrick and Colton Mohney each scored a pair of touchdowns to help Redbank Valley to a key KSAC Small School Division victory, 49-22, over Union Friday night at Vidunas Stadium in Rimersburg.
Hetrick scored on a key 83-yard kickoff return in the first quarter after Union had taken an 8-7 lead spearheading a 28-point run by the Bulldogs (4-1 overall, 3-0 KSAC Small School) to end the first half with a 35-8 lead.
During that run, Hetrick added an 87-yard touchdown run, while Colten Mohney had a 5-yard scoring run. Colten Mohney added a 27-yard touchdown run in the third quarter. Hetrick ran three time for 92 yards, while Mohney had 10 carries for 77 yards.
Curtis Mohney (1-yard run), Nick Shoemaker (8-yard pass from Connor Shoemaker) and Connor Shoemaker (25-yard run) also scored for Redbank Valley. Connor Shoemaker ran 8 times for 66 yards and was 4-for-7 for 55 yards and the touchdown.
Dugan Gallagher had a huge game for Union rushing 23 times for 162 yards including a 63-yard touchdown run. Cole Morris caught a 19-yard touchdown pass from Lucas Bowser, and Bowser scored on a 2-yard run.
CLARION 20, KEYSTONE 16
CLARION, Pa. – Clarion jumped out to a 20-0 halftime lead and held on to beat Keystone 20-16 in a key KSAC Small School Division game Thursday night at Clarion University's Memorial Stadium.
The Bobcats (4-1 overall, 3-0 KSAC Small School Division) kept its Small School Division all-time record perfect at 28-0 and ran its conference win streak to 30 straight despite running only 16 second-half plays.
Bo Miller threw a touchdown pass and ran for a touchdown in the first half to help Clarion take the 20-0 lead. Miller finished the night 2 of 6 passing for 41 yards and the touchdown while rushing five times for 58 yards and a score. He scored on a 37-yard run to put the Bobcats up 14-0 and then hit Josh Kriebel with a 5-yard touchdown pass to put the game at 20-0 late in the opening half. Kriebel had the one catch for five yards and ran for a team-best 87 yards on just four carries.
Kyle Patterson got the scoring started with a 1-yard run late in the first quarter, his only carry of the game.
Keystone (2-3, 1-2), losers of three straight, rallied in the second half scoring early in the half on a 2-yard Jake Weaver run and then with 2:41 to play on a 3-yard Weaver run following a blocked punt. The Panthers had one last chance taking over with about a minute to play 92 yards away but couldn't pick up a first down.
Weaver ran 24 times for 104 yards and the two scores and caught four passes for 24 yards.
Brayden Shick had a strong game for the Panthers as well going 19 of 25 for 153 yards. Ethan Fleeger had six grabs for 47 yards.
The four-point win was Clarion's smallest margin during its win streak since beating Redbank Valley 21-19 at Redbank Valley Setp. 30, 2010.
CLARION-LIMESTONE 40, A-C VALLEY 12
STRATTANVILLE, Pa. – A huge second half helped Clarion-Limestone secure it first three-win season in a decade with a 40-12 win over visiting A-C Valley Thursday night.
The Lions (3-2 overall, 1-2 KSAC Small School) led 10-6 at halftime but outscored A-C Valley (0-5, 0-3), losers of 27 straight, 30-6 in the second half.
Anthony Louder threw for three touchdowns and ran for a fourth to lead the Lions, who have three victories for the first time since 2005. Louder was 8 of 24 passing for 131 yards and the three scores while also throwing an interception. He added 40 yards rushing on 10 carries and one catch for 14 yards.
He threw touchdown passes to Brady Himes, Riley Hummell and Connor Keth.
Himes scored two times also scoring on a 6-yard run. He had four catches for 86 yards and ran four times for 23 more.    
Lane Chalmers and Eric Pirl each had big games for A-C Valley. Chalmers ran for 120 yards on 10 carries including a 20-yard touchdown run. Pirl added 106 yards rushing on nine carries, as A-C Valley accumulated 224 yards of offense after being held to a shy under 400 in its first four games.