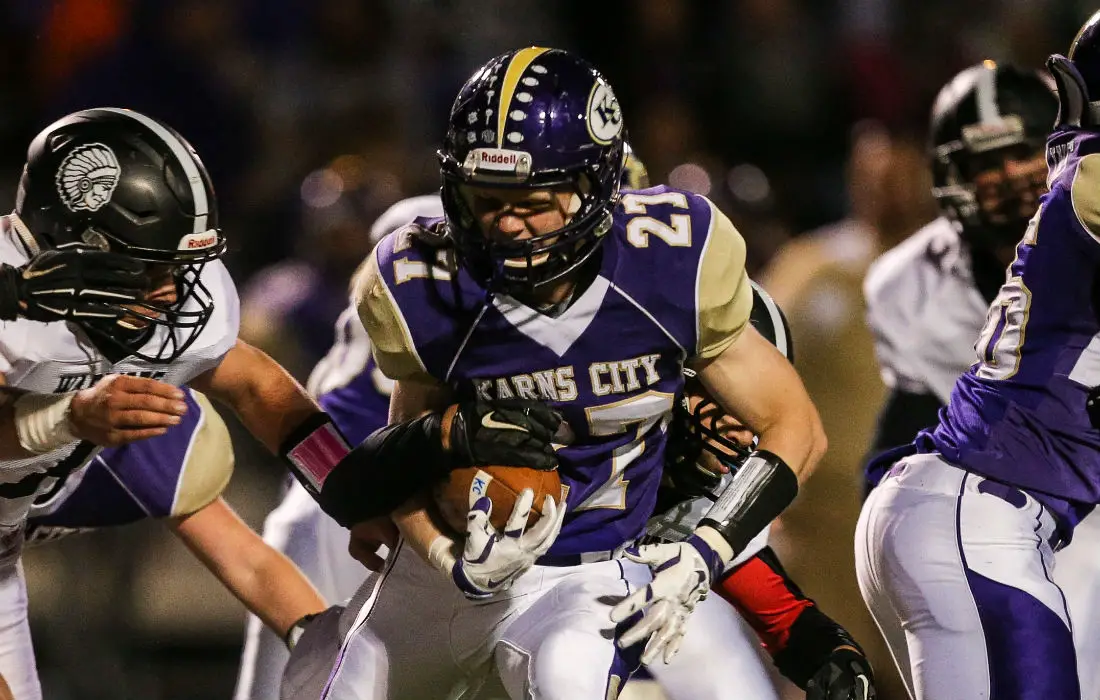 Recaps will be updated throughout the weekend. Recaps include all games through Friday night. Fully updated
KANE 26, ELK COUNTY CATHOLIC 0 
ST. MARYS, Pa. – Behind the Rolick twins, unbeaten Kane claimed its second AML South title in three years with a 26-0 win over previously unbeaten Elk County Catholic Saturday night at Dutch Country Stadium in St. Marys.
Shane Rolick ran for 181 yards and three touchdowns on 18 carries, and Tyler added 94 yards on the ground on 19 carries as the Wolves improved to 8-0 overall and 4-0 in the AML South. Erik DeLong also went over 100 yards rushing for Kane with 112 on 12 totes helping the Wolves rush for nearly 400 yards – 390 – on the night. Shane Rolick added an interception on defense.
The only touchdown of the first half came late in the first quarter on a 3-yard Shane Rolick run. Shane Rolick then scored on runs of 64 and 38 yards in the third quarter to push the Wolves' lead to 19-0 before brother, Tyler, found pay dirt on a 5-yard run in the middle of the fourth quarter to set the final score.
Nate DaCanal was 9 of 26 passing for 122 yards and two interceptions for ECC while Noah Werner rushed 18 times for 49 yards. ECC fell to 7-1 overall and 2-1 in the AML South.
OTTO-ELDRED 35, SHEFFIELD 20
SHEFFIELD, Pa. – Damen Palmer ran for a touchdown and threw for a score, and Heath Stewart rushed for a pair of touchdowns, as visiting Otto-Eldred game first-year head coach Nick LaBella his first victory with a 35-20 win over Sheffield Saturday afternoon.
Palmer ran 15 times for 131 yards with a 50-yard scoring dash, while also throwing a 21-yard touchdown pass to Grant West on a halfback option. He was 2 of 2 passing for 51 yards.
Stewart added 12 carries for 103 yards and two scores, while Sawyer Drummond ran for 58 yard and a touchdown and was 4 of 9 passing. West was a major force on defense with 10 tackles, while Stewart and Palmer had two of Otto's four interceptions. Chase Sebastian and Michael Motyka also had picks for the Terrors (1-7 overall, 1-3 AML North).
Cale Albaugh threw a pair of touchdown passes for Sheffield (0-8, 0-4) going 11 of 28 passing for 194 yards but also throwing the four picks. Logan Connolly had four catches for 58 yards and a touchdown, and Ryan Lemay also caught a touchdown pass. Myquandre Stevenson added 16 carries for 61 yards.
KARNS CITY 48, KEYSTONE 40, 2 overtimes
KARNS CITY, Pa. – Collin Dunmyre's 10-yard touchdown run in double overtime followed by Chandler Turner's interception off an Evan Stitt tip in the end zone of a Brayden Shick pass allowed No. 1 Karns City to escape an upset bid by unranked Keystone, 48-40, in double overtime Friday night in Karns City.
In a game for the ages, Keystone (4-4) scored on a 12-yard Shick to Ethan Fleeger touchdown pass with 11 seconds to play in regulation and then Shick hit Fleeger with the 2-point conversion pass to tie the game at 34.
A short kickoff gave Karns City (8-0) the ball in Keystone territory but two incomplete passes led to overtime.
In the first overtime, Shick hit Jacob Weaver with a 16-yard screen pass to put the Panthers ahead 40-34, but Shick was sacked on the 2-point conversion.
Karns City answered back on third-and-goal from the 5-yard line on its possession of the first overtime when Maverick Kelsea scored. The Gremlins, though, missed the extra point necessitating the second overtime.
That's when Dunmyre scored on the first play of double overtime to put the Gremlins ahead for good.   
The game featured eight lead changes and a pair of ties.
Keystone led 6-0 at the end of the first quarter on a Shick 12-yard touchdown run, but a 22-yard Jacob King to Seth Silverio touchdown pass followed by a 3-yard Cullen Williams run gave Karns City a 13-6 lead with eight minutes left in the first half.
Keystone answered when Shick hit Weaver with a 50-yard pass to put the Panthers up 14-13 with 2:21 to go before halftime, but Turner returned the ensuing kickoff 80 yards for a score to give the Gremlins the lead back, 19-14.
Keystone, though, used some trickery on the last play of the first half to take a 20-19 halftime lead as Weaver hit Fleeger with an 8-yard halfback option pass.
Karns City went back out in front, 27-20, four minutes into the second half on an 8-yard Kaiden Power run, but Weaver got the Panthers back within a point at the end of the third quarter on a 3-yard run with 2:55 left in the quarter.
Karns City extended the lead to 34-26 on a 1-yard Kelsea run with 3:10 to play in regulation, but Keystone was able to drive an tie the game with a big play being a pass from Shick to Corey Rapp on fourth-and-20.  
Shick was 19 of 27 for 297 yards, three touchdowns and an interception for Keystone with six of the passes going to Weaver for 129 yards and two touchdowns. Weaver also ran 25 times for 78 yards and a score and was 1-for-1 passing for eight yards and the touchdown. Fleeger added seven catches for 72 yards and two touchdowns, while Tanner Wilson had six grabs for 92 yards. Shick added seven yards rushing and a touchdown on six carries, while Fleeger chipped in a sack on defense.
Dunmyre led Karns City with eight carries for 63 yards and the crucial touchdown. Turner added seven carries for 44 yards and a touchdown while returning the kick for a score.
Keystone outgained Karns City 406 yards to 275 including 314 yards through the air.  
PORT ALLEGANY 36, SMETHPORT 18
SMETHPORT, Pa. – Tre Garzel threw for 274 yards and four touchdowns, and Dylan Baumgarner had 11 catches for 202 yards and four scores while rushing for a fifth touchdown to lead Port Allegany to the AML North title with a 36-18 win at Smethport Friday night.
Garzel was 18 of 25 passing and threw touchdown passes of 30, 12, 10 and 41 yards to Baumgarner, who added 14 yards rushing on four carries with a 10-yard touchdown run.
Port (5-3 overall, 4-0 AML North), which won its third AML North title in the past five years, trailed 12-8 at halftime but outscored Smethport (3-5, 3-1) 24-6 in the second half.
The Gators were able to, for the most part, contain Smethport's Adam Shunk. The 1,000-yard rusher was held to 96 yards on 22 carries and didn't score a touchdown.
Jimmy Duffy scored twice for the Hubbers on runs of 5 and 15 yards, while Austin Speedy hit Blake Kriner with a 12-yard touchdown pass.
Duffy ran for 65 yards on 10 carries, while Speedy was 4 of 8 passing for 63 yards and the touchdown and ran for 40 yards on nine carries.
Mac Tanner chipped in 55 yards on the ground on nine carries for Port and had 12 tackles. Ethan Budd added nine stops.   
BROCKWAY 24, CURWENSVILLE 14
CURWENSVILLE, Pa. – Behind 130 yards and two touchdowns on 24 carries by Mark Latuska, Brockway punched its ticket to the District 9 Class A playoffs with a 24-14 win at Curwensville Friday night.
The teams were tied at 14 at halftime before a 20-yard Jarrett Esposito field goal with just over a minute left in the third quarter broke the deadlock. Latuska, whose 3-yard touchdown run late in the first half knotted the game at 14, then gave the Rovers (6-2, 2-1) some breathing room with a 40-yard touchdown run with 10 seconds left in the quarter.   
Chad Perrin added 60 yards on eight carries for Brockway and scored on a 21-yard touchdown run early in the game.
Jakob Terry threw a pair of touchdown passes for Curwensville (5-3, 0-3) hitting Zack Marshall with a 45-yard toss and Quamone Newkirk with a 28-yard pass. He was 12 of 24 for 146 yards and also threw a pair of interceptions.  
Marshall had three grabs for 64 yards and the score, Newkirk four for 48 yards and the touchdown and Nick Stewart four for 38 yards. Stewart also carried 14 times for 79 yards.
Hunter Miller was 8 of 9 passing for 88 yards and ran 15 times for 45 yards for Brockway.
The win keeps Brockway's hopes of a possible AML South title alive, although the Rovers need Elk County Catholic to beat Kane Saturday night to have a chance.
CLARION-LIMESTONE 47, PUNXSUTAWNEY 26
STRATTANVILLE, Pa. – Anthony Louder threw for 306 yards and four touchdowns, ran for 64 yards and intercepted a pass on defense, as Clarion-Limestone kept its playoff hopes alive with a 47-26 win over visiting Punxsutawney Friday night.
Louder, who also threw a pair of interceptions was 18 of 29 passing and threw touchdown passes of 24 yards to Riley Hummell, 45 yards to Brady Himes and 18 and 13 to Connor Keth.
Keth had  nine catches for a game-high 139 yards and the two scores, while Himes added five grabs for 120 yards and the touchdown. Himes and Hummell each had interceptions.
Meanwhile, Mike Macefe ran 20 times for 123 yards and three touchdowns – he scored on runs of 3, 9 and 4 yards – for the Lions (4-4) who will need to beat Union next week and hope for some help to get to the postseason for the first time since 2005.  
Ryan Jones threw for three touchdowns for Punxsutawney (3-5), who trailed 47-14 after three quarters, going 9 of 29 for 195 yards while being intercepted three times. He added 14 yards on the ground on nine carries and had both of the Chucks interceptions.
Ethan Riley caught five passes for 100 yards and two scores (63 and 21 yards), while Jacob Weaver had four catches for 95 yards including a 54-yard touchdown. Joey Dipietro added seven carries for a team-high 74 yards with a 7-yard touchdown run.   
C-L outgained Punxsutawney 509 to 334. The loss pretty much ends any hope the Chucks had a Regional Playoff berth, although it was announced earlier in the day that Punxsutawney will take on Clearfield in the District 9 Class AAA title game in two weeks at Brockway. The winner of that game is not guaranteed a Regional playoff spot.  
CLARION 35, ST. MARYS 12
ST. MARYS, Pa. – After failing to register a point in 10 straight quarters, Clarion broke out in a big way Friday night and ended a two-game slide with a 35-12 win at St. Marys.
Bo Miller, who came into the game having thrown for just 142 yards and two touchdowns on the season, was 8 of 12 passing for 115 yards and three touchdowns. He threw scoring passes to Colton Rapp (43 yards), Josh Kriebel (2 yards) and Adrian Weber (12 yards).
Krieble added a 41-yard touchdown run, and Spencer Miller returned an interception 23 yards for another Bobcat score.
After trailing 18-0 at halftime on its way to a 32-0 loss to Union last week, Clarion led 28-6 at the break against a St. Marys' team that had allowed just 26 points in its previous three outing including a shutout against Punxsutawney a week ago.
St. Marys' (6-2) stats will be posted when they are received.  
REDBANK VALLEY 38, MONITEAU 22
NEW BETHLEHEM, Pa. – A 22-point second quarter helped Redbank Valley walk past Moniteau, 38-22, in a KSAC Crossover game Friday night in New Bethlehem.
Connor Shoemaker threw a pair of touchdown passes and Wyatt Hetrick scored twice – one through the air and once on the ground – for the Bulldogs (6-2), who got a nice tune-up leading into their KSAC Small School Division title game with Clarion next week.
Shoemaker was 15 of 23 passing for 171 yards, the two scores and an interception. He added 40 yards rushing on nine carries and threw touchdown passes of 22 yards to Hetrick and 11 yards to Devin Schimp, playing for the first time since an early-season injury.
Hetrick, who added a 60-yard touchdown run, had seven carries for 78 yards, six catches for 74 yards and intercepted a pass on defense. Colten Mohney added 42 yards rushing and a touchdown, and Curtis Mohney had 43 yards on the ground and a score. Clint Thurston booted a 26-yard field goal.  
Moniteau (3-5), who scored twice in the fourth quarter after the game was out of hand, got a pair of Derek Boben touchdown passes. The senior was 9 of 29 for 137 yards and also threw  pair of interceptions and ran 21 times for 38 yards and a score. He threw a 35-yard touchdown pass to Dalton Anderson, who had five catches for 105 yards, and a 13-yard pass to Nick Pflugh. Steven Fawcett booted another field goal for Moniteau, his fifth of the season, from 23 yards out.   
Redbank outgained the Warriors 385-185.
RIDGWAY 14, UNION 0
RIMERSBURG, Pa. – Andy Breier and Dane Cappiello each scored first-half touchdowns to help visiting Ridgway knock off Union 14-0 Friday night at Vidunas Stadium in Rimersburg.
Breier returned an interception 59 yards for a score, and Cappiello scored on a 6-yard run for the Elkers (4-4), who kept their playoff hopes alive with the victory.
Cappiello led Ridgway with 46 yards rushing, as the Elkers had four players with at least 40 yards on the ground. Johnny Mitchell added 42 yards rushing and was 2 of 7 passing for 69 yards, while Neil MacDonald ran for 41 yards and Joey Elinski for 40.
Dugan Gallagher rushed for 71 yards and had 29 yards receiving for Union, while Cole Morris had 83 yards receiving and 25 on the ground. Lucas Bowser was 10 of 21 passing for 110 yards and three interceptions.
COUDERSPORT 28, CAMERON COUNTY 7
COUDERSPORT, Pa. – Darren Keglovits threw for two touchdowns and ran for a third, as Coudersport beat visiting Cameron County 28-7 Friday night.
Keglovits was 6 of 10 passing for 203 yards including a pair of scoring passes to Jared Green, who had four catches for 149 yards.
The first scoring pass to Green covered 94 yards and the second 42. Keglovits added an 8-yard scoring run and ran five times for 15 yards.
Keglovits added seven tackles on defense with Green coming away with six stops.
Anderson Nicka chipped in with a short TD run for the Falcons (4-4, 3-1 AML North).
Adam Streich gave Cameron County (1-7, 1-3) a 7-0 lead on the first play of the second quarter thanks to a 31-yard touchdown run. He carried the ball six times for 18 yards and was 6 of 17 passing for 45 yards and an interception.
DUBOIS 55, FRANKLIN 36
FRANKLIN, Pa. – Braden Paulinellie and Dante Dawson each had huge games to lead DuBois to its fourth straight win with a 55-36 victory at Franklin Friday night.
Paulinellie ran 24 times for 196 yards and three touchdowns, and Dawson scored four times including catching 10 passes for 193 yards and three touchdowns and returning an interception for a score.
Matt Miller was 17 of 28 passing for 291 yards and the three touchdowns. He hit Dawson on scoring passes on 4, 51 and 51 yards. Paulinellie, meanwhile, scored on runs of 3, 1 and 32 yards.
DuBois (5-3 overall, 3-2 D10 Region 5) led 21-0 at the end of the first quarter and 28-0 before Franklin got on the board.
Porter Rembold had a huge game for the Knights (4-4, 1-3) going 25 of 46 for 417 yards, three touchdowns and two interceptions. Kahlil West had 10 catches for 150 yards and two touchdowns catching scoring passes of 71 and 9 yards.
Wes Russell (2-yard run) also scored for DuBois, which outgained Franklin 624 to 447. Colin Read added four catches for 69 yards for the Beavers, while Miller ran for 24 on six carries.
CLEARFIELD 49, BALD EAGLE AREA 12
HYDE, Pa. – Ryan Lezzer scored three times, as Clearfield romped past visiting Bald Eagle Area 49-12 Friday night.
Lezzer caught a pair of touchdown passes (50 and 13 yards) from Cody Spaid, who also threw a 39-yard touchdown pass to Travis Ogden, and added an 18-yard scoring run.
Lezzer finished with four catches for 96 yards and ran five times for 77 yards with Spaid going 7 of 11 for 167 yards, three touchdowns and an interceptions.
Seth Caldwell, who ran for 110 yards on 14 carries, chipped in with a 4-yard run for the Bison (7-1, 6-0 Mountain League), who officially clinched the Mountain League title with the victory, Corey Shimmel had a 2-yard touchdown run and Jake Wingate a 61-yard interception return for a score.
BROOKVILLE 16, A-C VALLEY 8
FOXBURG, Pa. – Brandon McGranor and John Frank scored first-half touchdowns to lead Brookville to a 16-8 win at winless A-C Valley Friday night.
McGranor capped a long opening drive for the Raiders with a 7-yard scoring run, and Frank added an 8-yard touchdown run on the first play of the second quarter.
McGranor ran 14 times for 88 yards, while Frank, who didn't have a second-half carry, had 35 on 10 totes. Logan Thrush chipped in with a game-high 96 yards rushing on 18 carries.
A-C Valley, which had 46 yards of total offense, all on its lone touchdown drive, scored on an 11-yard Evan Redding touchdown run late in the third quarter.
Redding ran nine times for 45 yards and was 1-for-3 passing for three yards and an interception.
Seth Ray had the pick for Brookville off a tipped ball on the next-to-the-last play of the game. Thrush also had an interception early for the Raiders, who outgained A-C Valley, losers of 30 straight, 250-46.
CONNEAUT 75, BRADFORD 6
LINESVILLE, Pa. – Hunter Merritt ran for 171 yards and four scores and threw for a fifth touchdown, as Conneaut rolled right over winless Bradford 75-6 Friday night in Linesville.
Merritt scored on runs of 38, 72, 8 and 30 yards for Eagles and tossed a 63-yard pass to Henry Litwin.
Conneaut (8-0 overall, 4-0 D10 Region 5) led 55-6 at halftime.
Connor Mattera also scored twice for the Eagles, while Alex Colissimo found the end zone on a 1-yard run in the second quarter for Bradford's lone score.
The Owls are now 0-8 overall and 0-5 in league play.