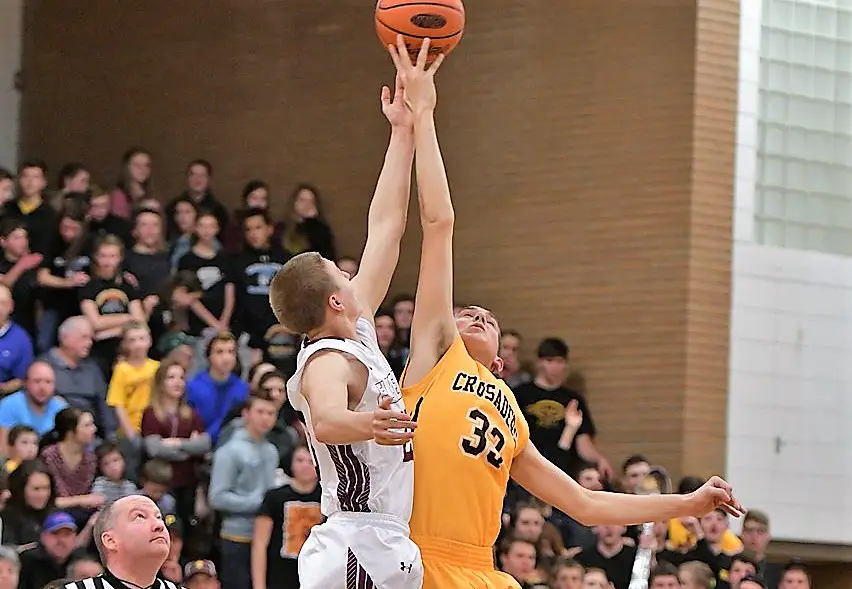 CLARION, Pa. – The District 9 boys' basketball playoffs start in earnest with games Wednesday.
(Cover photo of the tip between Ridgway and Elk County Catholic in the AML Title Game. With the teams being in different classifications this year, they both could end up as D9 Champs. Photo by Leo Szczesny, Sunken Branch Photography)
DuBois technically got things started Monday with a loss in the District 6-9 semifinals at Hollidaysburg, but the Beavers were the lone team to play in the early part of the week.
Here is a quick class-by-class look at the playoff picture.
CLASS 1A
No. of Team in Bracket: 7
No. of Team to PIAA Playoffs: 4
Top Seed: Elk County Catholic
Bracket Outlook: This bracket really has the feel that it is for second, third and fourth place. Elk County Catholic (24-0), which locked up the top seed in January, is the prohibitive favorite to roll to another D9 title. The Crusaders are a well-balanced, well-oiled machine led by 1,000-point scorer Nate DaCanal (15.1 ppg) as well as Gabe Kraus (14.5 ppg) and Ryan Newton (11.2 ppg). Where things get interesting is in the battle of who will face the Crusaders in the title game. Some are betting that seventh-seeded Johnsonburg (10-12) might be the second-best team in the bracket despite entering with a losing record. The Rams schedule has been tough with two losses each to ECC and Ridgway, the second-seed in the 2A bracket, as well as a loss to Punxsy, the second seed in 4A, Kane, the top seed in 3A. In fact, all 12 losses have come vs. teams that qualified for the playoffs on merit, and the Rams did beat Kane late in the regular season. Johnsonburg doesn't have a player scoring in double digits but is led by Drew Akers (9.8 ppg) and Ryan Kilhoffer (9.5 ppg). But Jburg's game with second-seeded Cameron County (15-7) won't be an easy one. The Red Raiders have won six straight, 8 of 9 and 11 of 13. Adam Shaffer leads a balanced attack at 12.8 ppg. A rivalry game makes up the other half of that side of the bracket, as Oswayo Valley, the sixth seed, battles Otto-Eldred, the third seed, in a game that features schools that co-op in football. The Green Wave (12-10) were swept in the regular season by Otto (13-9) but the games were close and another close one could be in store with a PIAA playoff berth on the line. Oswayo has three players averaging in double digits led by Theo Henry (16.2 ppg) with Garrett Babcock adding 11.2 ppg and Gavin Babcock 10.5 ppg. The Terrors are led by Dylan Close's 10.4 ppg. On the other side of the bracket, ECC awaits the winner of the four-five game between fourth-seeded North Clarion (13-9) and fifth-seeded Port Allegany (12-10). The Wolves are paced by Nathan Banner (15.2 ppg) and Chase Schmader (11.5 ppg), while Port Allegany features Brandon McCaslin (15.2 ppg) and Howard Stuckey (14.1 ppg). A Gators win, just like a Cameron County win, would guarantee the North Tier League two PIAA playoff spots with the possibility of the league getting an unheard of three state berths, a byproduct of the new six-classification system.
CLASS 2A
No. of Team in Bracket: 6
No. of Team to PIAA Playoffs: 3
Top Seed: Coudersport
Bracket Outlook: Easily the best bracket in District 9 – boys or girls – with any of the six teams more than capable of winning the title. Top-seeded Coudersport (22-0) appears to be the favorite. The Falcons score in bunches averaging 68.3 ppg with three players in double digits. Jared Green, a 1,000-point junior, leads the way at 17.2 ppg while sharpshooting sophomore Owen Chambers adds 15.8 and senior Aaron Wolfinger, Green's cousin, chips in 10.0 ppg. While Coudy is an offensive juggernaut, second-seeded Ridgway (20-4) likes to play a more methodical game. The Elkers, who only lost to Coudersport by two in January, do have three players averaging in double figures led by Justin Kasmierski (13.0 ppg). Neil MacDonald adds 10.4 ppg and Andy Breier 10.3 ppg. Third-seeded Keystone (19-4) is having its best season since 2009 and already has a KSAC Championship to show for it. The Panthers also like a slower pace and are led by senior 1,000-point scorer Austin Ion (14.8 ppg), who is the lone player in double digits. Keystone does have four other guys average at least 7.3 ppg. Fourth-seeded Clarion-Limestone (17-6) is an enigma. The Lions have one of the most talented big men in D9 in senior Dan Callen (19.0 ppg) and have played extremely well at times. But they limp into the postseason off back-to-back losses to Clarion and Keystone in games that they played poorly in. Ian Callen, Dan's younger brother, adds 11.8 ppg with freshman Deion Deas chipping in 10.1 and Christian Smith 9.9. C-L will meet up with rival Clarion Wednesday at Tippin Gym in the quarterfinals. The Bobcats last game was a win over C-L after a close loss to the Lions earlier in the year. Clarion (16-6) also has three players in double digits led by Cam Craig (13.9 ppg). Sharpshooter Reed Anthony adds 11.4 ppg with forward Ty Burford contributing 10.0 ppg. Brockway (14-9) may be the sixth seed but the Rovers own wins over both Clarion and C-L and took Elk County Catholic to overtime in the AML semifinals Thursday. Six of the Rovers losses have come by seven or fewer points or in overtime. Jarrett Esposito leads the way at 10.3 ppg, Jake Wineberg adds 10.0 ppg and Carter Adams 9.9 ppg.
CLASS 3A
No. of Team in Bracket: 4
No. of Team to PIAA Playoffs: 1
Top Seed: Kane
Bracket Outlook: Another bracket were anyone of the teams could win the title. Top-seeded Kane (16-7) has had a strange season. The Wolves seven losses have come to the likes of unbeaten ECC (twice) and Coudersport (once) as well as Ridgway (twice), Johnsonburg and Brookville. While there is no shame in those defeats its how Kane has lost that is concerning. The losses have come by an average of 21.4 ppg including a 28-point, 62-34, loss at Brookville which makes Kane, last year's 2A champion, hardly the favorite to win 3A despite one of the top big men in D9 in Andrew Bucheit (18.3 ppg), a 1,000-point scorer. Davis Gardner (9.9 ppg) and freshman Chad Greville (10.7 ppg) are also key players. Second-seeded Karns City (15-7) has split a pair of games with third-seeded Moniteau (14-8) but lost its most recent encounter to the Warriors part of a stretch that saw the Gremlins go just 3-3 in their final six games. Ian McElroy leads KC averaging 14.4 ppg with Noah Pollock chipping in 11.4 ppg and big man Chandler Turner 11.2 ppg. Moniteau is the hottest team coming into the bracket having won seven in a row and 8 of 9 including the aforementioned win against Karns City as well as an overtime victory against KSAC Championship Keystone. D9's leading scorer, Lake Pry (23.4 ppg) leads the way for the Warriors. Fourth-seeded Brookville (11-11) has had an interesting season highlighted by the victory over Kane. But that win over Kane is one of only two all season for the Raiders over a team with an above .500 record as they went 2-9 in games vs. teams that finished over .500. No Brookville player scores in double digits with freshman Aaron Park leading the way at 9.6 ppg followed by Bryan Dworek at 9.0 ppg.
CLASS 4A
No. of Team in Bracket: 4
No. of Team to PIAA Playoffs: 1
Top Seed: Clearfield
Bracket Outlook: The good bet is on Clearfield (21-1), whose only loss was Jan. 9 at Central-Martinsburg. Twelve straight wins have come since that defeat, and the top-seeded Bison are loaded with a pair of 1,000-point scorers in Tommy Hazel (19.0 ppg) and Will Myers (18.3 ppg). Evan Brown chips in 14.6 ppg. Second-seeded Punxsutawney (14-8) lost by 24, 65-41, to Clearfield Jan. 30 starting a stretch that saw the Chucks lose 4 of their final 6 games. Brandon Matthews (13.2 ppg) and Devin Kelly (12.5 ppg) lead the way for Punxsy. Third-seeded St. Marys (13-9) split its regular-season games with Punxsy but a lot like the Chucks didn't play well later in the season finishing with just four wins in its final 11 games after a 9-2 start. Jeff Wehler paces the Dutch at 20.0 ppg with Nathan Schneider (14.2 ppg) and Matt Marconi (10.6 ppg) also playing key roles. Fourth-seeded Bradford (8-13) struggled for most of the season starting the year 3-11. But the Owls started figuring things out in late January and are 5-2 since Jan. 28 including a win at Punxsutawney Friday night and over St. Marys Feb. 1. Tyler Gigliotti leads Bradford at 10.4 ppg and the recent return from injury of Deonte Terwilliger (9.3 ppg in 11 games) doesn't hurt the Owls cause.