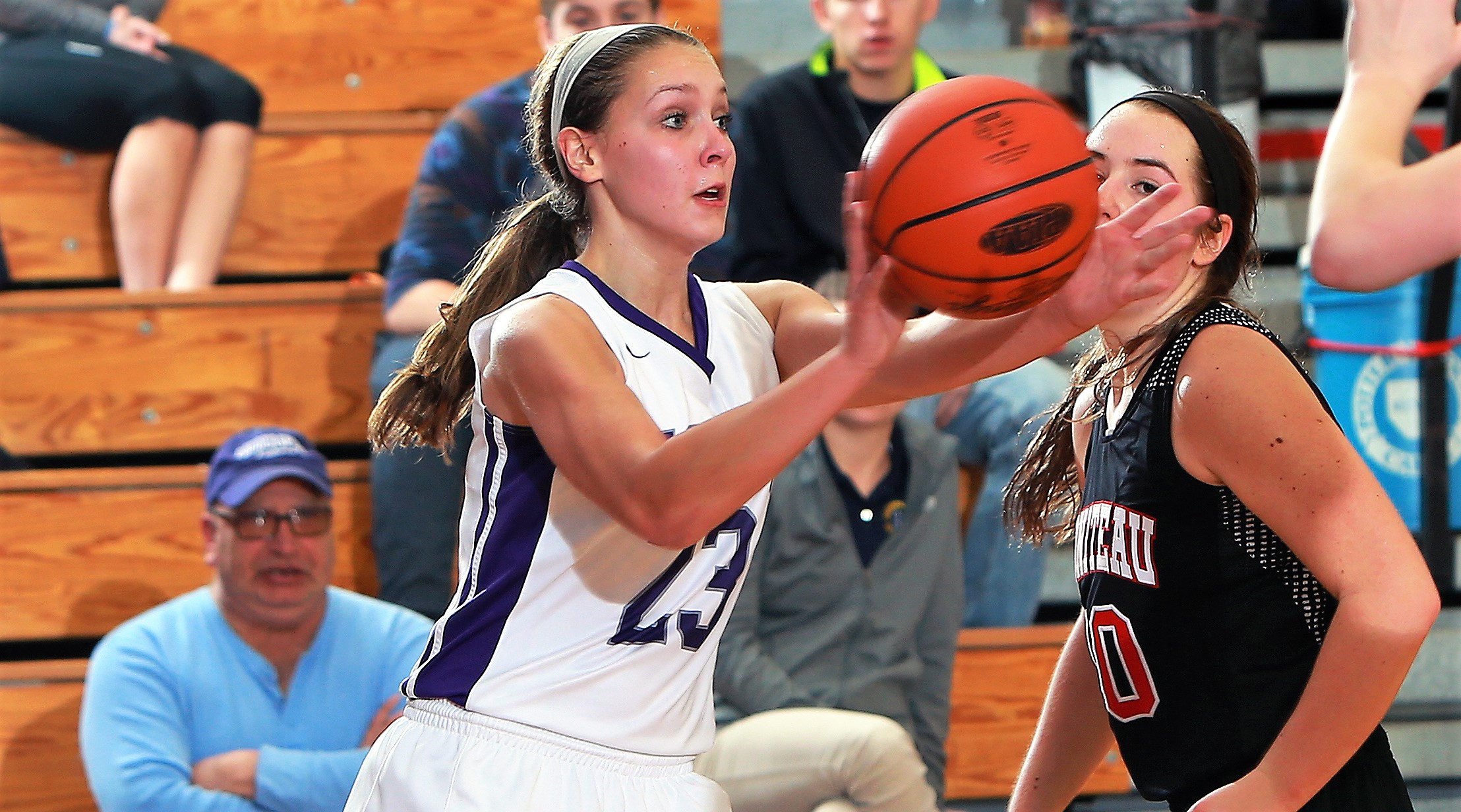 CLARION, Pa. – The District 9 girls' basketball playoffs get underway this week with action in Classes 1A, 2A, 3A and 5A with 4A playing its title game next week.
(Cover photo of Coudersport's Haley Keck. Photo by Paul Burdick. Check out more of Burdick's work here)
Here is a quick class-by-class look at the playoff picture.
CLASS 1A
No. of Team in Bracket: 9
No. of Team to PIAA Playoffs: 4
Top Seed: North Clarion
Bracket Outlook: This could be an interesting bracket as it appears the top two teams – North Clarion and A-C Valley – are on the same side of the bracket. Not much needs to be said about the She-Wolves, who are 20-2 and coming off a KSAC Title Game win Friday night over Moniteau. That victory means North Clarion has avenged both of its losses from this season, which occurred in back-to-back games in mid-January to Moniteau and A-C Valley partly due to the flu bug hitting the team. The She-Wolves are led by one of the top players in District 9 in junior forward Tori Obenrader, the district's top scorer (22.6 ppg) and second-leading rebounder (15.6 rpg), who has 22 double-doubles in 23 games. Meanwhile, don't be fooled by A-C Valley's 13-7 record. Those seven losses have come against teams – North Clarion, Moniteau (twice), Karns City (twice), Cranberry and West Middlesex with a combined 20 losses and the Lady Falcons, who feature Ellie Thompson (19.4 ppg) and Olivia Boocks (12.4 ppg) beat North Clarion, 65-64, at A-C Valley while losing by eight at North Clarion. The second seed, Northern Potter (18-4), was cruising along until losing two of it final five games including to third-seeded Otto-Eldred. The Lady Panthers are paced by Kalie Cowburn (15.9 ppg) and 1,000-point scorer Gracie Hamilton (12.0 ppg). Meanwhile, third-seeded Otto-Eldred (15-7) has rebounded nicely from a stretch that saw it lose 4 of 5 in part due to injuries to win five in a row to close out the regular season as the second-hottest team in the bracket behind North Clarion. The Lady Terrors are led by Camryn Thomas (15.4 ppg, 9.8 rpg). Fourth-seeded DuBois Central Catholic (14-8) is just 2-3 in its last five games following a four-game win streak. The Lady Cardinals are a bit of a mystery on offense and are led by Riley Assalone's 12.1 ppg. A team no one should sleep is sixth-seeded Elk County Catholic (16-8), which after losing 5 of its final 7 regular-season games swept to the AML Title in convincing fashion including a 40-34 title-game win over Kane. Riley Herzing paces the Lady Crusaders at 13.0 ppg. Seventh-seeded Johnsonburg (13-9) has shown an ability to play with anyone with wins over both Otto-Eldred and ECC, but the Ramettes also struggled down the stretch going 2-3 in their final five including losses to Curwensville and DCC. Nicole Myers leads the way at 13.3 ppg. Eighth-seeded Smethport (10-12) and ninth-seeded Brockway (9-13), who was a bit of a surprise in entering the postseason, both go into the playoffs at sub-.500 and play the lone first-round game Tuesday in Smethport. The Lady Hubbers are paced by Abbey Woodard (21.0 ppg), while Leah Lindemuth (14.2 ppg) and Kaitlyn Morelli (12.3 ppg) lead the Lady Rovers, whose didn't beat a team above .500 all season going 0-11 in such games.
CLASS 2A
No. of Team in Bracket: 5
No. of Team to PIAA Playoffs: 3
Top Seed: Coudersport
Bracket Outlook: This is an interesting bracket in that anyone of the top three teams could win the title. Top-seeded Coudersport (21-1) enters as the favorite with the Lady Falcons lone loss coming to 3A top seed Moniteau. Coudersport has won nine in a row since that January loss, and it has rarely been tested with only three of the 21 wins coming by single digits. Haley Keck (18.3 ppg) leads the way followed by Ally Easton (12.3 ppg). Second-seeded Kane (19-5) saw its eight-game win streak snapped with a loss to ECC in the AML Title Game Saturday. Three of Kan's five losses were to the Lady Crusaders with the other two coming to North Clarion, the top seed in the 1A bracket and St. Marys. The inside duo of Ella Marconi (14.3 ppg) and Trinity Clark (13.5 ppg) make the Lady Wolves a tough inside matchup. Third-seeded Cranberry (17-5) has enjoyed a nice bounce-back season under second-year head coach Carrie Melat, but by the time the Berries play their semifinal game against Kane at a date and time to still be determined, they will be going on at least two weeks since their last game Feb. 10, so rust could be a factor. Underclassmen Erin Merryman (13.4 ppg) and Malliah Schreck (12.7 ppg) lead the way. The lone quarterfinal contest features fifth-seeded Curwensville (10-12) playing fourth-seeded Port Allegany (13-9) Tuesday at Elk County Catholic. The Lady Tide enter the playoffs on a roll having won 6 of 8 after a 4-10 start. Hannah Dixon, who recently topped 1,000 points, leads the way at 18.9 ppg with Madison Weber chipping in 12.3 ppg. Port Allegany also comes into the postseason on a roll with a six-game win streak. Autumn Buchsenschutz, another 1,000-point lady, paces the Lady Gators at 14.6 ppg with Cailey Barnett stepping into a key role this season at 12.5 ppg.
CLASS 3A
No. of Team in Bracket: 2
No. of Team to PIAA Playoffs: 1 (A play-in game with District 8 was going to be required but D8 has no team entered)
Top Seed: Moniteau
Bracket Outlook: It will be a Butler County rivalry in the title game Friday at a site and time to be determined when Moniteau takes on Karns City. The teams split their regular-season meetings with each squad defending home court. Moniteau won 52-46 in December and Karns City took home a 47-44 win on a Mackenzie Craig three with under 10 seconds to play Feb. 7. Karns City (17-5, which enters the title game on an 11-game win streak, won three straight titles in Class 2A before moving up to 3A this year. Moniteau (19-3) fell on a late shot in the KSAC title game Saturday. The Lady Warriors have a pair of 1,000-point scorers in Kristina DeMatteis (17.0 ppg) and Alazia Greaves (16.1 ppg), while Karns City has one in junior Emily Hegedus (17.5 ppg) with Craig adding 15.0 ppg.
CLASS 4A
No. of Team in Bracket: 2
No. of Team to PIAA Playoffs: 1
Top Seed: Punxsutawney
Bracket Outlook: Punxsutawney (17-4) appears to be the prohibitive favorite in the title game, which is still waiting on a date, time and location, against Clearfield (11-11), which backs into the postseason having lost 5 of 6. The Lady Chucks are led by Leah Miller (16.9 ppg, 14.8 rpg) and Kate Horner (13.3 ppg), while Clearfield is paced by Alayna Ryan (14.9 ppg) and Brooke Cline (11.6 ppg). The teams played in early January in Punxsutawney with the Lady Chucks winning 50-33.
CLASS 5A (WITH DISTRICT 6 AND 8)
No. of Team in Bracket: 4
No. of Team to PIAA Playoffs: 2
Top Seed: Obama Academy
Bracket Outlook: DuBois (13-9) is the lone D9 5A team so the Lady Beavers play in a sub-regional with Districts 6 and 8. After an 0-5 start, DuBois is on roll winning 13 of 17 to finish out the season, and they are led by one of the top players in District 9 in Ashley Hallowell, who averages 16.8 ppg and a D9-leading 18.1 rpg. The second-half of the season surge gives DuBois a home playoff game Wednesday against Bellefonte (11-11), which is believed to be the Lady Beavers first home playoff game in over 20 years. Bellefonte plays in the Mountain League along with Clearfield, and the Lady Raiders split with the Lady Bison winning 55-52 in Clearfield and losing 39-34 in Bellefonte. Clearfield beat DuBois, 52-45 Dec. 23 the fifth straight loss to start the season by the Lady Beavers. In the other half of the bracket, Hollidaysburg (7-13) takes on Pittsburgh City League Champion Obama Academy (16-8), also Tuesday.