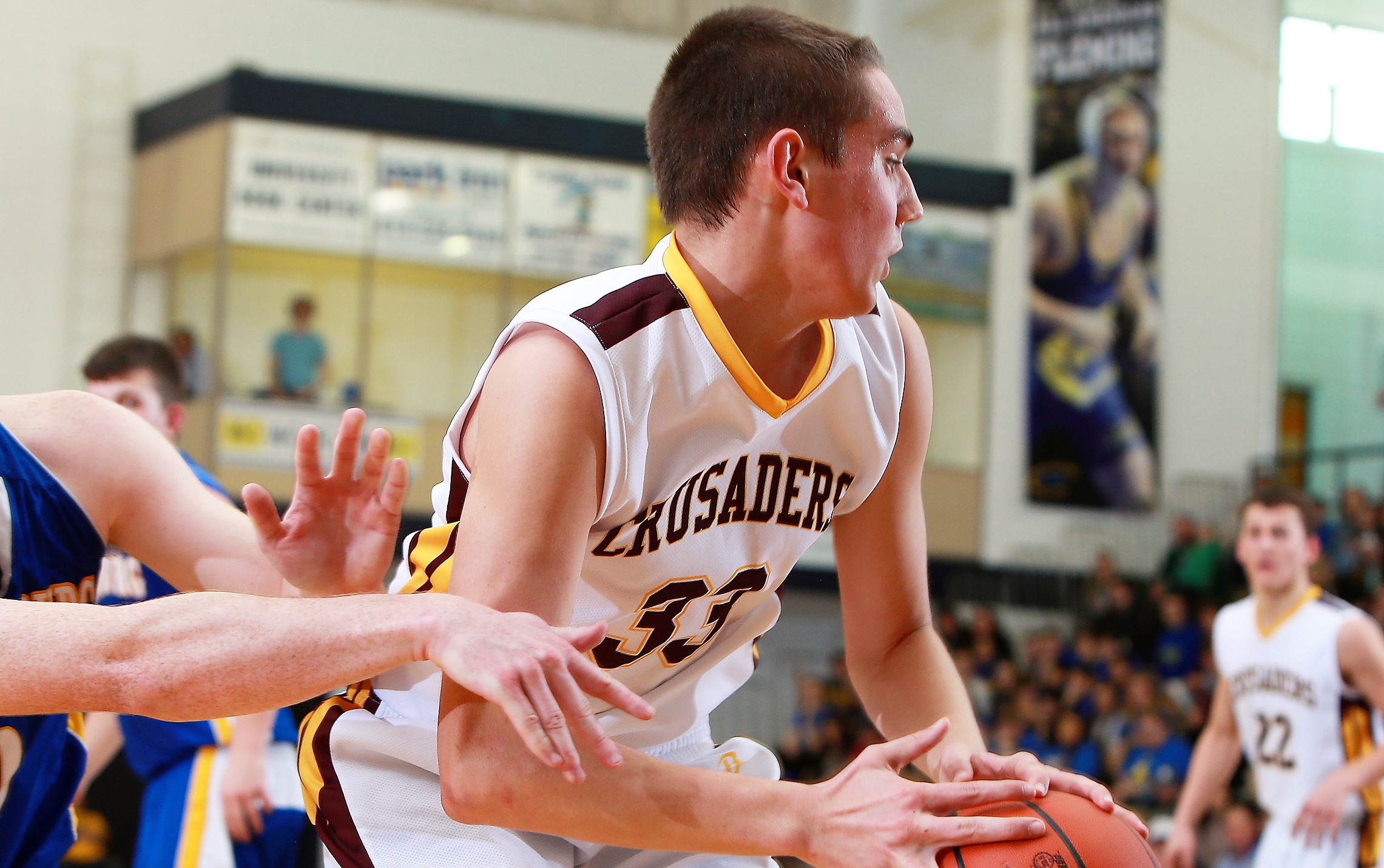 CLARION, Pa. – The District 9 boys' basketball playoffs get underway Wednesday with opening-round action going through Friday.
(Ryan Newton will try to help ECC win its third straight D9 Class 1A title. Photo by Paul Burdick. Check out more of Burdick's work here)
Here is a quick class-by-class look at the playoff picture.
CLASS 1A
No. of Teams in Bracket: 8 (View bracket)
No. Of Teams to PIAA Playoffs: 4
Top Seed: North Clarion
Defending Champion: Elk County Catholic
Bracket Outlook: North Clarion is a surprise top seed in the bracket after Elk County Catholic dropped a pair of games to end the regular season. But the Wolves (19-3) have won 10 of 11 going into the postseason. North Clarion plays a frantic style that sees it going up and down the court with the Wolves averaging 69.3 points per game led by Nathan Banner's 16.5 ppg. Banner is 19 points shy of 1,000 in his career. Six-foot-7 Kyle Mills adds 9.5 ppg for North Clarion, which has six players averaging at least five points per game and goes 11 deep. ECC (19-5) has slipped down the stretch losing three of four, but the Crusaders should still be considered one of the favorites to win their third consecutive D9 1A title. Senior Ryan Newton paces ECC averaging 17.7 ppg with Alex Breindl adds 9.2 ppg. Third-seeded Cameron County (16-5) is also struggling entering the playoffs having lost 3 of 4. Adam Shaffer leads the Red Raiders averaging 18.0 ppg with Marcus Brown chipping in 12.0 ppg. Fourth-seeded Johnsonburg (16-7) is another strong contender for the title, and the Rams own signature wins over Coudersport and Brookville but lost twice to ECC. Johnsonburg struggles to score averaging 49.7 ppg. Austin Green leads the Rams at 11.5 ppg Kacey Raubenstrauch chips in 9.4 ppg. Fifth-seeded Otto-Eldred (15-7) comes into the playoffs having won 11 of 13. It is a balanced offense for the Terrors with Sawyer Drummond leading the way at 10.9 ppg with Dylan Close adding 8.2 ppg, Jordan Sherwood 8.1 ppg and Trey Dalton 7.7 ppg. Austin (13-9), the sixth seed, might be the story of the tournament, though. The Panthers are back in the playoffs for the first time since the 2004 season and amazingly have won 13 games this year after winning 19 totals games since 2005 (19-271) heading into this season and 12 games (12-139) from 2011 to 2017. And it's a young team with only one senior – a foreign exchange student. Four players average in double digits for Austin led by Dempsey Glove at 13.5 ppg. Blake Burgett adds 11.7 ppg, Jackson Glover 10.2 ppg and Mason Valenti 10.1 ppg. Oswayo Valley, the seventh seed, comes in at 11-11 but the Green Wave enter the postseason having lost four in a row and has gone 4-8 in last 12 contests. Theo Henry leads Oswayo Valley at 18.9 ppg and has a shot at 1,000 career points if he can have a strong game vs. ECC or if the Green Wave pull off the upset as he unofficially sits 30 points shy of the mark. Gavin Babcock adds 14.9 ppg. A-C Valley is the eighth seed and the Falcons (9-13) are a bit of a surprise entrant. But it's a young team that while losing twice to top-seeded North Clarion fell by just six points, 49-43, the last time they played Jan. 19. But that loss also started a stretch that saw A-C Valley lose seven of its next eight games. Since then, the Falcons have rebounded and won three of four entering the playoffs. Eddie Stevanus paces A-C Valley at 12.8 ppg with Russ Carr adding 10.9 ppg and Dalton Callander 10.1 ppg.
CLASS 2A
No. of Teams in Bracket: 7 (View bracket)
No. Of Teams to PIAA Playoffs: 3
Top Seed: Ridgway
Defending Champion: Coudersport
Bracket Outlook: Top-seeded Ridgway (24-0) is the lone unbeaten boys' team in District 9, and the Elkers have shown their worth with a win over Coudersport, the second seed, as well as three wins over Elk County Catholic, including in Saturday's AML Title Game. The Elkers, who finished third in D9 last year but advanced to the PIAA Elite Eight, run a methodical offense that averages 53.0 ppg but the Ridgway defense allows just 33.3 ppg. Neil MacDonald leads the Elkers at 11.5 ppg, Andy Breier chips in 10.6 ppg and Johnny Mitchell 10.2 ppg. Point guard Daunte Allegretto adds 7.9 ppg. Coudersport (19-3), the second seed and defending champion, fell by just two on the road to Ridgway, 59-57, and have lost three games by a grand total of seven points. The Falcons are the opposite on offense than their nearest competitor, Ridgway, averaging a District 9-leading 77.6 ppg. A pair of 1,000-point scorers lead the way for Coudersport with senior Jared Green having scored 1,471 career points and junior Owen Chambers 1,311. Chambers is the second-leading scorer in District 9 at 24.7 ppg while Green adds 18.0 ppg and Hunter Ricke 11.0 ppg. The next three seeds are all from the KSAC with Keystone (16-6) in at No. 3, Clarion-Limestone (17-6) at No. 4 and Clarion (16-6) at No. 5. Keystone is just 3-4 in its last seven games. The Panthers are led by Dalton Jones (12.0 ppg), Corey Rapp (11.3 ppg), Isaak Jones (8.6 ppg) and Nate Wingard (8.3 ppg). C-L also has struggled a bit coming into the postseason going 2-3 in its last five but one of those wins was a 51-32 victory over Karns City in the KSAC Title Game Friday. The Lions swept the season series from its quarterfinal opponent Clarion beating the Bobcats by scores of 57-42 and 52-44. Junior Ian Callen (1,005 career points) averages 19.0 ppg while Christian Smith adds 15.0 ppg, Deion Deas 13.5 ppg and freshman Hayden Callen 10.1 ppg. C-L averages 67.2 ppg as a team. Clarion comes into the postseason as one of the hottest teams in the bracket having won 14 of 16 with the only losses to C-L and Coudersport. Clarion is 16-3 after an 0-3 start the was due in part to the school's long run in the PIAA football playoffs. Cam Craig, a 1,000-point career scorer with 1,086 career tallies, is the leading scorer at 18.2 ppg. Austin Hummell adds 14.0 ppg, freshman Calvin German 7.6 ppg and Spencer Miller 7.3 ppg. Neither Miller nor German played in the first three games of the year. Brockway (11-12) is the sixth seed. The D9 runners-up a year ago have found the going rough down the stretch having lost four in a row heading into the postseason and five of six, all to playoff teams in either Class 1A or 2A. Carter Adams (15.4 ppg) and Noah Vokes (10.4 ppg) lead the way for the Rovers. Seventh-seeded Curwensville (11-11) is also just 4-6 in its last 10. The Golden Tide look to Josh Terry (19.7 ppg), Christian Bakaysa (11.0 ppg), Devan Barrett (9.7 ppg) and Avery Francisco (7.8 ppg) to lead the way.
CLASS 3A
No. of Teams in Bracket: 3 (View bracket)
No. Of Teams to PIAA Playoffs: 1
Top Seed: Karns City
Defending Champion: Karns City
Bracket Outlook: Karns City (16-7) is the defending champion but the Gremlins are a bit of a surprise as the top seed with two of the teams top players being freshmen in Chase Beighley (13.9 ppg) and Nathan Waltman (7.0 ppg). Jacob Friel (7.7 ppg) and Nolan Riley (8.1 ppg) add strong senior leadership while Austin Fahlor scores 11.7 ppg for the KSAC South champions. Second-seeded Brookville (13-9) is struggling coming into the postseason having lost five of six and six of nine. The Raiders, who lost to Karns City in the title game last year, are led by sophomore Aaron Park (13.1 ppg) with Bryan Dworek adding 9.5 ppg and Trenton Gilhousen 8.5 ppg. Kane (8-14) is the third seed. The Wolves have wins over two teams with a winning record, Smethport and Otto-Eldred and lost to Brookville, 58-32, early in the season. They do enter the postseason having won two straight. Chad Greville leads the way averaging 16.3 ppg with Al Rezzelle adding 8.1 ppg.
CLASS 4A
No. of Teams in Bracket: 4 (View bracket)
No. Of Teams to PIAA Playoffs: 1
Top Seed: Bradford
Defending Champion: Clearfield
Bracket Outlook: This is a tournament that could be won by any of the four teams in it. Top-seeded Bradford (13-8) is the hottest team in the bracket having won five in a row and 6 of 7 including a win over Elk County Catholic that helped the Owls secure a tie for the D9 League title. Tyler Gigliotti (15.2 ppg) and Deondre Terwilliger (15.1 ppg) both average over 15 points per game but are the only players averaging more than seven for Bradford. Bradford just beat its semifinal opponent, Punxsutawney, 69-44, Friday at home after taking care of the Chucks 55-52 in Punxsutawney. Second-seeded Clearfield (13-9) is the three-time defending champion but the Bison had to replace all of the key players from those titles going into this season. After a slow start, they are 10-4 in their last 14. Reese Wilson leads the offense at 11.9 ppg with Cade Walker adding 9.5 ppg and Jon Gates 8.7 ppg. Third-seeded St. Marys (12-10) has wins over Coudersport, ECC, General McLane, Keystone and Brookville while also splitting with Bradford. The Dutch have won 6 of 8 coming into the postseason. Nathan Schneider is the District's leading scorer at 25.2 ppg while Jared Groll adds 13.8 ppg. Fourth-seeded Punxsutawney (11-11) started the season 5-10 but has gone 6-1 down the stretch with the only loss at Bradford Friday. Brandon Mathews, a 1,000-point scorer at 1,055 career tallies, leads the Chucks averaging 18.9 ppg. Tyler Richardson and Ethan Blose each add 19.2 ppg.