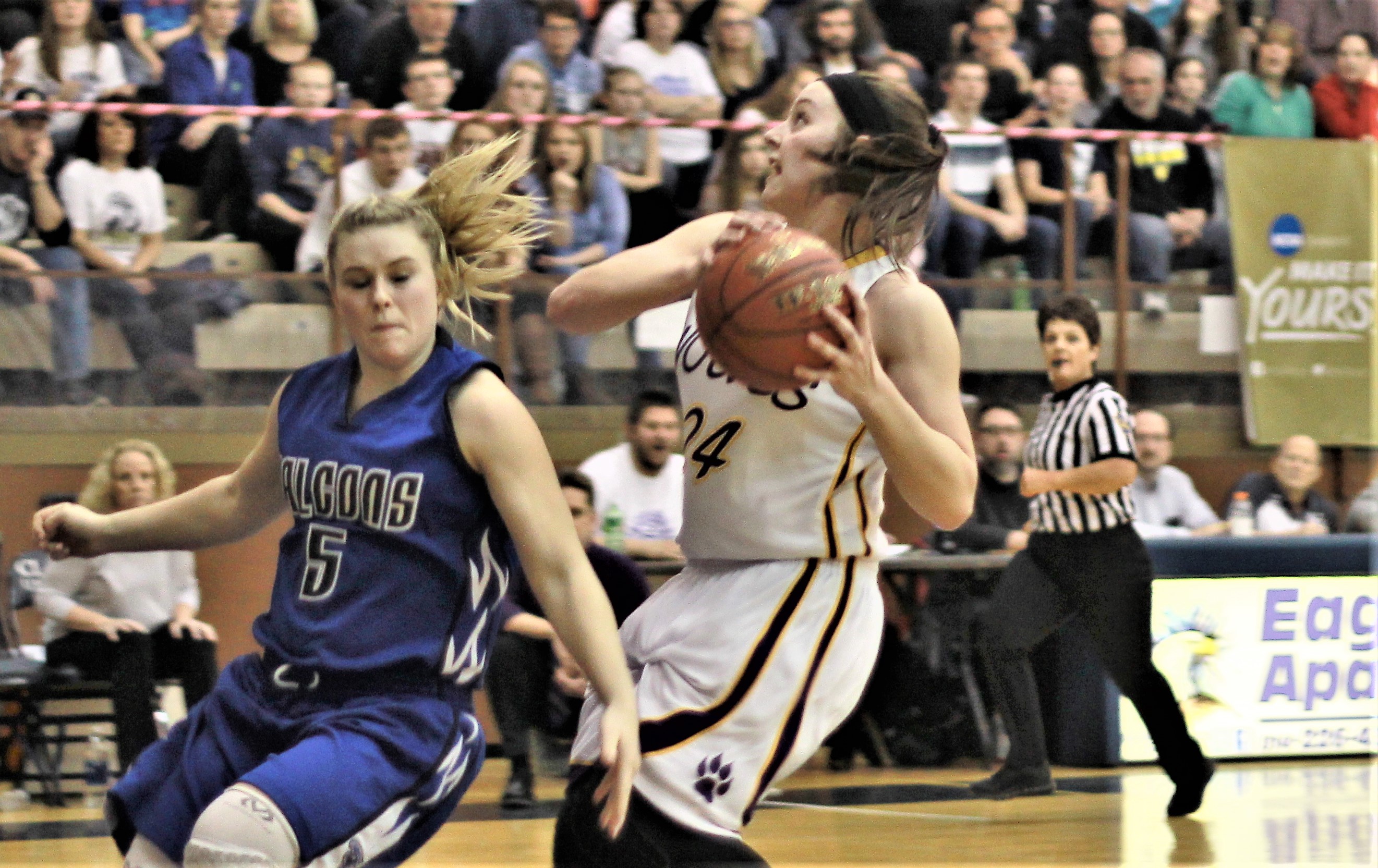 CLARION, Pa. – The District 9 girls' basketball playoffs get underway Tuesday with action continuing through the week.
(Photo: North Clarion's Tori Obenrader will try to help the She-Wolves defend their D9 Class 1A title. North Clarion is the top seed n the 1A bracket and will play the winner of the DuBois Central Catholic at Cameron County game in the quarterfinals. Photo by Jared Bakaysa of JB Graphics. See more of Bakaysa's work here)
Here is a quick class-by-class look at the playoff picture.
CLASS 1A
No. of Teams in Bracket: 9 (View bracket)
No. Of Teams to PIAA Playoffs: 4
Top Seed: North Clarion
Defending Champion: North Clarion
Bracket Outlook: Chances are strong that the title game will either be a rematch of last year's championship game between North Clarion and Otto-Eldred, won by North Clarion 53-40, or a rematch of this year's KSAC Title Game between North Clarion and A-C Valley, won by North Clarion, 54-49. Those three teams, the top three seeds, appear to be the favorites but there are also a couple of other teams to watch out for in the bracket, especially fourth-seeded Northern Potter, which owns a win over Otto-Eldred, and fifth-seeded Elk County Catholic, which just took one-loss Kane down to the wire in the AML Title game over the weekend. North Clarion enters the playoffs as the lone unbeaten team in District 9 girls' basketball at 23-0, and the She-Wolves have the reigning District MVP in senior Tori Obenrader. Obenrader is having another fantastic season and is second in D9 in both scoring (24.6 ppg) and rebounding (15.2 rpg) with 21 double-doubles in 23 games. In the KSAC Title Game win over A-C Valley, she became just the sixth girls' player in D9 history to score 2,000 career points and has 2,004 while adding 1,497 career rebounds. Abby Gatesman adds 10.8 ppg for the She-Wolves. Second-seeded Otto-Eldred 19-3 has a 1,000-point scorer in the middle as well in senior Camryn Thomas (1,297 career points). Thomas is averaging 17.1 points and 8.9 rebounds per game and has delivered eight double-doubles on the year. Ali Cousins also reached double digits for the Lady Terrors, who three losses have come to one-loss Kane, three-loss Coudersport and five-loss Northern Potter, averaging 11.6 ppg. A-C Valley is 18-5 on the year but two of those losses have come to North Clarion with another to Punxsutawney, the top seed in the Class 4A tournament and another to West Middlesex, one of the favorites in District 10 Class 2A. The Lady Falcons are also led by the school's all-time leading scorer in senior Ellie Thompson (1,430 points), who comes into the postseason averaging 19.5 points per game. A-C Valley has overcome the midseason loss of point guard Olivia Boocks to an injury thanks in part to the play of Cami McNany (9.1 ppg) and Kylee Eaton (9.8 ppg). Fourth-seeded Northern Potter also has a 1,000-point scorer in Kalie Cowburn (1,127 career points), who is averaging 13.5 ppg. Mikayla Lewis adds 10.3 for the Lady Panthers (17-5), who enter the postseason on a nine-game win streak including the victory over Otto-Eldred. ECC (15-9) has been an up-and-down team this year sometimes looking like a serious contender and at other looking like a team that could get bounced early. The Lady Crusaders rely on sophomore Taylor Newton (14.5 ppg) to carry the load with Josie Smith adding 9.3 ppg. The sixth-seed is Johnsonburg (10-12), which is led by one of the top underclassmen in D9 in Cassidy King (17.1 ppg), while Brockway (10-12) checks in at the seven seed and has a 1,000-point scorer in Leah Lindemuth (1,081), who is second on the team in scoring at 13.5 ppg with Kaitlyn Morelli leading the Lady Rovers at 13.9 ppg. Tuesday night will feature a pigtail game with eighth-seeded Cameron County (10-12) hosting ninth-seeded DuBois Central Catholic (9-14) for the right to play North Clarion. Cameron has won seven of nine coming into the postseason and looks to Alyvia McKimm (10.9 ppg) to lead a balanced offense. Meanwhile, DCC started the season 1-7 under first-year head coach Jordan Hoover before rolling off seven wins in eight games. But the Lady Cardinals limp into the playoffs having lost four in a row and six of seven. Shay Gulvas (7.7 ppg) and Ashley Wruble (7.2 ppg) lead the way for DCC.
CLASS 2A
No. of Teams in Bracket: 6 (View Bracket)
No. Of Teams to PIAA Playoffs: 3
Top Seed: Kane
Defending Champion: Coudersport
Bracket Outlook: The top two seeds – Kane and Coudersport – look destined for a rematch of last year's title game won by Coudersport, 47-38, but a surging Keystone team could be a team that surprises everyone out of the fifth seed. Kane, the AML Champion, is 23-1 with the lone loss being a 12-point setback to unbeaten North Clarion. The Lady Wolves beat second-seeded Coudersport (19-3) by three early in the season and also own a pair of wins over fourth-seeded Ridgway and a two-point win over Keystone. Kane has a pair of 1,000-point scorers in senior Trinity Clark (1,176 career points) and junior Ella Marconi (1,033 career points). Marconi leads the Lady Wolves at 15.5 ppg with Clark adding 12.2 and Rachael Morgan 9.9. Coudersport also features a 1,000-point scorer in Haley Keck (1,431), who leads the team in scoring at 20.4 ppg while Shaelyn Black adds 15.2 ppg and Sarah Chambers 9.7. The Lady Falcons average 65.1 points per game as a team. Third-seeded Cranberry 14-8 is sort of an unknown. The Berries had their point guard and second-leading scorer Erin Merryman leave the team in early February during the middle of a three-game losing streak that ended in a loss to their first-round opponent, Clarion, 56-45. But since that loss Feb. 2, Cranberry has rebounded to win four of five with the lone loss being a one-point set back to Saegertown. Junior Malliah Schreck is a tough defense and is averaging 19.4 ppg including 22.3 ppg since Merryman's decision to leave the squad. Hannah Duncan (6.5 ppg including 9.2 ppg since Feb. 2) has also stepped her game up. Another 1,000-point scorer headline fourth-seeded Ridgway (12-10), as Emily Fullem is a 1,000-point, 1,000-rebound performer with 1,294 career points to her name. She is averaging a season double-double of 20.7 points and 14.6 rebounds per game while adding 5.4 blocks per contest. On the year, she has recorded 20 double-doubles in 22 games and just saw a streak of 15 straight double-doubles end an AML semifinal loss to ECC. Casey Woodford (7.8 ppg) and Alyssa Kasmierski (6.6 ppg) make sure teams can't just concentrate on Fullem. Keystone (11-11) started the year 0-6 but has gone 11-5 since then with two of the losses coming to unbeaten North Clarion, including two-point loss, another coming by just two points to Kane and the other two coming to A-C Valley and Cranberry. Yet another 1,000-point scorer lead the Lady Panthers with Taylor Geer having netted 1,318 career tallies. Geer leads Keystone at 20.1 points per game while Makenzie Byerley (7.0 ppg) and Kenzie Hovis (6.3 ppg) also play key roles. Sixth-seeded Clarion (9-13) was a bit of a surprise entrant into the field with the Lady Cats lone win over an above .500 team being the victory over Cranberry on the day Merryman left the team. But this is a very young team led by sophomore Kait Constantino (15.6 ppg) and junior Wendy Beveridge (13.4 ppg), so the experience and extra practice should pay dividends in the future.
CLASS 3A
No. of Teams in Bracket: 3 (View Bracket)
No. Of Teams to PIAA Playoffs: 1
Top Seed: Brookville
Defending Champion: Karns City
Bracket Outlook: This is truly a bracket that could be won by any of the three teams. Brookville is a heck of a story. The top-seeded Lady Raiders are 17-5 on the year after going just 6-16 a year ago. Head coach Mark Powell's chaos full-court pressure defense has led to a lot of points off turnovers this year for Brookville, whose top two scorers are Marcy Schindler (10.4 ppg) and Morgan Johnson (9.7 ppg). Morgan's twin sister, Madison Johnson, adds 7.8 ppg for the Lady Raiders, who have a bye into the title game. Moniteau (12-10) has also been a surprise this year. The favorites to win last year's title before losing on a last-second shot to Karns City, 36-35, the Lady Warriors had to replace most of their top players. But senior Emma Bair has stepped up nicely and leads Moniteau, which will try to beat Karns City for a third time this season in a semifinal contest. Bair averages 16.5 ppg and is one of two Lady Warriors in double figures being joined by Kristina Auvil (10.6 ppg) while Izzy Bair adds 9.0 ppg and Andie Arblaster contributes 7.2 ppg. Third-seeded Karns City (11-10) enters the playoffs having dropped four of six, but the Lady Gremlins do have District 9's leading scorer in senior Emily Hegedus, who averages 25.9 ppg. Hegedus is the all-time leading scorer at Karns City with 1,687 career points. Fellow senior Livia Andreassi, the daughter of head coach Steve Andreassi, adds 8.5 ppg with Alyssa Stitt chipping in 6.6 ppg. The Lady Gremlins have captured four straight District 9 titles, three in Class 2A and one in Class 3A.
CLASS 4A
No. of Teams in Bracket: 3 (View Bracket)
No. Of Teams to PIAA Playoffs: 1
Top Seed: Punxsutawney
Defending Champion: Punxsutawney
Bracket Outlook: Top-seeded Punxsutawney (17-5) has won three D9 titles in a row, two in 3A and one in 4A, and the Lady Chucks are on a roll having won 14 in a row since a 3-5 start. They also own a pair of wins of second-seeded St. Marys beating the Lady Dutch by 12 and 22 points and they own a 17-point over third-seeded Clearfield. Senior Leah Miller has incredible scored 1,000 career points and grabbed 1,000 career rebounds in just 71 games having not played varsity basketball as a freshman. Miller just went over both marks and enters the postseason with 1,019 career tallies. She is the leading rebounder in District 9 at 16.1 rebounds per game while adding 15.9 ppg with 19 double-doubles in 22 contests. In her last seven games, she is averaging 21 points and 19 rebounds per contest. Miller, though, isn't a one-woman show. Kate Horner chips in 11.7 ppg with Sarah Weaver adding 7.7 ppg. Second-seeded St. Marys (11-11) has been under the direction of interim head coach Kayla Hoohuli with the former St. Marys great who scored over 2,000 career points stepping in for her mom, Leona, who has been taking care of family business most of the season. The Lady Dutch started the year strong going 5-2 out of the gate but have but are just 5-8 since Jan. 9, although one of those wins was a 52-35 victory over Clearfield, who they host in the semifinals. Kaylee Muccio leads St. Marys in scoring at 8.3 ppg with Megan Quesenberry adding 7.4 ppg and Bekka Bauer 7.1 ppg. Third-seeded Clearfield (8-14) is 5-9 since the calendar turned over to 2018, but the Lady Bison do have one of the more exciting players in the district in junior guard Alayna Ryan (14.1 ppg). Brooke Cline chips in 10.3 ppg and freshman Megan Durandetta is an outside threat who adds 7.6 ppg while Nicollette Brossard contributes 7.5 ppg.
CLASS 5A (with Districts 6 and 8)
No. of Teams in Bracket: 3 (View Bracket)
No. Of Teams to PIAA Playoffs: 2
Top Seed: Obama Academy
Defending Champion: Obama Academy
Bracket Outlook: DuBois is the lone Class 5A school in District 9 and therefore the Lady Beavers must play in a sub-region with Districts 6 and 8 (Pittsburgh City League). But with only three teams entered in this year's bracket, the second-seeded Lady Beavers (15-7) can qualify for the PIAA playoffs with a semifinal win over third-seeded Hollidaysburg (7-15). Don't let the Lady Tigers eight-games-under-.500 record fool you thought. They beat DuBois, bad, 55-24, Dec. 18 in Hollidaysburg. The Lady Beavers have gotten better since then and have gone 10-4 since Jan. 1. Senior forward Ashley Hallowell has played a big role in that. She is averaging a season double-double of 13.5 points and 12.8 rebounds per game and has 14 double-doubles on the year. Chelsea DeSalve adds 13.0 ppg. Top players for Hollidaysburg, which also owns a win over Obama Academy (49-36), are McKenna Hurd and Abby Bettwy, while Zani Grandy-Overton and Hailee Blackwell help lead Obama Academy, which is 16-6 on year but was upset in the City League semifinals by Westinghouse, 44-33