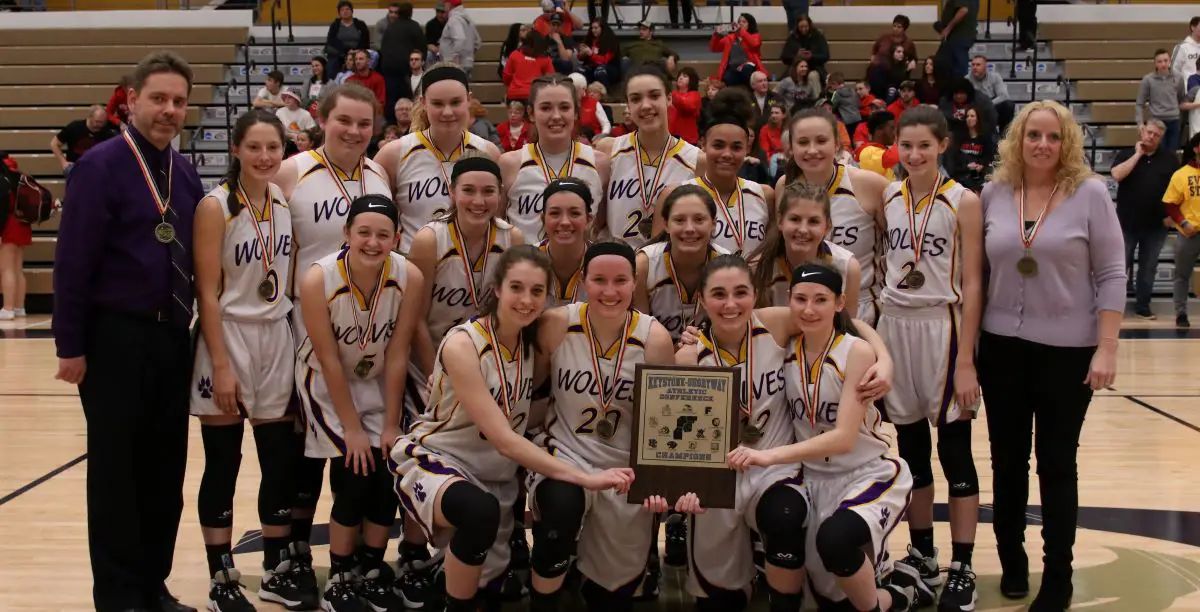 The 2020 North Clarion team was crowned the best girls' basketball team in the D9Sports.com-Era (2001-present) with a 60 percent to 40 percent win over 2018 North Clarion in the championship game.
(Photo North Clarion after winning the 2020 KSAC Title. Photo by Jared Bakaysa of JB Graphics. See more of Bakaysa's work here)
The 2020 She-Wolves recorded 404 votes to the 268 votes received by the 2018 She-Wolves.
The 2020 She-Wolves, coached by Terry Dreihaup, were 26-1 in the COVID-19 virus put a halt to their season in the PIAA Quarterfinals. The lone loss came 42-40 to Coudersport in the District 9 Class 1A championship game stopping a string of three D9 titles in a row. North Clarion bounced back from that loss to beat Sewickley Academy, 47-36, in the first round of the PIAA playoffs before knocking off defending state champion Berlin Brothersvalley, 62-43, in the second round. They were slated to play WPIAL champion Rochester in the quarterfinals when the PIAA suspended play. North Clarion was led by four seniors including Gatesman, the All American Awards & Engraving District 9 Player of the Year and a Clarion University recruit, who was an all-state selection as a junior. Gatesman was averaging 14.6 ppg, 6.6 rpg, 5.1 apg, and 3.1 spg while hitting 49 3-pointers when the stoppage occurred and had amassed 1,232 career points while being named the KSAC MVP. Third-team All-D9 selection Mackenzie Bauer (11.6 ppg, 4.0 spg, 2.9 apg), Gabby Schmader (8.5 ppg, 2.6 apg, 2.2 spg, 32 3-pointers), and Haley Sherman (9.4 ppg, 4.4 rpg, 52.3 percent shooting) were the other three key seniors on the team.
Joining the four seniors were joined on the varsity squad by Trinity Thompson, Addison Shaftic, Amya Green, Gabby DiDolce, Claire Kriebel, Gwen Siegel, and Emily Aites.
Terri Obenrader assisted Dreihaup.
The D9Sports.com Tournament of Champions is being brought to you in part by The Sportsmen Portal. The Sportsmen Portal is proud to provide businesses and organizations of all sizes in Western PA solutions to their web development needs. From sophisticated eCommerce to simple websites we have you covered. Contact us today at 717-304-2770 or visit us online at https://sportsmenportal.com/
2020 NORTH CLARION SCHEDULE