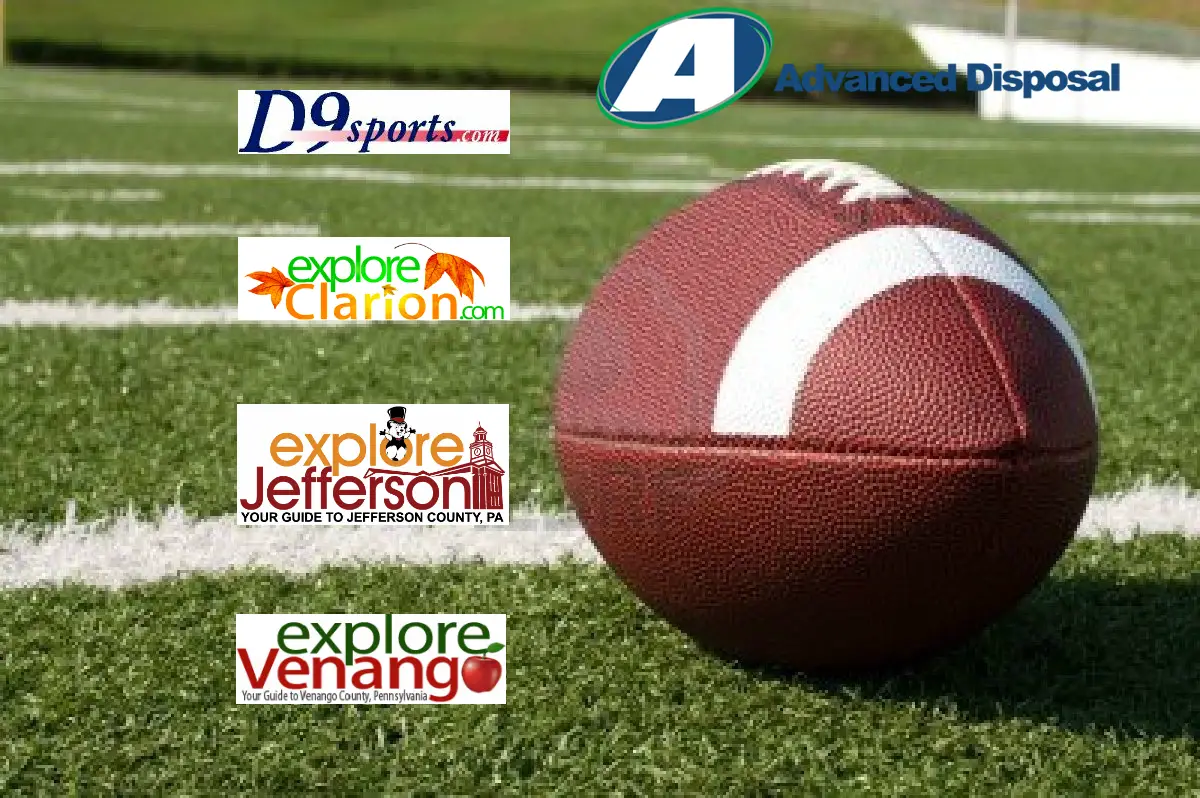 Show home page (where it can be listened to on-line)
CLARION, Pa. – For the second straight year, two of the leading internet news providers in Northwestern Pennsylvania, D9sports.com and EYT Media, the parent complany of Explore Clarion, Explore Jefferson and Explore Venango, are teaming up to produce a Friday night postgame high-school football wrap-up show on five radio stations across District 9 as well on the internet.
This year, Advanced Disposal will be the title sponsor of the show, which will air on Kool 103, 103.3 FM in Brookville, C-93, 92.7 FM in Clarion, WFRM, 600 AM in Coudersport, WHKS, 94.9 FM in Port Allegany and WPXZ, 104.1 FM in Punxsutawney as well as on www.D9Sports.com  and all three of the EYT Media sites (www.exploreclarion.com, http://www.explorejeffersonpa.com  and www.explorevenango.com).
The show will run from 9:30 p.m. to 11 p.m. every Friday night starting this Friday, Aug. 29, through at least Week 11 of the 2014 high school football season, which is Nov. 7.
D9Sports.com's Dustin Kifer and Chris Rossetti will wrap-up all the Friday night football action from across District 9 with scores, news, analysis and interviews live from the field with players, coaches and media members who were at the games.
"We are very excited to be able to bring this show to District 9 for the second straight year," D9Sports.com co-editor Rich Rhoades said. "The response across District 9 last year from both fans, coaches and players was beyond anything we ever expected but once again showed us the passion and loyalty of the great fans in District 9."
EYT Media president Jake Bauer believes the show is perfect for his company.
"In just a short period of time, we have become the go-to-place for free news on-line in Clarion, Jefferson and Venango counties," Bauer said. "Our partnership with D9Sports.com for this show just makes perfect sense. We are happy to be able to provide the great fans and players of District 9 this opportunity."
Joining Advanced Disposal as commercial sponsors of the show in 2014 will be Primary Health Care, Prime Choice Wireless, Bauer Truck Repair, Kerle Tire, Yeany's Maple Syrup. the Holiday Inn of Clarion and Dagny Design Group. Also Nupp Printing will sponsor the in-show standings, while 814Classifieds.com will sponsor the in-show scoreboard.
In addition to the show, D9Sports.com will run a live Friday night scoreboard on its site every week starting at 7 p.m. with updated scores from across District 9 up to the conclusion of the night's games. The live D9Sports.com scoreboard is sponored by the RRR Roadhouse and All American Awards & Engraving.
As a full-service environmental services company, Advanced Disposal is ready and able to meet your waste collection needs. They provide collection, transfer, disposal and recycling operations to more than 250,000 commercial customers and 2.4 million residential customers throughout Alabama, Florida, Georgia, Illinois, Indiana, Kentucky, Maryland, Massachusetts, Michigan, Minnesota, Mississippi, Missouri, North Carolina, Pennsylvania, South Carolina, Tennessee, Vermont, Wisconsin and the Bahamas. We have more than 2,900 trucks running routes daily.  Advanced Disposal offers a full range of services, including Residential Commercial Recycling, Roll-Off Containers, Special Waste, Landfills, and Transfer Stations. For more information, visit http://www.advanceddisposal.com/.
Located at www.d9sports.com, D9Sports.com is in its 15th year of covering athletics within the PIAA's District 9. The site, which is not affiliated with the PIAA in any way, covers all 25 football playing teams playing in District 9. For more information on the site, please visit it or e-mail the staff at sports@d9sports.com. The site is also active on Twitter @D9sports and on Facebook at www.facebook.com/d9sports.
Explore Your Town, Inc., is a multimedia company located in Clarion that currently runs the three websites mentioned above covering news and multiple events in those areas.