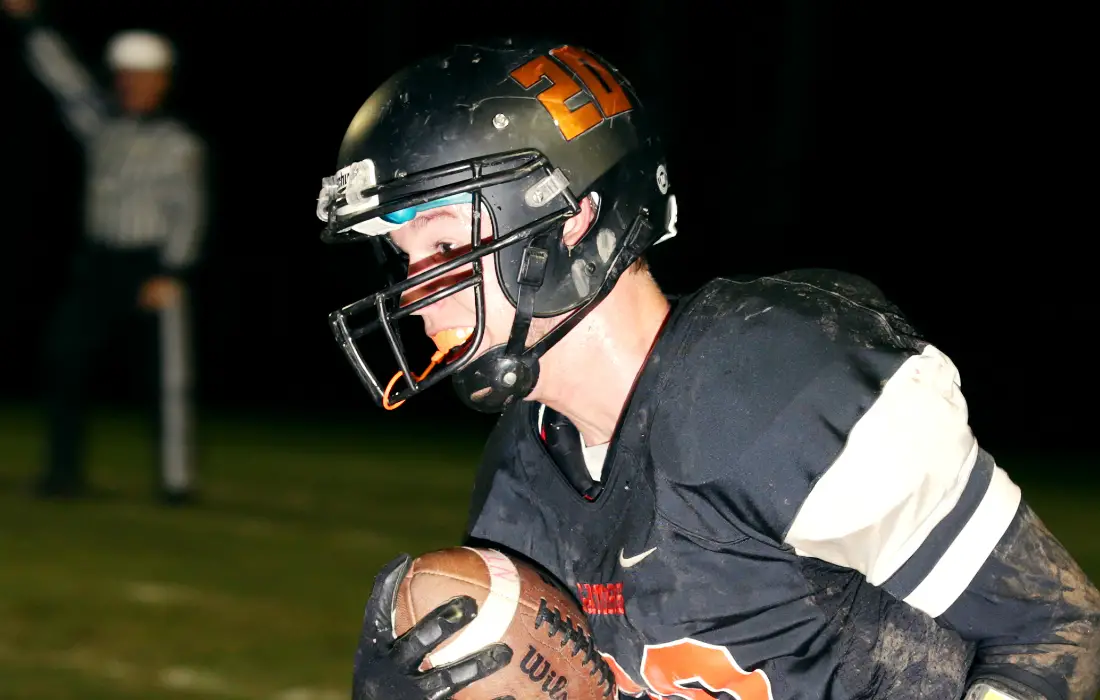 CLARION, Pa. – Scoring five touchdowns in any game is pretty special, doing so in a game that clinched a division title for your team takes it up another level.
That's one of the reasons Port Allegany senior Dylan Baumgarner is the D9Sports.com District 9 Player of the Week for Week Eight of the 2015 season.    
Baumgarner caught 11 passes for 202 yards and four touchdowns in the Gators 36-18 win over Smethport Friday night that clinched the AML North title for Port Allegany and he added a rushing touchdown while carrying the ball four times for 14 yards. He also played an outstanding game on defense making eight tackles and in addition handled the punting duties for the Gators.
Baumgarner's performance may have been the best in District 9 this week, but it was not the only one. In fact, 32 different players were considered for the 16 spots on the Player of the Week/Honor Roll making it probably the biggest grouping of players to be considered this season.
Joining Baumgarner in being honored on the Honor Roll is teammate Tre Garzel, who threw the four touchdown passes to him, as well as 14 additional players.
D9SPORTS.COM PLAYER OF THE WEEK
Dylan Baumgarner – Port Allegany: 11 catches, 202 yards, 4 touchdowns; 4 carries, 14 yards, 1 touchdown; 8 tackles on defense – Port Allegany 36, Smethport 18
D9SPORTS.COM HONOR ROLL  
Bo Miller – Clarion: 9-for-13 passing, 115 yards, 3 touchdowns; 6 carries, 30 yards; 6 tackles on defense – Clarion 35, St. Mary 12  
Anthony Louder – Clarion-Limestone: 18-for-29 passing, 306 yards, 4 touchdowns, 2 interceptions; 11 carries, 64 yards, Intercepted a pass on defense – Clarion-Limestone 47, Punxsutawney 26
Mike Macefe – Clarion-Limestone: 20 carries 123 yards, 3 touchdowns – Clarion-Limestone 47, Punxsutawney 26  
Ryan Lezzer – Clearfield: 4 catches, 96 yards, 2 touchdowns; 5 carries, 77 yards, 1 touchdown – Clearfield 49, Bald Eagle Area 12
Cody Spaid – Clearfield: 7-for-11 passing, 167 yards, 3 touchdowns, 1 interception – Clearfield 49, Bald Eagle Area 12
Darren Keglovits – Coudersport: 6-for-10 passing, 203 yards, 2 touchdowns; 7 tackles on defense – Coudersport 28, Cameron County 7
Dante Dawson – DuBois: 10 catches, 193 yards, 3 touchdowns; Returned an interception for a touchdown – DuBois 55, Franklin 36
Matt Miller – DuBois: 17-for-28 passing, 291 yards, 3 touchdowns – DuBois 55, Franklin 36
Braden Paulinellie – DuBois: 24 carries, 196 yards, 3 touchdowns – DuBois 55, Franklin 36
Shane Rolick – Kane: 16 carries, 194 yards, 3 touchdowns; 4-for-11 passing, 22 yards, 2 interceptions; Intercepted a pass on defense; Helped Kane win the AML South title – Kane 26, Elk County Catholic 0
Chandler Turner – Karns City: 7 carries ,44 yards, 1 touchdown; Returned a kickoff for a touchdown; Had the game-sealing interception in double overtime – Karns City 48, Keystone 40, 2 overtimes
Brayden Shick – Keystone: 19-for-27 passing, 297 yards, 3 touchdowns, 1 interception – Karns City 48, Keystone 40, 2 overtimes
Jacob Weaver – Keystone: 6 catches, 129 yards, 2 touchdowns; 25 carries, 78 yards, 1 touchdown; 1-for-1 passing, 8 yards, 1 touchdown – Karns City 48, Keystone 40, 2 overtimes
Damien Palmer – Otto-Eldred: 15 carries, 131 yards, 1 touchdown; 2-for-2 passing, 51 yards, 1 touchdown; Helped Terrors to first win of the season and first under first-year head coach Nick LaBella – Otto-Eldred 35, Sheffield 20
Tre Garzel – Port Allegany: 18-for-25 passing, 274 yards, 4 touchdowns; Helped Port Allegany win the AML North title – Port Allegany 36, Smethport 18
2015 PLAYERS OF THE WEEK
Week One: Zach Sloan, DuBois and Jake Weaver, Keystone
Week Two: Matt Miller, DuBois
Week Three: Anthony Isabella, Brockway
Week Four: Anthony Louder, Clarion-Limestone and Nick Stewart, Curwensville
Week Five: Adam Shunk, Smethport
Week Six: Noah Werner, Elk County Catholic
Week Seven: Maverick Kelsea, Karns City
Week Eight: Dylan Baumgarner, Port Allegany