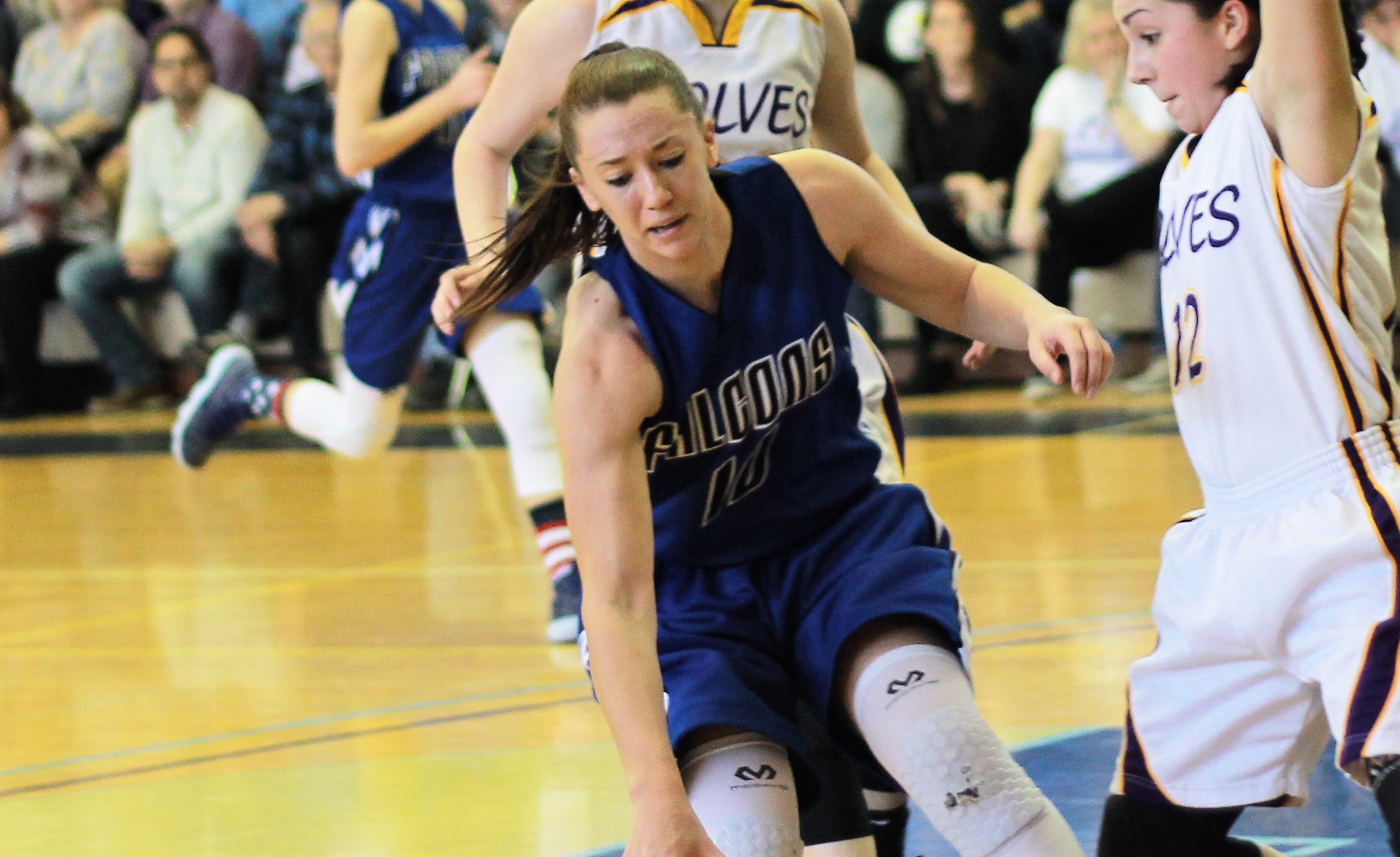 SLIPPERY ROCK, Pa. – For the better part of 26 minutes Wednesday night, the underdog A-C Valley girls' basketball team gave heavily favored District 10 champion Kennedy Catholic everything it could ask for.
(Photo of A-C Valley's Ellie Thompson. Photo by Jared Bakaysa of JB Graphics. See more of Bakaysa's work here)
But in the end, the Lady Eagles had sophomore guard Malia Magestro to carry them to a 58-47 win over the D9 runner-up Lady Falcons in the second round of the PIAA Class 1A tournament at Slippery Rock University's Morrow Field House.
"I didn't really know what to expect until the game got rolling," A-C Valley head coach Dave Sherman said. "Then we adjusted and got into a zone and slowed them down and rebounded well."
A-C Valley (21-7) trailed by just three, 48-45, following a Kylee Eaton basket with 6:15 to play.
But Magestro, who scored 25 of her game-high 31 points in the second half, hit 8 of 8 free throws down the stretch and scored the final 12 points for Kennedy Catholic, which ended the game on a 10-2 run.
"They were quick," Sherman said. "Watching on film, you can see the x's and o's but you can't tell the speed."
Kennedy's speed was evident at the start of the game, as the Lady Eagles (20-5) scored 11 of the game's first 13 points forcing A-C Valley to get out of its man-to-man defense and go zone.
"We sat in a zone all game because they are too fast," Sherman said. "We went man early on and were in our man the first few trips and it was 11-2 or something like that. We had to go to our half-court trap and fall back into that 1-3-1 and stay in it. We rotated well and kind of gave them fits. They didn't shoot the ball great at first but then they got hot. But we couldn't come out of it because they were just too fast, too quick. Their guard, out front, we couldn't stay in front of them."
Once A-C Valley went zone, the Lady Falcons seemed to pick up some momentum and ended the first quarter on a 13-5 run to get within a point, 16-15, going to the second quarter.
That momentum continued in the second quarter with the Lady Falcons taking the lead on a couple of different occasions in the first three minutes of the quarter thanks to five points from Ellie Thompson, who had a team-best 17, including 11 in the first half.
"Ellie played phenomenal, especially in the first half, really the whole game," Sherman said.
Thanks in part to Thompson, who finished her fantastic career as A-C Valley's all-time leading scorer with 1,527 career points, and the fact Magestro was on the bench for the second quarter with two fouls, A-C Valley found itself tied at halftime at 28.
"If you told me that we would be tied at halftime at 28, I would have said I should have gone to Vegas," Sherman joked. "But you don't know. You look at the film, you look at matchups. It's all about matchups."
A-C Valley held two more small leads out of halftime – first at 30-28 following a Kylee Eaton basket and then at 32-31 following another Eaton hoop.
Eaton finished the game with 11 points and 12 rebounds.
"She did a good job," Sherman said. "They had to be aware of her down low."
But there was just too much Magestro. The sophomore scored 13 of Kennedy Catholic's 16 third-quarter points to give the Lady Eagles a 44-40 lead after three and ended up scoring all but five of Kennedy's points in the second half.
Holding the lead at five, 50-45, in the fourth quarter Kennedy went into a four-corners offense that saw neither team score in a four-minute segment of the quarter from the time the Lady Eagles got two Magestro free throws with 5:35 to play until Magestro hit two more charity shots with 1:25 left.
"We were only down five," Sherman said. "If they wanted to run the clock, we decided we would let them run it a little. It's sort of a calculated risk you have to run at the end of the game. I wanted to come out a little sooner, but we said let's get to a minute and a half and we are still down only five. If we come out too soon, they get to the basket and they are up seven and we are sort of in trouble."
The Kennedy stall combined with some strong defense from the Lady Eagles went A-C Valley went from Eaton's basket at the 6:15 mark until Cami McNany scored with 18.1 seconds to play without scoring.
"They turned up the pressure with their man defense," Sherman said. "They came out and harassed us a little bit more. And we didn't get the turnovers either that we were getting early. We weren't able to get easy offense off our defense, which we do a lot. They were pressuring our wings, and we were having trouble getting into our offense. It was just the ball pressure they put on us."
The loss ends perhaps the strongest season in A-C Valley girls' basketball history with the Lady Falcons winning a PIAA playoff game for the first time while picking up 21 wins and finishing second in both the KSAC and District 9 to a North Clarion squad that didn't lose its first game of the season until Tuesday night.
"It's the playoffs," Sherman said. "Yeah, you lose. But it sets you up for next year. These are bonus games, have fun with it. Our season could have been over a month and two days ago. We played DuBois Central Feb. 12 in the last regular-season game. But we were still playing ball. This is bonus time."
Sherman believes the success of the 2018 team will pay dividends in the future for the Lady Falcons.
"We have kids beating down the door who want to play basketball at A-C Valley," Sherman said. "You can see North Clarion is the game way. They have 18 girls sitting on their bench. Success breeds success. Hopefully, this can carry through and we can get our young group working. We have a pretty good group of eighth graders. We are going to have to get them in the gym this summer and get back to work. Because of the success of this group, I think that will be easy to do."
Kennedy Catholic advances to the Elite Eight for the seventh straight season. The Lady Eagles will face District 6 runner-up Bishop Carroll, a 51-28 winner over Winchester Thurston, the WPIAL champion, Saturday at a site and time to be determined.
STRANGE BEGINNING
The game had a bit of an odd start to it with Kennedy Catholic shooting a pair of technical foul free throws after A-C Valley brought the wrong jersey to the game.
The Falcons were supposed to be the home team in the game based on them being at the top of the bracket in the PIAA system of the top team in the bracket being the designated home team until the PIAA Championship game when it alternates year-by-year.
But Sherman, who is also the A-C Valley athletic director, didn't realize that and had his team dressed in the blue uniform while Kennedy Catholic was in its away gray.
"I will tell you right now, it was my fault," Sherman said. "I had no idea. I got an e-mail (from the PIAA) about the venue and everything, and it didn't say anything about uniforms. We have never been here (in the second round) before. So we showed up, and I assumed we are the lower seed and the game is in a different district (Slippery Rock is in District 10). We should be the away team.
"We showed up, and they were like, don't you have white uniforms? And I'm like, no. And they were like you know you are supposed to be the home team. I was like, are you kidding me? They were like, you are on the top line of the bracket. I said I never heard that before in my life. They said it's in the (PIAA) handbook. Whatever. At least it didn't come down to a one-point game, and we lost by one. I would have been a real idiot. It was just an oversight. I had never heard that before. It was my fault. Fortunately, it didn't burn us too bad."
Magestro missed the first free throw and hit the second one. Sydney McKnight, who added 14 points, then hit one of two charity shots after being fouled after Kennedy Catholic got the ball following the technical foul.
The worst part of the technical foul might have been the fact Sherman had to coach sitting down the entire game. The rule is that it was a technical on the coach and therefore the coach has to sit. Of course, that isn't the purpose of the rule of having the coach sit following a technical foul, but that is a glitch in the rule book that should probably be addressed at some point in time.
KENNEDY CATHOLIC 58, A-C VALLEY 47
Score by Quarters
Kennedy Catholic 16 12 16 14 – 58
A-C Valley 15 13 12 7 – 47
KENNEDY CATHOLIC – 58
Sydney McKnight 5 2-4 14, Malia Magestro 7 13-16 31, Olivia Shuller 1 0-0 2, Sophia Berardi 1 0-1 2, Makayla Utlak 2 0-0 6, Cailty Figuly 1 1-2 3, Allie Suhar 0 0-2 0. Totals 17 16-25 58.
A-C VALLEY – 47
Cami McNany 5 1-2 11, Emma Fox 0 0-0 0, Ellie Thompson 7 3-6 17, Allison Sherman 1 0-0 2, Annie Viertel 2 0-0 6, Brooke Irwin 0 0-0 0, Kylee Eaton 5 1-2 11. Totals 20 5-10 47.
Three-pointers: Kennedy Catholic 8 (Magestro 4, McKnight 2, Utlak 2). A-C Valley 2 (Viertel 2).