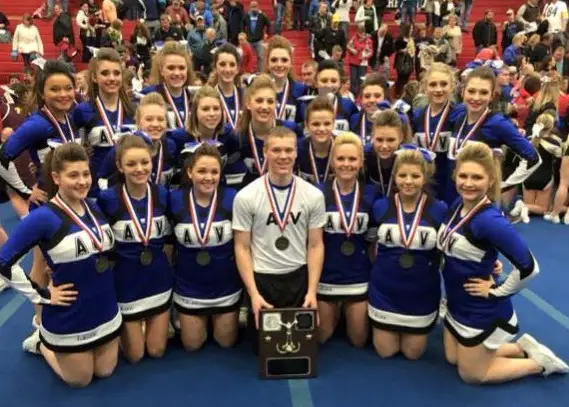 HERSHEY, Pa. – Missing advancing directly to the finals by less than a point, the A-C Valley Co-Ed Varsity Competitive Spirit Squad is nevertheless into the PIAA Semifinals after taking sixth in Friday's preliminary round with a score of 66.93.
The top five teams moved directly to Saturday's finals with the next five advancing to the semifinals with one team coming out of the semifinals – which are also Saturday – into the finals.
A-C Valley missed being one of the top five teams by a hair, as United out of District 6 took fifth in the preliminary round with a score of 67.60
Also advancing straight to Saturday's finals in the Co-Ed Division are Dowingtown West (78.73), New Oxford (77.03), Red Lion (74.63) and Erie McDowell (72.90).
A-C Valley will need to beat out Chestnut Ridge (63.97), Allentown Central Catholic (62.13), Saltsburg (60.87) and Tussey Mountain (54.93) in the semifinals if it wants to reach the finals.
In the Large Varsity Division, Keystone and Karns City both failed to get out of the preliminary round with Keystone taking 14th (61.13) and Karns City 15th (60.53).
In the Medium Varsity B bracket Cranberry finished 17th with a score of 54.43.
The Small Varsity A bracket saw Redbank Valley finish 17th with 51.9 points, while in the Small Varsity B bracket, Elk County Catholic was 15th with 57.03 points and St. Marys was 20th with 53 points.
Full results can be found here.