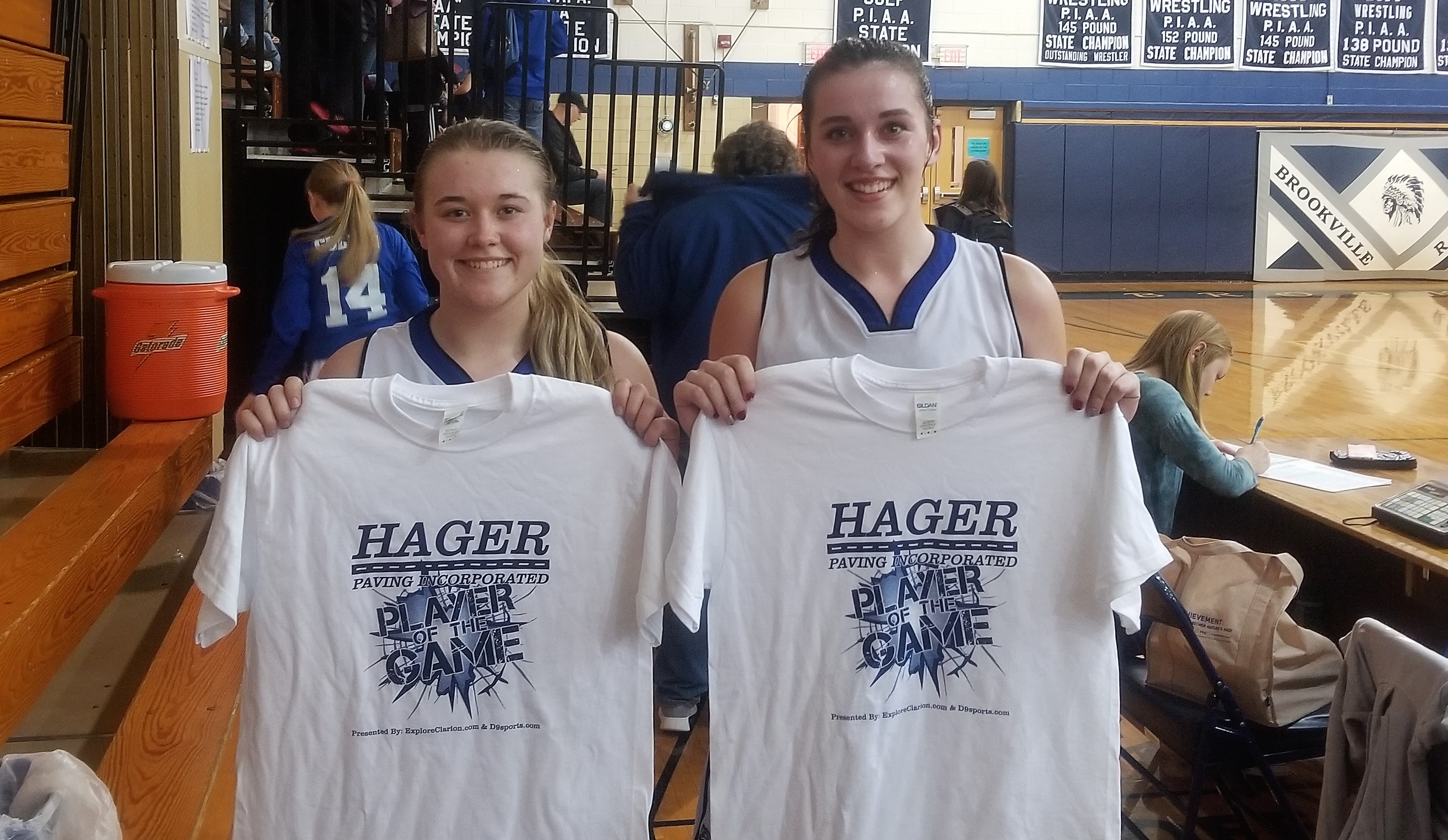 BROOKVILLE, Pa. – Down eight nearly three-and-half minutes into the second half, third-seeded A-C Valley rallied to avoid an upset at the hand of Johnsonburg, the sixth-seed, knocking off the Ramettes 51-42, at Brookville High School.
(Photo: A-C Valley's Cami McNany (left) and Kylee Eaton played key roles in the Lady Falcons quarterfinal win)
The Lady Falcons trailed 30-22 following a Maria Jones basket with 5:15 to play in the third quarter before going on a 15-7 run thanks to seven Ellie Thompson points to forge a 37-all tie after three quarters.
Reslisten to the game
The teams traded the lead three times in the early going of the fourth quarter with Johnsonburg taking its final lead, 41-40, on an Emma King bucket off a Cassidy King pass with 5:09 to go.
But Annie Viertel hit her second 3-pointer of the game with 4:36 to go to put A-C Valley ahead for good, 43-41. That started a 6-0 run for the Lady Falcons that also included an offensive rebound basket from Kylee Eaton.
Eaton had 13 points and 10 rebounds for A-C Valley, including six offensive boards. Ellie Thompson also scored 13 points to go with five rebounds for the Lady Falcons with Cami McNany scoring 12 points and hauling down six boards.
Eaton and McNany talked about the victory.
Cassidy King paced Johnsonburg with 15 points, including eight in the first quarter, while Rylee Casilio added 12 points on four 3-pointers. Jones chipped in eight tallies.
A-C Valley will take on Otto-Eldred in the semifinals at a time, date and location to be determined.
OTTO-ELDRED 54, BROCKWAY 32
KANE, Pa. – Overcoming a slow start, second-seeded Otto-Eldred used a strong defensive effort to knock off seventh-seeded Brockway, 54-32, in the District 9 Class 1A quarterfinals at Kane High School.
The Lady Terrors trailed 13-9 after a quarter but took a 26-20 halftime lead and then expanded it to 39-23 by the end of the third quarter.
The Otto-Eldred defense limited Brockway without a basket for a nine-minute stretch from late in the second quarter through the third. The Lady Rovers shot just 13 of 54 in the game.
Camryn Thomas paced Otto-Eldred with 15 points, nine rebounds, four assists and three steals with Ali Cousins adding 14 points, Jade Spinney eight points and Haylee Frederick seven tallies. Britney Greeley had a team-best 10 rebounds to go with two steals and two points.
Kaitlyn Morelli paced Brockway with 14 points with Leah Lindemuth adding nine tallies.
Otto-Eldred will take on third-seeded A-C Valley in the semifinals at a date, time and location to be decided.
ELK COUNTY CATHOLIC 45, NORTHERN POTTER 27
AUSTIN, Pa. – Elk County Catholic outscored Northern Potter by 12 in the fourth quarter to break open a close game after three and get a 45-27 win over the Lady Panthers in the District 9 Class 1A quarterfinals at Austin High School.
Fifth-seeded ECC led 26-20 after three quarters but scored 19 fourth-quarter points including 11 from the free-throw line (11 of 19).
Josie Smith led the Lady Crusaders with 14 points, including nine n the fourth quarter with seven of those nine coming from the charity stripe. Taylor Newton and McKayla Lewis each added eight points for ECC, which led 17-9 at halftime after limiting fourth-seeded Northern Potter to one second-quarter point.
Mikayla Lewis paced Northern Potter with 11 points with Jenna Hyde scoring 10. ECC held Northern Potter leading scorer Kalie Cowburn, a 1,000-point career scorer, to a single point.
ECC will play the winner of Friday's DuBois Central Catholic vs. North Clarion game in the semifinals at a time, place and date to be announced.