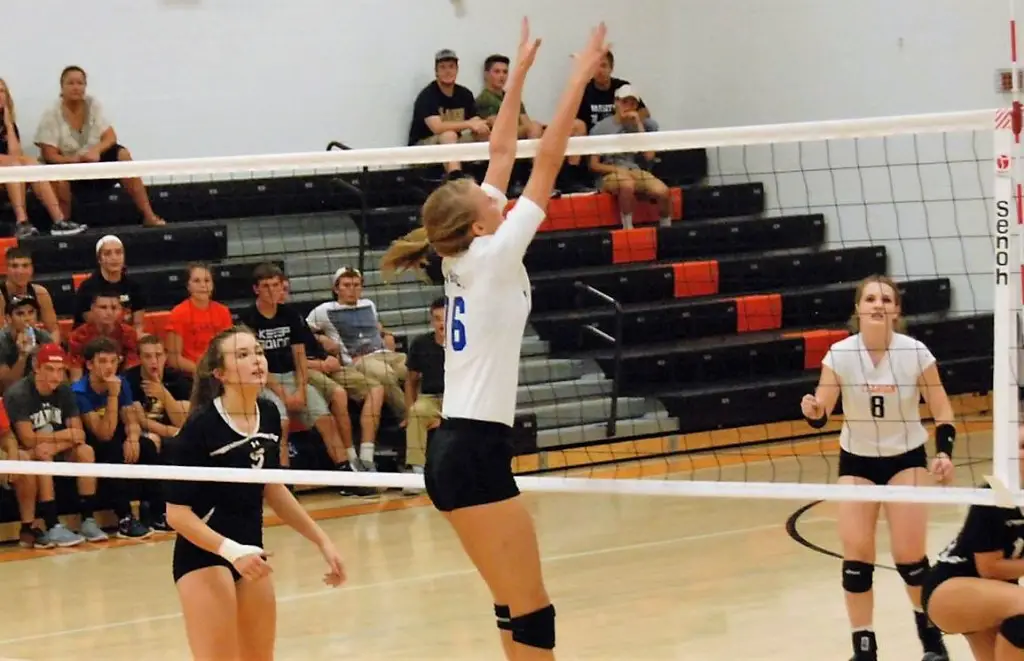 District 9 will crown a new volleyball champion in Class 1A 2017 and that champion will be a first-time winner as well with the top two seeds, A-C Valley and Otto-Eldred, advancing to Saturday's 11 a.m. championship match at St. Marys High School.
A-C Valley, which is making its third straight title-game appearance, beat defending champion Coudersport (3-1), while Otto-Eldred topped Clarion (3-0).
Coudersport and Clarion will play for third place and a PIAA playoff berth at 9 a.m. at St. Marys High School.
Here is a closer look at the two semifinal contests:
A-C VALLEY 3, COUDERSPORT 1
FOXBURG, Pa. – Getting all 57 of its kills from four players, A-C Valley exerted a bit of revenge for last year's District 9 Class 1A title game loss to Coudersport, knocking off the visiting Lady Falcons, 3-1 (26-24, 26-28, 25-21, 25-18), in the D9 1A semifinals in Foxburg.
Watch the final point
Josey Terwilliger paced the home team Lady Falcons with 21 kills, while Kylee Eaton added 15 kills, Olivia Boocks 12 and Cassie Schwalm nine.
That offset a strong match from Coudersport's Adrian Page, who had 18 kills, including 16 through the first three sets. EmmaRae Easton added 12 kills and Jill Updegraff seven.
The first two sets were epic extra-point sets with top-seeded A-C Valley rally from deficits of 21-15 and 24-19 in the first set to win 26-24 by scoring the final seven points of the set including four kills from Boocks.
A-C Valley got down big again in the second set, 20-12, before rallying to take a 24-23 lead thanks to four kills from Terwilliger. The home team had three set points (24-23, 25-24 and 26-25) but couldn't convert, and fifth-seeded Coudersport won, 28-26, on a block from Easton, one of her three in the match.
ACV avoided getting down in the final two sets jumping head 14-8 thanks to an 8-0 run in the third set that saw Eaton with a pair of kills and a pair of blocks on its way to the 25-21 win in Set Three. Then, in the fourth set, A-C Valley led 12-7 before Coudy rallied to tie things at both 12-12 and 13-13 before the home team took control with a 7-1 run that saw Eaton with three kills and Boocks with two while the duo also combined on a block.
Boocks also had 21 digs to lead the ACV defense with Schwalm adding 20 digs, Terwilliger 11 digs and Eaton 11 digs and four blocks. Syd Rankin (28 set assists, 18 digs) and Emily Wetzel (21 set assists, 18 digs) ran the A-C Valley offense.
Haley Keck had 44 set assists, three blocks and four kills for Coudersport with Shaelyn Black adding five blocks and two kills.
Boocks and Terwilliger talked about the victory.
OTTO-ELDRED 3, CLARION 0
DUKE CENTER, Pa. – Behind 17 kills and nine digs from Alyssa Shelander, Otto-Eldred moved into the District 9 Class 1A title game for the first time since 2003 with a 3-0 (25-20, 25-19, 25-16) win over visiting Clarion.
Camryn Thomas added 10 kills, 12 digs and six blocks for the second-seeded Lady Terrors, who qualified for the PIAA playoffs for the third time in school history with the victory (1978 and 2003 are the other two years).
Also for Otto-Eldred, Allison Cousins had eight kills and 22 digs, while Emily Smith added 34 set assists and six blocks and Harlee VanScoter six kills, eight blocks and 10 digs.
Sydney Kiser led Clarion with nine kills with Maddie Schill picking up five kills and Maya Thornton four kills and nine digs. Alexis Constantino led the Lady Cats with 22 digs with Lexi Lauer chipping in seven digs. Brenna Campbell ran the offense with 20 set assists.