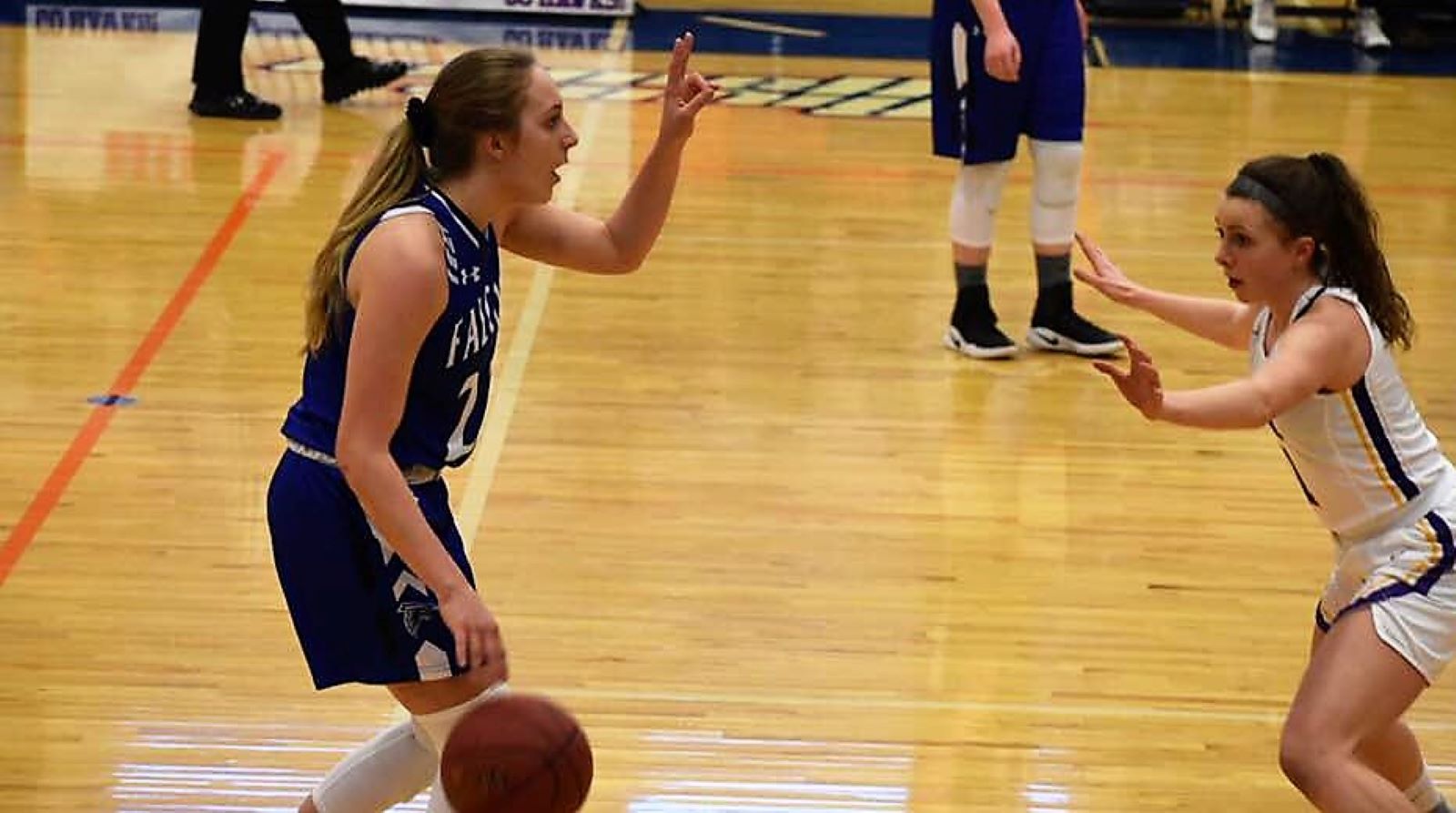 KITTANNING, Pa. – The improbable has happened.
(Photo: A-C Valley's Olivia Boocks calls a player during the Lady Falcons win over OLSH Tuesday night as the Chargers Haley Hamilton guards her. Photo by Cynthia Cullen Rapp)
Relisten to all the game:
A-C Valley, the second-place team out of District 9, stunned heavily favored WPIAL champion Our Lady of Sacred Heart (OLSH), 35-33 in overtime, in the second round of the PIAA Class 2A playoffs Tuesday night at Armstrong High School for the biggest win in program history.
"This is unchartered waters," A-C Valley head coach Dave Sherman, who won his 100th game at A-C Valley, said. "It is fantastic. These girls deserve every bit of it They just got out and work and work and work They deserve this. They have put the time and effort in. They are a fantastic group and they work hard."
In a defensive slugfest, the Lady Falcons trailed by six, 22-16, heading to the fourth quarter, but as they have done so many times this playoff season owned the fourth quarter to force overtime when Olivia Boocks, who had a game-high 18 points, hit the back end of a two-shot foul with 1.5 seconds left in regulation to knot the game at 29.
"We just play hard the entire game," senior Kylee Eaton, who had eight points and a game-high 15 rebounds, said. "We just stick it to them the entire time. We don't let up."
Cami McNany then scored off the opening tip-off of overtime, which was won by Eaton, on a set play that Sherman didn't even see to put A-C Valley, who will play Everett in the quarterfinals Friday at a site and time to be announced, up for good, 31-29.
"I turned my back, I was talking to Mike (assistant coach Mike Meals) or was doing something," Sherman said. "We have a tip play that we have been doing all year. Kylee can probably out jump most girls who are up to 6-feet tall. She is a great leaper. We tip it to Cami, and Liv fills the lane. We have signal because everyone has been trying to take that away after a while. We worked on trying to tip it over (the defense) and head to the corner. I think that is what Kylee did. There is a signal they give each other. They came over and I asked which signal did you give her, and she said, 'You know which one.' I am not going to give it away. But I had a good chuckle after that. They are just savvy that way. That was huge."
Eaton gave all the credit on the play to McNany.
"It was a such an aggressive play," Eaton said. "It set the momentum for overtime."
Sophomore Rachel Cullen, who hit two crucial fourth-quarter baskets, then hit one of two free throws to push the lead to three less than a minute into overtime.
"Rachel stepped up pretty big," Sherman said. "I have been on her case. I said Rachel, you have to take those open shots. That's what we talked about the other day. People aren't really stepping out on you. They are sagging off, trying to take away our inside game. They know we have those three scorers (Eaton, McNany and Boocks) who do most of our production. But if you are open, you have to take it."
After two free throws by OLSH, Boocks added to the lead when she hit three of four charity shots in a span of 37 seconds to get the lead to four, 35-31, with 58.9 seconds left. On the last set, which she made one of two, OLSH's leading scorer Ashley Norling, who scored 17 in the game, fouled out of the game.
"Once (Norling) fouled out, I was feeling a little bit better about things," Sherman said.
OLSH didn't go away, as Haley Hamilton was fouled driving the lane and hit two charity shots with 44.1 left to make it a two-point game, 35-33, and Boocks turned the ball over on an attempted pass to Eaton with 34.1 to play.
But an OLSH shot by Maddie Hoff with 6.9 left wouldn't go with Eaton, who had eight points and 15 rebounds, collecting perhaps the biggest board of her career before being fouled.
"We have this," Eaton said when asked what the team's thoughts were going into overtime. "We can finish games. We have shown all season that we can finish games. Why can't this be another game we can finish."
Watch all of Eaton's postgame thoughts.
Eaton, who struggled from the line going 0-for-6 on the night, missed both free throws and OLSH pushed the ball up the court only to see a potential game-tying layup by Hamilton come up short setting off a wild celebration from the A-C Valley faithful.
After being outscored 8-6 in the third quarter, A-C Valley found itself down the six heading to the final eight minutes of regulation.
"I said, if we get to the fourth quarter and we can keep it close, I think we can beat these guys," Sherman said. "That's what we ended up doing."
Cullen and McNany both scored off of offensive rebounds to get the game back within two, 22-20, a minute and a half into the fourth quarter.
Norling then hit what appeared to be a backbreaking three with 6:04 to play in regulation for the Chargers to push the lead back to five, 25-20, but that turned out to be the final field goal for OLSH, who went the final 10:04 of the game without scoring from the field, only netting eight free throws.
"We can muck up a game on defense as good as anybody because we did it again tonight," Sherman said. "We muddy up everything and play good defense, and that's what it was. That's what's gotten us through. We have just done it all season defensively."
Back-to-back baskets by Cullen and Boocks closed the gap back to one, 25-24, with five minutes left, and the score remained that way until 1:08 left in the game when Hoff hit two free throws to make it 27-24 OLSH.
Boocks, though, grabbed her own rebound off a missed three and was fouled with 27.1 to play. She hit both to make it a one-point game again before Norling hit both ends of a 1-and-1 seconds later to make it 29-26.
Again it was Boocks to the free-throw line this time when she was fouled taking a 3-pointer with 13.6 to play. Boocks missed the first shot but hit the next two to make it a one-point game once again, 29-28.
Hamilton then missed the front-end of a one-and-one with Eaton collecting the rebound, and A-C Valley got a timeout before the ball was tied up with 7.0 seconds left.
Boocks then drove the hoop and was fouled with 1.5 to go giving the Lady Falcons a chance to win the game in regulation. Boocks, however, missed the first shot putting all the pressure on her to hit the second to force overtime, which she did.
Free-throw shooting was a problem for A-C Valley all game with the Lady Falcons going 9 of 19 from the line on the night.
"If we don't start shooting free throws better, they are going to kill me," Sherman said with a laugh. "Mike (Meals), he is the numbers guy, he said if we shoot 50 percent from the line, we are up by 10. I'm like, thanks, I really needed to hear that."
A-C Valley is now into the PIAA quarterfinals for the first time in girls' basketball history at the school and the first time in hoops since the boys' team advanced to the quarterfinals in Class 1A in 1984.
"It's crazy, it's nuts," Sherman said. "I am an English teacher and I am going to keep rambling all night if you let me."
A-C VALLEY 35, OLSH 33, OVERTIME
Score by Quarters
A-C Valley 6 4 6 13 6 – 35
OLSH 6 8 8 7 4 – 33
A-C VALLEY – 35
Cami McNany 2 0-0 4, Rachel Cullen 2 1-2 5, Mia Sherman 0 0-0 0, Emily Wetzel 0 0-0 0, Andrea Meals 0 0-0 0, Olivia Boocks 4 8-11 18, Kylee Eaton 4 0-6 8. Totals 12 9-19 35.
OLSH – 33
Kate Penn 0 0-0 0, Haley Hamilton 1 2-2 4, Grace Bradley 0 0-0 0, Emily Schuck 1 0-0 2, Maddie Hoff 2 4-4 9, Ashley Norling 5 5-9 17, Hannah Valenty 0 1-2 1. Totals 9 12-17 33.
Three-pointers: A-C Valley 2 (Boocks 2). OLSH 3 (Norling 2, Hoff).