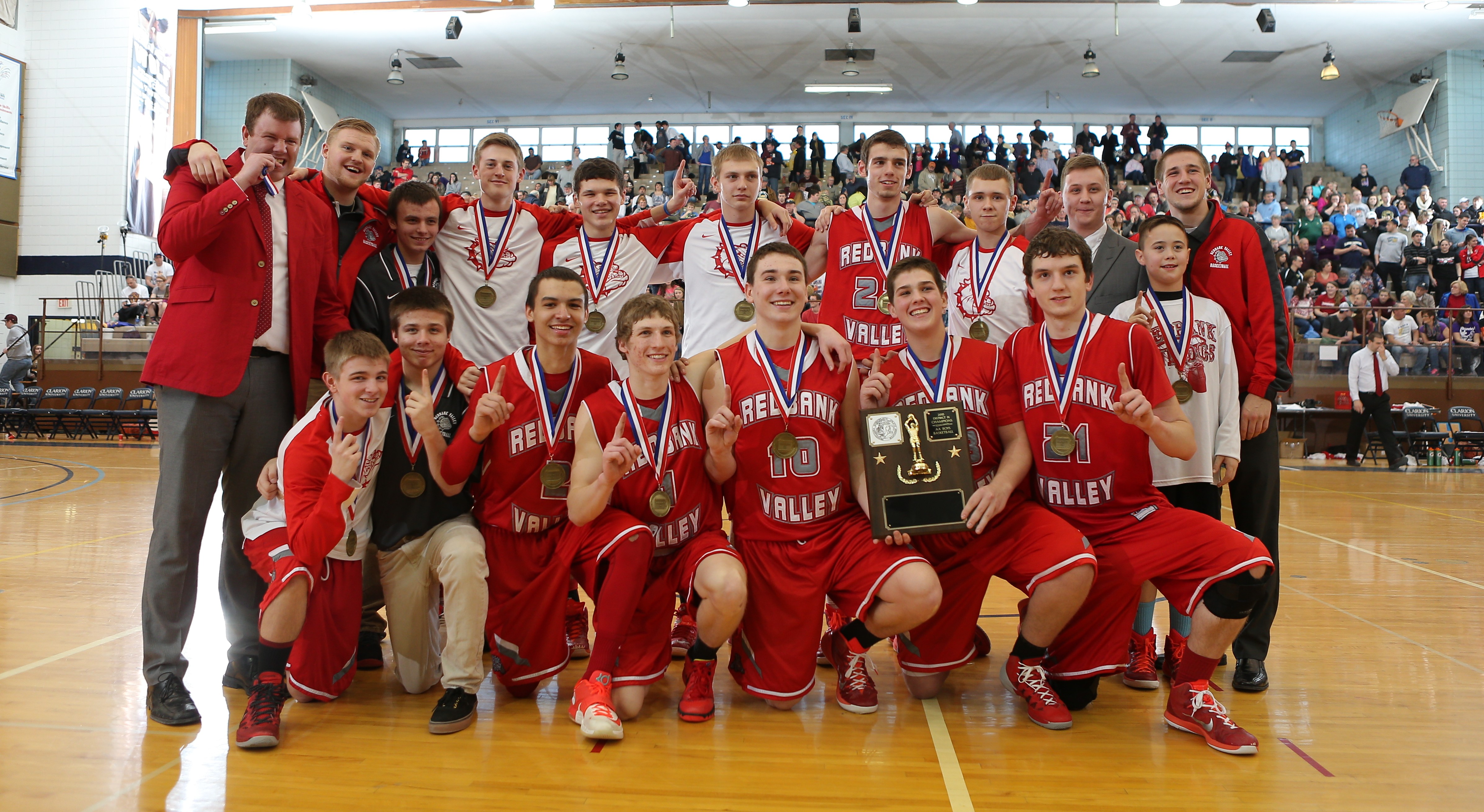 By Rich Rhoades
CLARION — For the first time in 35 years, the Redbank Valley Bulldogs can call themselves District 9 champions.
Holding Cranberry scoreless for over six minutes in the fourth quarter, the Bulldogs pulled away for a 40-36 win in the District 9 Class AA Championship game at Clarion University's Waldo S. Tippin Gymnasium.
The last time the Bulldogs won a title was way back in 1980 when they beat Kane 60-56 for the Class AA crown.
Head coach Greg Bean was minus-4 years old and naturally, none of the players were being even being thought of at that point.
"It's definitely awesome that we weren't even alive the last time that Redbank Valley won," said Bulldogs senior Devin Shumaker, who was on the squad as a freshman the year they went 1-21.
"It's one of those things where it's exactly a year, 365 days and we knew that coming in and it's been in our minds all year," Bean said. "We took one day off last year and then we were back in the gym on Sunday. It's more excitement for these guys. I'm so proud of the guys because of the way they handled themselves.
"Last year if we would've shot 26 percent (10-for-38) for the game, we would've lost by 20."
Zach Westover scored 13 points and pulled down 12 rebounds, Shumaker scored 11 points and Jake Dougherty scored seven points and pulled down nine rebounds for the Bulldogs (20-6), who head to the state playoffs for the first time since 1991 when they take on District 6 third-place finisher Bellwood-Antis next Saturday at a District 9 site and time to be announced.
Westover led a Bulldogs board-fest that had them outrebound Cranberry, 35-23.
"We knew if we could keep them off the glass we had a great chance," Bean said. "I don't know if it's the rims or the balls are pumped up too much but nobody has seemed to shoot the ball well this year. We knew there were going to be a lot of missed shots, so we had to go pick up the trash, scoop it up and see what you could do."
And Westover, who didn't play that well in their first meeting with the Berries, showed up when it mattered.
"I was able to get rebounds this time and was able to play good defense," the 6-foot-7 Westover said. "I was getting to the boards more and layups and not missing, and made some more free throws. It's always been my job to get in there and get rebounds."
"I challenged Zach all week because last time we played Cranberry he had one point," Bean said. "He was 1-of-6 from the foul line and 0-for-5 from the field and I was on him since Tuesday night that he's got to pick up his level. For a guy like that who doesn't get the publicity or isn't one of our scoring guys to go off for 13 and 12, I was so proud. I couldn't be happier."
Tim Swartzfager scored 13 points and Jacob Creighton added 10 points for Cranberry (19-5), which takes on WPIAL runner-up Seton LaSalle next Saturday at a WPIAL site to be announced.
Early in the fourth quarter, Brendan Zerbe's basket put Cranberry up 30-28 at the 6:24 mark. The Berries didn't score again until Jacob Creighton's 3-pointer cut Redbank Valley's lead to 38-33 with eight seconds left.
It wasn't pretty early as Dougherty's layup 20 seconds into the game gave the Bulldogs a 2-0 lead. Nobody scored again until the 3:17 mark of the first and the Bulldogs led 4-2 after the first quarter.
Redbank Valley led 15-9 at halftime as the Berries were 3-for-14 from the field. The Bulldogs weren't much better at 6-for-19.
"I knew our length could give them fits," Bean said. "After the first quarter I told them that they had to just put the ball in the basket. We scored four points and we're winning, At halftime, it was the same thins, 15 points and winning. Why do we need to start pressing?"
Cranberry started the third quarter with back-to-back threes by Tim Swartzfager to tie the game and neither team led by more than two points the rest of the quarter, setting up a fourth-quarter grinder for the eventual champion Bulldogs.
And that's not runner-up for the Bulldogs, who finished second three times the last two seasons, back-to-back runner-up finishes in the KSAC and last year's second-place finish at districts.
"We took three second places in two years and people told us 'Well, at least you're in the championship game,'" the senior Dougherty said. "That's not how we looked at it. We came into this game hungry for the number one spot. We've been playing together since second grade and dreamed about winning a district title. We didn't know what that was then, but it's awesome. We started from the bottom and we're here."
REDBANK VALLEY 40, CRANBERRY 36
Score By Quarters
Redbank          4          11        11        14        –           40
Cranberry        2          7          17        10        –           36
Redbank Valley – 40
Devin Shumaker 3-9 4-4 11, Sam Heeter 1-8 2-4 5, Jake Dougherty 1-9 5-6 7, Zach Westover 4-6 5-10 13, Dalton Dougherty 1-4 2-4 4, Kaleb Reed 0-1 0-0 0, Khorey Neiswonger 0-2 0-0 0. Totals: 10-39 18-28 40.
Cranberry – 36
Tim Swartzfager 4-7 2-2 13, Jacob Creighton 3-10 2-4 10, Evan Lutz 0-10 2-4 2, Janco Swart 2-3 1-2 5, Brendan Zerbe 3-5 0-0 6, Dechlyn Sheffer 0-0 0-0 0, Caleb McCandless 0-0 0-0 0, Austin Rex 0-0 0-0 0. Totals: 12-35 7-12 36.
3-pointers: Cranberry 5-18 (Swartzfager 3-4, Creighton 2-7, Lutz 0-7), Redbank Valley 2-12 (Shumaker 1-4, Heeter 1-3, J. Dougherty 0-3, Reed 0-1, Neiswonger 0-1). Rebounds: Redbank Valley 35 (Westover 12), Cranberry 23 (Zerbe 5). Turnovers: Redbank Valley 10, Cranberry 9.