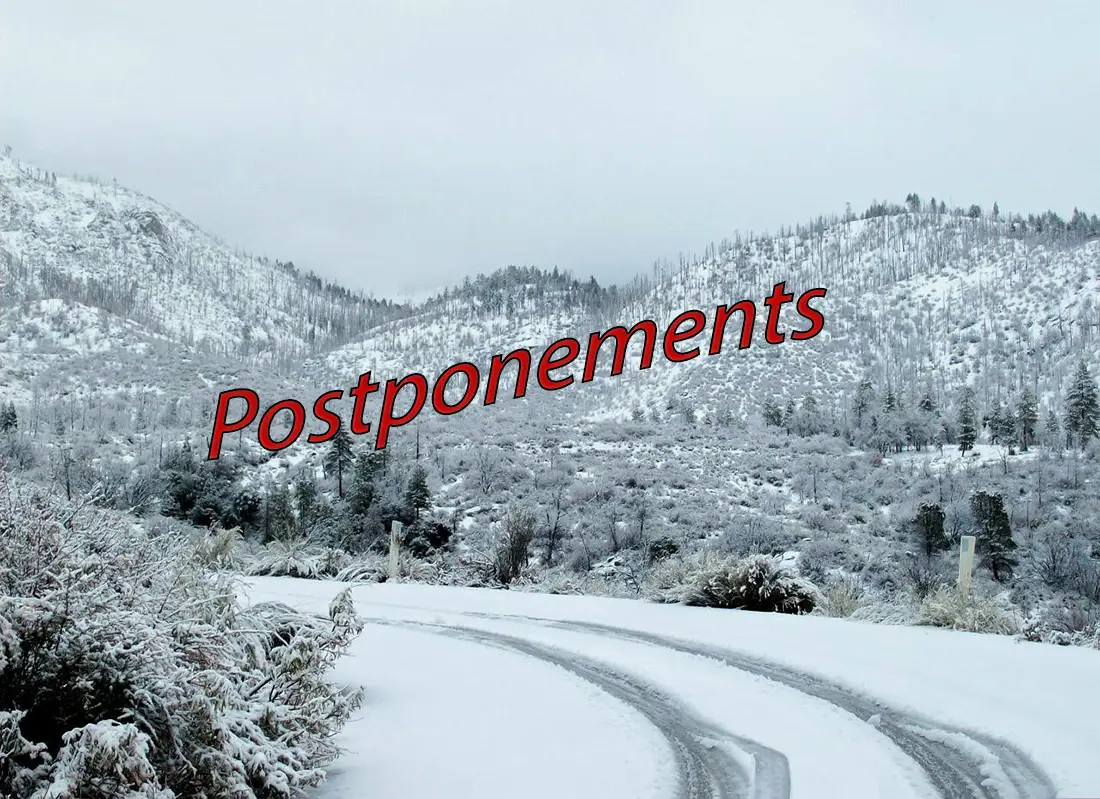 Updated 3:00 p.m. Tuesday
Here is a list of postponements of District 9 athletic events for Tuesday, Jan. 12, 2016.
This list should be considered unofficial. Any questions and or clarifications should be directed to the schools. While a game may be listed as still being played on this list, that doesn't necessarily mean it is still being played. Any changes and/or additions to this list should be e-mailed to sports@d9sports.com.
BASKETBALL
If a game doesn't have PPD next to it, it is still being played to the best of our knowledge
GIRLS
AML
Elk County Catholic at Curwensville – PPD to Jan. 13
Johnsonburg at Brockway – PPD to Feb. 10
D9 LEAGUE
St. Marys at Punxsutawney – PPD to TBA
KSAC CROSSOVER (Counts in conference standings)
Cranberry at A-C Valley – PPD to Jan. 13
Venango Catholic at Union – PPD to Jan. 13 (6 p.m., No JV) 
Clarion-Limestone at Keystone – PPD to Jan. 13
Forest Area at Karns City – PPD to TBA
North Clarion at Moniteau – PPD to Jan. 13
NON-CONFERENCE
Sheffield at Eisenhower (7 p.m., No JV)
Redbank Valley at Kane – PPD 
BOYS
AML
Brockway at Johnsonburg – PPD to Feb. 11
Curwensville at Elk County Catholic – PPD to Jan. 16 (6 p.m. JV start)
DuBois Central Catholic at Ridgway – PPD to Feb. 4
D9 LEAGUE
Punxsutawney at St. Marys – PPD to TBA
MOUNTAIN LEAGUE
Philipsburg-Osceola at Clearfield – PPD to Jan. 14
NORTH TIER LEAGUE
Port Allegany at Galeton – PPD to Jan. 13
Northern Potter at Austin – PPD to Jan. 16 (2 p.m. JV start)
Otto-Eldred at Cameron County
NON-CONFERENCE
Sheffield at Tidioute Charter
WRESTLING (Incomplete list) 
Brookville vs. DuBois – PPD to TBA
Clearfield at Huntingdon – PPD to Feb. 4
Redbank Valley at Indiana – PPD to Feb. 10