LOCK HAVEN, Pa. – A pair of District 9 alumnus were honored Tuesday by the PSAC with weekly awards.
Slippery Rock's David Reinhardt, a Bradford graduate, was named PSAC Men's Indoor Field Co-Athlete of the Week, while Gannon's Ethan B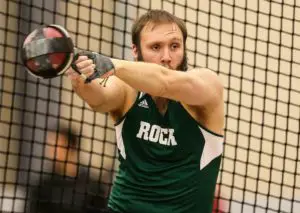 udd, a Port Allegany graduate, was named PSAC Co-Wrestler of the Week.
Reinhardt, a senior, improved on his career-best for the fourth straight competition in the weight throw this time landing a throw of 17.88 meters the GV Big Meet. Reinhart he has hit an NCAA provisional mark in every competition this year and improved each time. After missing the entire 2015-16 indoor and outdoor seasons for shoulder surgery he has returned to action this winter for the first time in more than a full calendar year.
Budd, a freshman, went 2-0 last week with victories against eighth-ranked Mercyhurst and West Liberty. He produced, arguably, Gannon's biggest win of the season against Mercyhurst. Entering the bout with a record 5-10 overall and 1-6 in dual bouts, Budd came to the mat with the Golden Knights leading 19-12 with two bouts left and facing the region's third-ranked wrestler, Wes Phipps. Budd proceeded to upset Phipps, 8-6, to clinch the team victory. If Budd had lost by decision, the team meet would have ended in a 19-19 tie that would have went to Mercyhurst on criteria. After falling behind 2-0 after an early Phipps takedown, Bu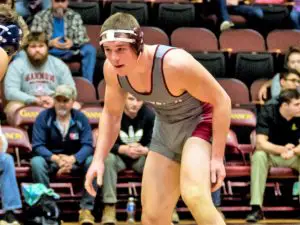 dd with an escape, takedown and four-point
After falling behind 2-0 after an early Phipps takedown, Budd followed with an escape, takedown and four-point nearfall to create a 7-2 lead. Phipps chipped away with an escape and takedown during the second period to draw within 7-6 before Budd started the final period down and escaped to bump his lead to 8-6 and then held off Phipps for the victory. The win snapped a five-meet losing streak against the Lakers for Gannon with the Golden Knights, winning for the first time in the series since a 27-15 decision January 27, 2011.