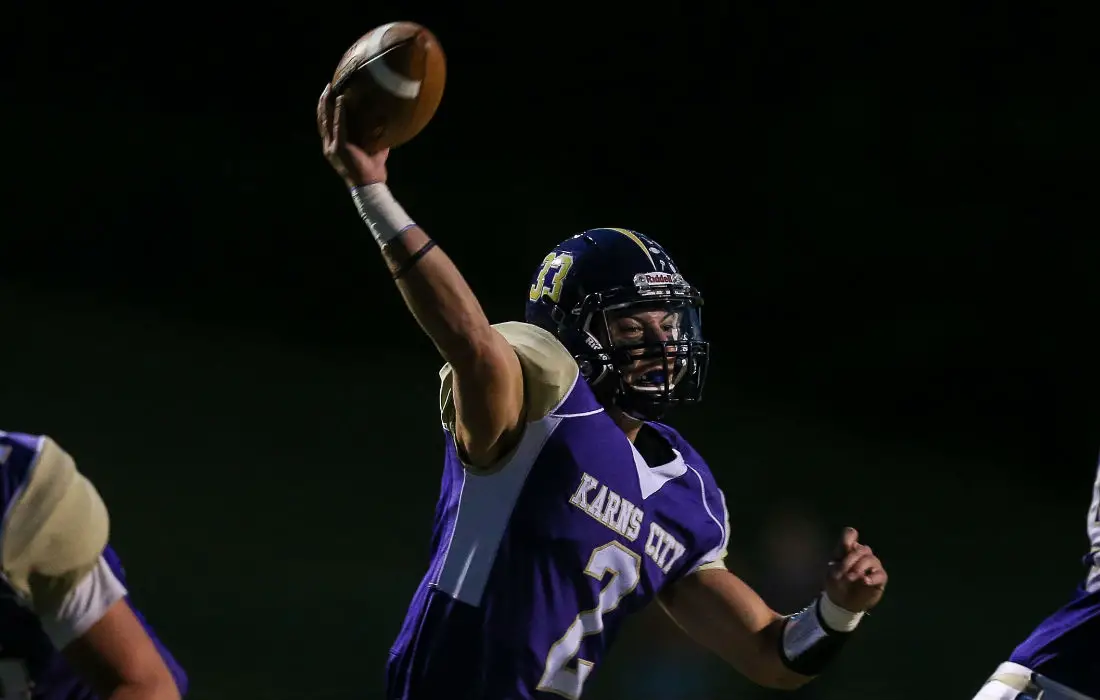 GAME INFORMATION 
When: 7 p.m. Friday, Dec. 4 • Where: Geneva College, Beaver Falls, Pa.
TEAM INFORMATION 
Aliquippa Roster • Karns City Roster • Aliquippa Stats • Karns City Stats
Aliquippa Schedule • Karns City Schedule
GAME PREVIEW STORY
By Chris Rossetti
BEAVER FALLS, Pa. – The Karns City football team faces its toughest test of the year Friday night when it meets Aliquippa in the PIAA Class AA quarterfinals at Geneva College in Beaver Falls.
"One of the things we need to do to win is take care of the football," Karns City head coach Ed Conto said. "The last few years (when the Gremlins have reached the quarterfinals) we've made turnovers early in the game and set the other team up. We can't do that.
"No. 2 is, we have to keep playing hard and believe in what we've been doing, hitting people, being in the right spots and not losing our heads. I see that a lot, teams get into this game, something goes bad and kids lose their head. it makes it worse when you do that."
Karns City's top priority will be finding a way to defend Aliquippa running back Kaezon Pugh, who looks to be the next in the long line of great Quips (13-0) to play top-level college football.
Pugh, who is 6-foot-2 and 215 pounds while also playing linebacker, has had offers from numerous NCAA Division I schools and has narrowed his choice to Pitt, West Virginia and Maryland.
He is a beast in the backfield having run for 2,008 yards on 197 carries – an average of 10.19 yards per touch – while scoring 24 touchdowns.
"We have to get two guys there to tackle him," Conto said. "Not just one guy. We have to team tackle him. Everyone has to be in their gaps, because a lot of his plays are bounce backs and things where he's supposed to run in one spot and he bounces out. So everyone has to play their spots. It's a lot like playing option football. When you have an assignment, you have to be in that spot because he might not end up where he was originally going."   
The problem with concentrating too much on Pugh, however, is the superb play of Aliquippa quarterback Sheldon Jeter, not to be mistaken for the Pitt basketball guard.
Jeter is 62 of 115 on the season for 1,343 yards, 17 touchdowns and four picks.
His top receiver is Jassir Jordan, who has 28 catches for 709 yards and 11 touchdowns on the year.
Karns City (12-0) is hoping its schedule helps in preparing for Aliquippa.
The Gremlins scheduled Erie Central Tech and DuBois figuring they would end up playing either the Quips or South Fayette – the team that has beaten Karns City in the PIAA quarterfinals in each of the last two years – in the PIAA quarterfinals.
"I hope it helps us," Conto said. "That's why we try to schedule that. We schedule DuBois to maybe get ready for South Fayette and Erie Central, which has a fast kid, to maybe get ready for Aliquippa."
While Aliquippa will be a challenge, it's not like Karns City doesn't have talented players of its own.
For the Gremlins, it starts with a strong rushing attack led by Collin Dunmyre, Chandler Turner, Maverick Kelsea and Cullen Williams.
Dunmyre has run for 956 yards and 13 touchdowns, while Turner had become a force averaging over 11 yards per carry while rushing for 827 yards and 12 touchdowns on 74 carries.
Kelsea has added 559 yards and 18 touchdowns, while Williams, who shares time at quarterback with Jacob King, has added 489 yards and six scores while going 28 of 52 passing for 479 yards three touchdowns and six picks.
King, meanwhile, is 42 of 65 passing for 635 yards eight touchdowns and two picks.
The winner plays the winner of Saturday's Central-Martinsburg vs. Hickory game (1 p.m. at DuBois) in the semifinals next week at a site, time and day to be announced. 
NOTES – The game was originally scheduled for North Allegheny HIgh School Friday but a gas leak forced it to be moved to Geneva College … Last year, Karns City lost 42-15 to South Fayette in the quarterfinals at Clarion University after falling to the Lions in 57-21 in 2013 and 51-15 to Aliquippa in 2012 … Aliquippa's WPIAL title was its 16th.